Hubcast 77: Being First, Being Consistent & Celebrating Victories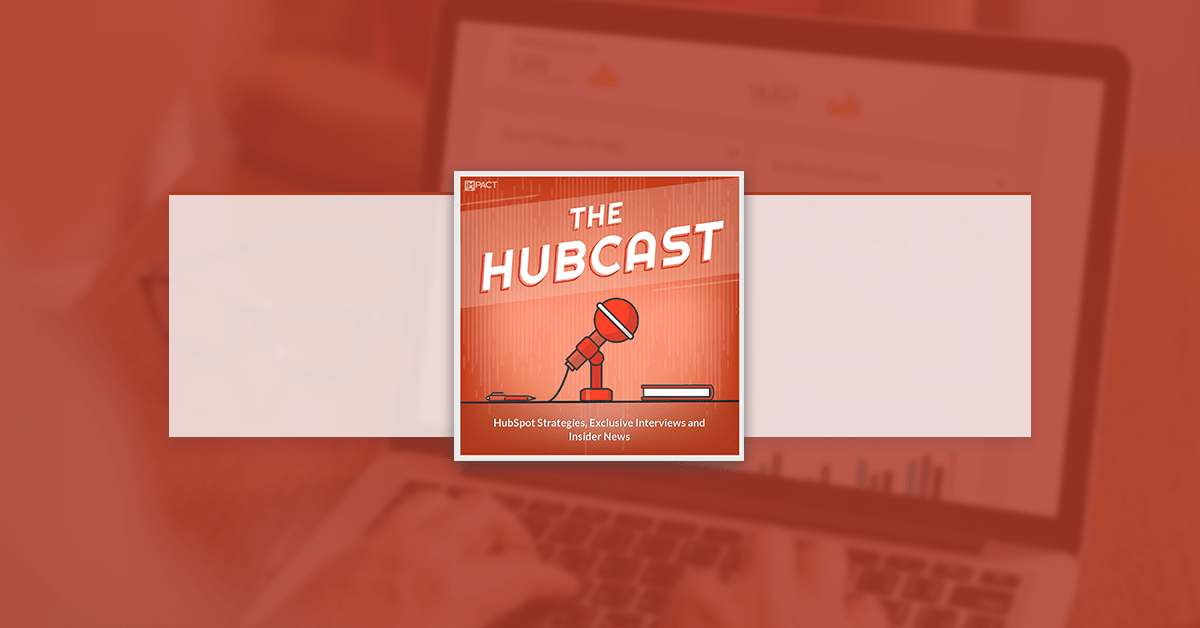 Welcome back to The Hubcast, folks: A weekly podcast all about HubSpot news, tips, and tricks. Please also note the extensive show notes below, including some new HubSpot video tutorials created by George Thomas.
HubSpot Strategy
The future of marketing
Are you balking at simply using a new platform like Pinterest or SnapChat or Peach for your business needs? Still on the fence about email marketing, making sure you're 100% mobile?
If that is the case how will you handle when the marketing crap really hits the fan…
This week we talk about facial recognition billboards… imagine billboards with personalization. Hi, George want a coke? Pull your Toyota over in 2.4 miles we will have it on ice for you. What about answering with a hand gesture?
How 5 brands have used facial recognition technology
Here is a clip from the article:
The South African coffee company Douwe Egberts also devised a target marketing idea utilizing facial recognition technology. The company set up a coffee machine at the O.R. Tambo International Airport. As a free promotion, the coffee machine used facial recognition to detect when travelers were yawning as they walked past. Those who yawned were instantaneously dispensed a cup of coffee from the vending machine. Of course, once travelers figured out the coffee machine was activated by a yawn, they knew exactly how to get their free cup of coffee; which, in turn, made the word spread throughout the airport about this magical machine.
"We think the future of facial recognition is more in the realm of providing greater entertainment and engagement, rather than personalization," said Mother NY's Clark. "Nobody wants a world where 'Minority Report'-esque retinal scanning bombards people with uniquely tailored ads the second they sit down in front of a screen. And with consumers demanding greater control over their own data, it would be unwise to appear invasive or manipulative."
HubSpot Agency Spotlight

Agency: PR2020
Website: https://www.pr2020.com/
Owner: Paul Rodster
Reason: Amazing culture…
HubSpot Updates
No updates again. Very interesting, but it does lead into a discussion I had with a HubSpot user the other day. They emailed me to book a HIT workshop but also had this to say…
" btw, on a separate note, what is up with Hubspot reliability?"
Marcus and George riff on the recent HubSPot data-base and keyword tool glitches, the fact that HubSpot is growing, and what it means for HubSpot customers.
HubSpot Wish List
HubSpot CRM Wishlist Item:
Make it so people must schedule a day in advance in Meetings
Sidekick Meetings is great and I love it. But it would be even more powerful with one small adjustment. There needs to be the ability to make it so clients cannot schedule a meeting the day of. They must schedule a meeting at least one day in advance so, as a salesperson, I have time to upload their info and prepare for the demo or meeting.
Cool HubSpot Tweets
"Customers will never love a company until the employees love it first." @simonsinek #inboundlearning

— Katie Gutwein (@KatieGutwein) January 12, 2016
One thing I've learned from @Hubspot is to celebrate the victories! #hubpartner #inboundmarketing pic.twitter.com/GElMJFhQrC

— Hilary Hamblin (@admomentum) January 8, 2016
HubSpot Question of the Week
Hey, George!!
I was working with a client this morning and they expressed interest to be subscribed to their instant blog notifications so they'd get every post, but they also wanted to be subscribed to the monthly notifications so they'd know when the monthly notification went out and could see how it looked. (Especially since yesterday there was a huge delay in email sends and our post-holiday monthly notification got super delayed!)
Anyway, as we know, you can only be subscribed to one frequency through the automatic lists. However, it occurred to me that we could easily add another list of "people to get the monthly digest too" and add that list to the smart list for monthly subscribers! I don't actually know if you've covered this already in a tutorial or anything but I thought you might find it interesting or maybe it will could be helpful in the future. I tested it though, and even though I'm subscribed as "instant' I also got our monthly notification email as well when it went out, since I'd added myself to the monthly smart list as well.
I'm also curious if you have a better/more efficient way to do this. We considered creating our own custom fields so people could check multiple boxes for multiple frequencies and add those lists to the smart lists but that just seemed unnecessary since we really only have an internal need to get multiple notification emails. Just thought I'd share this experience with you though!
Have an awesome Wednesday!
Stephanie
Answer to question:
This is a great opportunity to use dependent form fields and existing Smart lists that HubSpot sets up for blog subscriptions.
If someone selects instant or daily for their blog subscriptions you could then ask, "do you want to receive our monthly recap/newsletter as well? Simply give it a yes or no answer."
Then, in your monthly newsletter Smart List, you could have a rule stating: if "want to get monthly newsletter" answer is YES, add contact to monthly subscription list.
You could also do this for Weekly and Monthly, but in reverse. If they select monthly, have a dependent field come out and say "news moves fast in the XYZ space, would you like to get our daily updates as well."
As a matter of fact, I will make this the tip and trick for episode 77 of the Hubcast!
Thanks,
George
HubSpot Tips & Tricks
This week, I decided to make a tutorial where I walk you through how to use the dependent fields and existing Smart blog subscription lists to accomplish the question of the week.
Free Assessment:
How does your sales & marketing measure up?
Take this free, 5-minute assessment and learn what you can start doing today to boost traffic, leads, and sales.