Welcome back to The Hubcast folks, a weekly podcast all about HubSpot news, tips, and tricks. Please also note the extensive show notes below including some new HubSpot video tutorials created by George Thomas.
Free Guide: Everything You Need to Know About HubSpot Marketing Hub
Show Notes:
Inbound 2014
BIG News Folks Sales and Marketing Updates
New HubSpot CRM
Signals becomes Sidekick
CRM mobile app
HubSpot Updates
Editorial Calendar
Revenue reporting
Anonymous personalization
Smarter work flows with branching data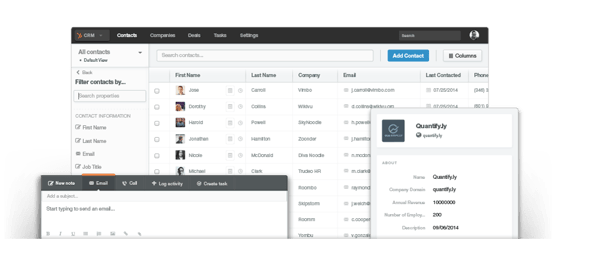 TSL Massive Review the ins and outs of the new HubSpot CRM
Check out more new features at HubSpot.com/new
Get the new HubSpot CRM tool at HubSpot.com/sales
HubSpot Tips & Tricks
What is the new CRM? Here is a short video from HubSpot that helps explain it.
With the launch of the new HubSpot CRM, I wanted people to speed up their learning curve with the new tool. So I fired up the recorder and created 8 video tutorials to help get you going. Check them out and let me know if you have any questions at all.
How to get to your HubSpot CRM dashboard?
How do I add a new contact to the HubSpot CRM?
How do I add a new company in the HubSpot CRM?
How do I add a new deal in the HubSpot CRM?
How do I create a new task in the HubSpot CRM?
How do I enable my Google Drive with the HubSpot CRM?
What are stages in the HubSpot CRM and how do I edit them?
Where are my HubSpot CRM Settings and what can I change?
What is Side Kick? Here is a short video to explain it.
Cool HubSpot & Inbound Tweets
"Never try to be a thought leader. There's no value in that. Instead, try to add value" @chrisbrogan #inbound14

— Michael Gass (@michaelgass) September 16, 2014
The potential for killer lead scoring in @hubspot 's new CRM is off the charts. Love that it is #freemium #INBOUND14 — Sean Ellis (@SeanEllis) September 16, 2014
Our final thoughts on Inbound, Buy-In and more...
Tweets of T-Shirt winners and Hubcast shirt selfies.
Rock the #Hubcast wear with @GeorgeBThomas courtesy of @TheSalesLion #INBOUND14 pic.twitter.com/PDa1nB5Lk4

— Jeremy Abel (@JeremyAbel_) September 17, 2014
The #Hubcast helps me keep my inbound sanity @TheSalesLion @GeorgeBThomas pic.twitter.com/gnxjKQuGlR

— Jeremy Abel (@JeremyAbel_) September 11, 2014
What I like about #hubcast.....they got personality! Never a sec bored. @thesaleslion, @georgedthomas pic.twitter.com/IRJtonaUvP — Amy Bui (@AmyDtbui) September 14, 2014
#Inbound14 I can go home now! @mvolpe LOL pic.twitter.com/DT3QOlntkB

— George B Thomas (@GeorgeBThomas) September 17, 2014
@HubcastPodcast you're damn right I'm going to be at #INBOUND14! First timer:) #soexcited mugshot attached! pic.twitter.com/dm3KdMSlmj — Stephanie Heathcote (@sheathcote) September 12, 2014