Welcome back to The Hubcast, folks: A weekly podcast all about HubSpot news, tips, and tricks. Please also note the extensive show notes below, including some new HubSpot video tutorials created by George Thomas.
Free Guide: Everything You Need to Know About HubSpot Marketing Hub
This episode of the Hubcast is brought to you by our awesome sponsor The Seventh Sense.
Industry News
Here are a couple articles Marcus and I talk about.
Marketo is acquired by Vista Equity Partners for $1.79 billion
What does Marketo's acquisition by private equity for $1.79B mean for the industry?
Agency Spotlight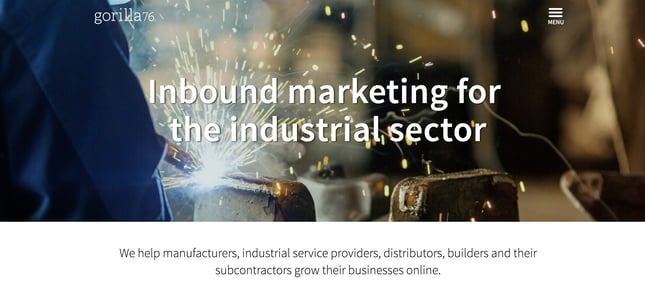 Agency: Gorilla76
Founder: Joe Sullivan & Jon Franko
Website: https://www.gorilla76.com/
Twitter: @gorilla76 @sullivan_joe & @jonfranko
Reasons:
Inbound Marketing for Industrial Industry

Growth Gorilla Concept

Really cool submenu on pages that relate in header section

Showing case studies & client work
HubSpot Updates/News
[HubSpot Connect] - Drift Integration
What's this integration partner do?
Drift is a sales and marketing tool designed to help increase website conversions and better connect sales and marketing with people visiting your site. Currently, their main feature enables website chat for visitors and allows salespeople to respond via chat from email or Slack.
How does Drift integrate with HubSpot?
When you engage with website visitors via Drift, all of that information is stored on the user's contact timeline in HubSpot. This allows your sales team to tailor their outreach based on a certain activity, like viewing your pricing page. And marketers to create workflows and lists based on conversations that have happened via Drift so every prospect gets a personal touch.
How-to get started:
Drift is a free tool with paid upgrades, new users who have HubSpot can get started with Drift at Drift.com/HubSpot. If you already have Drift connect to HubSpot inside the Drift app and follow these instructions.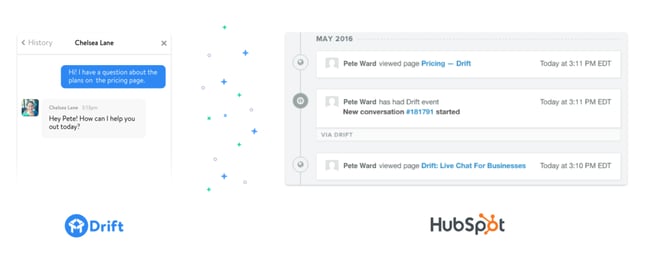 Support:
This integration is built and supported by Drift. Customers can reach out to them for support.
Drift Team - Hello@Drift.com - 855-266-1567 or live chat on our site.
Kevin Karner - Head of Growth - Kevin@Drift.com - 857-220-8409
Integration pages: Drift
[HubSpot Connect] - AdRoll Integration
What's this integration partner do?
AdRoll is an advertising platform that allows users to reach customers across devices, browsers, and apps via access to over 500 ad exchanges, including native inventory like Apple iAd, Facebook, Twitter, and Google. Video overview of AdRoll
What does this integration enable?
You can now engage your existing Hubspot customer segments with targeted display ads through AdRoll Retargeting. In addition, you can use this data to feed AdRoll Prospecting and find similar customers who haven't yet been to your site. These two solutions combined help solve three core inbound marketers challenges: attracting new prospects, converting prospects into customers, and growing the lifetime value of your existing customer base.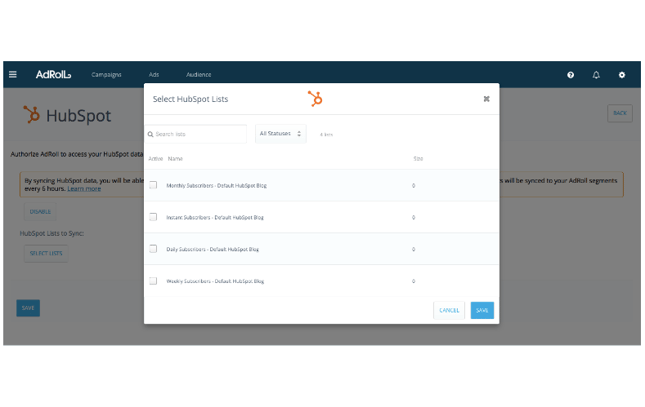 How-to get started:
AdRoll is a paid Advertising tool, HubSpot customers can learn more here.
If a customer already has AdRoll they can connect it to HubSpot via these intstructions.
Support:
This integration is built and supported by AdRoll. Customers can reach out to them for support. Johanna Kimura, Sr. Product Specialist,johanna.kimura@adroll.com
Use Cases:
Drive new traffic: Use event and webinar email lists to target prospects with online ads, bringing them to your website.
Bridge offline and online: Increase online sales by using emails collected in-store to promote your best deals on the web and mobile.
Drive users down the purchase funnel: After customers open an offer email, use targeted display ads as a reminder to re-engage with your brand.
Integration pages:
HubSpot Wish List
Simplify the Test Email Function/Send Batch Tests
When you're in your "Manage" Email dashboard it would be nice to send test emails without having to go to each's individual overview page. It could be put under the "More" tab between "details" and "delete." Even better, when you check the box next to each email, the only two actions you can currently take is to archive or delete. Why not add "send test?" I was wanting to send multiple emails to myself from the dashboard and had to click on each one, hit send test, go back, click on another, hit send test. Etc. I know you can do multiple in a row by test sending them in workflows, but what if you're not ready to build a workflow yet, or you just want to quickly test multiple emails?
Vote It Up
HubSpot Tweets of the Week
Hanging with some brilliant marketers @WebMechanix ? to Friday afternoon debauchery! #HubSpotting @HubSpot pic.twitter.com/39mJgtilGM

— Sindi Markette (@sindi) June 17, 2016
Watching Mark Kilens talk about how to delight a customer and realizing that every place in Brazil does the oposity is sad. #inboundlearning

— Andrea Martins (@AndreaM_) June 14, 2016
Question of the Week
Jimmy asks: How can I write blogs that actually equal sales vs crappy leads from some far off land?
This episode of the Hubcast has been brought to you by our awesome sponsor The Seventh Sense.