Hubcast-hour at INBOUND, Closed Lost Reason Reports, & Marketers Reading Sales Books [Hubcast 228]

This episode of the Hubcast is brought to you by Scripted.com, and its new automated, data-driven, content marketing solution, Cruise Control. Learn more at scripted.com/hubcast.
Wednesday at noon is Hubcast-hour at INBOUND! (yes, we're both speaking at the exact. Same. Time.) Oh and they release everyone's session times now so it's no longer alphabetical order only!
Side note: you can't actually register for sessions until August, BUT you can add sessions to Your Interests for when you do register.
How to Operationalize Trust in the Sales Process - Katie Ng-Mak, VP of Global Partner Strategy and Operations at HubSpot
Audience: sales leaders and sales operations
Why we're excited: Katie's going to be talking about how to go deeper than surface level techniques (that buyers see right through), and why that's even necessary
How to Squeeze Every Penny from Your Video Marketing Budget - Ed Heil, CEO and Founder of StoryTeller Media + Communications
Audience: content producers who want their work to rock, marketers trying to maximize their budget, budding video professionals looking for proven processes
Why we're excited: with how hype we are on video these days, this addresses the #1 concern most marketers have with video: cost.


Report on This
Closed Lost Reason Reports
If you're using the HubSpot sales tools, are you having your sales team report on closed lost reason? Have you ever considered reporting on this?
It's easy! But does require a small amount of customizing.
The out-of-the-box "Closed Lost Reason" HubSpot deal property is a multi-line text field. This means a rep can right literally write anything they want in there. That makes it really hard to find any trends other than anecdotal or with a lot of manual labor.
If we change that Closed Lost Reason property from a Multi-line Text field to a Dropdown Select field, we can then create reports on the most common Closed Lost Reasons, and make informed decisions based on that.
For example: closed lost reason is predominantly budget.
How can we train our sales team to better address these concerns in the process, or better pre-qualify prospects who don't have enough budget for us?

And here's a video that walks you through how to build it: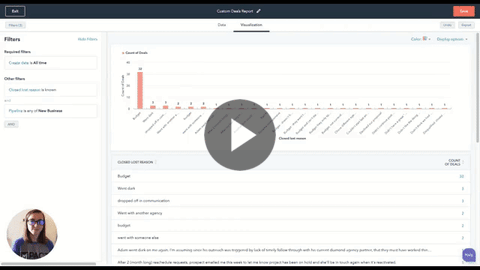 Check out this video: https://embed.vidyard.com/share/N6iSzG4GcR9gF9fbLBLkQK?
What's on Marcus' Mind
The language of marketers matters. A lot.
When marketers speak like marketers, they generally fail to get buy-in.
When they speak the language of "sales" and that of a business leader, they influence and lead the organization. When was the last time someone on your marketing team read a straight "sales" book??
This Episode's Sponsor: Cruise Control by Scripted
Cruise Control is a full-service, data-driven content marketing solution. It shows you which topics and keywords you can realistically rank for and will drive targeted traffic with. It analyzes the search results to find what content ranks today and tells you exactly what type of content you need to have a shot at hitting the first page of Google.
I recently sat down with Scripted's CEO, Doug Breaker, to talk outsourced writing, SEO and keyword strategy for the content marketer, and a lot more.
Watch the full interview here:
Learn more at scripted.com/hubcast
HubSpot Wishlist: Grant Users Access to Multiple Teams
"We need the ability to grant users access to multiple teams so when they are creating deals, companies or contacts they can specify which team they are doing this for.
This will allow our support staff to support multiple individuals in a way they can't at the moment and in reality, in many businesses, an individual will often work with more than just their own team. The user permissions settings are far too basic at the moment with just 'individual', 'team' and 'everything' not granular enough." - andyhampshire
I've been getting deep into the Enterprise Toolset and this functionality would be amazing for large and complex teams! Thankfully, it's currently in planning.
HubSpot Updates
HubSpot Celebrates Ninth Global Office With the Launch of HubSpot Paris
"Bonjour, Paris! HubSpot today announced that its third office in Europe and ninth globally has officially opened at 277 Rue Saint-Honoré in Paris, France. Tonight, HubSpot will mark the opening with an event that celebrates the customers, partners and employees who have contributed to the company's growth in the region."
Learn More
HubSpot Academy Video Contest
"Each quarter, HubSpot Academy will have a new prompt for you to answer for your chance to be featured in HubSpot Academy. This quarter's prompt is: "What does inbound mean to your business?"
The video can be done in any style, but it must be intelligible (any spoken audio must be clear and any written words must be legible). In order to win, your submission must provide a thoughtful analysis of the prompt that would make a unique contribution to our HubSpot Academy Youtube channel and other social accounts."
Until Next Time
If you're listening on iTunes - head on over and leave us a review! We love hearing your feedback, so feel free to leave some in the comments, or shoot me an email at cduffy@impactplus.com!
Until next time. This is Carina Duffy & Marcus Sheridan saying to you, get out there and get after it!
Free Assessment:
How does your sales & marketing measure up?
Take this free, 5-minute assessment and learn what you can start doing today to boost traffic, leads, and sales.