HubSpot Expands Free CRM Features, Adding Email and Ads Tools for All Users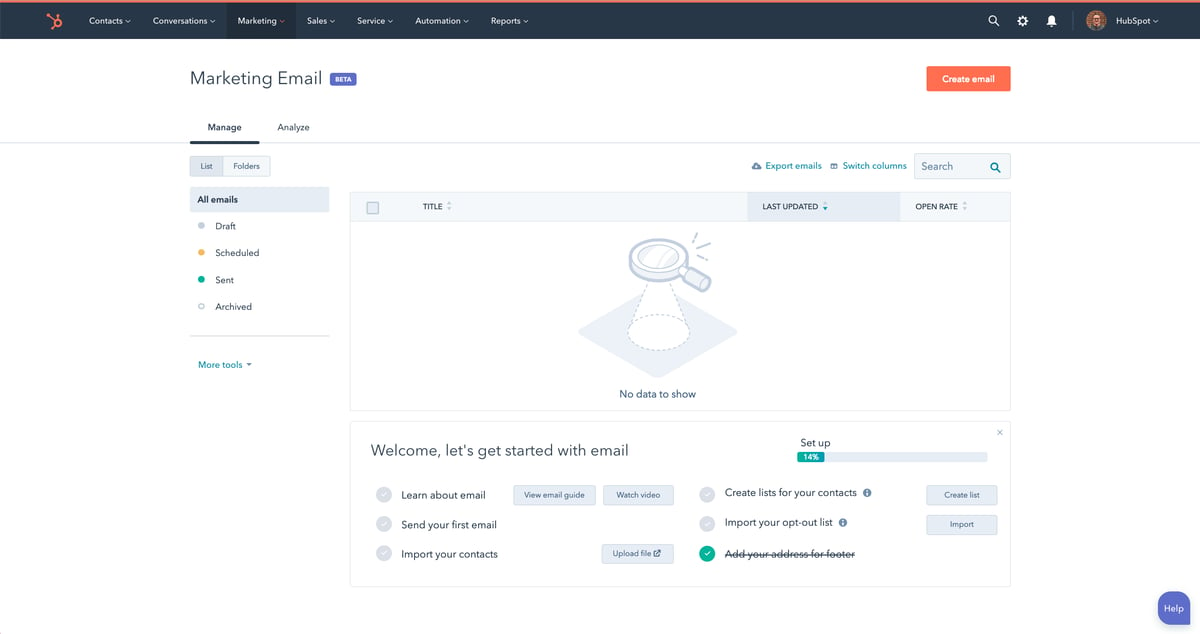 HubSpot has announced a major upgrade to its free marketing tools.
The marketing automation platform has added its Email Marketing and Ads tools to its free CRM product. Now all users, regardless of subscription tier, will be able to send targeted emails and manage ad campaigns, all within HubSpot.
This significantly elevates the value users get with from HubSpot's free product.
The changes enable marketers of any business size to execute focused campaigns without cumbersome manual tasks like signing into multiple accounts or importing/exporting datasheets between networks.
Along with adding these new tools into the free product, HubSpot has also introduced changes to make it more clear what exactly users get as they move up in subscription tiers.
If you're a HubSpot user of any level, it's worth checking out the new changes to see if you're taking advantage of the tools avaliable to your account.
Free email marketing tools
HubSpot's free product has always offered a lot for small to medium businesses — access to core features like contact management and tracking, form creation, live chat features, and reporting tools, all for $0/month.
However, a main reason why free users switched to the next tier up (Marketing Hub Starter for $50/month), came down to the unlocked access to its email feature.
Now, HubSpot's free users can send up to 2,000 emails per month. The free feature also includes access to HubSpot's email templates and post-send analytics.
Email marketing is a core component in effectively moving leads down the funnel and re-engaging them in your business' content or service offerings.
While there are other options to execute email marketing campaigns, there are considerable benefits to having all data flow through one centralized location.
Connecting email marketing tools with your CRM adds significantly more context into how emails are being received by key contacts. This provides much clearer insights for marketers to understand how successful these touchpoints are at moving leads to the next stage in the buyer's journey. On the same note, it can show what types of emails are causing friction in the buying cycle and need adjusting.
Overall, this added feature allows HubSpot's free customers to run better, more cohesive campaigns, and gain instant performance insights all in one place.
HubSpot's free users can get started with email marketing using the steps below.
1. Choose from HubSpot's robust library of preloaded email templates
These templates cover a wide variety of marketing needs, from very basic body templates to more specific needs like newsletters or holiday email sends.
Once you pick which one is right for you, go ahead and name your email and continue.
2. Customize your email

HubSpot's email editor is designed so anyone can create great marketing emails without advanced technical expertise.
The tool utilizes a simple drag and drop editor to allow you to style the email to match your branding. You can also pull in text boxes, image sections, and CTA buttons as needed to create a compelling message that converts.
3. Access post-send analytics
Of course, the most valuable aspect of connecting email marketing data into your CRM is the ability to have all metrics in one place.
After sending a marketing email, you can navigate to the performance tab view analytics on how many opens and clicks your email received.
This data provides valuable insights into future strategies. For example, if your email has a low open rate, it's possible you may need to adjust your email subject line or preview text to be more captivating. Likewise, high opens but low clicks can indicate that the email content did not match users' expectations when they clicked on it — which could suggest a misleading subject line, or that the email content was not strong enough to motivate users to take the next step.
Additionally, if you're keeping a closer eye on a few select contacts, you can navigate to a specific contact's profile and see if that person opened or clicked the email.
This is beneficial because you can connect actions taken after seeing that email directly back to your campaign. For example, if your contact clicks a CTA in an email, browses a few additional pages, and then fills out a request a quote form, your team can definitively evaluate how that email contributed to that action.
What if I already pay for email marketing features?
So, if the most compelling reason to switch to a paid HubSpot subscription was the email marketing feature, Marketing Hub Starter users may be questioning if they should downgrade to the free feature.
To clarify, there are still differences in the email marketing capabilities each tier will receive. Here's a breakdown:
Marketing Hub Starter: Instead of a flat email send limit of 2,000 a month, Starter customers limit is determined by the number of contacts stored in the CRM. So, the number of sends will scale as you add more contacts — which is ideal for growing businesses. Additionally, this tier can also connect an email sending domain to HubSpot.
Marketing Hub Professional/Enterprise: This tier unlocks premium email marketing features for more advanced email marketing campaigns. These include access to A/B testing features, smart content, and the ability to send an email at the same time across multiple time zones.
Free Ads tools
In addition to email marketing tools, HubSpot has extended its Ads tools into the free product.
Now, users of both HubSpot's free CRM and Marketing Hub Starter can create, manage, and track ads directly within their CRM at no added cost.
The free tool allows campaign management up to $1,000 in ad spend per month across a maximum of two connected ad accounts.
So, users can connect two Facebook campaigns to compare results, or sync two different platforms (like one LinkedIn and one Google campaign), to see how performance varies from one platform to another.
Just like email marketing, connecting your ad campaigns to your CRM enables marketers to pull more meaningful insights from each ad campaign, and save time syncing data between platforms.
HubSpot's ads tool auto-syncs leads from a campaign into HubSpot and shows you exactly which contacts are interacting with your ads. These insights can allow marketing teams to see which platform best suits a specific audience, and provide a better view on how a campaign affects the overall experience you're creating for a prospect.
Moreover, having ad data filter through one central system allows you to track long-term performance of ad campaigns on a contact-by-contact basis. So, you can see which contacts that saw or clicked on an ad campaign eventually became customers — showing a more concrete ROAS right from your CRM.
What if I already pay for Ads Tools?
Just like the email marketing feature, HubSpot was sure to differentiate how the tiers now vary given the expansion of the Ads feature to all users.
HubSpot Marketing Hub Professional or Enterprise customers who already pay for the ads tools can access exclusive ad features for more in-depth campaign creation and reporting, including:
Access to the full library of ad types
$10k ad spend limit (Professional), $30k ad spend limit (Enterprise)
Audience syncing
Attribution reports
ROI reporting that shows exactly how your ads are impacting your business' bottom line
Final Thoughts
Extending these valuable features to HubSpot's free products is great for both HubSpot's business and its customers.
Now, regardless of subscription tier, HubSpot users will be able to get more value out of each marketing campaign.
This helps users of all sizes to access better features and analytics without needing to switch between several apps, or manage complex integrations.
Because HubSpot is made to scale with your business, more small businesses can see the value in HubSpot's tools earlier on. If they decide they need more features as they grow, less data will be lost to other networks in the process.
To learn more about HubSpot's free marketing tools, you can visit their website here.
Free Assessment:
How does your sales & marketing measure up?
Take this free, 5-minute assessment and learn what you can start doing today to boost traffic, leads, and sales.