HubSpot Introduces Drill-Down Reporting Options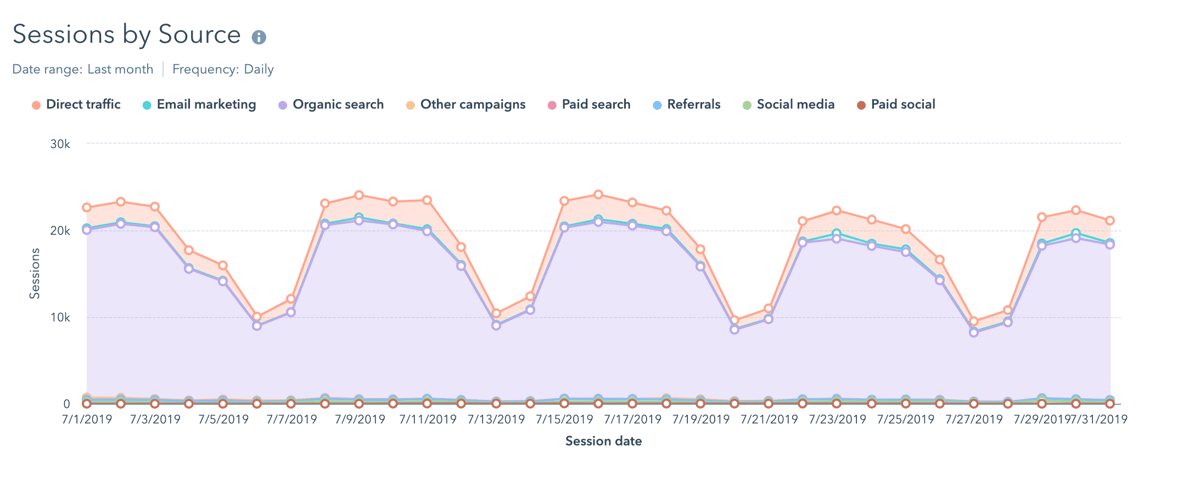 Marketers rely on data like a hiker relies on a compass.
Data can shed light on how potential customers are engaging with online content, helping marketers identify areas of friction, opportunities for improvement, and develop an overall better understanding of their personas.
Because data is so crucial for informed decision making, HubSpot recently updated its reporting tool to enable report drill-downs.
Essentially, this means that instead of just seeing surface-level summary data on your dashboard, you can now click into those metrics to get a better idea of the specific factors that contributed to the final number.
Previously, users would have to click into several different HubSpot tools to access this information. This change enables marketers to see the big-picture of user activity and also dig into more specific details, all in one centralized location.
What's new with report drill-downs?
In the past, when you accessed HubSpot's reporting dashboard, you saw a screen like this:
While you could hover over certain parts of the graph to view specific numbers, you weren't able to see which website pages or forms contributed to those metrics.
Of course, this often prompted marketers to dig into other reports like Traffic and Website Analytics, but that required a lot of extra steps.
Now, with report drill-downs, you can dig into these with more ease and precision than ever before.
For example, let's say you noticed a spike in traffic and wanted to know how much of it was due to your PPC campaigns. With drill-down reporting, you can easily click on the particular area you want to investigate, view all traffic sources, and dig into what campaigns and keywords contributed to the spike.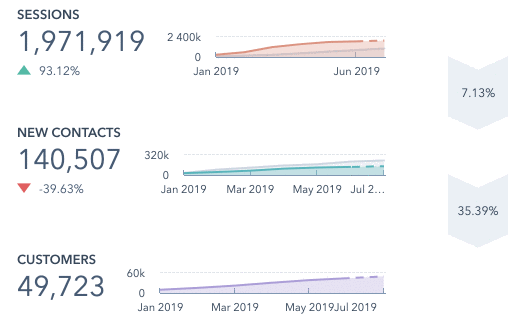 Additionally, you can also see what contacts or new customers resulted from those campaigns.
If you wish to dig deeper into a specific page, contact record, or other data set, you can simply click on it to open the tool in a new window.
This functionality works with all dashboard reports and is available in all HubSpot portals now.
How can this help marketers?
HubSpot's drill-down feature allows marketers to gain deeper insights than they're currently doing with weekly metrics checks.
Oftentimes in marketing, cause and effect are not always crystal clear. The drill-down reporting feature has the added benefit of keeping all data close together, so you can see how traffic, contacts, or conversions might be positively or negatively influenced by certain pages, campaigns, or offers.
From personal experience, I've often made custom reports like this just to see specific correlations between these metrics, and I can confidently say that a feature like this would have saved me a lot of time.
All in all, without data, marketers are essentially running around blind. By making it easier to access the data needed to make the right decisions, this change is enabling marketers to make clearer correlations and better decisions.
Free Assessment:
How does your sales & marketing measure up?
Take this free, 5-minute assessment and learn what you can start doing today to boost traffic, leads, and sales.