Subscribe
Join 40,000+ sales and marketing pros who receive our weekly newsletter.
Get the most relevant, actionable digital sales and marketing insights you need to make smarter decisions faster... all in under five minutes.
Thanks, stay tuned for our upcoming edition.
HubSpot's new features show a fresh focus on account-based marketing (ABM)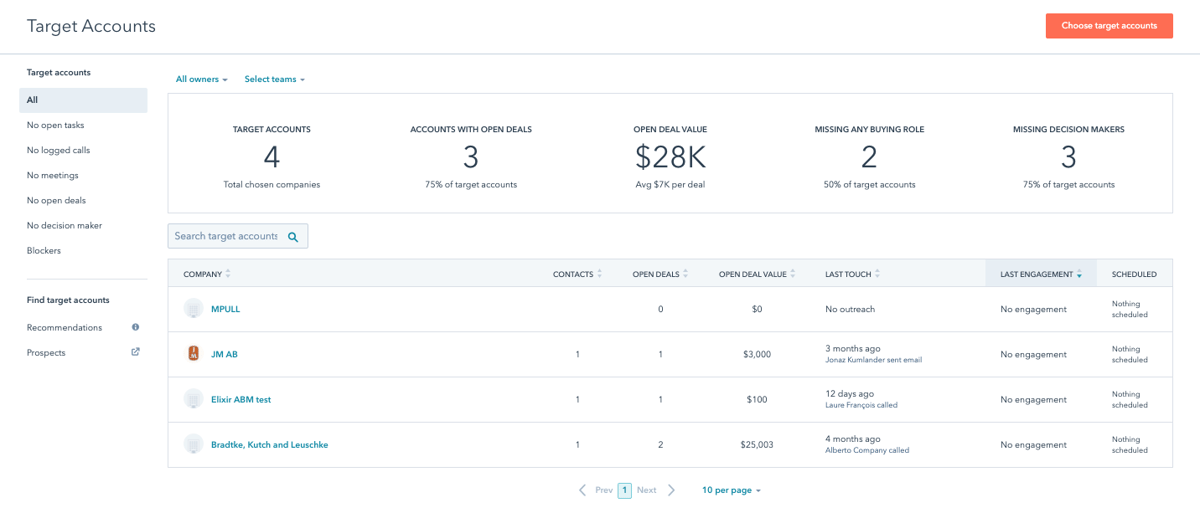 Over the last several months HubSpot has released a series of features specifically geared toward companies executing an account-based marketing strategy.
From a new Target Accounts dashboard to contact and company properties and an updated Slack integration, HubSpot now has the tools you need to get started with ABM without having to create a bunch of customization yourself.
But first, what is account-based marketing?
HubSpot defines account-based marketing (or ABM) as "a focused growth strategy in which Marketing and Sales collaborate to create personalized buying experiences for a mutually-identified set of high-value accounts."
Traditionally, ABM has seemingly been at odds with HubSpot's "inbound marketing" methodology of creating a website that allows you to get found online by the right people at the right time. Once those people find you, you "nurture" them toward realizing their need for your product or service, and they ultimately make a purchase.
But why not both? Inbound marketing is a great way to attract and capture net-new leads you may not have otherwise known about, and ABM is a great way to go after known accounts that could bring in a significant amount of revenue.
The important thing to note with ABM is that it is a marketing and sales collaboration. Side note: we should really just call it account-based marketing and sales (ABMS) right??
ABM requires alignment between marketing and sales teams in order to define what a target account is and what each team's role is in the process.
🔎To learn more about ABM, check out our Guide to Account-Based Marketing.
An overview of HubSpot's new ABM features
Once you're ready to get started with ABM in HubSpot, you now have a whole slew of features to leverage — you just have to turn them on!
Head over to your portal and navigate to Target Accounts under the Contacts dropdown and click Get Started. This will activate all of the features below in your portal, and prompt you to set up your target accounts.
Note: These features are only available if you have Marketing Hub Professional or Enterprise, or Sales Hub Professional or Enterprise.
Contact and company properties
There are three ABM properties that you can now use to track your target accounts:
Buying Role for individual contacts. The default dropdown options are Decision Maker, Budget Holder, and Blocker, but you can also customize these based on your own strategy.
Target Account to note which companies you want to target.
Ideal Customer Profile Tier for companies. The default dropdown options are Tier 1, Tier 2, and Tier 3, but these can also be customized based on your strategy. The idea is that Tier 1 companies are the best fit for your business, versus Tier 3 being "acceptable, but low priority." You can set a company's tier manually, or you can use workflows to mark tiers based on specific criteria.
Why it matters: These properties are your data foundation for using the rest of HubSpot's ABM tools. Used properly, this data will enable you to use the target accounts dashboard, account overview, and canned reports to their fullest.
Target Accounts dashboard
Once you've marked companies as target accounts (with the Target Account company property; there's also a handy button on the dashboard to add accounts), you'll be able to see a dashboard of how many accounts are currently tagged, any accounts that have open deals associated with them, the value of all of those open deals, and any accounts that are missing a buying role or decision-makers (on the buying role company property).
You can use HubSpot's Prospects tool to identify potential target accounts, as well as use HubSpot's own recommendations based on the data in your portal.
You can also use pre-made filters on the left hand side of the dashboard to see which accounts currently have no open tasks, no logged calls, no meetings scheduled, no open deals associated with them, no decision-maker marked, or accounts with Blockers (marked on the Buying Role company property).
Why it matters: For those working on your ABM campaigns day-to-day, this page will likely be bookmarked and used constantly. It's the big picture of where your target accounts are at and allows you to get more granular as needed.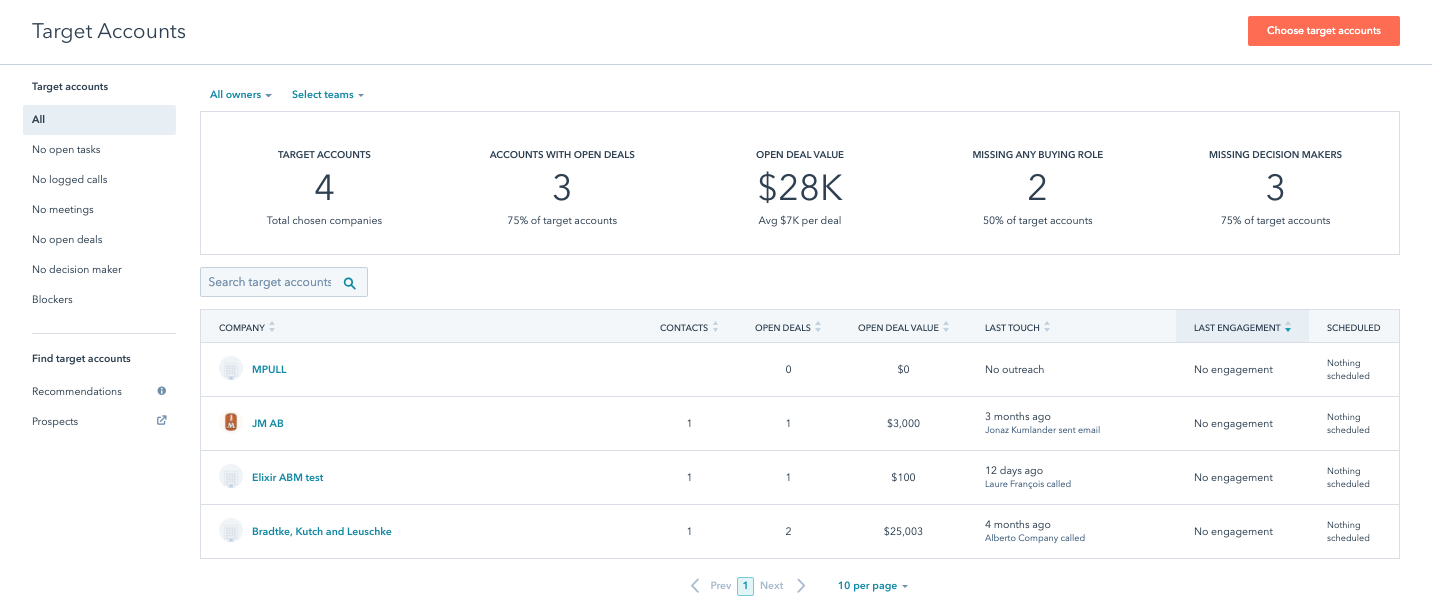 Account overview
If you click on a company name from the Target Accounts dashboard, you'll get a flyout with highlights from that specific account — things like recent activities, associated contacts, internal stakeholders (users who have logged activities on that account), any deals associated with the account, and any tracked page views from associated contacts.
Note: you'll need a Sales Hub Professional or Enterprise seat to see the full account overview.
Why it matters: The account overview flyout gives you a quick, high-level view of where each of your target accounts is. It allows you to see all kinds of details about the account without having to comb through the individual company record. (Read: efficiency!)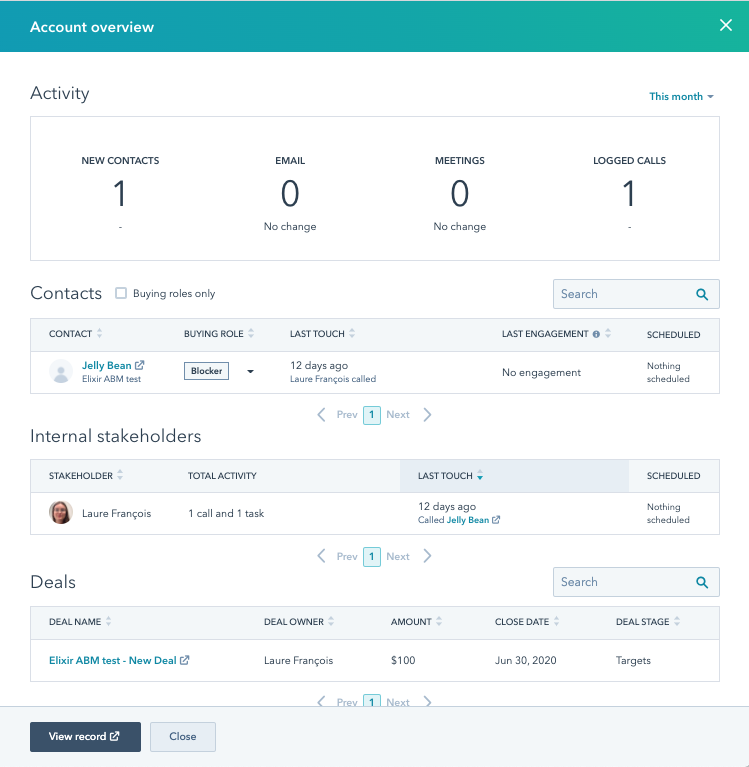 Reports
HubSpot creates canned reports for you based on the three ABM properties noted above, and you can even set up a default dashboard with eight reports already made for you:
Ideal customers
Contacts created at target accounts monthly
Target accounts by page views
Buying role by target account
Contact source report by target account
Contact lifecycle stage by target account
Deal stage by target accounts
Target accounts by active deal amount
You can also use the three ABM properties to create your own custom reports in the Custom Report Builder tool based on your own goals and strategy.
Why it matters: ABM is great, but only if you can specifically track and measure your progress and success. These canned reports give you the standard measures you'd likely want to look at, and the custom report builder gives you the ability to cater these reports to the metrics your team wants to track.
Lists
When you activate the ABM features in your portal, HubSpot will automatically create the following lists for you based on the three ABM properties:
All contacts labelled as an Influencer
All contacts labelled as a Champion
All contacts labelled as a Budget Holder
All contacts labelled as a Decision Maker
All contacts with a Buying Role
All contacts associated with Target Accounts
And just like reports you can, of course, create custom lists based on any of your contact or company properties.
Why it matters: HubSpot lists are where you can segment your database for things like bulk emails and ads audiences (more on that below) — and now you don't have to make your ABM lists from scratch. (Again, efficiency!)
Workflow template
There isn't any new workflow functionality specific to ABM, but there is a new workflow template you can use to get started with marking your ideal customer profile tier. The default sorting criteria is by annual revenue, but this can be edited or changed based on how your teams have decided to define your tiers.
Why it matters: Combining automation (workflows) with ABM is a powerful way to save your team time they might have spent doing manual qualification, freeing up more of your time to actually work those accounts!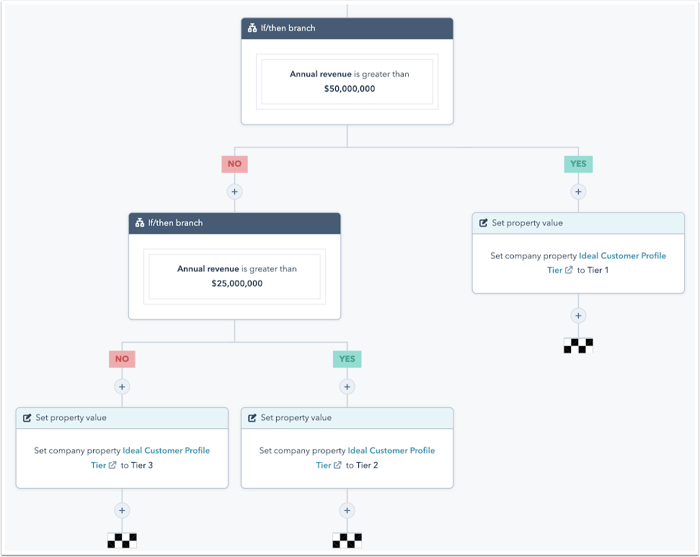 Source: HubSpot
Ads audiences
Just like you can create lists with your new ABM properties, you can also use those properties and lists to create ads audiences. New to the HubSpot LinkedIn Ads tool is the ability to create a company list audience based on either target accounts or company profile tier.
Why it matters: If you're going all-in on ABM, your strategy will likely include paid advertising. Being able to leverage your HubSpot target account data to create audiences gives you even more opportunity to create an amazing experience for your target accounts.
Slack integration
If your company uses Slack, you can use the HubSpot Slack integration to create Slack channels via workflows based on deal or company criteria. You can also have HubSpot send an update to Slack whenever a call is logged on one of those deals or companies.
Lastly, you can use commands in Slack like /hs-report-company and /hs-buying-committee to see HubSpot metrics on a target account without having to go into your HubSpot portal.
Why it matters: You can now keep better tabs on all of your ABM efforts by sending Slack notifications for logged activities and creating dedicated channels for your highest-priority accounts.
Getting started
Ready to get going? First, check out HubSpot's Ultimate Guide to ABM to get started on your ABM strategy. It's a crash course in all things ABM and will give you the right frame of reference to start using the new ABM functionality in your portal.
Jumping into using HubSpot's new ABM features will enable you to both execute your ABM strategies as well as report on their success. Ultimately, as with inbound marketing, it's about implementing, analyzing the results, and iterating.
Keep on the lookout for more updates and features around ABM in your HubSpot portal in the coming months!
Free Assessment:
How does your sales & marketing measure up?
Take this free, 5-minute assessment and learn what you can start doing today to boost traffic, leads, and sales.