INBOUND is Fast Approaching, Google Leads are Syncing, and Workflow Actions are Placeholding [Hubcast 275]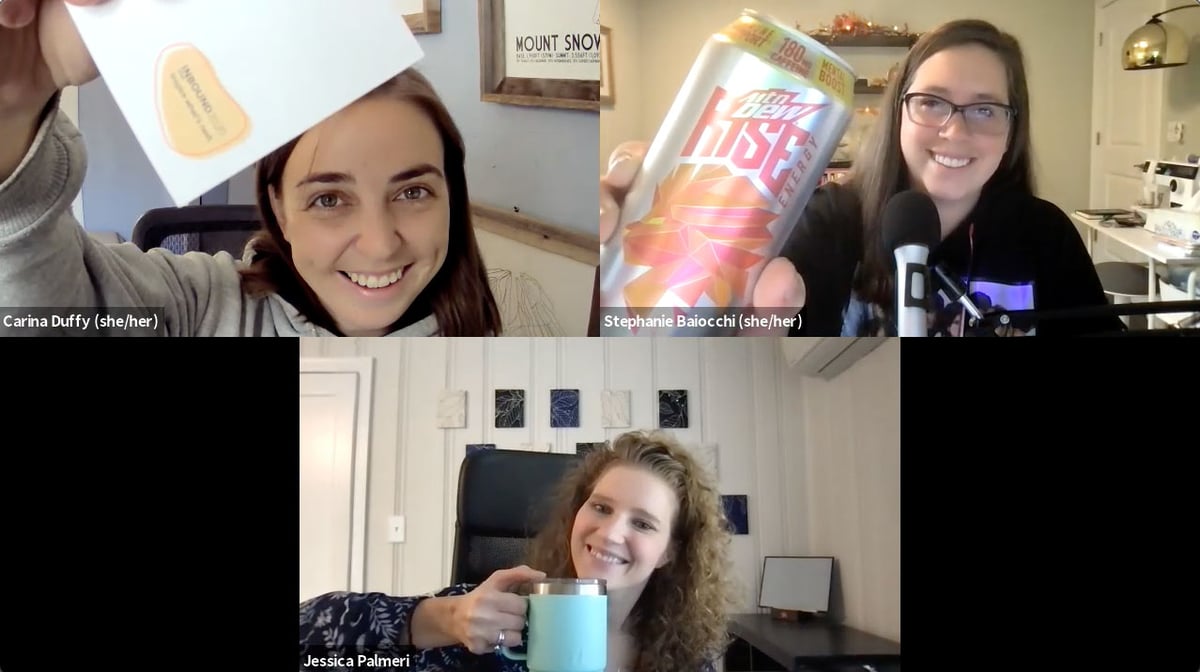 INBOUND 2021 is fast approaching. Which speakers are we excited about?
Dawn Ostroff, chief content & advertising business officer, Spotify
Amy Hayward, digital marketing manager, Cayman Islands government: The Cayman Islands COVID-19 Website: Turning Clicks into Changes in Behavior
Kari Fairbanks, national sales & marketing operations manager, ARC: Making the Big Switch: The Blueprint to Adopting a New CRM Across Your Organization
Lindsay Rothlisberger, senior manager, marketing operations & email, Zapier: The Work You Don't See: How Operations Professionals Fight the Fires, Clean the Data, and Work to Keep Things Running
Yael Miller (content group manager) and Zoe Dayan (senior SEO manager), monday.com: Building Brand Credibility & Visibility Through Link Building
Oh, and IMPACT's Marcus Sheridan, per usual: Trusted Content: 7 Steps to Becoming the Most Trusted Voice in Your Space.
Steph's pick: Alex Moore,

senior partner, marketing & technology, Stratagon, Inc.:

No More Cookie Cutter Marketing
Also … Dharmesh just became a billionaire, so that's cool.
Breaking news: HubStars is back … but it's now HubFans!
We hear from one of the OG HubStars, our very own Stephanie Baiocchi, about what the new and improved HubFans is and why you should join.
What's on Carina's mind
Hiring a HubSpot owner: Do they need HubSpot experience or not?
It's an internal debate I'm having.
And if you were inspired to hire a HubSpot owner based on this conversation, check out our friends at HubSearch and tell them Carina, Jess, and Steph at IMPACT sent you.
HubSpot wishlist: Put chat transcripts into marketing emails
"We are implementing the Hubspot Chatbot feature, and we'd love to have the ability to put the chat transcripts in a Marketing-category email so we can insert it into the workflow, and automatically send it to our SDR." - taylormarmie
How is this not a more popular feature request? (Is it because of privacy?)
HubSpot updates
Now live: Create a contact with a workflow
Navigate to an existing HubSpot workflow or create a new one. Add an action and choose the "Create record" action, then choose "contact" as the type of record to create.
Pop quiz! What's one way this could be used? (Answer in the podcast.)
Now live: Google Lead Syncing
This integration will sync contact and form information from any Google lead form ad (Search, Display, YouTube, etc).
Google's API does not allow us to pull in past leads, so we will only be able to sync leads that are acquired after the Google Lead Sync is set up in HubSpot.
We are also launching Google Lead Syncing with the ability to see all forms that are synced, view submissions from Lead Syncing Settings, and change the HubSpot property mapping to the Google Lead form field.
Now live: Custom surveys (Service Hub Pro & Ent)
While creating a feedback survey, select "Custom survey" when prompted to choose the survey type.
Choose to deliver your survey by email or by a shareable link.
Build your custom survey by selecting from a variety of question types, such as number ratings, sentiment, radio buttons, checkboxes, dropdown, single-line text, multi-line text, and date.
Create a new property or choose an existing property for each survey question. These properties will allow you to aggregate data by question type across multiple surveys. (For example, if you send out a survey every month to your customers, you can easily analyze how responses change over time).
This has been in beta for a while. It's so exciting to see it go live!
Now live: Sync tasks to Google and Office 365 calendars
A few notes on the integration:
Currently, the integration is one-way, meaning that updates to tasks in HubSpot will update on the external calendar, but updates to tasks on external calendars will not yet update in HubSpot (we're considering support for two-way sync in the future).
Tasks displayed on the calendar will default to 15-minute increments (these time increments cannot be customized yet).
Tasks will display as normal calendar events on the calendar specified during the task sync configuration. Tasks cannot be synced to a user's primary calendar at this time.
The real question here: How usable is this if it's only a one-way sync?
Now live: Placeholder actions in workflows
How to save an action as a placeholder in your workflow:
In the workflows editor, click the plus (+) icon to add an action.
In the Actions panel, select the action.
At the bottom of the Actions panel, click Save. The action will then be saved to the workflow timeline and will display the number of remaining details to fill out before you can turn the workflow on.
Continue setting up your workflow as needed.
To finish setting up a placeholder action, click the action, then fill in the missing details in the right panel.
You can also view all actions that need to be updated by clicking Alerts in the top left, then clicking need changes. Then, In the right sidebar, view the actions that need to be updated
Once all necessary changes have been made, you will see a successful "Review" message on the right-side panel (see below).
Please note: The following workflow actions cannot be set as placeholders at this time, and must be fully set up before continuing to build your workflow:
Custom code.
Format data.
Delay for a set amount of time.
Delay until a day or time.
Actions from connected apps.
In beta: HubSpot payments
Collect one-time and recurring payments, and manage everything from right inside your CRM. Create a branded checkout page you can embed on your website, send in an email or chat, or add to a quote. Deliver a delightful buyer experience with fewer tools, all connected to your website, automation, reporting, and customer records.
HubSpot Payments is available to companies located in the United States who have been a customer for six months or more and have a paid subscription to any Hub (CMS, Marketing, Sales, Service, or Operations). You'll be the best fit for this beta if you sell digital products (such as services or software) and don't collect sales taxes or use a separate tax software solution.
Until next time
Join the HubSpot User Slack and hang out with us!
If you're listening on iTunes, leave us a review! We love hearing your feedback, so feel free to leave some in the comments, or shoot me an email at cduffy@impactplus.com!
Until next time, this is Carina Duffy and the squad saying to you, Get out there and get after it!
Free Assessment:
How does your sales & marketing measure up?
Take this free, 5-minute assessment and learn what you can start doing today to boost traffic, leads, and sales.