Here at IMPACT, we're always on the lookout for new ways to analyze user behavior on our website and make improvements.
However, doing the research and A/B tests without the proper tools can often lead to a dead end.
For example, HubSpot has the ability to A/B test your website/landing pages or calls-to-action. This has been particularly useful when our marketing team wasn't sure what designs visually may be the best solution to help achieve a particular goal.
Unfortunately, HubSpot doesn't give us the opportunity to A/B test SEO elements, which is especially useful if we want to see how content changes can affect how we rank.
Free Assessment: Website Performance Assessment
We also can't test keyword changes that may affect the ranking of these pages (other than just doing so and coming back every day and looking at the numbers).
Then we crossed paths with Clickflow.
At first, I wasn't sure what to expect.
In the past, most testing tools I've used were barely understandable at best. They were usually robust, yet lacked any concrete tutorials into how to actually use the tool.
So, before stepping into the demo meeting with Clickflow, we were guardedly optimistic.
Could this tool really allow us to test our website content changes and show us how those changes affect our Google rankings?
The answer was a pleasant surprise.
First, What is Clickflow?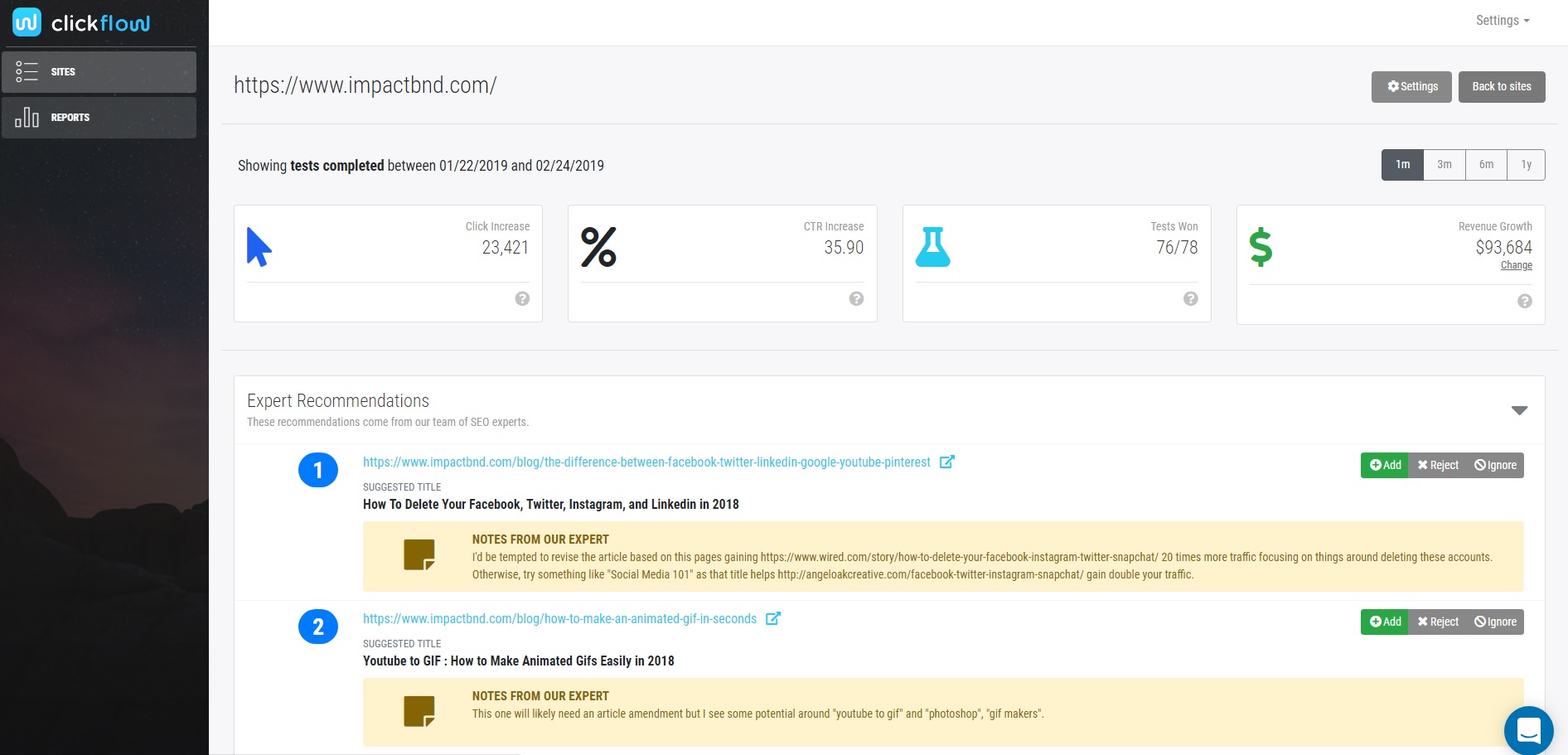 Clickflow is a tool that scans your website and lists out pages that have the potential to increase their click-through rate (CTR) and ranking on Google's SERP.
It lists out the pages from highest to lowest potential click increase, using your Google Search Console account data (which you add when you first enter the tool) to propagate the list.
Then, the tool enables you to test how changes to your meta description and title tag, and body content can affect the ranking of your page.
How IMPACT Used Clickflow to Boost Traffic to Over 75 Articles
At IMPACT, we've found Clickflow most useful in increasing our traffic for keywords we had moderate rankings for with high volume.
There have been a couple of tactics we learned that really helped us skyrocket results with minimal effort.
What helped make this possible was Clickflow's keywords report for each article it suggests you change. This report lists the keywords your article is currently ranking for along with the ones that will yield more traffic.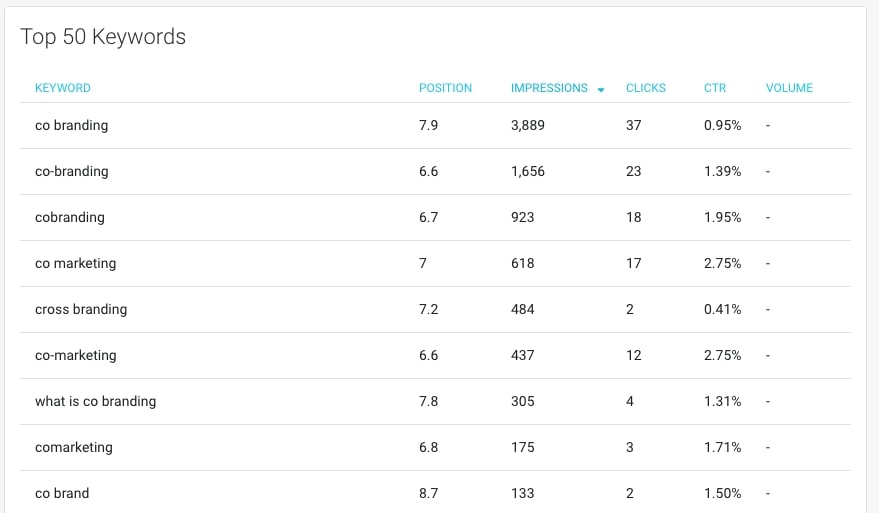 This made it clear what keyword we now had to target for each blog article we selected.
Optimizing The Title Tag
One of the patterns we noticed across a large group of our articles was they simply needed their keywords tweaked to match the search patterns that claimed the top keyword spots.
After running multiple tests, we noticed there was a collection of five elements that drove clicks, and when used either alone (or combined) could result in a drastic increase in CTR from Google.
This article from Siege Media goes more in-depth on the definition for each element as well as examples of them in use, but here is a general graph for what those elements are:
(For us, Speed and Lowest price didn't really come into play - we didn't have many articles that could use those tactics.)
When refocusing our keywords for the tests, we typically combine one of these elements in the title or meta description.
Those tests would typically yield the highest improvements. Out of the 105 tests we did last year, here are the results:

67 out of the 105 tests run was pretty exciting, especially since it got us almost 4k additional clicks we may not have had otherwise.

Here are some of the tests and how they performed:
1. High Volume


For listicle articles, we found much of the SERP competition would always lead with volume (a number).
When you think about it, this made sense logically.
If someone is searching for 'internet easter eggs' or 'scheduling apps,' they likely want a list that will give them as much as possible to read so they can skim and look for what piques their interest.
If you notice other SERP results use volume from for the top positions, try updating the article to increase your list, then, run the test with the higher number.
This has now lead us to add the number in as one of the first couple characters, rather than risking it being cut off adding it towards the end.
2. Complete Guides and Being Best
On some occasions, numbers alone were not going to be the only aspect to help increase an article's ranking.
People want to avoid searching for long periods of time if possible.
Being in that mindset, they will tend to gravitate towards articles that will offer them the most complete or optimal answer, even if it's a long one.
In this case, we were still using volume tactics but would sometimes use other keywords to represent that (i.e. Ultimate, Comprehensive, etc).
Words such as 'Top' or 'Best' would also increase CTR. Although those words don't correlate back to volume, it simply meant the article was going to give you the best of the best results.
Most of these types of articles saw an average of a +100 click increase and allowed us to review articles who may see added value from becoming best of/guide type articles.
3. How to's


An interesting discovery about another group of articles was that they offered great explanations describing 'how to' do something, but missed those keywords all together in the title or meta description.
Adding the 'how to' in, and tweaking the articles so they were more step-based led to those articles becoming more in-line with what we found competitors ranking well for.
These articles had an average of a +75 click increase with impressions increasing by over 100% across the board.
4. Years
We uncovered that some of the SERP competition we faced would include years in their titles, but to our surprise, (even in top spots) were a bit dated.
There was a clear window of opportunity here; we could improve our articles freshness not only with the content itself but by getting the year into the title too. Plus, we know Google tends to favor the most recent/new pages as well.
With that being said, we knew 2019 was around the corner, so I took the initiative and went through 78 articles to update their contents and years, and the results were amazing.

Out of the 78 tests, 76 won. We also had a 35% CTR and 23k click increase overall.
As you can imagine, this was a pretty welcoming outcome for our Q1 2019 goals!
Our Overall Results Takeaways for Clickflow
All in all, Clickflow is an amazing tool that can provide an overabundance of opportunity to improve the performance of the pages on your site that rank well but need some adjustments to really hit the mark.
I still feel excited whenever I run my experiments. Since the tests run for around 15 days, it's enjoyable to see results so quickly (especially if they are positive ones).
From what we've studied, the tool makes it easy to start valuable tests that HubSpot and many tools do not. It also offers suggestions so you aren't left confused where you should start.
Clickflow may not, however, be best for a company just starting out.
If you have minimal pages on your site, less than 5,000 visits per month, and aren't quite focused on SEO for their business, you may want to pass on this tool for now.
For us here at IMPACT, we easily give this amazing tool 5 out of 5 stars and will be using it for ourselves, recommending it to our clients, and recommending it to anybody who asks us about it. It really is quite awesome.