4 unique remote team-building activities we're using during coronavirus quarantine

During "normal" times (pre-coronavirus pandemic), approximately 60% of our team members regularly work remotely.
Because of this, we've always had a focus on strengthening our remote company culture and building relationships with people across the company.
🔎 Related: Top culture fit interview questions you should use
However, our remote team-building focus went into overdrive recently as we had to mandate all employees work from home for our own safety and the safety of others.
Within only a few hours we were thrown into the experience of functioning with a fully-remote workforce.
Prepared or not, everything had to shift quickly so we didn't experience any downtime or inability to perform our usual responsibilities. The company had to keep going.
We all did our best to adapt to the changes this brought to our day-to-day activities, both professionally and personally.
However, knowing stress levels were escalating, people were feeling isolated like never before, and burnout was looming for everyone, my team (the Talent/HR/Admin team), realized our increased responsibility to keep morale high and make sure everyone at IMPACT still felt highly connected.
Unique remote team building activities
We finalized some ideas we had previously put on the back-burner, brainstormed fully new ideas, and increasing the frequency of already popular activities, we managed to put together a pretty solid schedule of remote team building activities.
The coolest part was many employees volunteered to fully manage different activities, allowing them to make each one "their own," while also not overwhelming my small team — only Carolyn and myself! — with a ton of extra work.

(I promise, the HR team is not short on things to do right now…)
While all of these activities might not be right for your specific team, I'm hoping they can either be slightly modified or at least spark some creative ideas to bring your team closer together while we're all so far apart.
With thoughts and emotions understandably all over the place right now, it made sense to provide a space where people can "reset" and get into a better mindset to prepare for the work day or day ahead in general.
So, our CLO, Chris Duprey, volunteered to run 45-minute mindfulness sessions on Zoom every morning, for anyone on the team to join.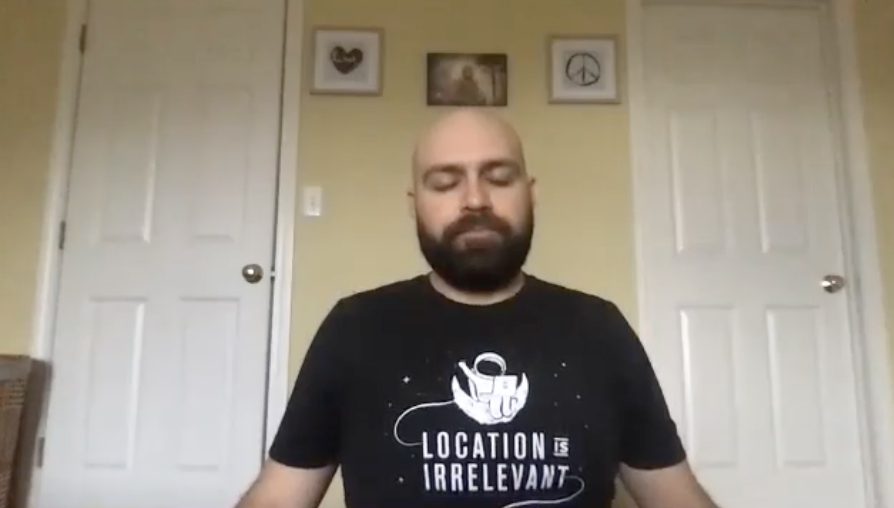 Chris in his element guiding the morning meditation.
Because this is an activity where people tend to feel a level of vulnerability, it allows our team members to connect and get to know each other on a deeper and more intimate level.
And based on the team's feedback, this activity has truly been a hit!.
"I love those mindfulness sessions. You can tell Chris puts thought and preparation into what to bring to the session to share with us each morning, but he's also ready and willing to pivot when he sees a more pressing topic or discussion that suits the emotional state of whoever is attending."

"My days are infinitely better thanks to Chris opening up his practice to all of us. Genuinely, my life feels improved thanks to those morning sessions; and on the days I do not have them, I can feel the difference. Also, the yogi tea wisdom he shares is always so clutch."

"I can't think of anything else that would get me to willingly wake up at 6:45 each morning! My days are better because Chris has taught me to be aware of how I react to external factors and recognize what I can control. The morning meditations are some of the best minutes of the day and have set me up on what I think will be a lifelong path."

"His selflessness in taking the time each morning to help IMPACTers manage everything going on through mindfulness and meditation has been extremely helpful and has made me more aware of who I am and how I manage certain situations. I've also realized how much of a dude Chris is because I've finally had the time to get to know him more."
Modified option
If you don't have someone on the team who can run these, consider having your team join a session hosted by someone outside the company. For instance, 10% happier does a daily YouTube Live with a meditation teacher at 3:00pm ET.
2. Coffee chats
Coffee chats at IMPACT are casual agenda-free video calls where groups of four are randomly selected to meet.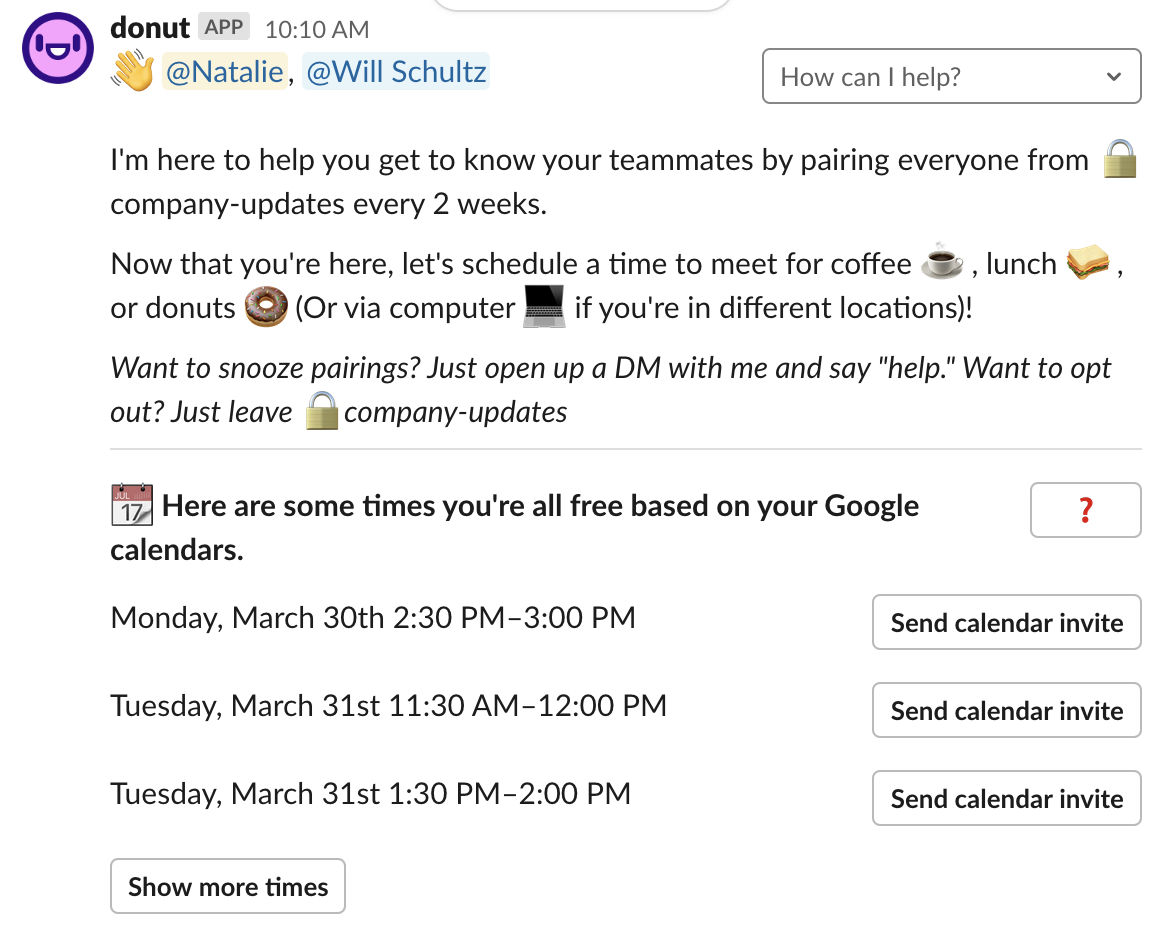 This was a test so it's just me and Will. #party
The purpose of these calls is to facilitate employees getting to know people in different areas of the company, specifically focusing on their lives outside of work.
We use a Slack integration called Donut to schedule these automatically, and it even has the option to prompt the group with a conversation starter to get things rolling.
By encouraging employees to take the time to casually chat and discuss hobbies, their families, sports teams of choice, etc., they find similar interests and have more reason to connect again sometime.
Modified option
Don't have Slack and/or don't want to sign up for Donut? Have someone on your team manually group people together and send out calendar invites instead.
3. IMPACT 'Cribs'
If you aren't familiar with the show MTV Cribs, it's where celebrities would personally give you a guided tour of their (usually insanely decked out and expensive) 'crib', aka house.
Our spinoff, IMPACT Cribs, is an idea we've had on the backburner for a while.
Once we all started working from home, it seemed like the perfect opportunity to see where people are working and living.
Run by our very own David Little and Jen Barrell, the show is a whole production with its own logo, intro music, and lively group chat.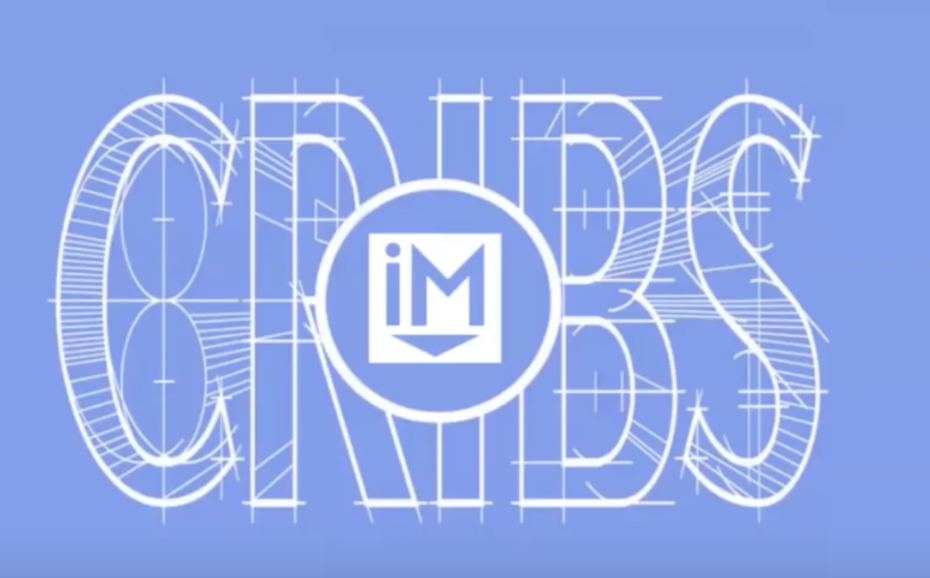 It's especially unique in the fact that we get a behind the scenes look at people's styles, prized possessions, personal stories, significant others (also known as camera holders), pets, and more.
If we're really lucky, we even get to meet some parents along the way who have a blast partaking in the fun. (Shout out to Connor DeLaney's dad, Kevin!)
While getting to know the employee hosts on a personal level each week, the audience partakes in a hilarious group chat, commentating on different things throughout the episode.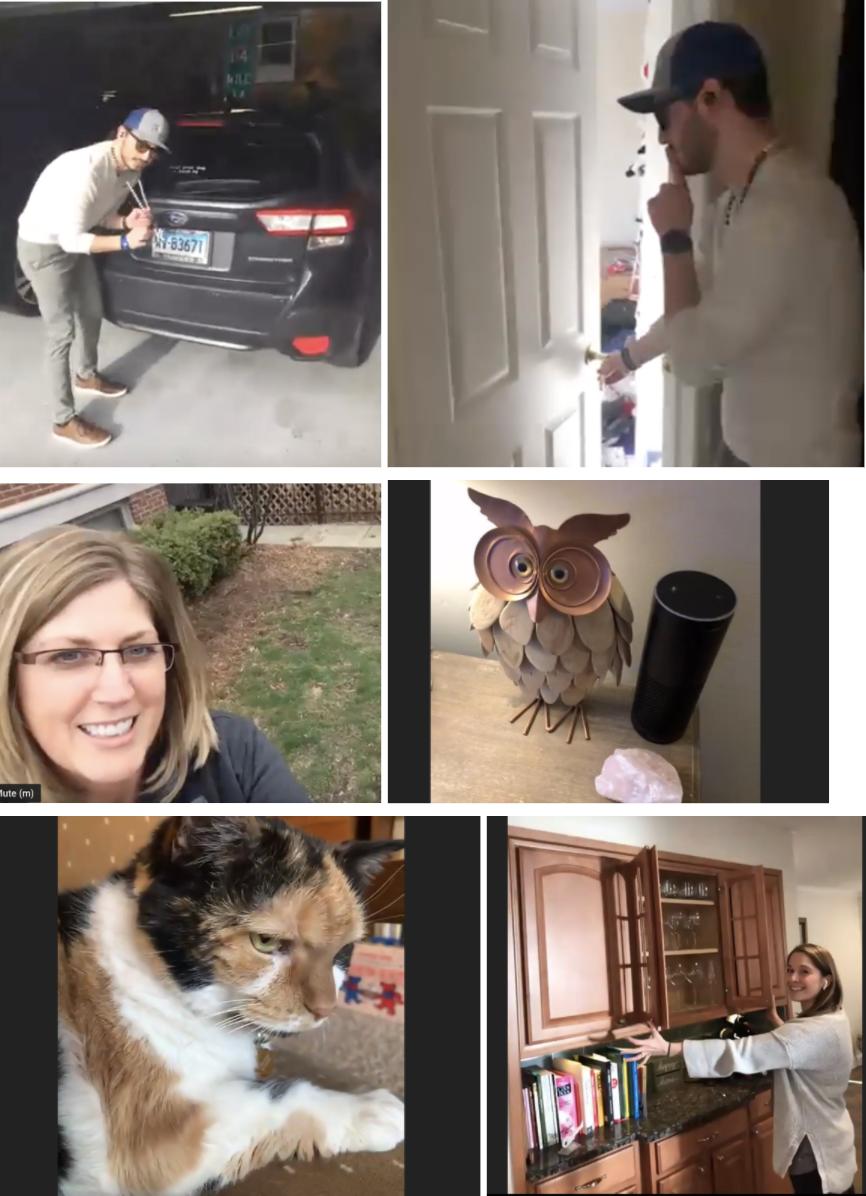 Full of wit, laughs, and the occasional llama (see below), IMPACT Cribs has proven to be an employee favorite!

Modified option
If this live-video option isn't for your team, encourage people to upload photos of their workspaces, houses, pets, etc., to an internal platform where people can interact and comment (Slack, Basecamp, etc.).
4. Live Q&A with the CEO
I understand this one might not sound as "cool" as the other suggestions, but hear me out.
Right after our whole team started to work from home because of coronavirus, our CEO, Bob Ruffolo, decided to host impromptu live Q&A sessions, occasionally following big announcements in the news or important company updates to answer as many pressing questions as possible.
The real key here is how transparent Bob is during these meetings.


A sample of the virtual attendees for Bob's updates.
While it's easy to only report the good stuff, during these times of uncertainty, people want to hear the bad and the ugly too.
As I've heard in group feedback sessions, people feel more at ease with the unfiltered answers because knowing exactly where things stand means fewer surprises when decisions are made.
Bob has received an outpouring of positive feedback from the team because of these sessions. I genuinely believe these meetings have done more team-building than any other initiatives we've tried.
Hearing people's concerns and seeing our CEO's vulnerability in front of the entire team creates an overwhelming feeling of closeness that's difficult to describe.
Here are a few examples of direct feedback from our team: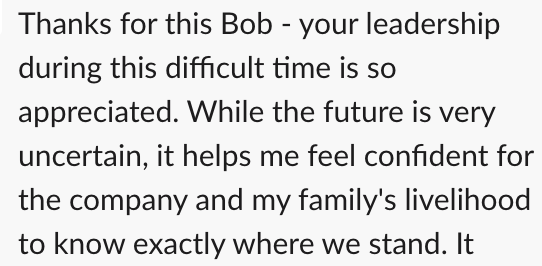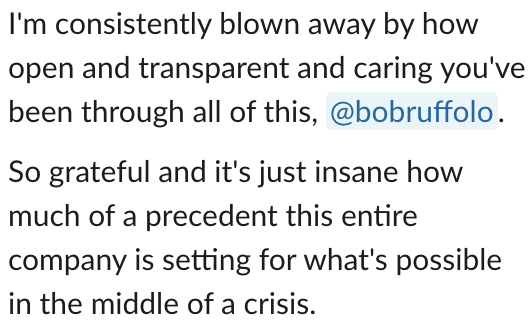 Whether during a pandemic or not, people will always crave information and answers. Consider your own options for how open you can be with your team.
Modified option
If your CEO isn't the right person to deliver this message to the team, think about who is.
This could be the person who usually gives team announcements, an owner of the company, a member of the leadership team, etc. Choose a person whose words carry the most weight with the team.
Now's the time to get creative with remote team building activities!
The options for remote team building activities are endless. The key is to find or develop the ones that will be most effective and appreciated by your team, especially during this time when people are needing extra help and resources to stay positive.
I encourage you to source suggestions from your employees. I love hearing ideas directly from our team members and they love seeing their ideas come to life.
Regardless of where the remote activity ideas come from, start testing them soon! The sooner you start the sooner you'll start building stronger relationships within your team.
Free Assessment:
How does your inbound marketing measure up?
Take this free, 5-minute assessment and learn what you can start doing today to boost traffic, leads, and sales.
Get Started
Free Assessment:
How does your inbound marketing measure up?
Take this free, 5-minute assessment and learn what you can start doing today to boost traffic, leads, and sales.
Published on April 17, 2020