What is covered in a video sales and marketing workshop from IMPACT?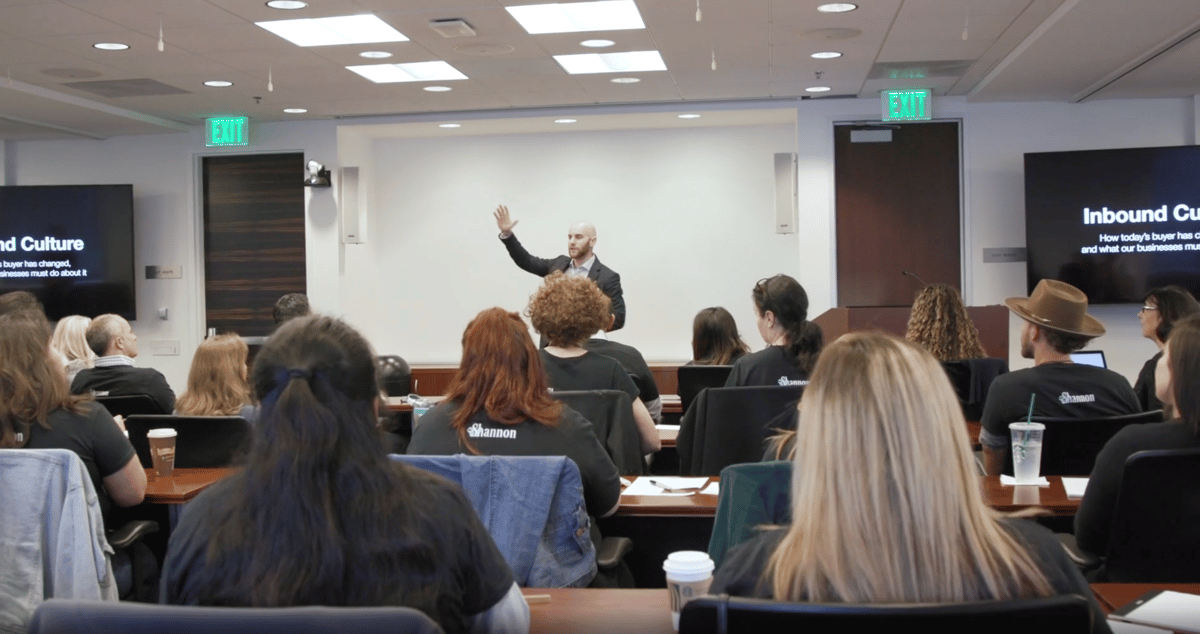 Quite often when I am speaking with clients about video, I hear something like this: "I want to ensure that my investment in video is impactful on the bottom line."
That's a reasonable request.
We know that video is changing the way businesses sell, but sometimes, similar to written content, businesses aren't confident in what types of videos are needed to be successful.
An organization may have made an investment in a full-time videographer, but that videographer doesn't necessarily have experience in producing videos that can be leveraged during the sales process — and ultimately impact the business' bottom line.
So the next natural question I get from current or prospective clients is: "What kinds of videos do produce results?"
There's one, simple answer: The Selling 7.
The Selling 7 are essential to every business because they help increase site conversions, improve the quality of leads generated, and educate buyers well in advance of their introduction to sales. As a result, your sales team can focus on having more meaningful and efficient conversations with the right prospects.
Effectively producing these videos — the ones we know drive sales — requires videographers to get the right talent on camera. Those are your in-house subject matter experts (SMEs) who can answer the top questions asked in the sales process, accurately describe your products and/or services, explain who your business is or is not a fit for, and so on.
Seems simple, right?
Well, the biggest obstacle I hear from clients is that the SMEs who should be on video are resistant.
Why? Either they aren't comfortable on camera or they don't see the value in video.
For this reason, when an organization decides to make an investment in video, they need a strategic plan. They need to get everyone bought in.
Enter the video sales and marketing workshop.
Last week, I sat down with Zach Basner, IMPACT's director of inbound training and video strategy.
I have personally witnessed Zach and his team in action delivering a video sales and marketing workshop to a client who went all-in adding video to their arsenal, but needed help making sure they were set up for success.
The workshop consisted of key stakeholders from within the organization: meaning sales, marketing, leadership, and customer success.
This company needed the help of IMPACT to get its entire organization bought-in to the value of creating video.
They needed to train their in-house videographer (who was actually a marketer expanding his skillset) to produce videos that would drive sales, and they needed a strategic plan and understanding of what types of video content to produce.
Our training is principle-based — it's tried and true.
In this interview, I asked Zach about why we built this workshop and exactly what will be covered when IMPACT comes onsite to you.
The goal of a video sales and marketing workshop
Genna: What is the vision for the workshop?
Zach: We all have to agree we are in the business of trust. If we are in the business of trust, then we have to leverage video.
Video is the only type of content that allows prospects and customers to see us, to hear us, and know us, before we see, hear, and know them in person.
Not only do we need to create video, but it has to be creating the right type of video that influences the bottom line, and we have to have a process that makes it easy to do.
This is the general vision for the workshop.
The structure
Genna: What does a typical agenda look like during the workshop?
Zach: We discuss what buyers and consumers want from great video content and how it influences their buying decisions. This is "the why."
"The what" is when we move into the types of videos that we know are going to have the biggest influence on sales.
Some clients we work with believe that About Us videos or Facebook ads are the epitome of video marketing, but we actually have seven types of videos we know have a direct correlation to revenue.
So, we discuss the videos that move the ROI needle.
Then we dive into the structure of a great video because if we want people to watch the content and take something away from it, there has to be a structure.
Most importantly, in this workshop, we offer a hands-on learning experience.
Everyone in the room breaks up into groups, then we pick a video we want to make and apply our learnings to the particular video.
Everyone has an opportunity to add a great teaser, a great intro, great segments, and great calls-to-action in groups.
Further continuing the training, we shift into on-camera performance, where the videographer learns to be a skilled producer, focusing on the behind and in front of the camera principles that you need to have to be successful.
We focus on the principles of being a great communicator and clearly articulating the message and vision they have.
Lastly, at the end of day one, we discuss the long-term vision and the impact it will have on the organization if we do it well, and the things that would cause it to fail.
Genna: What is the difference between a one-day and a two-day workshop?
Zach: The only difference is day two is where we are actually shooting videos. There is no additional course material covered on day two.
We finish the principle-based training on day one day two is putting everything we learned into action.
Genna: Do our clients need to have a videographer on-site?
Zach: In order for this to be successful, clients should have a videographer on-site — or you can outsource to IMPACT, but an in-sourced videographer is best.
A video trainer can't do a great job of producing a product and coaching at the same time.
The workshop facilitator from IMPACT is there to coach for this very reason.
The workshop facilitator is going to be focused on the producer behind the camera and the person in front of the camera. That way the videographer can solely focus on getting amazing content for the final product.
What needs to be in place in order for a workshop to be successful?
Zach: In order for the workshop to be successful, there has to be a clear commitment from leadership, sales, marketing, and subject matter experts that they will attend the entirety of the training.
There need to be plans to hire a videographer, either have one on staff, or have a relationship with a production company that will allow you to produce roughly eight videos a month.
Creating alignment across all teams — especially sales and leadership — must be a priority.
The secret to long-term success
Genna: Knowing that we have seen success with the principles of The Selling 7, how can a client guarantee successful ROI?
Zach: The quickest way to see an ROI comes down to how quickly the video content is being used in sales.
We have seen that clients who immediately started using The Selling 7 principles and one-to-one videos in their sales process saw a 5% increase in deals won within the first 60 days.
A way to calculate the possible ROI: take your average deal size and average deals you close every month and increase that by 5%.
That's what you can expect if you implement our recommended strategy and principles.
To truly experience business results from your investment in video, you need to have the right people within your organization bought-in and actively participating in this process.
Knowing that you may run into issues along the way, your organization needs to combat the biggest pain points and objections before they arise. By addressing (and ultimately removing those obstacles) at the forefront of your video program, you'll set yourself and your videographer up for success.
In our experience, the video sales and marketing workshop is the easiest and quickest way to achieve that.
Free Assessment:
How does your inbound marketing measure up?
Take this free, 5-minute assessment and learn what you can start doing today to boost traffic, leads, and sales.
Get Started
Free Assessment:
How does your inbound marketing measure up?
Take this free, 5-minute assessment and learn what you can start doing today to boost traffic, leads, and sales.
Published on November 11, 2019