5 Lessons Learned From Aligning Marketing & Sales Teams First-Hand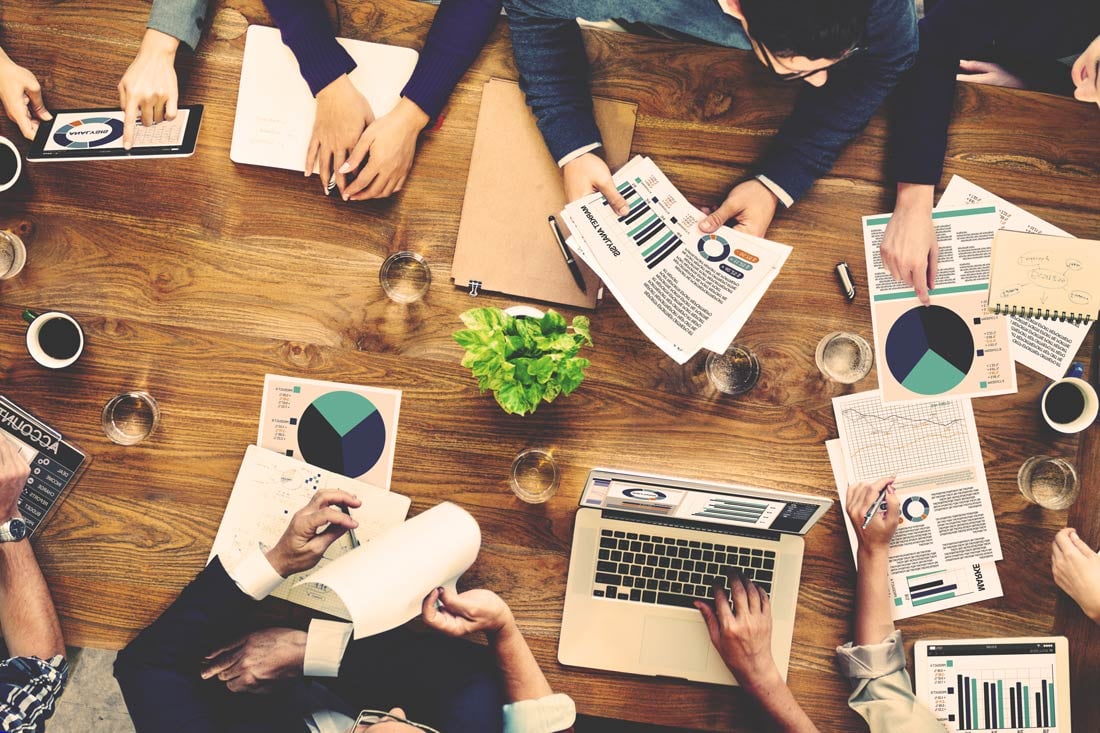 When I started in the marketing industry, I would've never guessed I would be anywhere near sales.
Sales was intimidating, fast-paced, and frankly just not where I wanted to live. I wanted to be a marketer.
It didn't take long after working with clients to achieve their marketing goals that I learned two things:
Marketing can bring in all of the leads in the world, but if they don't increase the bottom line...it doesn't matter.

The only way to increase the bottom line is to make sure that sales closes the deal, which means sales and marketing have to work together.
I can't begin to list the number of times I've been tasked with generating more website visits and leads only to end up in the conversation of how leads were being followed up with by sales.
Enter "marketing and sales alignment"–– the process of ensuring your marketing and sales teams are working together towards a common goal.
Surprisingly, I have absolutely fallen in love with this practice. I no longer shy away from the sales component and, instead, I actively work to understand how they operate so we can align sales activities with marketing efforts (a lot easier said than done).
I didn't fall in love immediately, though.
Aligning marketing and sales is no easy task. Actually, it can be pretty uncomfortable for companies to admit that maybe the two aren't communicating as well as they think they are.
Fortunately, as I've worked my way through the process of aligning marketing and sales for all types of businesses, I've learned to face this challenge with a smile.
Here are the biggest lessons I've learned.
Lesson 1: Alignment between marketing and sales is often overlooked.
In the inbound space, we're beaten over the head with the reminder that marketing and sales are both important and that to hit their goals, they need to be partners.
Yet, so many businesses struggle with this. Why?
Only 26% of respondents to HubSpot's 2018 State of Inbound Report said they were operating with a Service Level Agreement (SLA) between their sales and marketing teams.
Sales and marketing alignment is hard. It involves a lot of vulnerability, communication, and thoughtful processes that enable people to report back to one another and understand how to implement the feedback (good and bad).
One of the reasons alignment is so difficult is goal setting. It's common for the two teams to set goals separately, which can quickly turn into a battle against each other.
"Marketing isn't giving us enough leads."
"Sales never tells us what happens to the leads we give them."
It's a slippery slope of pointing fingers, rather than a united front against competitors.
It never fails that the majority of businesses trying to hit aggressive revenue goals find that their real problem isn't the number of leads or issues with the sales tools they're using –– it's actually their marketing and sales alignment that they had no idea was even a problem.
If your marketing leads aren't closing and your two teams seem to have a lot of tension when it comes to working together, there is a good chance that marketing and sales alignment may be the source of your issues.
Lesson 2: Start with your revenue goals and performance metrics.
Some of the first questions marketing and sales alignment questions I get regularly are:
"How do I create marketing and sales reports?"
"How do I use the HubSpot Sales Pro tools?"
"How do I improve sales performance?"
And I constantly fall back on the same answer–– you have to understand and document your revenue goals and performance metrics first.
Getting your entire team (and I do mean the whole team, from VP of Sales to the newly-hired SDR) to understand your revenue goals is a no-brainer but almost every time I work with sales and marketing teams, it's apparent the more specific performance metrics that aid achieving those revenue goals are not.
Marketing and sales goals and metrics should be set together, especially if the goal is to increase revenue (I mean that's why we're all here, right?).
Once the overarching revenue goal is set, then the departments can break down their individual performance metrics to feed into that revenue goal.
Yes, marketing is responsible for revenue too!
Some common and effective marketing metrics are:
Number of MQLs

MQL-to-SQL conversion rate

Visitor-to-MQL conversion rate

Number of new contacts

MQL-to-Customer Rate

Customer acquisition cost
Some common effective sales metrics are:
Number of SQLs into Close

Number of deals in each deal stage

Average days to close

Average customer lifecycle

Average deal size
By defining these metrics and accurately tracking them, you can determine what areas really need improvement or support and change the things that will actually make an impact.
Setting these goals and understanding what metrics are important can take some brain power and collaboration. If you need help defining what performance metrics will actually affect the bottom line, we're happy to help talk it out.
Lesson 3: Reporting is only as accurate as the data collected.
After you've set your revenue goals and identified your performance metrics, the next step is to build out your reports.
However, your reports will only be as accurate as the data collected.
If your sales and marketing teams are not aligned on process and definitions, then it is likely they are not collecting or tracking data in the same way either. Different sources or reports, means there are likely to be discrepancies, and it's more difficult to make progress if people have different ideas of where they currently stand.
We've all been there when it's time to show off the hard work you've put in and the numbers just aren't adding up. Ugh.
This leads to a lack of insight into what's working as well as confusion in what marketing and/or sales is doing. If we aren't able to make changes based on performance or see that we're trending in the right direction, then we're essentially wandering around in the dark and can't trust that the other team is accomplishing what you need them to.
If no one can trust the other's work, then we're really in a tough spot.
To ensure this doesn't happen to your team, define the metrics when you set your goals and keep those definitions in the place you are tracking so no one is ever confused about them.
Make sure that everyone has access to the same reports and is using these to gauge their performance.
When creating reports, always create them in the same place with the same filtering criteria and using the same source of data.
If there is something that is skewing the data (ex. there was an influx of contacts from an event or someone on the team didn't track their metric correctly), make a note so that can be considered in the analysis.
Lesson 4: Understand your sales (and marketing) process
before
implementing any tools.
HubSpot is an amazing tool. There are SO many things you can build inside of it to make your life easier, but you can't start building anything until you thoroughly understand your sales (and marketing) processes and what they entail.
I cannot reiterate this concept enough.
This understanding and documentation can look very different for different companies and there is no right way –– all that matters is that it's complete and accessible by the entire team.
Without having this process documented, it is nearly impossible to build any type of effective automated workflow or tool.
So, what exactly are you documenting about your sales (and marketing) process?
When you're documenting your process, write down every step that a lead goes through externally and internally, from the day they fill out a form on the website or meet someone at a conference all the way until they sign a contract or make a purchase.
Don't think just "sales" –– this also includes when they are passed from marketing to sales and from sales to customer success. Don't leave anything out! If you're worried you're forgetting a step, choose a few recent deals and document exactly what happened.
Once you have this, you can move your sales process into HubSpot and identify areas that you can improve upon.
Lesson 5: Communication is everything.
Aside from process, communication is my next most used word in aligning marketing and sales teams. Clients will hear me say this over and over and over again.
Lack of communication between these two teams leads to frustration in hundreds of ways.
For example, marketing could be trying to bring in leads without knowing how those leads are performing, while the sales team is spending time on the phone with leads who aren't the right fit.
If there is no communication or defined feedback loop, improvements towards efficiency and success can't be made.
Marketing and sales should be operating as one team.
Part of that is constantly being in communication with each other. At the very least, there should be a recurring meeting between the two teams to discuss what's working and what's not. At IMPACT, this occurs once a month.
You can use these marketing and sales alignment meetings to talk through things like:
The quality of leads being passed to sales and how to improve

Ideas for blog posts and content being created that can be used in the sales process

Marketing initiatives that need specialized sales follow-ups (like webinars)
The deals that are closing AND the ones that aren't (and why)

The questions that are constantly being asked on initial calls with prospects to improve content and qualification
The expectations for these meetings and discussions should be defined in the SLA.
The possibilities for growth and improvement are endless as long as the teams take the time to review, discuss, implement, and iterate.
Marketing and sales are each other's best secret weapon.
It's can be a long and bumpy road to aligning your marketing and sales teams. There will be some uncomfortable conversations and current processes will need to be evaluated.
However, with that said, I have never seen something more important for teams to understand and implement.
The teams that have mastered marketing and sales alignment are working as a united team and actively pushing towards one goal.
There is no guessing or wondering if a marketing initiative actually effected revenue. There is no more "Well, sales said the leads were just unqualified."
These teams are constantly asking "why," digging into the data in their reports and talking through ways to improve together.
The sooner marketing and sales teams realize that they are each other's secret weapon, the sooner those revenue goals can actually be achieved.
If you're looking for easy ways to improve your marketing and sales alignment, we're here to help!
Free Assessment:
How does your sales & marketing measure up?
Take this free, 5-minute assessment and learn what you can start doing today to boost traffic, leads, and sales.