Leadin: 5 Signs HubSpot's Not For Your Business -- Yet. Introducing Leadin.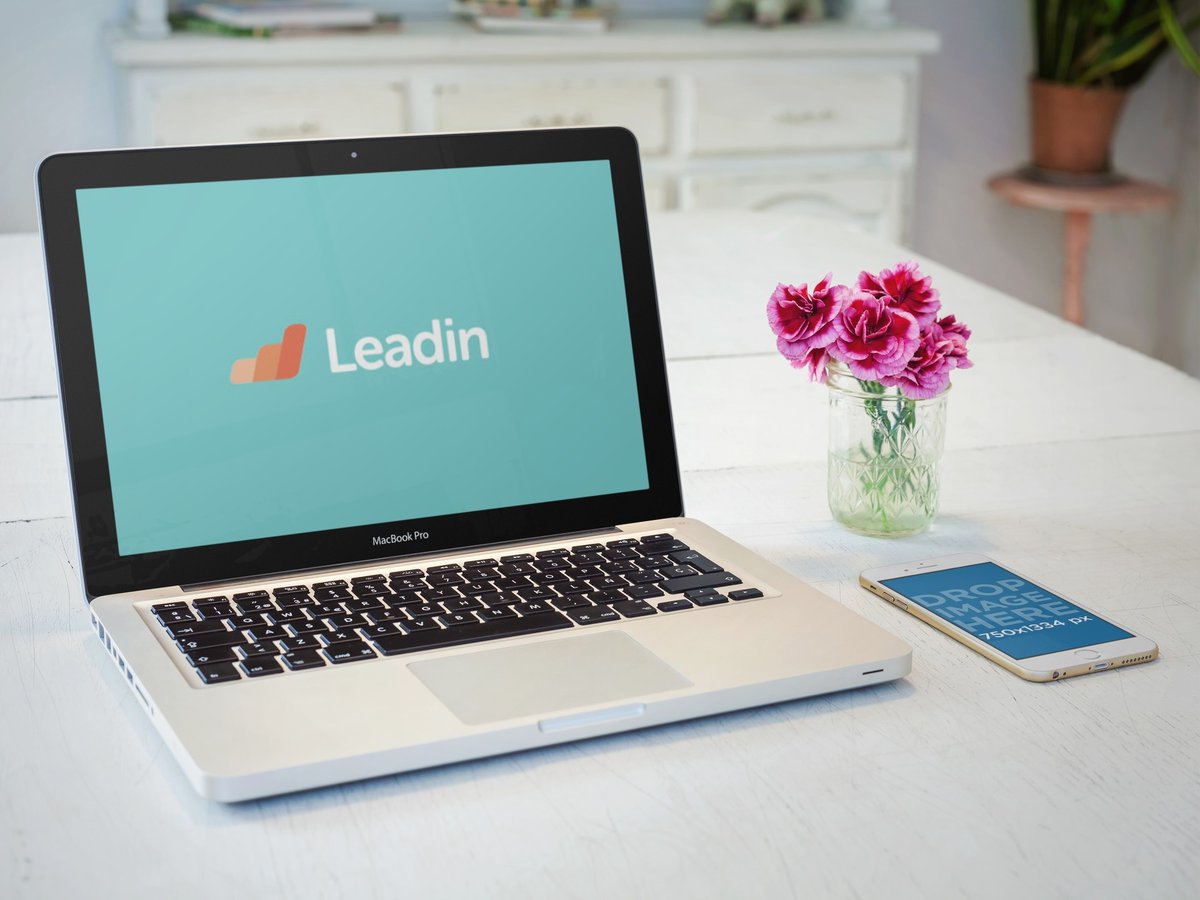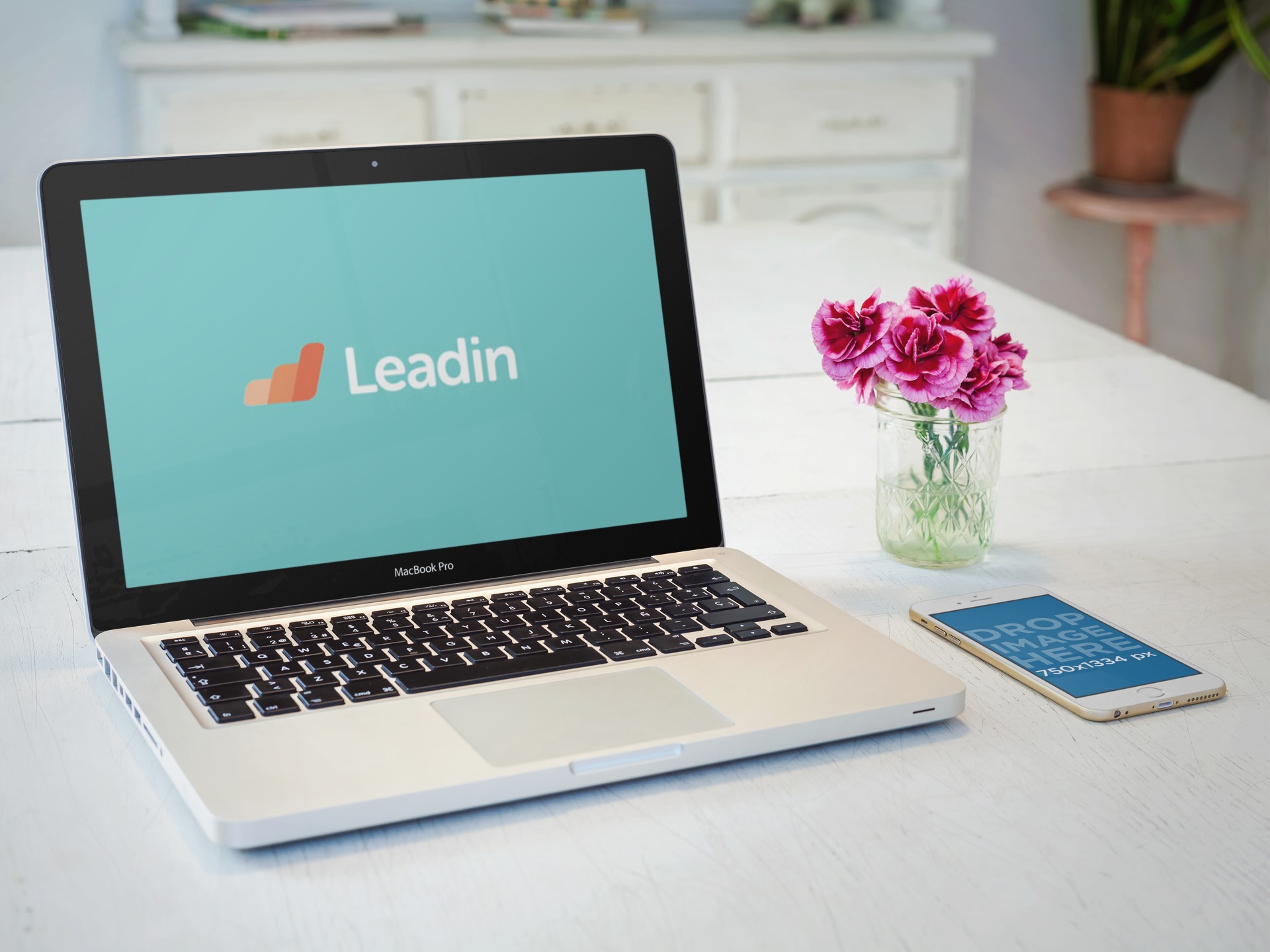 Before anyone can ride a bike, they need training wheels.
When we first get on two-wheels, most of us stumble (maybe even fall), but training wheels help us find the balance we need to initially adjust and feel comfortable with being mobile.
Implementing new strategies or tools into your Marketing initiative, like HubSpot for example, is a lot like learning to ride a bike. You've gotta take it slow before you can start popping wheelies and leaving tire tracks on the street.
That's why HubSpot created Leadin.
What is Leadin?
Leadin is a free plugin for WordPress that helps users convert their website visitors into leads and learn more about them and their behavior on their site.
It was designed to be an "Introduction to Inbound" (or Inbound Training Wheels as I like to think of it) for individuals who are not quite ready for the full power of lead generation and the HubSpot suite yet.
But here's the big news.
During INBOUND 2015, HubSpot announced that Leadin will now be available on all CMS platforms.
That's right! Whether you're on Drupal, Joomla, or any other platform, you'll be able to use Leadin to kickstart your Inbound strategies.
How does it work?
For those who aren't familiar with it, Leadin enables you to create an exit-intent popup form on your website (like the one below) to collect contact information from visitors and turn them into leads.
Contact History & Background
After the visitor has converted, you'll then be able to see a glimpse of their past activities and interactions on your website, including what pages they've viewed, how long they stayed, and when/if they returned.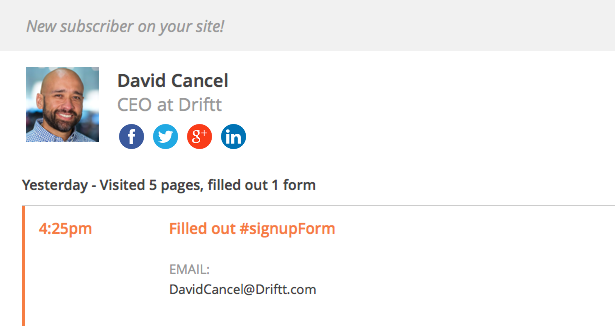 Using the same technology as HubSpot, Leadin will then also augment "intelligence" about your new lead and their company including where they have social media profiles, when their company was founded, what they do, and how many employees they have.
Check out this example of Driftt:
Information like this gives you context to better understand the needs and possible pain points of your audience. It lets you get to know the people visiting your website on a deeper level so you can then cater your content or services to better suit them.
In other words, it gives you a little more insight into your buyer persona.
Website Performance Analytics
Aside from its contact tools, Leadin gives you detailed performance analytics of your website.
As you'll see in the screenshot below, once installed, the plugin will track and allow you to see how many leads have converted, when they converted, and overall, how your website and form are performing over time.
Segmentation
Based on all of this data, Leadin will then allow you to segment your newly-earned contacts into distinct email lists using their simple to set up connections with MailChimp, Constant Contact, Campaign Monitor, GetResponse, or AWeber.
Plus, with the plugin's expansion to all CMSes, HubSpot is hopeful that we'll see even more email functionalities in the coming year.
So… is it for you?
5 Signs You Should Be Starting with Leadin
HubSpot is a robust and comprehensive suite of Inbound Marketing tools (Gone fangirling. Be back soon.), but the truth is it may not be for everyone.
If you're on the fence about making the investment in the platform, here are 5 surefire signs that you should be starting with Leadin.
Sign #1: Getting found & generating leads isn't the primary goal of your Marketing/website.
Not every business' goal is to generate leads
For many, the primary purpose of their website is simply to provide information about their business or services when customers go looking. Maybe you're a restaurant that wants to share their menu, a local retail store sharing your hours, or even a model sharing your portfolio.
If your website is more for showcasing information like this than getting found, then start with Leadin.
Chances are, most people visiting your site are visiting directly. They already know about your company and you may have even sent them there.
With this in mind, use Leadin to experiment with re-engagement and customer delight. Try collecting leads on a simple offer like a coupon, discount, or email newsletter.
Doing this will allow you to not only gather the contact information of people in your audience (and in turn, let you know who's checking you out), it will also give you a way to reach and engage with them again in the future.
I mean, I've gotta come into the store if I want to redeem that free ice cream cone coupon, right?
Sign #2: You have a short sales cycle.
If your sales cycle is short (i.e. someone can just walk into your store and buy your product off the shelf), then Leadin is for you.
Your product or service requires little to no nurturing. When people want or need it, there isn't much deliberation or reluctance; they just buy it.
Knowing this, the full suite of HubSpot may be more than you really need to run and grow your business right now.
If you're curious about what Inbound Marketing and lead generation can do for you, start out with Leadin to see how your audience responds to the idea of forms and offers before making a large investment.
Sign #3: You have a small budget.
The power of HubSpot comes with a price tag. Starting at $200 a month ($2400 a year) for the basic plan (and increasing as you get more contacts), the software is not for businesses with a limited budget.
Most Inbound strategies take 3-6 months to start getting traction, so if your business isn't equipped to make a fairly large monetary commitment up front, you're better off testing the waters with Leadin to predict the possible Return On Investment.
Sign #4: You don't have any contacts.
Some of the biggest perks of HubSpot are its lists, segmentation, and email tools, but if your business doesn't email contacts, what's the point?
Start small. Start building your list with a simple offer on Leadin or if you're a blogger, start building a subscribers list. Once you lay this foundation, then you will be better equipped for more advanced tactics with the HubSpot suite.
Sign #5: You're not sold on Inbound Marketing or Lead Generation just yet.
Still not sure about Inbound Marketing? Well, snap out of it! --- Just kidding.
While I'm an agency girl and I've seen the Inbound possibilities first-hand, I can safely say that my teammates and I have encountered our fair share of skeptics.
If you're not completely sold on the effectiveness of Inbound Marketing or the importance of Lead Generation, take it for a test ride with Leadin.
With its easy setup and non-existent price tag, Leadin is a great way to give Inbound a try and reap all of the rewards without any risk.
No matter what your CMS, give the Leadin plugin a go for as long as you like. If or when you decide to take HubSpot for the long ride, you'll be glad you started on some training wheels.
Free Assessment:
How does your sales & marketing measure up?
Take this free, 5-minute assessment and learn what you can start doing today to boost traffic, leads, and sales.