7 Warning Signs that You're Generating Unqualified Leads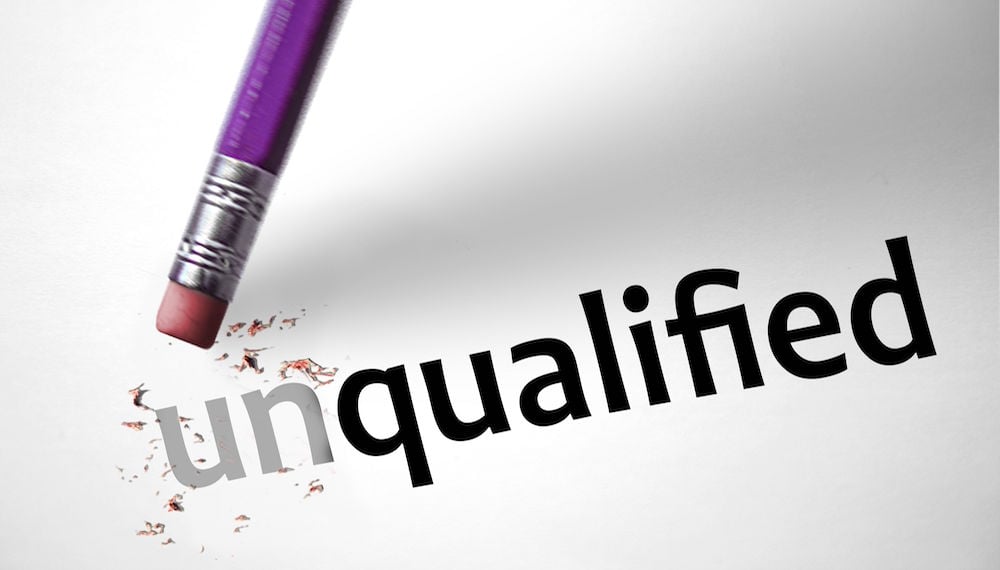 Numbers can often be misleading.
And when it comes to lead generation metrics, they often are. There's nothing that noticeably boosts the morale of your marketing team more than seeing a waterfall graph headed upwards in the right direction, but as you've surely heard countless other times throughout your life; it's about quality.
It's tough to take this approach in regards to your lead generation, as we're inclined to always value quantity, but it's the quality of leads that have a real impact on your business.
So how do you know if you're doing a good job in generating qualified leads?
We spoke to industry experts as well as pulled from our own experiences to develop a list of seven warning signs that you're generating unqualified leads.
The 7 Warning Signs of Unqualified Leads
1. Short calls
One of the most frustrating occurrences for a salesman is to spend time preparing for a call, only to realize very early on that it's a waste of time.
Now obviously, it's unrealistic to expect to close 100% of the leads you get on the phone, but, we're talking about leads who should have never warranted a phone call in the first place.
Lead qualification is a combined effort of the marketing AND sales teams.
While, the marketing team is responsible for creating relevant content in line with company buyer personas in order to ensure you're appealing to the right audience, the BDR (Business Development Rep) is responsible for extensively qualifying the person who may have raised their hand as a result of that content, prior to handing it off to the Sales Rep.
If either team is not performing as expected, these unqualified leads will leech calendar time from your sales reps and result in wasted time.
Reasons for short calls:
Lead is uneducated on your company

Lead is unsure of their need

Lead is still unsure on what you're offering

Your product / service isn't even close to their budget
In each of those four cases, the lead is unqualified. As a marketer, in order to deliver more qualified leads to your sales team, it's critical that your content strategy is built upon detailed, accurate buyer personas.
"The key step to generating qualified leads is to fully define your buyer personas,"

says Peter Caputa

(@pc4media)

, Director of Channel Sales & Marketing at

HubSpot

. "Then, create content that will resonate with them at each step of their buying process. If you find that you're unable to connect 1:1 with your leads at the right rate, leads unsubscribe from your email lists at a high rate, or you're always attracting a low level influencer, you're not creating the right content. Step back, define personas and map your content and editorial calendar to the personas and their buying stages."

2. Resisting the "Next Step"
Once you've made contact with a lead, generally the sales team works to keep the process moving through follow-up emails and phone calls. If your leads are resistant to the next step in the sales process, it's usually a result of one of the following two things:
You didn't provide enough value for the prospect to continue the conversation. Each email or phone call is an incremental sale, all leading up to the big close.

OR, more applicable for this article, the prospect may have a clear vision for what they want accomplished, but the messaging or content on your site isn't setting the proper expectations for the type and level of service that you offer.
When a prospect isn't able to fully understand exactly what it is that you do, they may still raise their hand to speak with you.
But after getting more explicit information through the first conversation or email, they may resist any forward movement because they're unsure of whether or not there's a good fit or if you can help them with what they actually need.
If you're receiving a lot of resistance in trying to get your leads to take the next step in the process and its result in unqualified connect calls or emails, it's time to reexamine the messaging on your website.
3: Severely Off-Budget
Budget is a critical indication of whether or not a lead is qualified. At the same time, it can be difficult to extract what a prospect's budget is or might be without having that initial conversation.
If your service costs $50,000, and your prospect was looking to spend a maximum of $25,000, it's going to be a very difficult sell and most likely, a short first call (as described above).
This, again, comes down to the messaging on your website. The most effective solution, among others, is including a clearly-defined pricing page on your website that details what goes into the pricing, and what can be expected.
Afraid this is going to drive away some visitors? That's OK.
This is the point: They're qualifying themselves so you don't have to spend time finding out that they're unable to afford the level of service that you offer. If the goal is to drive only the most qualified of leads to your sales team, they should know what to expect from a budget and pricing standpoint.
4. They just want pricing...
Relative to the above point, one of the worst things a salesperson can hear after speaking with a prospect for five to ten minutes is… "So, how much does it cost?"
This is a clear sign that the buyer is price-shopping and is uneducated on the value of what is you're offering them. They have probably communicated with a few other companies as well and may just need another price to satisfy their decision maker's wishes to get pricing from three or five different sources.
Much like the above point, the best solution is to be transparent with your pricing on your website. Remember that your pricing does not have to be exact. Instead, give them a range, cost expectations, or budget requirements to qualify your leads for budget prior to spending time with them in the sales process.
5. Prospect is unwilling to bring decision makers into the conversation
Often times, the prospects downloading your eBooks and engaging with your brand aren't the decision makers at their company… and that's OK. Working with influencers initially in the sales process is a great way to build advocacy within the company, and in the majority of sales, this will be the first touch.
However, if that influencer is reluctant to bring their boss or a decision maker into the fold, it can be a sign that they are searching for a solution without consent of their boss or they have yet to identify a real problem within their organization and are, "just looking for information."
Kevin Linehan (@kevlinehan), Partner Agency Sales Manager at HubSpot agrees that it's critical to spend your time on the phone with the right people. "As a sales person, it is imperative that you spend your time with the right people," says Linehan. "Your time selling is equally as important as the time you're asking for from the person on the other end of the phone or across the table. You cannot afford to spend time with an unqualified opportunity."
6. Low Reconversion Rate
Lead qualification is a process. Not every lead will head straight to your consultation or demo page and be a good fit. It typically requires a fair bit of time for that prospect to engage and re-engage with your content, giving you the insights needed to make a good decision on whether or not they are qualified.
In order to effectively qualify leads over time, your marketing content needs to be pushing them further down the sales funnel through lead nurturing programs, giving them the opportunity to convert several times over on content that spans the awareness, consideration, and decision stages.
Lead reconversion allows leads to further qualify themselves as well as your company, effectively weeding out the unqualified leads from ones who will eventually become customers.
If you've noticed that your leads aren't re-converting and have ceased engagement with your brand relatively quickly, then your content may be falling into the hands of unqualified consumers or the follow-up content is not relevant to where they are in the buying journey.
By reviewing the thousands of leads we're generating on a quarterly basis, we've found that a tell tale sign of qualified leads is a high instance of lead reconversions. Once again, it all boils down to you how well your marketing content is built around your personas.
7. Minimal Bottom-of-the-funnel (BOFU) Conversions
Again, by reviewing the thousands of leads we're generating every quarter, it's very clear that the most qualified leads are those that raise their hand by completing the form on our "Request a Consultation" page.
By filling out this form, they self-identify their issues or aspirations and show a readiness to vet and select a solution. As a result, we know that our sales team's time is best spent in these conversations.
Conversely, if you're not generating enough BOFU lead conversions, your sales team may be spending too much of their time with unqualified or "not-ready-to-buy" prospects.
To generate additional BOFUS, consider implementing a lead nurturing program that has a clear line for how that prospect can convert from an awareness stage eBook all the way to a consultation request.
Also, remember that your demo or consultation is the most valuable offer that you have. Create awareness around how helpful it can be to your prospects by sending them a targeted targeted email "selling" the conversation with one of your experts.
The result will be more meaningful conversations between your prospects and sales team members.
Adds Linehan: "Generating qualified leads from inbound marketing gives you a head start in identifying where you should spend your time."
Free Assessment:
How does your inbound marketing measure up?
Take this free, 5-minute assessment and learn what you can start doing today to boost traffic, leads, and sales.
Get Started
Free Assessment:
How does your inbound marketing measure up?
Take this free, 5-minute assessment and learn what you can start doing today to boost traffic, leads, and sales.
Published on August 16, 2016