HubSpot Marketing Reviews: Real-world testimonials (updated for 2020)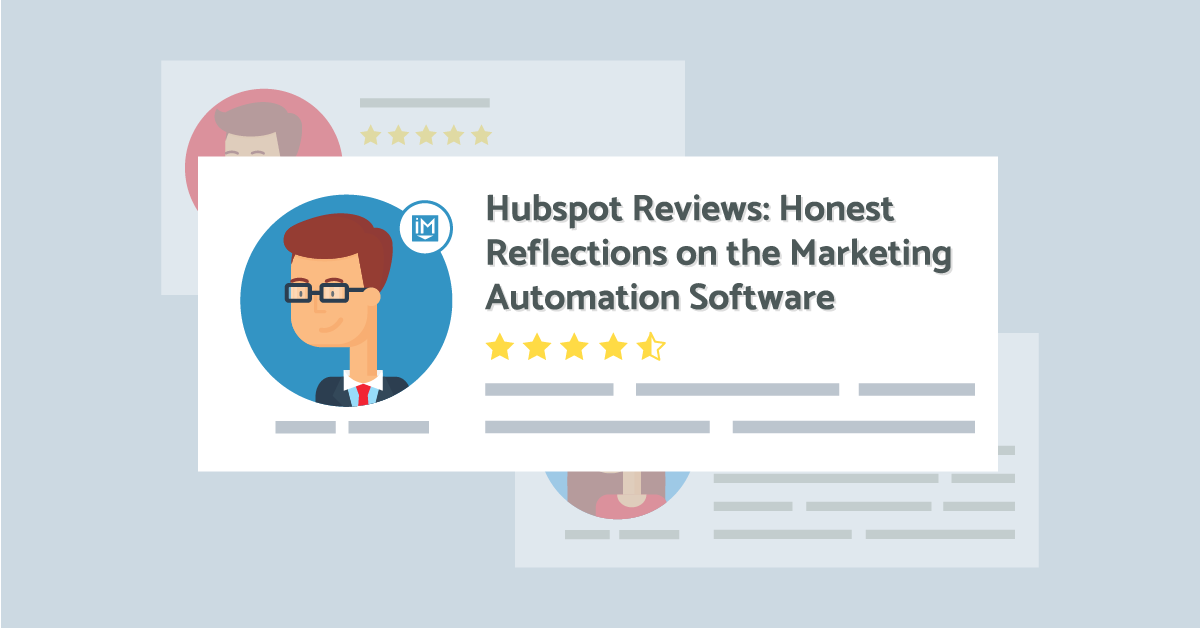 This article was originally published in 2016 and has since been updated for 2020 to reflect new reviews, as HubSpot's marketing automation software has continued to expand its features and refine its capabilities.
There's no shortage of HubSpot reviews online -- probably because HubSpot is used on over 76,000 websites around the world (source).
Unfortunately, like most product reviews, reviews of HubSpot's marketing automation software start to sound the same after you've read through 20 or 30 of them...
HubSpot is easy to learn and use
HubSpot is a true all-in-one platform
HubSpot has the best online marketing community
HubSpot is more affordable than software with comparable features
All of these comments are certainly true, don't get me wrong, but I'm sure many of you are wishing these reviews would dig deeper into what makes HubSpot so special.
To help you really get to know HubSpot's software, in this article, I'll share some of the most insightful HubSpot reviews from across the web, including insights from our experience with the software as an agency and with our clients.
How Does HubSpot Rank Against the Competition?
The marketing automation software industry is extremely competitive right now. As more and more companies make inbound marketing a bigger part of their overall strategy, the demand for digital marketing software has increased tremendously.
However, despite great offerings from software like Marketo, Pardot, and Act-On, HubSpot continues to rank higher across various independent review websites.
There are plenty of software platforms that allow you to perform various digital marketing tactics effectively -- but clearly, HubSpot is held as the best all-in-one by many.
👉 Related: Ultimate guide to HubSpot Marketing Hub for businesses
HubSpot is often considered synonymous with inbound marketing. After all, HubSpot co-founder Brian Halligan did coin the term.
What Are Users Saying About HubSpot?
I could sit here and relay all of the great things that people have said about HubSpot but why do that when you can hear it straight from the horse's mouth?
Here are just some of the insightful points HubSpot reviews from G2 Crowd:
Even with no experience, HubSpot is easy to learn and quickly start using to implement the inbound methodology.
"I love how easy to use the features are - I didn't need any training on the software to get started, and there are great resources online for training as you go, so when I find something I need help with, it's easy to figure out. The library of marketing resources has been invaluable to my work - Hubspot really provides a conprehensive solution, covering not just the software to get inbound done, but also the resources regarding why inbound and industry best practices. Essentially, Hubspot lets you focus on creating great content, without worrying about the technical details of website management."


-Maggie M.
Email marketing is a critical component of marketing in the digital age. Capturing and nurturing leads can be completely automated with HubSpot.
"I love the ability to set up automated workflows so that I don't have to worry about setting up a million follow-up tasks. I can simply import contacts with a few clicks and all the correct emails go out to our leads and customers. I also love the email and landing page capabilities. There are so many templates available, so it's easy to try out new designs. The drag and drop modules make it so easy to customize the email or landing page to how you want and need it to look and function, all without having to know html or css. Being able to create CTAs and then use them on other web pages through the embed code is also a great feature."

-Ashlee T.
HubSpot integrates smoothly with a wide variety of business software, making your life easier.
"As a marketer of the age of the customer, I'm always looking for helpful tools to improve the inbound strategy of the company I work for. The main goal is to integrate all different aspects of the job into one - easy, yet comprehensive - platform. Hubspot was the answer to all marketing prayers. I've been using it for about 7 months and I'm still finding new exciting features, day after day. At Neosperience, my sales colleagues specially love the possibility to integrate Hubspot with other services - Salesforce, to name one - to build a truly omni-channel strategy, and accompany contacts from awareness to post-conversion."

-Mario B.
Also, in recent years, as HubSpot's website CMS platform has gained traction, designers and developers have come to rely heavily on the platform.
I'm a web designer and I just love building on the platform. For the types of sites we build it's just the option out there. Everything you need to start generating and reporting on lead gen is in place from the start and if you want to further customize content types or add additional features to your site the updated version of their Design Manager is a pleasure. It's also a really great tool for us to use internally. I think my time supporting our internal marketing team for site maintenance is like 20% what it was when we were using WordPress. So yeah it's great for both our needs and for our customers needs.

- Christopher M.
It's also cost effective and accessible.
So much bang for the buck. HubSpot has extremely technical capabilities while still remaining usable for non-technical people. The level of customization that is available has turned this into an invaluable tool that I could not do business without. Using HubSpot makes me feel like I have a full-time assistant as the automations are very helpful and reliable.

- Nichole C.
Here's what the folks at TrustRadius are saying about HubSpot:
HubSpot aligns sales and marketing.
HubSpot was originally only used for marketing, but this year has been implemented across sales as well so most of the organization uses the tool. We have been able to use HubSpot for our marketing needs, including social media, email marketing, blogging, and landing pages. The campaign feature allows me to track everything involved with a specific campaign, which makes it easier to quickly show the impact the campaign has had on our marketing efforts without having to try to gather all of the information. Additionally, it has addressed our marketing automation and CRM needs. It has many other features that have provided us with more value, including the workflows. These are not only used to automate emails but also tasks and changes to contacts so we don't have to worry about manually changing them. We have a few different fields that need to be updated when a lead becomes a customer. When the sales team changes one field, a workflow will cause the other two fields to change automatically. Those fields are used in lists that determine who we send product update emails to when we want to update our customers specifically about something.

-Heather R.
HubSpot helps you solve one of the biggest issues marketers struggle with right now -- tracking social media ROI.
"The ability to manage your social media presence and HubSpot is a great feature. We have noticed that we now can track how many people are coming back to the website from our social media campaigns and then how many of those are converting into actual leads."

-Kevin D.
HubSpot has built-in SEO so you don't need any technical skill to ensure your content will rank well.
[HubSpot Pros:]

Blogging platform - has an easy to use interface and provides SEO optimization guidelines and suggestions.
SEO best practices provided are something a newcomer to the inbound philosophy can't live without!

-David K.
Now, take a look at these HubSpot reviews from aAppExchange by Salesforce:
HubSpot's powerful lead scoring features deliver better leads to your sales team.
"It's imperative that our sales team is provided with marketing qualified leads, and the integration of HubSpot with SFDC could not automate this process any better. This integration eliminates almost all of the manual aspects of lead scoring - simply create a numerical value based on a certain engagement and the leads funnel into our sales queue accordingly."

-Charlie A.
HubSpot has a ton of resources and training materials available, making it easy to turn any employee into an inbound marketing expert.
"Hubspot's training tools and educational materials (blog posts, trainings, webinars) have helped me introduce our new sales hires to marketing. The trainings are self-guided and I trust that they are learning how to manage an inbound marketing process in Salesforce effectively."

-Kevin B.
HubSpot provides analytics designed for sales and marketing teams -- not IT departments.
"HubSpot has been essential to the smarketing efforts at Fonality over the past 18 months because it makes essential data and reporting accessible to everyone--even those of us who are not experts in Google Analytics--and it makes it seamless and easy for us to create and track results from marketing campaigns. Most importantly, we can monitor visits and lead conversion activity in as much detail as we need--down to the lead level--again, without having to be brain scientists or rocket surgeons, as their promotional materials say. They offer an off-the-shelf, native integration with Salesforce.com and their help desk staff is super knowledgeable and able to help with any little issues that may arise in getting the tools to talk to one another."

-Tom S.
Marketing expert, Marcus Sheridan, president of The Sales Lion, is known for his brutally honest reviews. Here are some insights from his review of HubSpot:
"Competitors: Do you know how good your competitor's websites are? If you don't, then you're missing out. HS not only tells you all the words/phrases your competitors rank for in Search Engine Results, but they will also tell you about the links your competitors have coming into their sites, the grade of their site, and if they're moving forwards or backwards in terms of their web effectiveness. Simply put, this tool is incredible and a must for any business. [...]

[HubSpot CMS vs WordPress] Again, prepare yourself for an answer here that's not biased because I have a marketing blog (the one you're currently reading) on WordPress and I run two other businesses on HS. In other words, I've used both these content managers extensively and have found HS to be much, much easier. Might HS be more graphically limited? Yes, one could argue that, but for the non-techie that wants to handle 90%+ of their own web design, there is nothing better than the HS CMS. For example, I had to outsource design on my WordPress blog because I found it so difficult, yet I was able to design all 275+ pages on my swimming pool company's without the help of anyone. And one other thing to remember—HS focuses their CMS on simplistic design because they are all about content creation and SEO. That's why, although my swimming pool website is arguably simple in design, it dominates the search engines and blows most other companies away in terms of traffic results. When it comes to internet success,simple, combined with SEO best practices and great content, is the ultimate combination for success. [...]

[Is HubSpot worth the price?] What's really perplexing to me though is the fact that businesses will blow thousands a month on the Yellow Pages, or radio, or direct mail, etc—all of which have very short-term results and practically no residual—yet these same companies hesitate to spend a few thousand dollars a year on a system that will bring them leads, at an increasing rate,FOREVER. What am I missing here? For me, spending 9k a year on what amounts to 90% of my company's advertising is utterly laughable. When it comes down to it, if companies really understand how much $$$ HS will save them (assuming they do their part) then they'd be offering to pay more for the system just to get up and going tomorrow. I really mean this with all sincerity—It's worth every penny."
We could literally share thousands of glowing HubSpot reviews because new reviews are being posted daily, but you get the idea.
HubSpot Case Studies
While reviews are important when considering which marketing software to invest in, what really matters is results. Let's dive into some case studies and look at the actual numbers behind the overwhelmingly positive HubSpot reviews.
Back in late 2013, Nectafy decided to put HubSpot to the test for three months, writing detailed reviews along the way, and sharing all of the pros and cons of immersing yourself into the inbound methodology with HubSpot.
At the end of those three months, they published a detailed report of their results. Here's what happened:
Traffic went up... by a lot!
Nectafy saw a 45% increase in traffic month over month, with 95% growth in organic traffic over the final month.
They experienced a 39% increase in leads month over month.
All of that extra organic traffic paid off, as it converted more leads than all other sources combined.
Mention is a French SaaS company targeting enterprise customers. They help businesses monitor their brand and their competitors, across the internet and on social media with real-time updates.
Although they were already successfully marketing their brand online, their newly-hired Head of Marketing, Ben Twichell, set out to kick their lead generation into overdrive.
In just five short months, they saw incredible results using HubSpot:
"Our conversion rates are really good," explains Ben. "Our Landing Pages have an average 55% conversion rate, while our visitor to contact rate is amazing – 13% of all visitors to the website have either signed up for a trial or given us their information. Our closed deals have increased; we have a 5% conversion rate from contact to paying customer."
With those impressive conversion rates, it's clear Mention knows what they are doing and they are maximizing every feature HubSpot's marketing software offers:
"HubSpot reduces the need for other tools. I invest a lot of time in it, because the more I invest, the more I get out of it. I want to continue to work on completely aligning our sales and marketing, so we're working on optimising our processes. The HubSpot software definitely has everything we need to make that happen."
Paytrail uses cloud-based to process payments for over 10,000 online businesses. After a few years of doing inbound with poor tools, in 2014, Paytrail turned to HubSpot. Although they had gained some strong traction, they weren't satisfied with their marketing process and sought out an all-in-one solution.
"We were using so many different tools – Hootsuite and Tweetdeck for social media, APSIS for email marketing, Formstack for forms, Pipedrive for our CRM and Drupal for our website. It was a complicated to say the least. Our solutions didn't 'speak' to one another and we had no way to see the connections between different actions and results. Our goal was to make our marketing measurable."
Since implementing HubSpot, their sales and marketing have improved and their processes are seamlessly organized.
"It has brought the sales and marketing departments closer together, we are more in sync now. The salespeople find it easier to do their best work because we've done ours. They can have informed conversations with their prospects because they know what they are interested in and what concerns they have."
The results speak for themselves:
Organic traffic increased by 48%

Lead generation increased by 235%

Total customers increased by 18%
With so much momentum on their side, there's no sign of slowing down. Paytrail is quickly becoming an authority in their field. In fact, an ebook on SEO that they use for lead generation was downloaded 600 times in just two days!
How HubSpot Has Impacted Our Inbound Agency
By now you know where we stand on HubSpot -- we love it.
Not only has HubSpot made it easier to grow our agency, but it's made us more effective in the services we provide our clients, as well.
To keep this fair and unbiased, however, I have to address a couple of the downsides of HubSpot.
The Learning Curve
We started using HubSpot when it was new, and frankly, it was much easier to learn than it is today. Now, HubSpot has significantly more features and it's a more powerful and robust platform -- which is great, but all of those features can be intimidating at first.
A lot of HubSpot reviews will rave about how easy it is to figure out, but you have to keep in mind that this is mainly when compared to other options on the market (i.e. Marketo). It will still take some time to learn all of the terminology and tools.
My recommendation is to focus on one tool at a time as you onboard and work your way up over the course of three to six months. That way you're getting the most out of each tool and within six months, you're getting a ton of value out of the platform.
Contact Analysis
Depending on your level of HubSpot knowledge, it also can be difficult to look at a segment of leads that converted and measure what activities (at a macro level) really impacted conversions. Yes, you can go into each individual timeline and track their behavior on your site, but it would be extremely helpful if we could do it on an overarching level.
But it's still worth it.
Fortunately, the value we get from HubSpot far exceeds these minor issues. In fact, I would say that the page performance tool alone justifies the price tag because knowing how my top pages are performing gives me a ton of insight to where I need to focus.
Another feature of HubSpot that I love is Workflows. Workflows seem complicated at first, but you have to give yourself a little bit time to learn how to use them properly. Once you get the basic process down, you can do almost anything a Workflow. (i.e. sending a follow-up email, adding someone to a specific contact list, updating a property, etc.)
HubSpot is a significant investment, especially for small businesses and it isn't a decision you shouldn't take lightly. Without question, however, I can say that investing in HubSpot's platform was the best decision I made for my business. The results our clients have experienced with HubSpot's tools only increase my confidence in these powerful tools everyday.
That's why we've prepared a comprehensive guide that examines all of the pros and cons of HubSpot, including comparisons to their top competitors.

Although we believe HubSpot can benefit most companies, we know it's not right for everyone. Get the full guide here or using the link below before you sign on the dotted line.
Free Assessment:
How does your sales & marketing measure up?
Take this free, 5-minute assessment and learn what you can start doing today to boost traffic, leads, and sales.