How Leaders Can Break the Cycle of Organizational Anxiety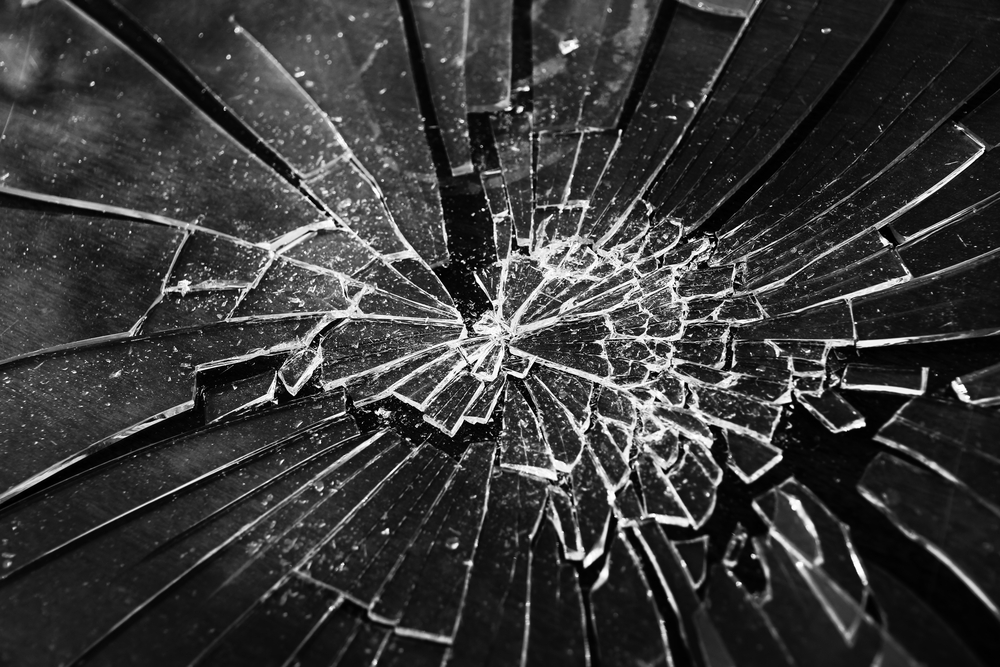 The first time I became a manager in my professional career, I was ecstatic. I had worked at an organization for a couple years and had made it to a Director position.
I started with the company in its early days and as we grew, I developed all our client management processes, managed our largest accounts, and trained those who were hired after me.
When I stepped into officially managing everyone, I didn't think much would change. I continued to develop our processes, manage our largest clients, and work with my team as their official manager.
After a few months, I realized how wrong I was.
I was working all day with the team, answering questions, and helping them work through client challenges. I squeezed in my own client communication when I could during business hours and took all of my work home so I could "get some real work done."
I finish my task work around 9pm most nights, and then would try to catch up on all my email. I'd go to bed exhausted every day.
I knew this wasn't a great balance, and figured it was because I wasn't being efficient enough, so I purchased Getting Things Done by David Allen hoping it would solve all my problems.
I read the book in one sitting one night, while my email and texts from employees and co-workers piled up all around me.
When I put the book down and saw how much in just a couple hours my inbox had exploded, I was so over it.
I didn't have an efficiency problem. I had a company dependency problem.
I knew in that moment, I had put myself into this situation, and only I could get myself out of it.
The Real Reason Company Dependency is Bad
If you look on any major business publication website about this topic, you will find the following typical reasons on why creating a dependent company is bad:
The stress level of being on call 24/7 isn't healthy for you. You'll get burned out.
You need space to think and innovate. You can't work on your business if you're only working in your business.
You need to take vacations and have something to look forward to other than work.
Does anyone else skip past "the why" sections of most business articles?
Duh! We know life sucks in these moments which is why we're looking for advice on how to correct it in the first place. You providing me surface-level reasons is not helpful or insightful.
As I was researching articles to help support my argument in this article, I did find something that's worthy of not skipping.
I want you to yell "Check!" out loud to all of the following that apply to your current situation:
I feel like I have to be involved in all major decisions at work.
My team doesn't like to make decisions without me. Generally, if I take time off, things don't move forward.
I feel like there's a lack of accountability across the organization. People just look to me to solve their issues.
If you scared the co-worker next to you by identifying with any of these statements, you might be in the midst of organizational anxiety.
What Is Organizational Anxiety?
I came across this article which provides an excellent explanation of organizational anxiety and the different ways it manifests in organizations.
Organizational anxiety is essentially the stress everyone in your company feels when there's fear of the company not performing.
When fear exists without healthy coping mechanisms or systems to balance it, that's when organizational anxiety runs rampant.
According to the authors of the article, there are 3 types of anxiety "loops," or cycles that inadvertently create self-fulfilling prophecies:
The "Messiah" Loop
"If Anxiety about the organization's performance intensifies, employees look for a "messiah"(Search for Savior). This search diminishes workers' Accountability, in turn reducing their Perceived Ability to Succeed. The diminishing of workers' self-esteem then leads to an increase in Anxiety."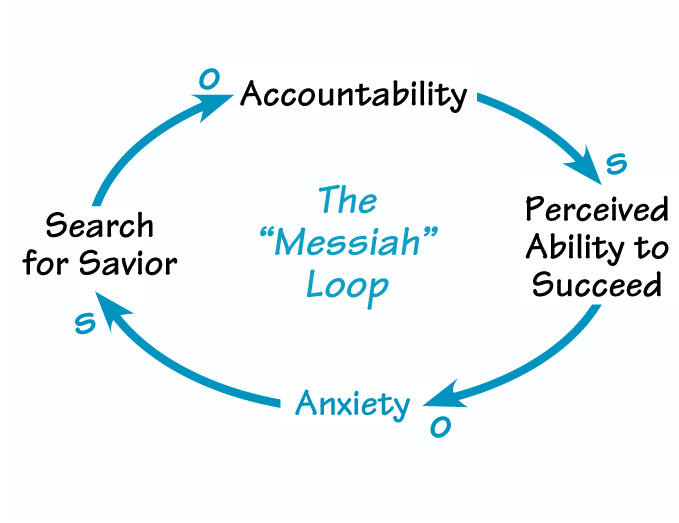 Image provided by The Systems Thinker
The "Manic Defense" Loop
"In this loop, anxious managers project the organization's problems onto their subordinates and then try to punish them.
To justify this punishment, the managers focus obsessively on quantitative measurements, slavishly using them to control the action around them.
Through this emphasis on metrics, the managers deplete the organization of the physical, financial, and—perhaps most important—psychological resources the team members need to succeed. All of this ultimately leads to even more intense anxiety."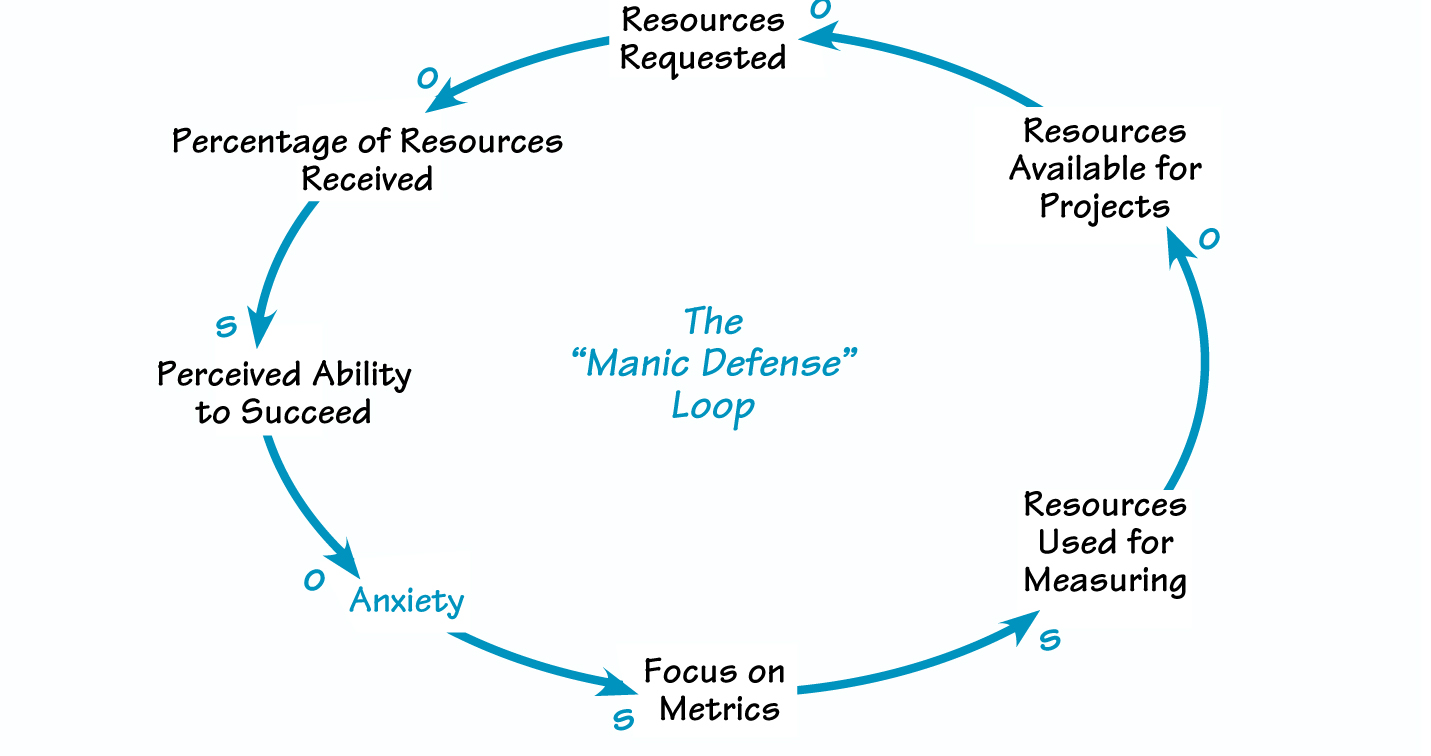 Image provided by The Systems Thinker
The "Fight" Loop
"Increased Anxiety leads to increased Internal Competition, which leads to a greater Need to Be Right. Intensifying the Need to Be Right reduces the level of inquiry (Questions), which also lowers Understanding and increases the Resources Used for Making Decisions.
More employee time and energy is needed to make decisions when there is little understanding of the issues facing the organization. The rest of the loop follows the "Manic Defense" loop, ultimately creating even more Anxiety."
As you can see, there are a few ways organizational anxiety can impact employees' self-esteem and ultimately their ability to succeed.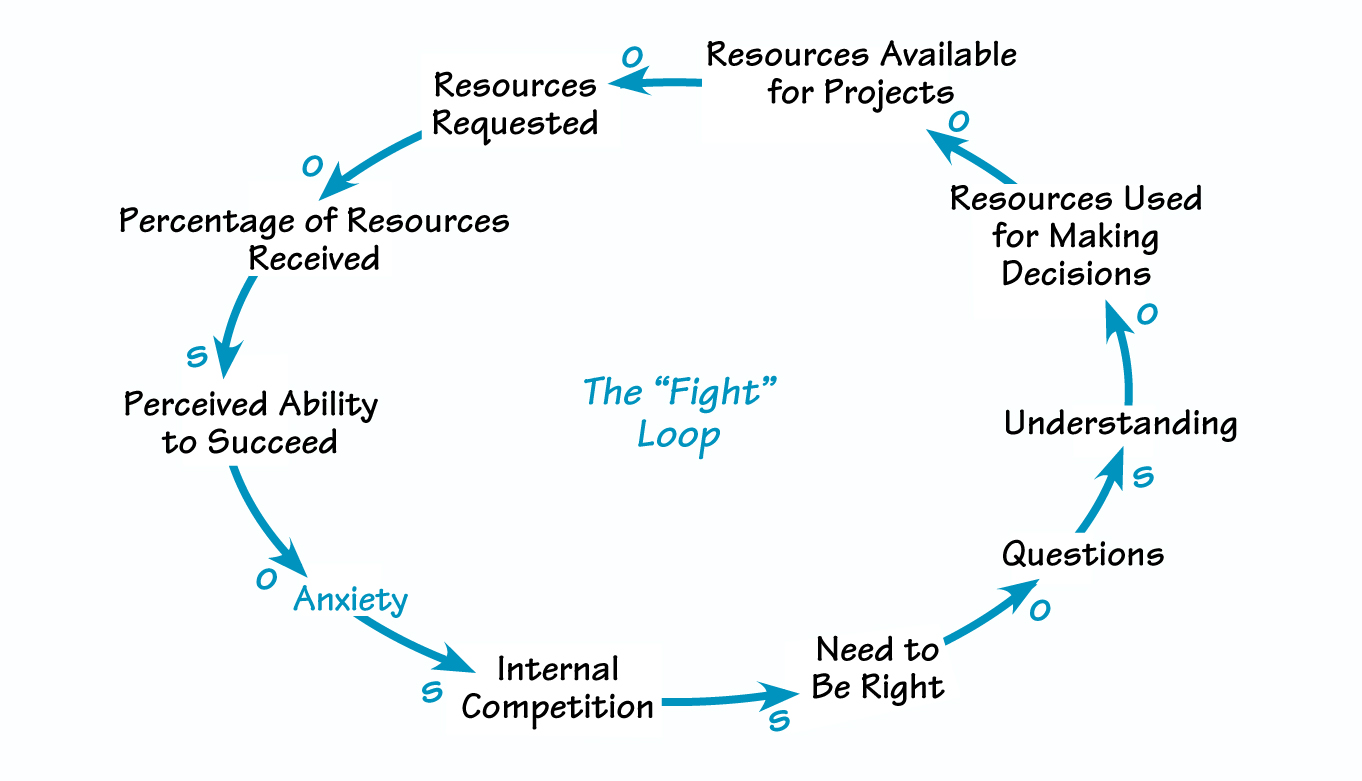 Image provided by The Systems Thinker
For the sake of this article, we'll focus on the "Messiah" Loop.
Have You Created the "Messiah" Loop In Your Organization?
Before we get into how to counterbalance the dependency the organization has on leadership, we have to ask ourselves the hard question - how did your organization come to depend on you so much in the first place?
Sometimes as leaders, we have to realize our ego or desire to feel needed can lead to organizational pain.
Just like helicopter parents, we do more harm than good by not letting our employees thrive, learn to make good decisions on their own by failing a few times and take accountability for where the organization ends up.
By inserting ourselves into all major decisions, we create a repellence to ownership.
The good news is the first step to balancing the stress level of your team is to recognize your participation in the problem.
If you've read this far, you're probably starting to realize this.
So How Do You Break the Dependency Cycle?
I've found that there are two ways to combat a vicious "Messiah" Loop:
1. Enable autonomous decision-making
This is easier said than done, I know, but the idea should not be cast aside because it's hard. Sticking to the status quo is harder.
Take a look at your organization and find the areas of the business that rely on you or others in management. Is there a better way to configure and train your teams to empower them to make their own decisions?
For example, 6 months ago, IMPACT had a big issue with a "frozen middle," as in there was a communication breakdown between our frontline staff and senior leadership.
The telephone game we'd created via our structure caused miscommunication and delayed decisions due to the time it took from a message to get from the bottom to the top and back down to the bottom again. By the time communication had completed that cycle, it was distorted.
(For the record, our frontline staff aren't "the bottom" by any means, but for the sake of the telephone analogy, it helps to show how easy it was from communication to break down.)
We also had a siloed structure that was oddly dependent between teams, which made decision-making impossible for our teams and middle managers.
So we blew up the structure and moved more into a Spotify model, where teams are formed with everyone needed to make decisions for our clients in real time.
We created "chapters" by job function with a "chapter lead" who ensures service quality and training horizontally between teams.
Between the squads being cross-functional and holding each other accountable for handing end-to-end responsibilities for our clients, and chapters handling product marketing and quality assurance, the need for a manager to decide on all things was removed.
Red tape management approvals became obsolete because as leaders, we provided the guardrails in which to make decisions (essentially the criteria we would have used had they asked for approval) and trusted our teams to make the right choice.
We still have managers, but they now focus on professional and personal development of their direct reports.
It's not enough to give them the reigns. The second part of that equation - teaching them how to make decisions for the company over individual teams or themselves - is equally important.
2. Focus on Communication and Emotional Agility
You can provide your teams "the what" and "the why" all day long, but if they can't communicate well, they're never going to figure out "the how."
They will also continue to struggle through their stress management.
At IMPACT, we've taken on communication as one of our biggest plays for 2019. This isn't figuring out our Meyers-Briggs profiles and learning how to adjust.
This is full-on, forget-how-you-always-learned-it-and-re-approach-it training.
It's hard.
It's also wonderful and critical to our success and ability to communicate both internally, as well as be strong consultants to our clients.
We also have been focusing on our overall emotional agility. Several of our team members, frontline, middle management and senior leadership - myself included - do regular one-on-ones with our COO and lead communication trainer, Chris Duprey.
One of my favorite things Chris throws in my face on the regular (Thanks, Chris) is asking if my perception of something is true or if I'm telling a story to myself.
This is powerful for all the times I've felt insecure in my decision-making ability.
This forces me to continuously focus on how I communicate and how to keep my perceptions and assumptions in check, which I then in turn do challenge my team to do the same.
They then challenge their own team and each other. They call each other out in team meetings. They help each other grow.
When everyone prioritizes communication and not letting fear run their decision-making processes, combined with leadership pairing the right people and providing the right guidelines and training on how to make the decisions we would have made, everyone wins.
It's not easy, but it's that simple.
Alright, I'm Following...Now What?
I'm going to avoid what frustrates me with most business articles and do my best to give you real, actionable next steps so you can start course correcting any organizational anxiety you are inadvertently creating.
Find some time in the next day to reflect on what stresses you out about taking time off, what fears you have if you do take time off and the implications you know affect your team when you're not there (i.e. they don't make decisions without you).
Jot all those things down to form of list of issues you need to address. Prioritize the worst of the issues by greatest impact when you fix them.
Then own them. Go to your team, admit that these are issues you helped create and that it doesn't need to be this way. Illustrate what's possible to them.
From there, you and your team can work together to find a better process/system/whatever.
Involving them in the solution helps them understand "the why" behind what needs to be fixed, "the what" you'd like to see instead and they can own "the how" - and consequently the decisions that equal change.
As you all work together to pave the path to autonomy, you can identify and execute any needed training for better communication and emotional agility.
If you liked this article and would like a more comprehensive deep dive into how to become a stronger inbound leader, be sure to dive into our inbound leadership section of our site.
Free Assessment:
How does your sales & marketing measure up?
Take this free, 5-minute assessment and learn what you can start doing today to boost traffic, leads, and sales.