How Website Throwdown Nurtures Inbound Leads by Knocking Them Out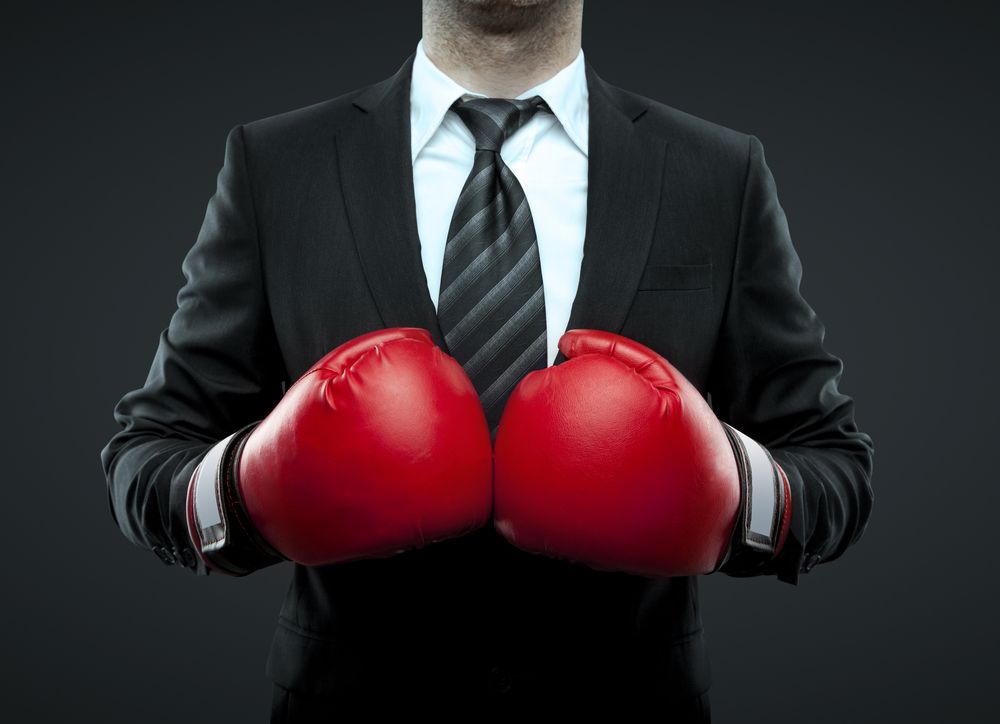 I spent the last 2 weekends at weddings and they got me thinking.
The journey to and through marriage is a lot like Inbound Marketing. You have to attract people, get them to convert (agree to get to know you or go on a date,) close (agree to marry you,) and then delight them to keep the relationship happy and healthy long term.
But like any good relationship, your Inbound strategy sometimes needs to be spiced up. You need to throw in something new and exciting to keep your leads on their toes and to nurture the relationship into its next stage.
In January 2015, that's exactly what we did with IMPACT's Website Throwdown.
What is IMPACT's Website Throwdown?
Earlier this year, a few members of our team began sitting down with guest Marketing pros (who have included best-selling author, Jay Baer, Orbit Media's Andy Crestodina, and Velocity Partners' Doug Kessler, no big deal) to view and honestly critique viewer-submitted websites live on the air of a Google Hangout.
During this once a month, 45-minute webinar, we share our professional feedback and first impressions on a variety of aspects of the chosen viewer sites including:
Copywriting (Value Propositions, Marketing Messaging, CTAs, etc.)
User Experience
Design
Overall Inbound Strategy
The format was fresh and fun, and most importantly, the feedback to be no-holds-barred.
The Success
Month over month, response to the Throwdown has been phenomenal. (Just check out the tweets in the next section.)
Unlike a conventional webinar, viewers do not have to register to be able to watch the metaphorical punches fly; they simply have to visit the Website Throwdown page at the scheduled time and play the embedded live stream of the hangout from YouTube.
The result has been an insightful and engaging, educational conversation reaching a growing average of 100-150 people on the live Hangout (and even more on Twitter.) People want to attend. They want to get their website "torn apart," but why, you ask?
The Benefits
Whether their work is personally being knocked out during the Throwdown or not, people relish the chance to ask questions, listen, and ultimately walk away with actionable marketing tips they'd usually have to pay for. Even if the design and strategy of their website ends up being ripped to shreds, they knew still leave with the tools they need to make it stronger and be a real contender.
While leads and viewers benefit from this input from our marketing, copywriting, and design pros, Website Throwdown also provides IMPACT with an opportunity to:
Showcase Industry Expertise
Nurture Leads
Foster Social Engagement
The unique value of a candid, casual, real-time platform to personally connect with our marketing pros and pick their brains not only attracts and generates leads, it allows us to nurture existing leads by demonstrating the actionable expertise we can bring to their organization.
Instead of merely sharing best practices and generic advice like most people, by hosting and inviting leads to a Website Throwdown, we can showcase exactly how IMPACT applies this kind of knowledge.
We can show our team, specifically, tackles issues and give them more reason to want to work with us over the competition.
Last, but not least, Website Throwdown also provides us with a great opportunity to foster social engagement on Twitter.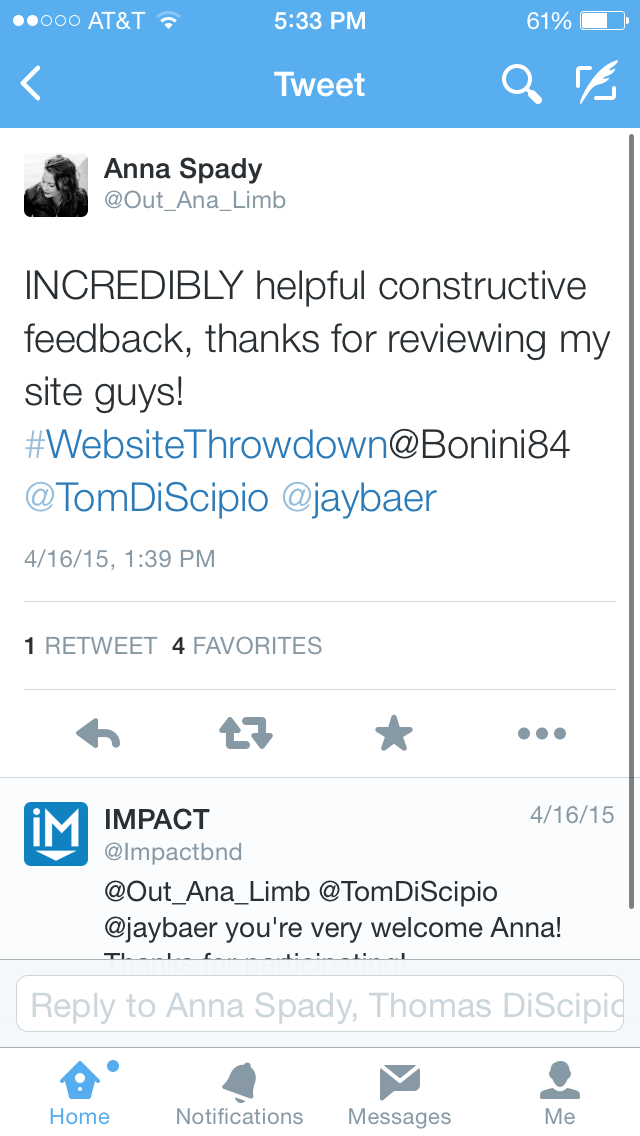 When people arrive on the page for the broadcast, they are also met with a live feed of the hashtag #WebsiteThrowdown where marketers like themselves can ask and answer questions, share quotes, and overall, participate in conversation with peers having similar problems.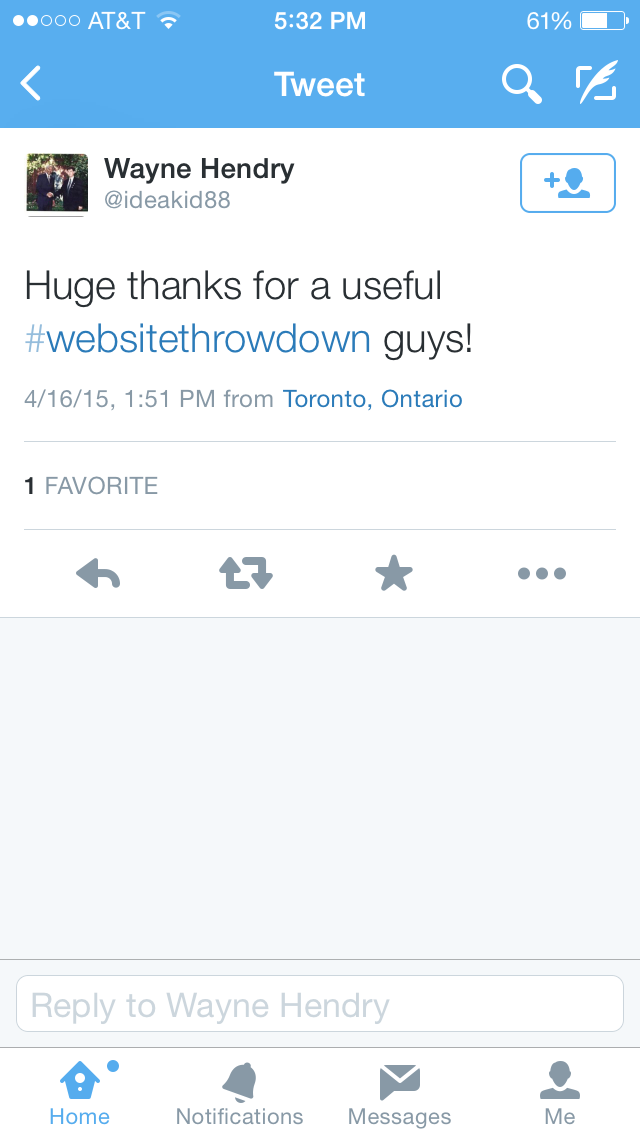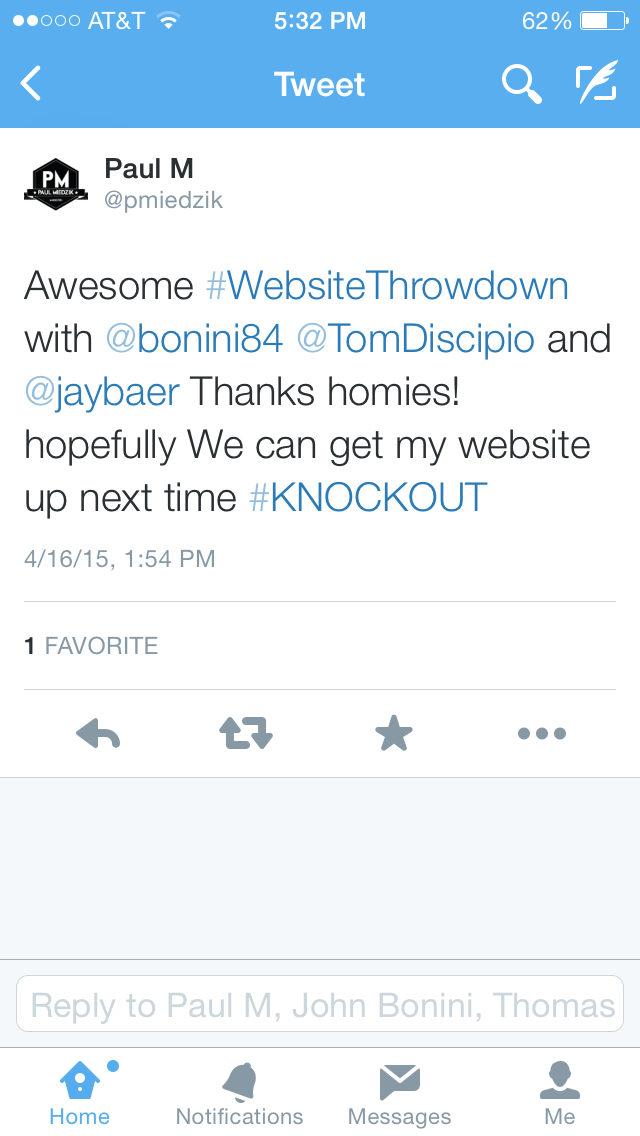 This activity lets us increase our Twitter audience and expand the reach of content to each participant's followers.
Jump in the Ring!
After a brief hiatus, IMPACT's Website Throwdown is back!
Tune in and submit your site here to see our Founder & CEO, Bob Ruffolo, Partner & Chief Strategy Officer, Tom DiScipio, and a variety of industry guests give their unbridled feedback on this month's crop of viewer-submitted sites.
While not all submissions can make the broadcast, feel free to join us in the audience to gain valuable marketing and design insight you can adapt for your website strategy right away. Also, make sure to join the conversation using and monitoring #WebsiteThrowdown on Twitter.
We'll see you there!
Free: Assessment
Does your website build trust with buyers and bring in revenue?
Take this free 6 question assessment and learn how your website can start living up to its potential.