How to Optimize for the App Store & Get Oodles of Users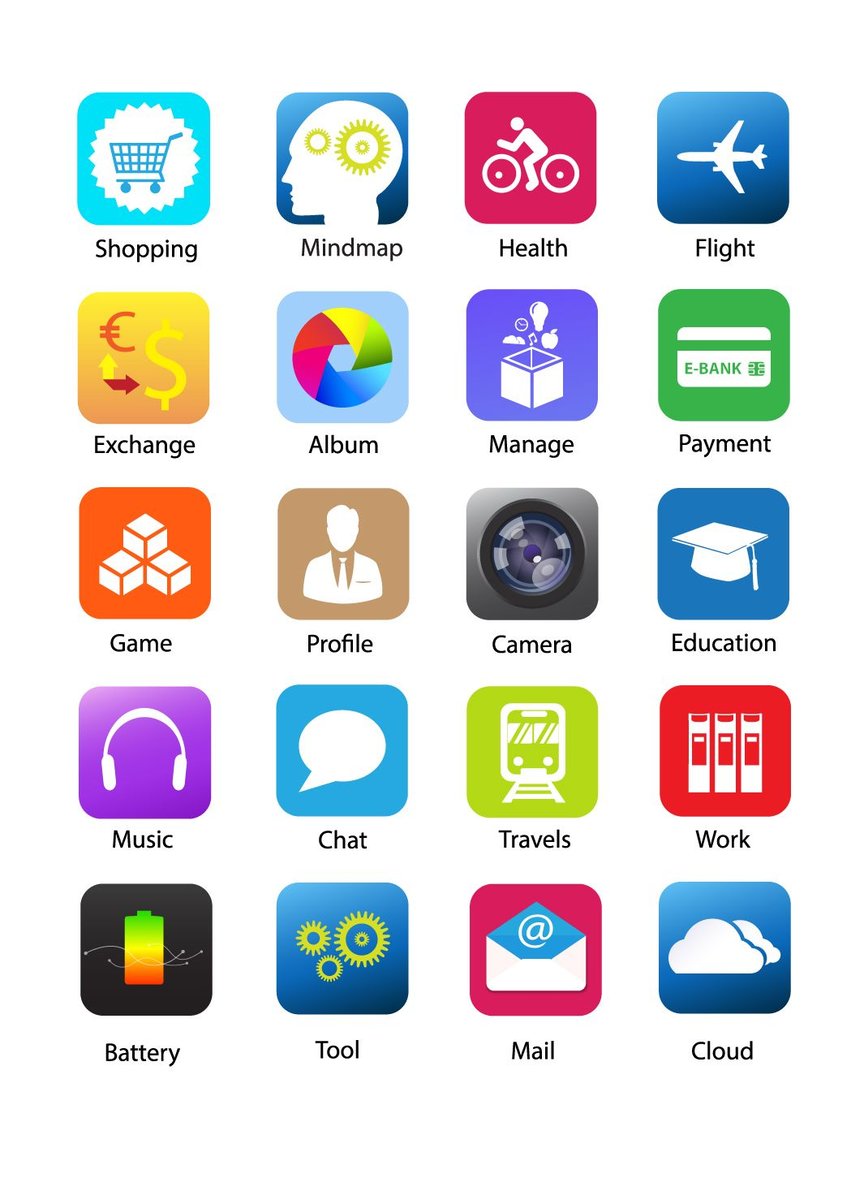 You're one in a million.
No seriously, as of June 2014, the Apple App Store had 1.2 million apps and, even for the best of the best, standing out in this ever-expanding market can seem like a one in a million chance -- but only if you're unprepared.
The App Store may seem like unknown territory, but in reality its just another search engine your tech company is trying to rank in. The higher you rank, the earlier you appear in search results, and the more people see you. -- Sounds pretty familiar, right?
Like any search engine, you only have a few fields to play around with in order to attract and convert shoppers in the App Store, but to help you get prepared, I've put together this detailed breakdown on how to strategically tackle each one.
1. App Icon
Your icon is the most public symbol of your app and in most cases, people view it as a reflection of your brand as a whole. If it is low quality or hard on the eyes, people are more likely to assume your user interface will be as well, so don't take it lightly.
Your icon needs to be visually appealing as it's the first thing people see in App Store, but also functional since it must stand out on a user's screen after the download.
When designing it, treat it as you would your logo. It should be simple, eye-catching, and easily identifiable.
It should also be consistent with the brand and style established within the app itself, while still appealing and resonating with your audience.
Imagery & Text
At first glance, you want your icon to attract and captivate people.
To appeal to the widest audience, use imagery and symbols that are universally recognizable. For example, if you've created a new email client, use the symbol of an envelope instead of a mailbox. Envelopes, for the most part, look the same in every part of the world, but mailboxes can vary dramatically.
Also, be mindful of the size of an App Icon. With the small amount of space you have to work with, keep fine detail to a minimum. Busy images or even text, for example, can quickly make your icon look cluttered and turn off your audience. Keep it simple.
2. App Name
While your App Name may sound self-explanatory, there are few key things about the App Store you should keep in mind when choosing it.
Once you have picked your name, you'll want to stick to it. Changing your App Store listing frequently can affect your established authority and lower your rank.
Including Keywords
According to MobileDevHQ, App Names that include keywords rank 10.3% higher than those that don't. This is basic Search Engine Optimization -- or in this case, App Store Optimization (ASO).
While you want your name to be original and memorable, unless your brand is already established, it is not something people will be typing into a search bar.
With this in mind, optimize your name field as you would your "Page Title," including relevant, targeted keywords or phrases.
63% of iOS users discover new apps by casual browsing and searching within the App Store, so including these keywords will help users find you and clearly identify what your app will do for them.
Length
While the Apple App Store allows a name up to about 75 characters long, only about 25-50 appear in search results depending on the device.
That being said, make sure that you get your full app name (and most important keywords) in under the 50 character limit in order to be visible to all searchers.
HubSpot does a fantastic job of this. Their team started with their name, then followed up with their most important keyword, "Inbound Marketing" so that no matter what size of the screen, buyers would see it.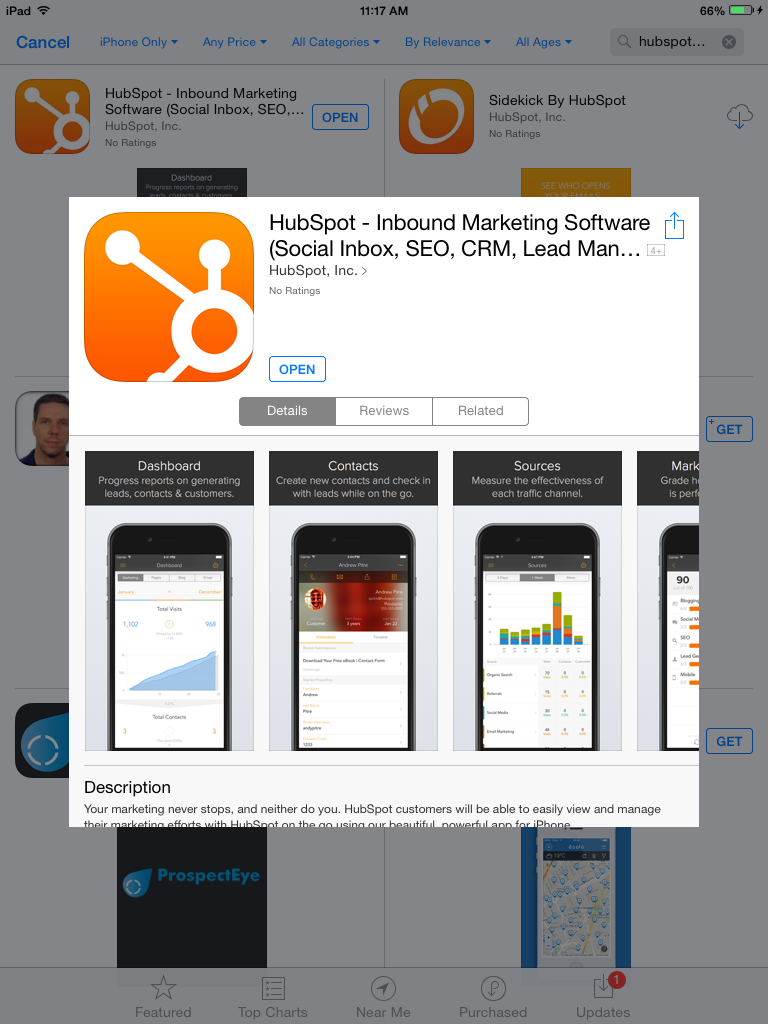 They also didn't waste any of their character limit, including the keywords "social inbox", "SEO", "CRM", and "Lead Management" as well.
3. App Description
Your app description is like a "meta-description." It's where your prospect buyers evaluate you as a solution and ultimately determine if you're worth their click (or in this case, their oh-so valuable cloud space.)
Content
Your description has to sell the value of your app and tell people why they need it over its competitors. It should be direct, informative, and above all, persuasive.
Consider including information such as:
Main Features
Pricing/Plan Information
Company Background
Social Proof (i.e. Press, Awards, High-Number of Downloads, etc.)
You must also, however, be concise.
Despite having a 4000 character limit, only about 4-5 lines of your description appears in the App Store before getting cut off by a "read more" link: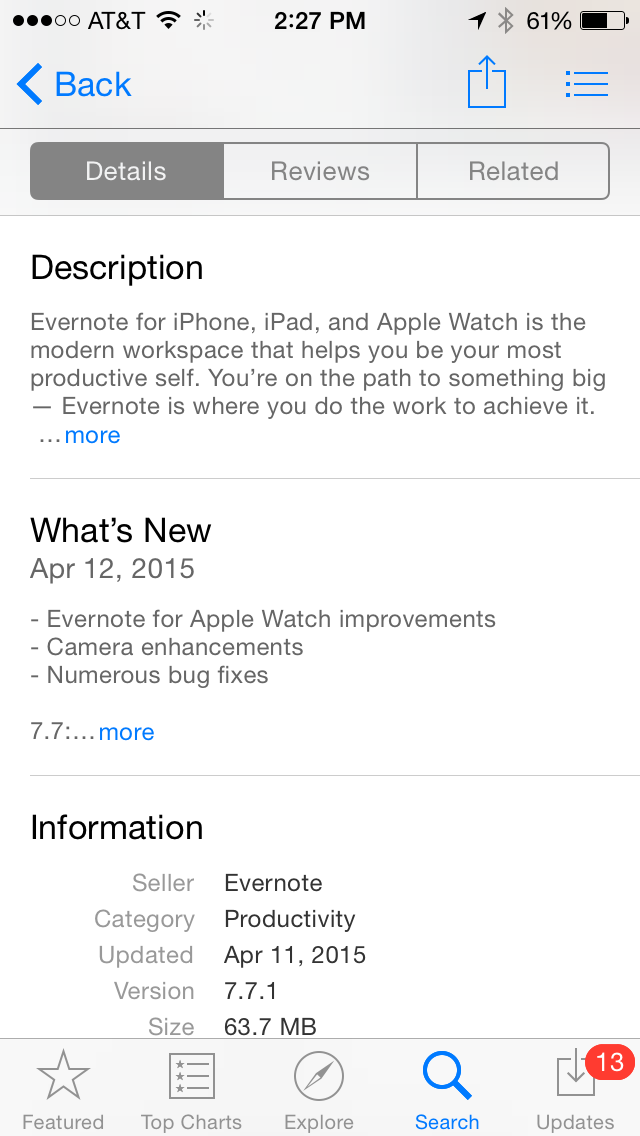 With today's low attention spans, very few people are clicking through to actually read your full description, so convey as much value as you can in these initial lines.
Try speaking directly to the value your application is bringing to the user or addressing a pain point like Evernote does:
"Evernote for iPhone, iPad, and Apple Watch is the modern workspace that helps you be your most productive self. You're on the path to something big - Evernote it where you do the work to achieve it."
This description tells you exactly what you can expect to get out of downloading the application, while showing that it understands your desire to be efficient and organized on the job. It also effectively capitalizes on the keywords "workspace" and "productive."
Including Keywords
Like your App Name, make sure to you include your targeted keywords in your App Description. This area is the second most heavily weighed field by Apple's algorithm and neglecting to include keywords will ultimately reflect in your rank.
As you would with your web copy, sprinkle your keywords into your description so that it reads naturally.
"Keyword stuffing" will not only be off-putting to your user, but it will also work against your rank and may even result in app suspension.
4. App Keywords
Like "meta-keywords", your keywords in the App Store cannot be seen by the public, but are very important to your overall success from "organic search".
The words you choose for your application should be two things: relevant (pertaining to the actual industry or task your app is tackling) and popular amongst your desired users (commonly searched). If they aren't, you won't likely be found by people who actually want, need, and will download your application.
The easiest way to discover what keywords to target is by looking at your biggest competitors and researching your buyer personas. For example, if you're a travel app, pay close attention to the words AirBnb, TripAdvisor and Expedia are using and also what users say about them in their reviews.
After choosing them, use a tool like MobileDevHQ to monitor and track your performance as well as your competitors'. These analytics will help you improve upon your keywords and rankings down the line.
5. App Screenshots
In the App Store, screenshots are given precedence over all other information and with good reason.
Screenshots are the most vivid representation of what people actually experience when using your application and often the most influential.
Your screenshots should portray your design in the best light possible while also giving people a realistic glimpse into its user interface, usability, and experience. Like your App Icon, make sure that they are clean, high quality, and cohesive with the style of the application itself.
To get the most out of this field in the App Store, showcase features that users will be using the most. Depending on your service or offering that may include:
Main Navigation/Dashboard
Newsfeed
User Profile
Search Functionality
Integration (How it interacts with iOS and other apps)
Instagram is a brilliant example of how to approach screenshots in the App Store.
Unlike many other app giants who manipulate or create graphics with their screenshots, Instagram goes no frills. They share authentic, true-to-life screenshots of what each feature looks like on your phone, so there is no mystery or unwanted surprise after the download.
How to Get More Users
In the end, as your app gets more downloads, it will naturally rise in rank in the App Store, but to get there in the first place, you need to start at square one with ASO.
Optimization leads to a higher rank. A higher rank leads to a higher reach and in most cases, more downloads, and those downloads help increase your rank further.
Like with all search engines, your efforts may take some time to gain traction, but once this cycle is in motion, there is no turning back.
Free Assessment:
How does your sales & marketing measure up?
Take this free, 5-minute assessment and learn what you can start doing today to boost traffic, leads, and sales.