Hubcast 129: Sales Emails, LeadsBridge HubSpot Integration, & Being Creative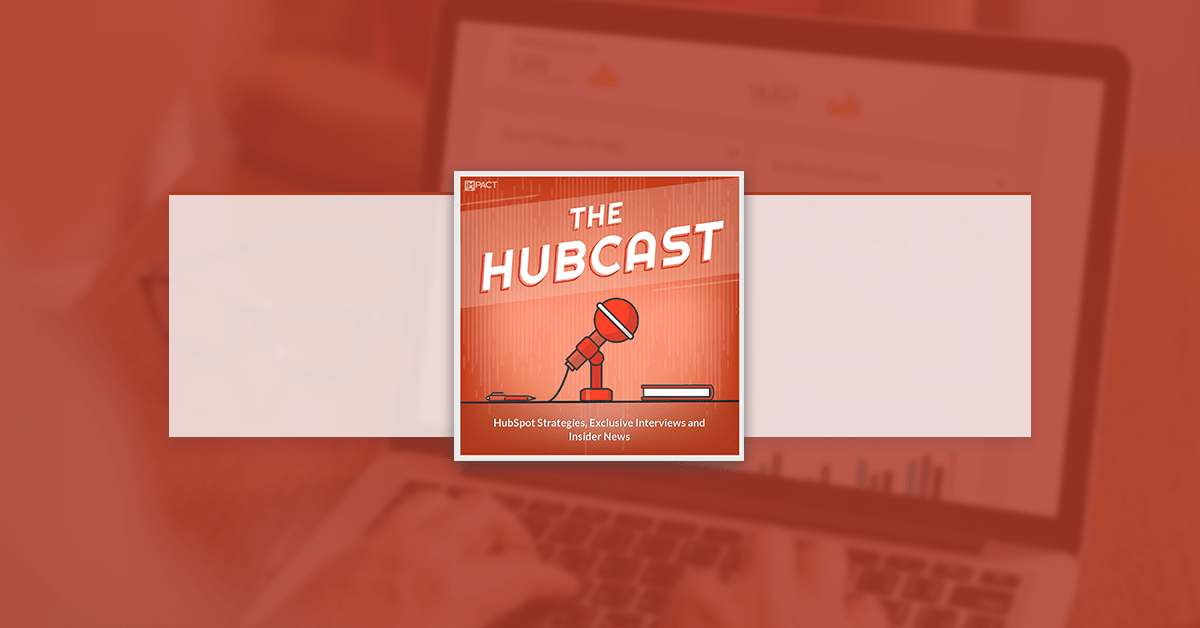 20 Sales Email Opening Lines That Put "Hi, My Name Is" to Shame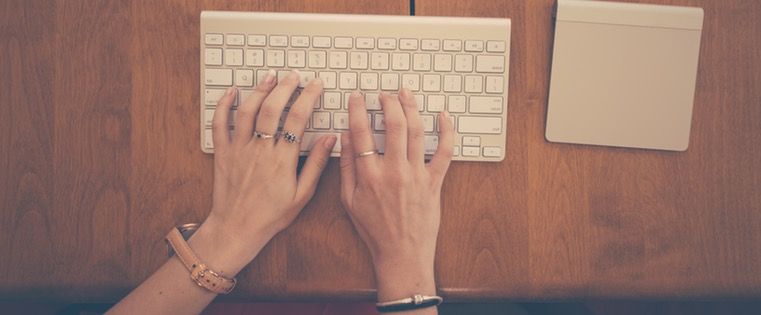 What are some communication master tactics people can use when in sales? On this episode of the Hubcast, Marcus and George chat about great email and communication strategies. They also comment about an article from HubSpot on the topic.
20 Sales Email Opening Lines That Put "Hi, My Name Is" to Shame
Hubcast Raving Fans
Each week in this section we show love to those who show love to us. Simply leave us a review on iTunes and we will read it for the rest of the community to hear. Let us know who you are, your business, or other tidbits of information in your review.
This week's review comes from Colin Hass.

HubCast Sponsor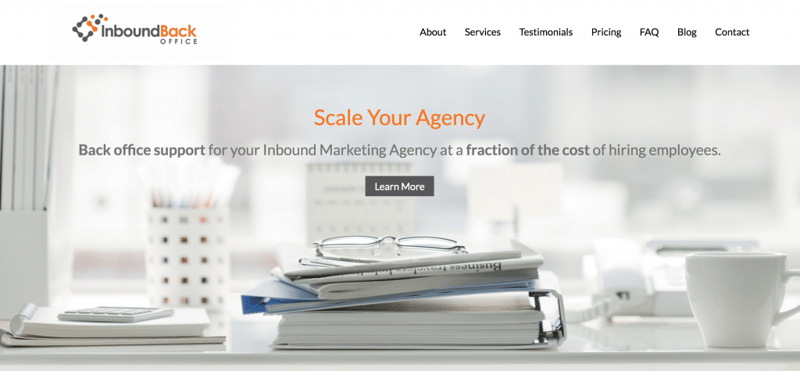 We believe getting administrative support shouldn't be complicated. And they really know HubSpot.
Their team includes marketing specialists that focus on things like:
*Scheduling and calendar management
Social media management and advertising
PPC management
Content development
Inbound sales support
Project management
Billing and collections
HubSpot setup and maintenance
WordPress support and maintenance
Graphic design
And more.
Wouldn't it be nice to have an on-demand team of inbound-certified VAs that you can call on when you need extra help?
Would it be even better if they knew HubSpot and the inbound methodology?
That's Inbound Back Office.
Augment your team, save money and expand your resources. Visit InboundBackOffice.com to schedule a free discovery call.
Mention The Hubcast during their discovery call to get a $100 credit toward our services
HubSpot Updates
[HubSpot Connect] - LeadsBridge Integration
What's this integration partner do?
LeadsBridge is advertising automation software for Facebook Ads. Their software syncs Facebook ads with HubSpot and sends leads generated by Lead Ads from one to the other. They also automate a connection between lists in HubSpot and Facebook Ads.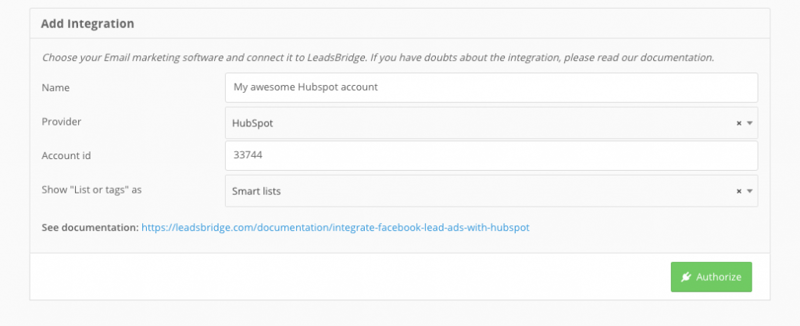 Pinned Notes in HubSpot CRM
When working with a prospect or customer, you need quick access to the most vital and relevant information. As more and more interactions rack up in that person's timeline, this gets a whole lot tougher. This HubSpot CRM update enables you to pin the most mission-critical note at the top of any record in HubSpot CRM, ensuring the most important information is always front and center for both you and your team.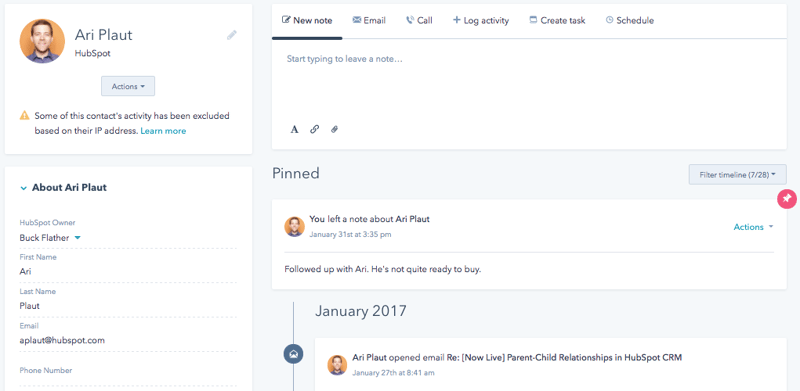 If you're a sales rep, you might pin a note about organizational structure at the top of the record, for quick reference on your next call. If you're in customer success or account management, you could pin a note referencing an ongoing technical challenge the customer is facing. If you're a sales manager, pin a note for a deal's owner with suggested next steps. Any way you choose to use it, the new feature simplifies cross-team communication and takes frantically searching and scrolling in the timeline out of your pre-engagement routine.
How it works
Navigate to any record in HubSpot --- contact, company, or deal. Find a note on the timeline that you'd like to pin, and click Actions > Pin Note.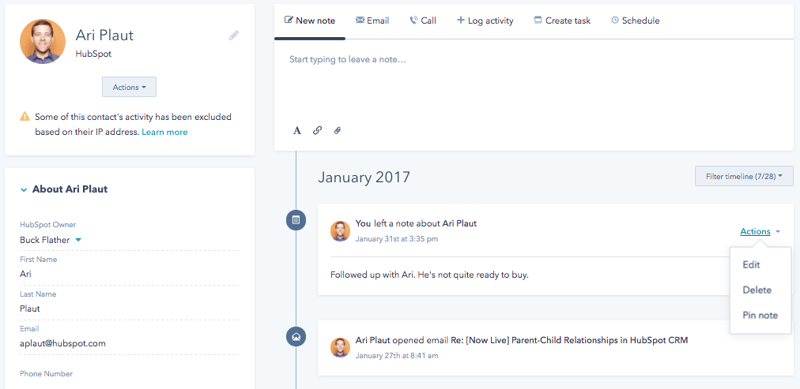 From that point forward, the note will be pinned to the top of the record, until either it's unpinned (Actions > Unpin Note) or another note is pinned in its place, in which case an alert will appear: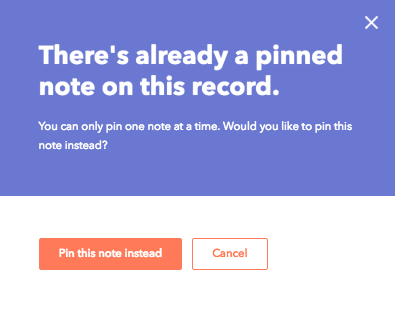 Pinned notes are now available in all HubSpot CRM portals. In addition, Marketing Basic, Professional, and Enterprise portals (sans CRM) will have the ability to pin notes on contact records. Head over to your Contacts database to check out the new feature.
HubSpot Wish List
Assign Group as HubSpot Owner
Currently, the contact property HubSpot Owner can only be assigned for individuals. This works for very small sales teams, but breaks down when larger teams need to assign contacts to regional teams comprised of multiple sales users.
Group assignment would allow multiple Sales Users to access their group/regions leads, while still allowing for privacy controls preventing non-users/non-assigned groups from accessing them.
Right now, region-based sales teams have to compromise on privacy settings (allowing non-owners view access or leaving contacts unassigned, or require multiple users sharing a single HubSpot login.
Professionally Personal
Marcus: The man when it came to sports but not GPA...
George: Staying humble and grounded ... #Crash
Tweet Of The Week
Fridays are a great day to work on something creative! ???? #TGIF inspiration from our friends at @HubSpot pic.twitter.com/3fdJpgmudh

— Buffer (@buffer) February 24, 2017
What Consumers Really Want From Your Video Content [Infographic] https://t.co/guD9yuj5Yr by @soph_bern pic.twitter.com/o2qFUJp4Mp
— HubSpot (@HubSpot) February 24, 2017
Question of The Week
Will you be speaking at Inbound 2017 and if so, what will you be talking about.
Also we mention registration for Inbound.
If you have not registered yet, you can still get discounted prices.
https://www.inbound.com/inbound17/register
Free Assessment:
How does your inbound marketing measure up?
Take this free, 5-minute assessment and learn what you can start doing today to boost traffic, leads, and sales.
Get Started
Free Assessment:
How does your inbound marketing measure up?
Take this free, 5-minute assessment and learn what you can start doing today to boost traffic, leads, and sales.
Published on March 3, 2017