Hubcast 174: INBOUND Speakers, IMPACT Live, & HubSpot Updates Galore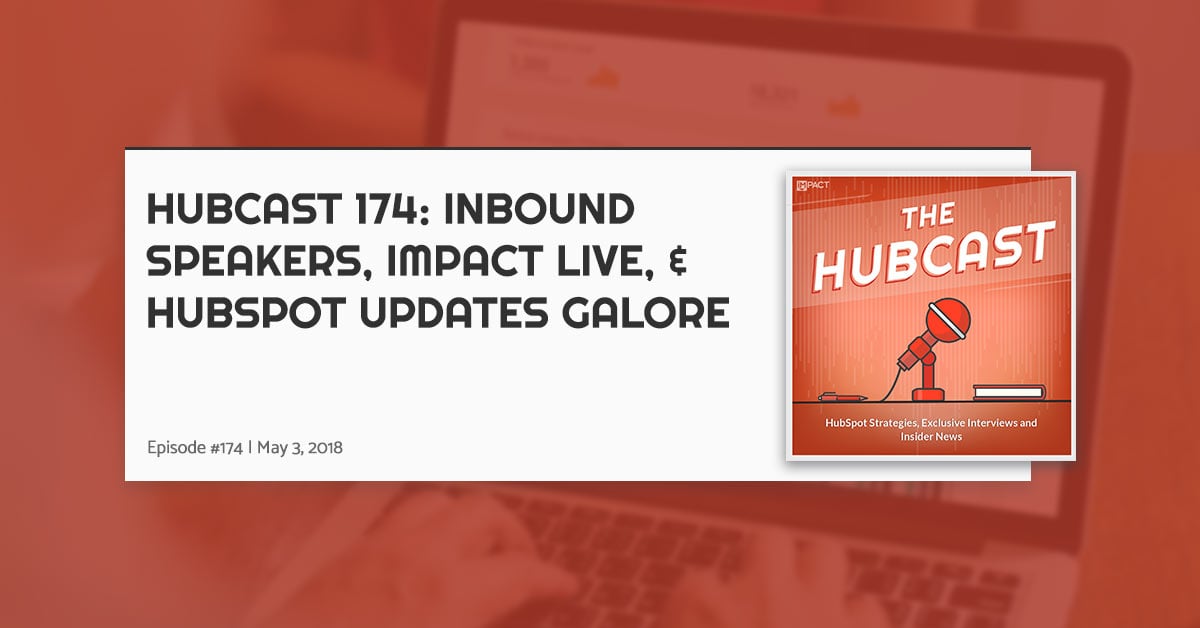 Is it just me or has the HubSpot development team been going absolutely nuts the last couple of weeks?!
Every time I check my HubSpot Updates Slack channel (which is about every five minutes), there seems to be a new feature or update going live -- And boy, do we have some good ones this week!
In this episode of the Hubcast, we discuss who did and who DID NOT get accepted to speak at INBOUND this year, another amazing upcoming event you need to attend, plus all of those juicy HubSpot product updates.
INBOUND Speakers
New INBOUND Speakers Announced
Scott Harrison: "Scott returns to INBOUND after speaking as a keynote in 2013 where he shared his powerful and personal story behind the founding of charity: water. His passion for eradicating the global water health crisis combined with his impactful business approaches over the past decade have helped charity: water continue to grow and expand its mission across the world."
Beth Comstock: "Beth's impressive run as Vice Chair at one of the world's biggest companies, GE, has solidified her place as of the most highly regarded and innovative businesspeople across multiple industries ranging from media to health, energy, manufacturing, transportation, finance, and software. Her belief and policy that change starts with the individual and that organization change programs need to focus on personal agency has had a lasting impact on GE and strengthened its foundation with new and exciting approaches to conducting business. "
HubSpot Wish List
"We have a number of team members and the new Snippets tool in HubSpot Sales Pro looks nice. My only concern is that it could get out of control. Would it be possible to do something similar to how you have filters on templates?
As I create a snippet there would be an option to share with the team or make it private."
This Episode's Sponsor
This week's Hubcast is brought to you by IMPACT Live - August 7th and 8th in Hartford, CT. You gotta be there!
HubSpot Updates
[Now Live] Easily Call Companies with HubSpot CRM
Now live is the ability to call companies directly from your HubSpot CRM. (When you go to the Call tab in a contact or company timeline - you now have the ability to call a phone number associated with the Company, not just individual Contacts.)
[Now Live] Take Control of Your Log and Track Email Settings
As a sales rep, the ability to automatically log and track emails in your HubSpot CRM brings valuable context to your contact records. This context is what empowers you to create a more personal experience for your leads without spending any extra time or effort with manual work. This update will empower you to customize and take control of your email log and track settings.
[Now Live] Set a Featured Image for Web and Landing Pages
Users can now set a featured image for their website and landing pages, similar to how they set a featured image for a blog post.
[Now Live] New Metrics available on Blog Post, Landing Page, and Website Page Detail Pages
Blog post, landing page, and website page details screens now include metrics from the analytics pipeline. These metrics include bounce rate, exit rate, entrances, and average time on the page.
[Now Live] Monitor and Respond to Instagram Comments within the Social Monitoring Tool
Within the social monitoring tool, you now have the ability to monitor and reply to comments on your Instagram posts. This update makes it easy to engage with and create relationships with your Instagram followers, directly within HubSpot.
[In Beta] Bulk Upload Facebook & LinkedIn Posts
You can now bulk upload Facebook and LinkedIn posts in the social publishing tool, similarly to how you've been able to bulk upload Tweets in the past. Posts made in bulk will also now pull images from links into the post preview, so you can see exactly how your Tweets, Facebook and LinkedIn posts will look when they go live.
[HubSpot Connect] OrgChartHub Integration
OrgChartHub is a product that enables you to build and store customer organization charts within your HubSpot CRM. (you can essentially build org charts within HubSpot contact/company records)
[HubSpot Connect] - Toky Integration
Toky is a product that enables you to receive, record, and track incoming and outgoing calls and text messages directly within your HubSpot CRM. (another call tracking integration??)
Until Next Time
In this episode, we're sad to be sending George B Thomas out to take on another adventure. Listen to the episode to hear a special message from George.
Until next time. this is Carina Duffy & Marcus Sheridan saying to you, go out into the world and do some happy HubSpotting!
Free Assessment:
How does your sales & marketing measure up?
Take this free, 5-minute assessment and learn what you can start doing today to boost traffic, leads, and sales.