Hubcast 178: What's on Marcus' Mind, Slack Integration, & More GDPR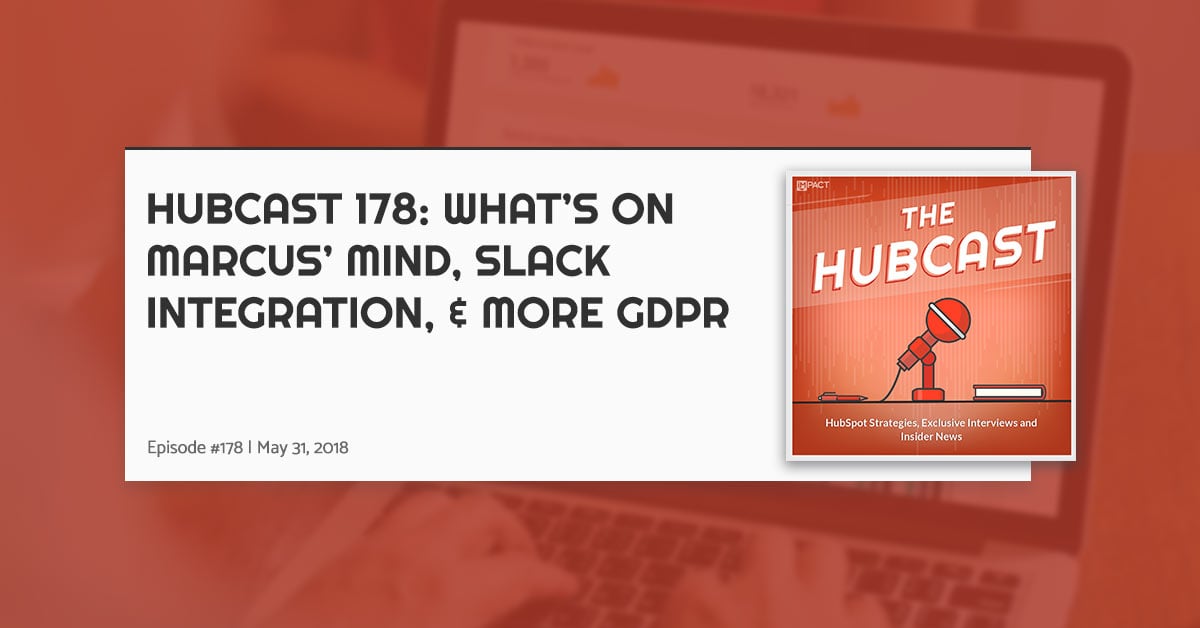 This episode of the Hubcast is brought to you by our friends at DigitalMarketer.
Listen to this week's episode to hear the top listener-submitted contender for Carina's Hubcast nickname and hear our take on the latest INBOUND breakout sessions...
A few INBOUND breakouts we think will be interesting:
Nick Salvatoriello - Become an Inbound Sales Ninja: One Team's Ultimate Blueprint for Success with HubSpot Sales Pro
Justin Keller (Sigstr) - BFFs are the New MQLs
Stella Garber (Trello-Atlassian) - Building and Scaling a Remote Marketing Team


Property of the Week: Sales Enablement Series
In our sales enablement series, we'll be focusing on properties that will help your sales team sell better!
Close Date vs. Became a Customer
Close Date: "the date that a contact became a Customer. This property is set automatically by HubSpot when a deal or opportunity is marked as closed-won. It can also be set manually or programmatically."
Became a Customer Date: "the date that a contact's lifecycle stage changed to Customer. This is automatically set by HubSpot for each contact."
Not knowing the difference between these two properties can really cause some chaos in your reporting.
To be honest with you though, besides reporting, we're not totally sure we have our minds wrapped around why there are two properties for what is essentially the same thing.
Do you? We'd love to hear from you!
What's On Marcus' Mind
In our new segment "What's on Marcus' Mind," we'll dive into exactly that. This week, it's the "Sorry, we really screwed up" marketing strategy.
First it was Dominos with "Yes We Did", now Wells Fargo and Facebook are trying their best to fess up to their mistakes. But is it really working?
Check out this article Iris from our team wrote earlier this week.
HubSpot Wish List: Sales Enablement Overload!


Marketing Access for Sales Professional Tools
"As a marketer, to truly enable my sales team I need to be able to help them create great templates and snippets, set up their meeting links/types, etc.
Currently, to access any of the sales tools and share things I create I need an actual paid Sales Pro license. There should really be a marketing version where you can create templates, sequences, tasks, etc. but not actually use them/use the Gmail functionality.
When I create great content, a good way to get it in front of my sales team in a way that's easy for them to find and use is to create templates or snippets for them!
If we're truly going to work together and be aligned - marketers need access to the sales tools from an admin perspective!" - From our very own Stephanie Casstevens
Vote it up for Stephanie! For real though, we need this one bad.
This Episode's Sponsor: DigitalMarketer
This week's Hubcast is brought to you by DigitalMarketer. Next episode, we'll be sharing a clip from our recent interview with Justin Rondeau, DM's Director of Marketing.
To give you a little taste of how awesome that's going to be, this is Justin's job description on LinkedIn: "We do the hard hard work so you can learn from our wins and our losses." Um, yes please!
HubSpot Updates
[HubSpot Connect] Slack Integration
"Sales is all about building relationships, but it can be difficult to form those relationships when a rep has to spend precious time completing menial tasks.
In fact, a recent report from HubSpot Research found that reps spend up to a quarter of their day on tasks like writing emails and data entry. Software should exist to help minimize that time spent, not create extra steps. HubSpot's Slack integration aims to do just that."
A Walk Through HubSpot's GDPR Updates
Last episode, we talked about HubSpot's new GDPR compliant features - but this week we want to circle back around and talk through these a bit more.
HubSpot's GDPR Product Playbook
And if you don't feel like you don't quite have your mind wrapped around what GDPR means for your business, check out this incredible interview from DigitalMarketer where they sit down with a UK data privacy lawyer who unpacks what GDPR is and steps that companies should take to get compliant.
Until Next Time
If you're listening on iTunes - head on over and leave us a review! We love hearing your feedback, so feel free to leave some in the comments, or shoot me an email at cduffy[AT]impactplus.com!
Until next time. This is Carina Duffy & Marcus Sheridan saying to you, go out into the world and do some happy HubSpotting!
Free Assessment:
How does your inbound marketing measure up?
Take this free, 5-minute assessment and learn what you can start doing today to boost traffic, leads, and sales.
Get Started
Free Assessment:
How does your inbound marketing measure up?
Take this free, 5-minute assessment and learn what you can start doing today to boost traffic, leads, and sales.
Published on May 31, 2018