New HubSpot CMS Hub Starter Tier Released for Growing Businesses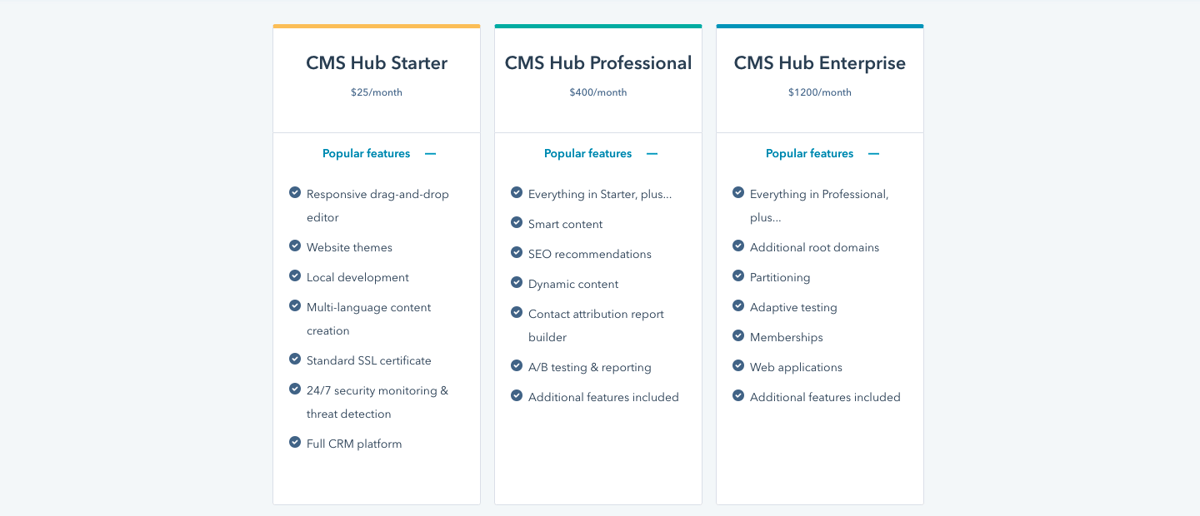 Why HubSpot's new tier matters to you (at-a-glance)
🎓 IMPACT+ course: They Ask, You Answer fundamentals with Marcus Sheridan
Say hello to HubSpot's CMS Hub Starter tier
This is my first news article for IMPACT. And when you're sitting down to write your first news analysis piece, you know the world is watching. (Well, you know your boss is watching. Same.)
I was cautiously optimistic, as I went to scan the headlines to see the latest as it applies to our chosen industry of inbound marketing because summer is the dryest time. (Am I right, non-TikTok people?)
Soon, however, I saw the exciting news from HubSpot about them lowering the barrier to entry with the new, much more economical tier of their wildly popular HubSpot CMS Hub:
"'Over the past year, we've seen just how important it is for companies to be able to create reliable and effective digital experiences,' said Angela DeFranco, VP of product management at HubSpot."

"'In addition to providing the tools our customers need to get their website up and running, CMS Hub Starter is also built on top of our CRM platform to help companies leverage their own data to create a better end-to-end customer experience.'" (Source)
A juicy little story for our hungry little mouths to feast upon before we head into the weekend.
🔎 Related resources:
HubSpot CMS benefits are now more accessible than ever
We here at IMPACT are a HubSpot Elite partner agency, which means we are often asked about HubSpot by clients and prospects. HubSpot helps companies reach their ideal prospects, draw them to their websites, convert leads, and close transactions.
🍿 IMPACT+ on-demand: How to show your content makes money with HubSpot
With its newest tier, HubSpot has pulled off the trick of becoming more secure and more accessible at the same time. Called "a game-changer" by Kevin Barber, CEO and founder of inbound marketing agency Lean Labs:
"Where a traditional CMS can add pain and complexity to a marketer's day, CMS Hub Starter does the opposite by giving them the essential tools they need to build a remarkable website and start generating revenue, all at a price point that's accessible for smaller teams." (Source)
Specifically, CMS Hub Starter is going to make your life easier by:
Reassuring you with safeguards: When you're a small or medium-sized operation, you might not have a budget for an IT guy/gal to watch over your site and help you slay the latest virus. HubSpot is offering the reassurance of security by looking after the maintenance of your site. Check that big box.

This means – if you want to get all jargony – that

SSL, a web application firewall, and a globally hosted CDN are included. Translation: Peace of mind!

Bridging a gap you didn't know you had: There's nothing worse than having two entities try to speak to each other that don't speak the same language, like developers and marketers. We're not talking artists and scientists, but HubSpot is making the conversation between marketers and developers a lot easier and more accessible than ever before with this new iteration of their product.

The CMS Hub start simplifies the complicated language and processes for those unfamiliar with website construction while at the same time not dumbing it down for those who load the code. Essentially, developers can build tools that will enable marketers to own the site they oversee. (They should have called it CMS Middle Ground!)
Opening a marvelous data door: Folks might be coming from near and far to your website to see what you've got to offer. Yes. But do you know anything other than that about these mystical creatures? What pieces of content on your website are they really digging? Are they really visiting the page filled with photos of your dog (OK, probably)?

You're likely not getting key data such as that – specifically, what content resonates with your current and future customers – from your existing setup, but HubSpot is setting that straight with CMS Hub Starter. Not knowing this data can be like getting marked for an exam you didn't know the questions to

.
Focus on what really matters to get results
Taking these distractions off the table for your in-house inbound marketing and content management team will help you focus on what's really important:
Publishing content that answers your buyers' most pressing questions, both to increase organic traffic and to empower your sales team to close deals faster by using that content in their sales process (i.e. assignment selling).
Creating the marketing and sales videos you need to create more educated prospects and meet the new content demands of your ideal buyers.
Building a perfect inbound website that empowers your target customers to find everything they're looking for (answers, solutions and more) on your website, thus establishing you as the most trusted resource in your industry.
That's what you should be doing, not worrying about whether some ne'er-do-well is going to blow up your infrastructure.
If your organization is going to spend the time, resources, and money needed to make inbound and creating content work, there absolutely should be an ongoing understanding of the company's return on investment (ROI).
HubSpot is very much a key to that piece of the puzzle that's often overlooked – not just for marketing and sales automation, however, but also now for your everyday website operations.
Free: Assessment
Does your website build trust with buyers and bring in revenue?
Take this free 6 question assessment and learn how your website can start living up to its potential.