HubSpot Conversations vs Drift: What You Need to Know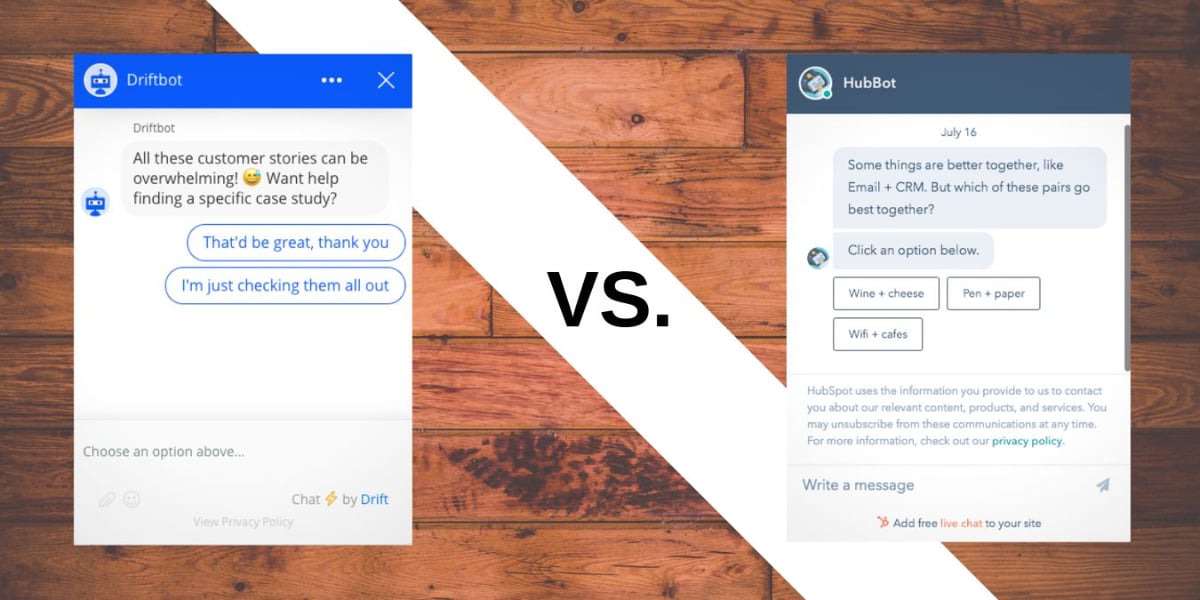 The introduction of conversational marketing has changed the way we communicate with our audience.
Users are expecting an easy, personal experience now more than ever. Using live chat and chatbots, we are able to much more efficiently create unique experiences and provide value that is most relevant to users and their needs.
Two of the leading conversational marketing tools, Drift and HubSpot Conversations, are helping us take our conversational marketing to the next level with extensive live chat and bot functionality.
The truth is, these are both really great products. IMPACT has experimented with each of them, but what's best for you and your company is going to depend on your needs and what you want to accomplish with live chat.
Let's start with Drift.
Drift
Drift is a company solely dedicated to providing the best conversational marketing experience possible. With this being its main focus, you can believe Drift provides an extremely focused solution. That's why Drift is an exceptional tool for conversational marketing and live chat.
When we think of creating a seamless user experience through conversational marketing and chatbots, it all comes down to how the bot is going to interact with the user. Drift has designed its product with this as a top priority, leading to an extremely high-quality experience for the user. Through specific targeting and tailored messaging, Drift succeeds in creating that unique one-to-one experience.
For example, while most chatbots will allow you to create conditional questions, Drift takes it a step further and allows you to craft playbooks that feel more conversational than other tools because you can change the message in context to the prospect or customer based on contact data and contextual actions via the website.
Drift is optimized for almost any possible scenario that could lead to a bad user experience. Most people would probably agree that one of the worst things that can happen when someone utilizes the chat on your website is zero response.
With Drift, if someone chats with a bot on your site, and no one from your team responds within one minute, a bot can come in and pick up to cover for you. Drift has considered endless scenarios like this to create a high-end experience for the user.
Another key to doing conversational marketing the right way is the ability to target individuals based on specific criteria. This allows you to show personalized content to a user based on their actions. For example, you can show a different chat message if a person has been to your site before, visited a specific page before, or are referred by a certain source.
Drift has six condition categories and over 25 different targeting conditions that allow for you to customize your message triggers. With so many different options, you are really able to build a bot that talks to a person based on who they are.
Access to available integrations such as Google Analytics, HubSpot, and Vidyard is another plus for Drift. Specifically, with the Vidyard integration you have the ability to record a quick video and drop it in the chat in real-time, or even pull from a pre-recorded library. With Vidyard's advanced tracking (like the ability to see how much of a video was watched) you can accurately measure engagement from your chat audience.
Something to keep in mind, though, if you are working internationally, or require multi-language functionality, Drift may not give you quite as much control as some competitors.
Drift only has GDPR consent available in one language, and in order to change the language of the bot, you must manually do it in the backend, since the platform is hardcoded in English.
Drift provides different levels of pricing for individuals, teams, and enterprise organizations.
For individuals, you can choose between a Free version, which includes basic live chat functionality, and the Standard $50/month plan that expands on the standard live chat by including data integration and an automatic welcome message and will cost $25/month for each additional chat seat.
For teams, the pricing jumps up quite a bit, as these options are meant for small to midsize companies and expands on all of the basic features.
The Pro option comes in at $400/month and will cost $40/month for each additional chat seat. The premium plan is $1,500/month and will cost $80/month for additional chat seats, but does include a dedicated CSM from Drift and the ability to have multiple teams.
Lastly, the enterprise option is ideal for organizations that have over one thousand employees, have high traffic sites, or want to roll out Conversational Marketing to multiple teams. You'll need to talk to the Drift team to get specific pricing for this tier.
Overall, Drift is definitely a leader in the conversational marketing space. The product has continued to evolve quickly since its release in 2016, as Drift is laser-focused on improving its sole product.
HubSpot Conversations
One thing that is important to point out right away is that HubSpot Conversations is extremely well integrated with everything else in HubSpot. No surprise here, right? If you are using the full suite of tools inside HubSpot, Conversations is integrated with the tools you're already using.
For example, if someone comes in through chat, you can automatically add them to contact lists, enroll them in a workflow, or even create a task for the sales team.
HubSpot Conversations can be extremely powerful for targeting known contacts in your database when you're using the HubSpot CRM or HubSpot Marketing Hub.
You have the ability to show contacts that are in the sales pipeline a different message on your pricing page versus those who are not. For instance, instead of just asking if they have any questions, you can get more specific and reach out to them with resources (like case studies) that relate to how your services work for their industry.
HubSpot Conversations integrates with the rest of the HubSpot platform really well, but aside from Slack, there aren't any other outside integrations at this point. However, many people don't need outside integrations if you are using the full HubSpot suite.
If you are working internationally, or require multi-language functionality, HubSpot Conversations gives you more control with over 15 language options. You can even customize individual welcome messages by language.
If you are already using the free HubSpot CRM, you can start using live chat for no additional cost, but you won't have access to some features mentioned before like lists segmentation and workflows.
To dive in deeper into the different automated features for HubSpot Conversations, and to gain access to Conversational Bots, you will need to level up to a paid package of HubSpot.
You can choose between the Marketing Hub, Sales Hub, or Service Hub (or all of them). Each has three different tiers: Starter, Professional, and Enterprise. With prices ranging from $50/month to $1,200/month.
So, it's no question that if you are already using HubSpot and taking advantage of some of the automation features, this could be a great addition.
In fact, this is why the IMPACT brand team switched from Drift to HubSpot Conversations a few months ago — check out this article for an inside perspective of the pros and cons of the platform.
Which is the right fit for you?
At the end of the day, these are both great products that work really well. What's going to work best for you is going to come down to your budget, goals, and team structure.
If you're just getting started with a chat solution, or you're already all-in with HubSpot, using HubSpot Conversations probably makes the most sense. There's a lot you can do with HubSpot, and if you have a limited budget, it's a great place to start.
If you are interested in rolling out some conversation-related features without launching a full-scale Live Chat functionality, it is more cost efficient to use the tools available with HubSpot's CRM than to invest in a full-scale launch and build-out of another platform.
As HubSpot will say itself, if you need the most advanced version of a tool, you may want to go with one of their connect partners. These tools will integrate with HubSpot and may cater to your specific needs better than the all-in-one in-house tool.
When you're ready to take your conversational marketing to an entirely new height where chat is a primary part of your engagement to drive results, Drift is the next-level answer.
Getting started
The shift to conversational marketing as an approach requires a mindset shift for the organizations implementing it. Consumers have a level of expectation of actual conversational ability with such tools, and using a half-hearted approach will likely not provide the best results for either side.
We found that the best way to get started with conversational marketing for most organizations is to take small steps.
Start by rolling out a basic live chat functionality prior to the roll-out of any bots. Keep in mind that this does require a certain level of commitment, as the team members must be prepared to man the live chat responses.
While you do have the option to roll out bots and allow individuals to leave a message, this approach will likely not reap the level of benefits that a full live chat functionality will provide.
So whether you choose Drift or HubSpot to bring conversational marketing to life within your organization, remember that having a solid strategy for how your team will handle incoming chats and leads is just as important as the setup of the actual tool.
Free Assessment:
How does your sales & marketing measure up?
Take this free, 5-minute assessment and learn what you can start doing today to boost traffic, leads, and sales.