Subscribe
Join 40,000+ sales and marketing pros who receive our weekly newsletter.
Get the most relevant, actionable digital sales and marketing insights you need to make smarter decisions faster... all in under five minutes.
Thanks, stay tuned for our upcoming edition.
How do I know who's working on my IMPACT account — and what everyone does?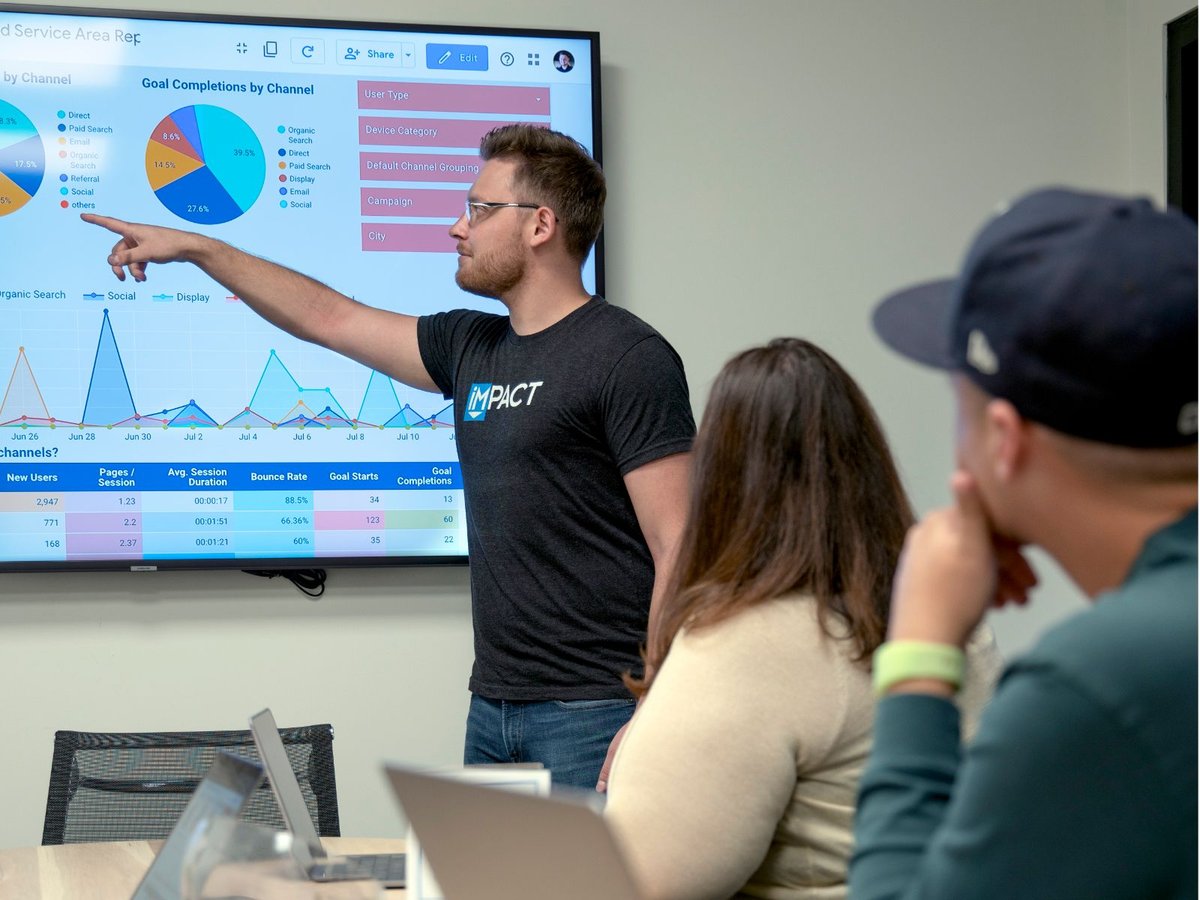 Getting started with IMPACT means getting to know the specialists, coaches, and trainers who will be working with you and your colleagues. In many cases, you will be working with several people from our team, and these IMPACTers will be working with multiple members of your team as well.
Rest assured: You can trust that all IMPACT employees will work together to make sure you have a seamless experience that is tailored to your specific needs. We promise to communicate with you and with each other so that everyone is clear about all aspects of the provided services.
Still, you will want to know who each person is, what their role is, and where you should go if you have a specific question. Of course you can always go to any IMPACT employee, who will be able to either answer your question or point you in the right direction, but we want to help you bring any questions or concerns to the right people.
That said, this is a sort of contact cheat-sheet. Use it as a reference if you're not sure who to go to with a specific question.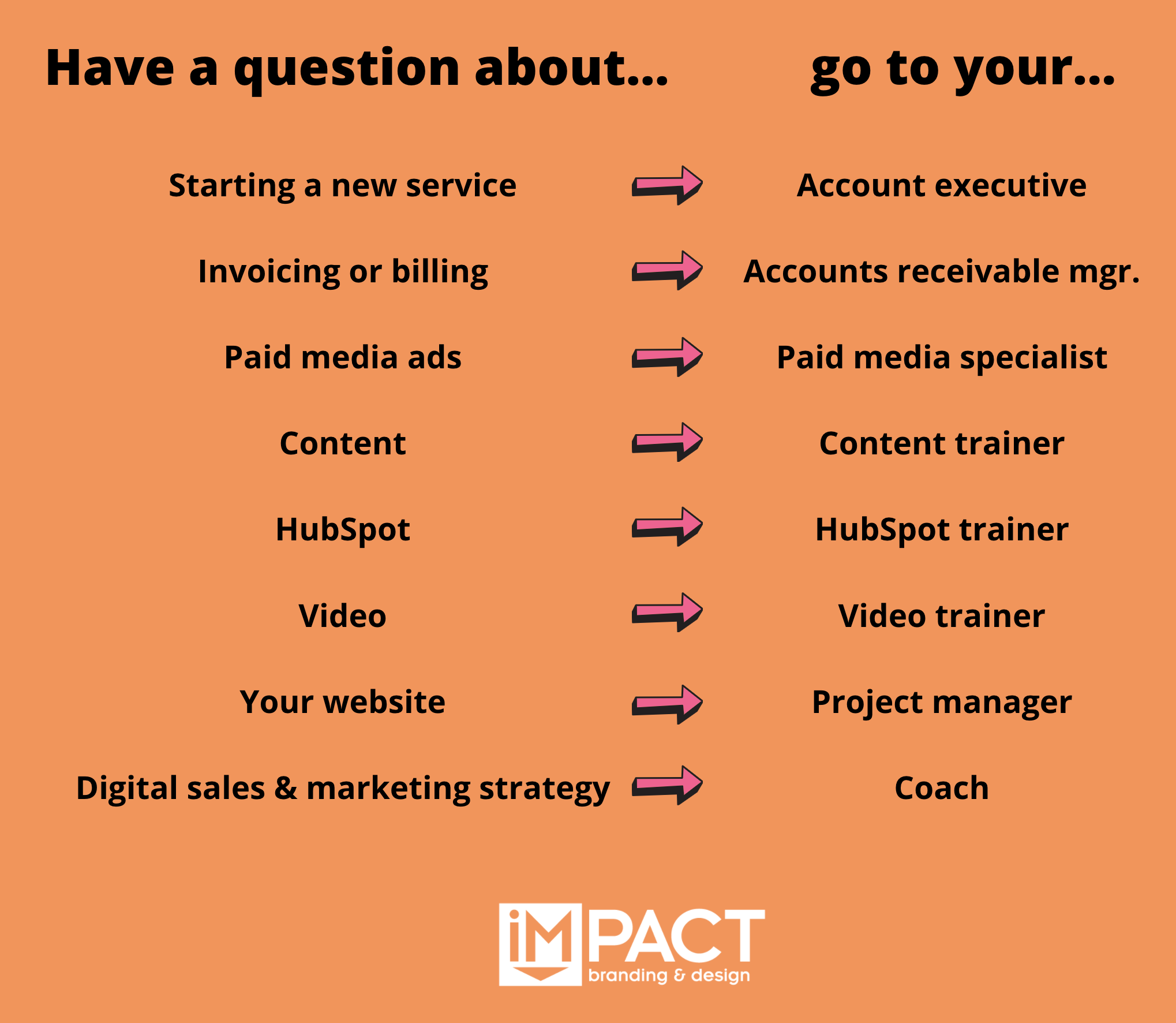 Now, here's the full explanation.
IMPACT's services; a brief overview
IMPACT offers a range of consultative and implementation services to its clients, which we organize in the following groups.
IMPACT's flagship program combines strategic planning with coaching and training sessions designed to help you take ownership of your digital sales and marketing.
Clients can expect both high-level strategic planning and tactical training in content creation, HubSpot implementation, video strategy, sales technique, and more.
IMPACT offers HubSpot onboarding, training, and limited add-on implementation services, provided by our certified expert trainers.
For cutting-edge, strategic paid search and social media ad implementation, we offer an omnichannel approach that coordinates your ad spend between platforms.
From minor website refreshes and updates to full-scale redesigns, IMPACT's website services team will build you a website that is fast, beautiful, and informed by data to capture leads and drive revenue.
IMPACT provides comprehensive training to make sure your sales team can flourish in a virtual-first world, incorporating best practices to optimize your sales process, from first contact to closed deal.
Accessing information; connecting with IMPACT
When you sign your contract with IMPACT, you will be added to a new Basecamp portal within 24 hours. Here you can find additional resources and information about your IMPACT team.
In order to cut down on superfluous methods of connection, all communication between clients and IMPACT will be centered in Basecamp. This allows everyone on your team to be connected with everyone on our team in one centralized location. Using Basecamp allows documents, files, and tasks to stay organized as well.
Digital Sales & Marketing Mastery
As a comprehensive program that is designed to teach your team everything it needs to know, Digital Sales & Marketing Mastery engages clients with a variety of IMPACT experts and specialists, including HubSpot trainers, video consultants, and content strategists.
You can also expect to have multiple people from your sales, marketing, and leadership teams attend these meetings.
At the center of the program is your coach, who leads strategy planning, and your account manager, who serves as a sort of "general contractor" to coordinate all meetings and communication.
Who you'll work with
Your account executive handles initial conversations and some kick-off duties.
Your account manager oversees the program, coordinating meetings and making sure all stakeholders are informed and up-to-date at all times.
Your coach is responsible for high-level strategy, culture development, and curriculum direction.
Subject matter experts will lead training sessions with your team focusing on content and video strategy, HubSpot implementation, sales technique, and more.
Who to see about questions
Account manager: See this person for all logistical questions involving any aspect of the program.
Coach: See this person for any questions about strategy, planning, and training.
Accounts receivable manager: Although you will not work with her every day, Shandia Drummond-Butt is our accounts receivable manager. She handles all billing and invoice work. If you have a financial question, you can reach out to her — or to any IMPACT team member, who will put you in touch with Shandi.
HubSpot services
With the sizeable investment your company makes in HubSpot each year, you want to be sure you're utilizing every aspect of the platform to keep track of your data. Our HubSpot experts work directly with your team to provide the training best suited to your needs, from onboarding to portal audits and more.
Who you'll work with
HubSpot trainers will work directly with your team.
Who to see about questions
HubSpot trainer: See this person for any questions related to your services.
Accounts receivable manager: See Shandi for questions about billing and invoices.
Paid search and social
In order to best target your ads, IMPACT's paid media team uses an omnichannel approach to shift budget and resources between platforms as data and strategy dictates. Our specialists work with you — and with each other — to coordinate your campaigns from start to finish, helping your customers move smoothly through their buying journey.
Who you'll work with
Your paid media specialists will serve as the liaisons that directly connect your business and the advertising platforms.
Who to see about questions
Paid media specialist: See this person for any questions about your campaigns.
Accounts receivable manager: See Shandi for questions about billing and invoices.
Website design and development
The website redesign process is an involved one, with strategists, project managers, designers, and developers all working in concert to build the fast, beautiful, data-driven website your business needs.
A full website redesign takes months, with additional time after launch dedicated to data analysis and site adjustments. Our team will guide you through the entire process, from initial strategy and blueprinitng to the final tweaks that optimize user experience.
Who you'll work with
Your website strategist works with your stakeholders to plan the strategic elements of your website redesign.
Your project manager coordinates the work of all IMPACT team members to make sure your project is completed on time and on budget.
Your designers focus on the appearance and layout of your site.
Your web developers build the site, working with the plans they get from designers.
Who to see about questions
Project manager: See this person for all logistical questions about your website project.
Website strategist: See this person for high-level questions about strategy.
Accounts receivable manager: See Shandi for questions about billing and invoices.
Virtual sales team training
This 12-week training program is designed for large sales teams who need to adapt and thrive in a virtual-first business world. Marcus Sheridan, renowned speaker and author, will work with company leaders and sales reps to optimize your business for the way people buy today.
You can expect highly tactical sessions to evaluate and improve every aspect of your sales process, including email outreach, video strategy, sales call best practices, and more.
Who you'll work with
Your account manager will oversee the logistics of the program.
Marcus Sheridan will lead meetings, roleplays, call reviews, and all other exercises.
Who to see about questions
Account manager: See this person for all administrative questions.
Marcus Sheridan: See Marcus for planning and strategy questions.
Accounts receivable manager: See Shandi for questions about billing and invoices.
Putting the customer first
At IMPACT, we take our customers' experience very seriously. We want to ensure that your needs are met at every turn — and this all starts with communication.
Knowing how to get the answers you need to the questions you have will make working with IMPACT as frictionless and easy as possible.
No matter what service we provide for you, your IMPACT partners will do everything in their power to help you achieve and surpass your goals, and we will always be ready to answer your questions.
Free Assessment:
How does your sales & marketing measure up?
Take this free, 5-minute assessment and learn what you can start doing today to boost traffic, leads, and sales.