#IMPACTTurns10: Questions for our CEO as we celebrate its first decade [+VIDEO]
From humble beginnings in CEO Bob Ruffolo's condo, IMPACT has grown to a nearly 70-person person business known for its innovation, excellence, and company culture.
This month, IMPACT turns 10 years old.
To mark the occasion, I sat down with Bob to answer 10 questions reflecting on the past decade, his experience, and the company as a whole.
Here's what he had to say.
1. When you started IMPACT 10 years ago, did you think you'd be HERE 10 years later?
No! I'm honored to be where we are. Ten years ago, I was working at a local manufacturing company, when I started doing some freelance work on the side.
Gradually, I had enough work that I could go off on my own.
At this time, I remember looking at another local business that had four or five employees and thinking, imagine if I could get there – to have four employees and an office!
That was the bar I set.
Then Tom joined me, Natalie joined, then Vin and Joe, and all of a sudden, we got an office and we were there.
Every time we've had moments like that, we've just reset the bar for ourselves.
Now, every three years we reset the vision for who and what we want to be.
2. What's been most surprising about the journey so far?
It's a lot harder.
Going back to the early years, I felt like I knew everything I needed to know. Then, when we got to 2014, 2015, 2016, I started to realize how much I needed to learn, and I had to do work on myself to get there.
As a leader, as a business owner, as an entrepreneur, I had to grow and develop.
I started this business because I loved web design and I loved marketing — now, I do almost none of that.
All my time and energy has to go into being the best CEO, the best leader, the best mentor I can be so I can continue to create opportunities and help this company grow.
3. The CEO of a company of 10 employees is going to have a vastly different day-to-day than the CEO of a company of 70 employees.
What's the biggest difference?
When we were a company of 10 people, I had nine direct reports.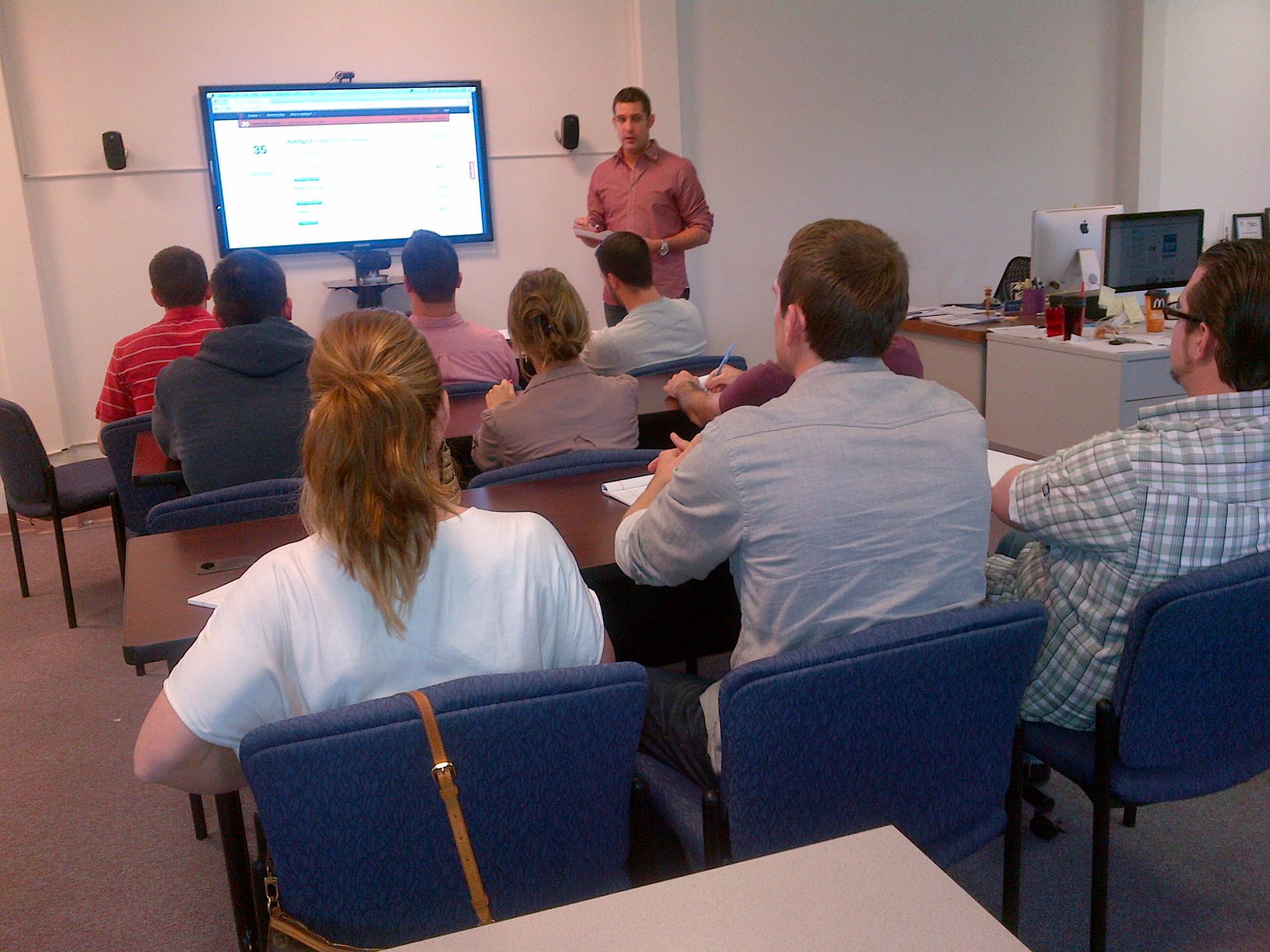 A team training led by Bob in 2012
I knew the work that had to be done, and I delegated it to the team. At that point, I was doing the majority of the selling, I was doing the bulk of the finances, and I was working a lot more hours.
Then, as we added more people and everyone got better and better, one thing after another came off of my plate.
Now, we have strategists with more experience than I have, and we have exceptional managers, salespeople, and marketers.
Now, my biggest job is to future-proof the company.
4. Is there anything you miss about being smaller?
Well, Fiesta Fridays were pretty cool.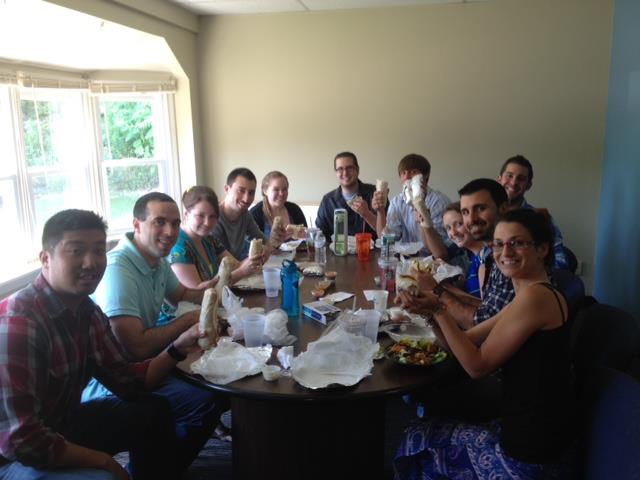 Team enjoying Fiesta Friday in 2012.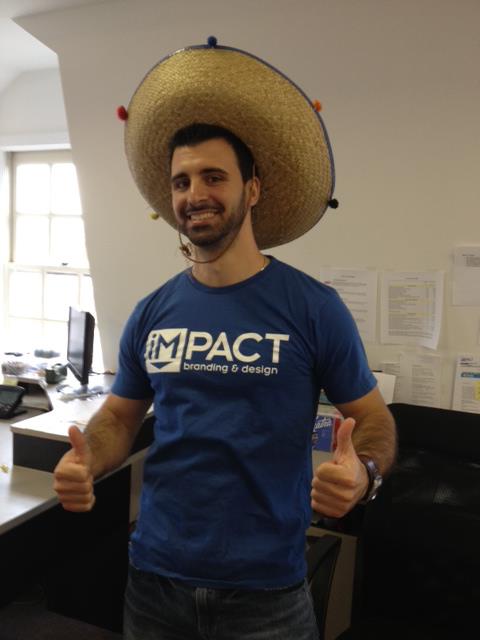 Tom was the tradition's biggest advocate.
In all seriousness, we've had to "go remote" to really get the best people, to provide the best services for our clients.
Now, we have team members around the country — and we just hired our first international employee, but when we were smaller, it was a lot easier to get the whole company together.
When we started IMPACT, we were all in our early 20s. Now, everyone's older; they have families.
It's different now, but we're also able to do bigger, grander things when everyone comes together.
So, there were great things about being younger, being smaller, but there are other great things about being bigger, being more mature, too.
5. Can you talk about the value of having those key early hires — Tom, Natalie, Dan Baum, Carolyn, Vin, Joe Rinaldi — still with the company?
Really, they are the heart and soul of the company.
When we have to make a decision about the direction of the business, people look to Natalie, to Vin, to Tom. If they're nodding, people will agree. That's the trust that everyone has in them.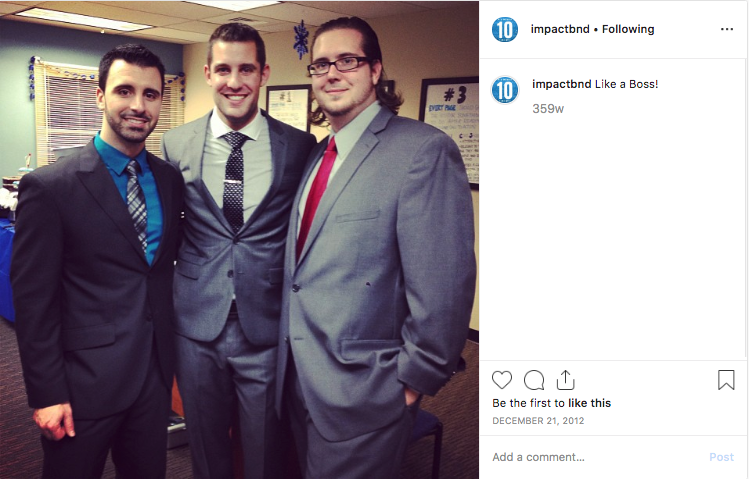 They've also done every kind of job for the company. They've all been client-facing, they've all been in sales, they've all created content for marketing, they've all spoken at events.
Bringing in people from outside who have had experience elsewhere is really important, but having those people who have grown inside the company is priceless.
And then you add in Joe, Ramona, Tim, Christine, Kaitlyn, Dan… the list goes on and on — those people have been through the tough times and know the history of the company.
When we make any decision, their perspective is so valuable because of all they've seen.
But then, you add in these amazing professionals we've added as we've grown: Marcus, Mel, Brie, Zach, Alex.
We have this beautiful balance of new and old, together.
6. I've worked in schools and other nonprofits for years, and there is so much discussion and emphasis about creating or changing culture. Because, really, the truth is that people can come or go, but culture remains.
Talk about the culture of IMPACT and how that came to be.
IMPACT's culture was definitely consciously-shaped. It wasn't until I realized that we had a negative culture that I understood how important it is.
We knew we had real champions in the company who were positive, productive, and professional, but we also knew we had the opposite of that — people who didn't like being here and rallied other people to not like being here.
This was around 2013. We realized we had to get more intentional around this so we started really asking questions.
What are the characteristics about some people that makes them add to this company? What makes other people detract? What do we, as a company, stand for? What's our purpose?
It was about getting the right people on the bus, and then listening to them.
We've had hard times, but we've tried to grow through them and to always get better.
If it wasn't for the people, the old guard and the new guard, we'd be a disaster. The people are our biggest strength. And they set the culture.
7. If you could go back in time, what's one piece of advice you would give yourself 10 years ago?
Enjoy every moment. It is an absolute privilege to do what we do — to work with these people every single day.
It was really hard in the early days, and I took it all home with me.
However, once I realized that everyone has problems, and that obstacles can be opportunities, I started to realize the privilege.
I came to realize that the process of growth is meaningful.
8. I know you prefer three-year plans, but a 10th anniversary is a big milestone. Can you talk about where you hope the company will be at its 20th anniversary?
We're going to be bigger! I can't say what size, but we have so much talent. We have people who want to grow — and we want to grow with them.
As far as what we do, we want to let the market help us determine what our product needs to be. We also need to keep listening to ourselves and what our passions are, and then we can match those to the market.
I hope in ten years we have a majority of these wonderful people around, and we are continuing to create opportunities for them to grow and develop.
9. IMPACT recently had a Bob Trivia Night — and your employees certainly know a lot about you.
What's one piece of Bob trivia that no one knows?
I am not a cheese fan. I never have been. My mom tells me that when I was a little kid, I smelled a piece of Kraft cheese, and I never wanted to try it.
I still eat pizza — I'm Italian, after all — but I don't like cheese in general.
10. And lastly, if you could instantly fly all of IMPACT's employees to any destination for a 10th-anniversary celebration, where would it be?
Free Assessment:
How does your sales & marketing measure up?
Take this free, 5-minute assessment and learn what you can start doing today to boost traffic, leads, and sales.