Subscribe
Join 40,000+ sales and marketing pros who receive our weekly newsletter.
Get the most relevant, actionable digital sales and marketing insights you need to make smarter decisions faster... all in under five minutes.
Thanks, stay tuned for our upcoming edition.
The 5 INBOUND '18 Sessions I Won't Miss (And You Shouldn't Either)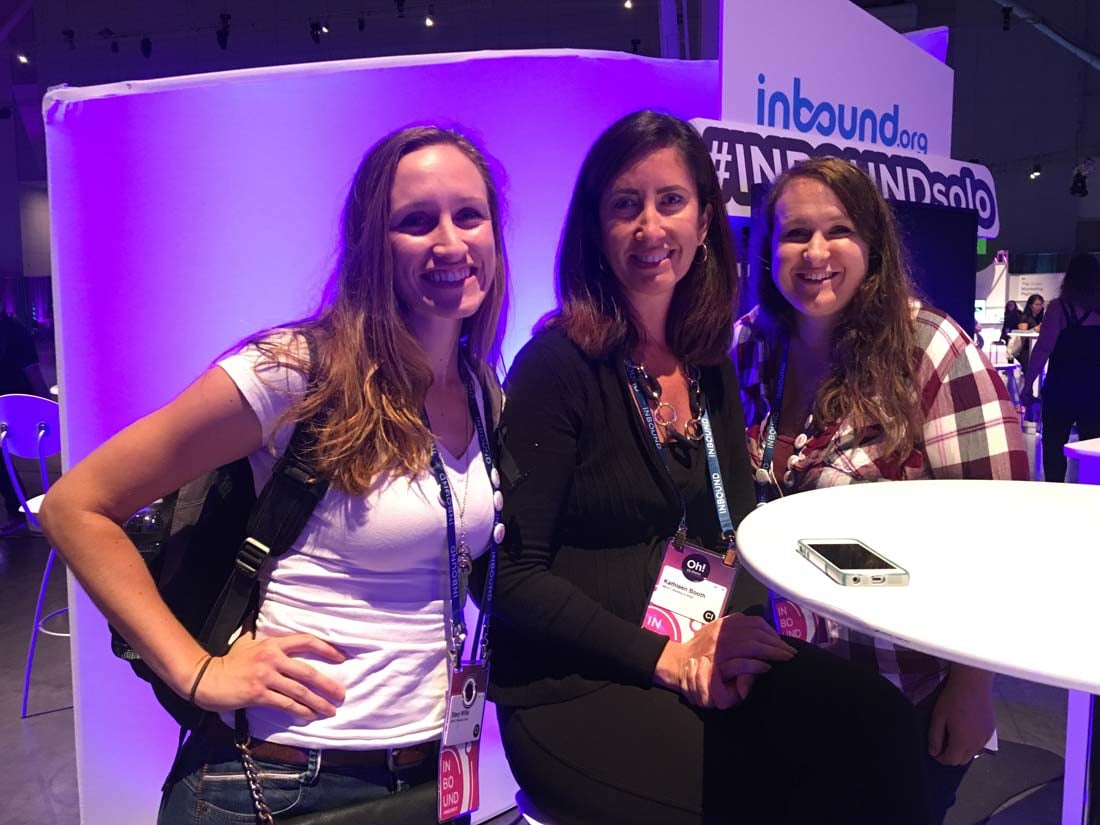 It's that time of year again! Back-to-school shopping is done, the last trip to the beach has been planned, and I've bought my annual ticket to Boston for HubSpot's INBOUND 2018.
INBOUND 2018 will be my fourth trip to this conference and it still amazes me the growth it has seen since my first visit in 2014.
As I'm getting prepared for my week in Boston, I, like most, reflect on what I did the previous years that I don't want to do again (stay out too late!) or want to make sure I do again.
The other interesting factor to consider is that since coming to IMPACT when I attend INBOUND, it's not just as an attendee, but as a part of the IMPACT Booth Team!
Sounds fancy, right? Good - because it is!
All through INBOUND, IMPACT is hosting Website Throwdowns (an in-person version of our flagship video show) and HubSpot Throwdowns.
As a principal strategist, my job is to meet with attendees who want me to review their site or portal and give them actionable feedback in 10-minutes.
It's so much fun! I get to meet hundreds of new people and have a chance to offer insight into how they can create even better experiences for their audiences.
But, Back to the What Not To Dos
Last year, I worked the booth and loved every moment of it, but I did a horrible job of thinking about what I should be doing when I wasn't doing throwdowns.
This year, I've got a plan and it's a good one!
In between my shifts at the booth, I've outlined the sessions I really want to attend and I was even able to have my scheduled shifted a bit to make sure I could attend the ones I'm incredibly interested in.
Here are the 5 INBOUND 2018 sessions I refuse to miss:


To start, I've been a Grey's Anatomy fan since 2006. RIP Denny, George, Derek, Ellis...
Shonda Rhimes is arguably one of the best storytellers in the world. There is a reason her shows are stupid successful and that I'm still salty about Denny. If you don't know what I'm talking about, go binge Grey's on Netflix.
As a marketer, my ultimate job is to help my clients tell the most accurate, relatable, and actionable story for their businesses.
This year, I'll be sitting in the audience listening for the storytelling wisdom I'm sure will be pouring on the stage from Shonda.
I had to opportunity to get a sneak peek into this session when David spoke about it at IMPACT Live 2018 just a few weeks ago -- and it was absolutely riveting.
It's pretty rare in today's marketing to hear about something that you've literally never thought about before or even recognized as a branding tool.
However, David did and it's something I know will only become more and more prominent in the coming years.
Leaving David's session at IMPACT Live, I wanted to know more. This is the perfect way for me to do that!
SaaS companies -- Everybody has one.
Okay, maybe not everyone, but they are some of the most common types of companies I've encountered in the last five years, especially as clients.
They've also earned the distinction of being some of the most difficult to market with often complicated tech and an increasingly saturated market.
This session with Ed Fry looks like a buffet of actionable ideas for SaaS teams who are looking scale-up and I'm going to be listening closely for things I can be recommending to my clients right now.
So, this technically isn't a session, but I can't wait for it nevertheless.
From Vidyard's site:
"Find us during the INBOUND 2018 at booth M3 to connect with our team of video experts to see how personalized video and one-to-one video messaging can help you create sales and marketing experiences that will make your buyers say WOW!

You'll also find out how to get a personal ring light (selfie light) and enter for a chance to win video equipment in a Vidyard Studio in a Box."
Uhhh, yes, please!
I'm devoting an entire hour between two of my shifts to spend some time in that lounge. If you're coming to INBOUND, reach out and let's meet up there!
Nick Sal.
If you know him, you adore him. This might seem like a cheat entry on the list because he also works at IMPACT, but it's not.
It's rare, even today, to find someone so fired-up about inbound, sales, and other companies successes. Nick (a.k.a. Chaz Leaderman is one of those people.
He might be funny, but he also wicked smart and if you're in sales, about to be in sales, or just want to understand inbound sales better - get to his session on Thursday!
Come Throwdown With Me
I wouldn't be a good marketer if I didn't invite you to come see me at the IMPACT booth and let me Throwdown with you on either your website or your HubSpot.
If you're going to INBOUND, schedule a Website or HubSpot Portal Throwdown with us!
Don't worry, it won't hurt -- too much.
Free Assessment:
How does your sales & marketing measure up?
Take this free, 5-minute assessment and learn what you can start doing today to boost traffic, leads, and sales.