Leap Day Marketing: How 12 Brands Are Taking Advantage of the Bonus Day
Ramona Sukhraj also recommends this free guide: The Ultimate Inbound Marketing Strategy Playbook 2022.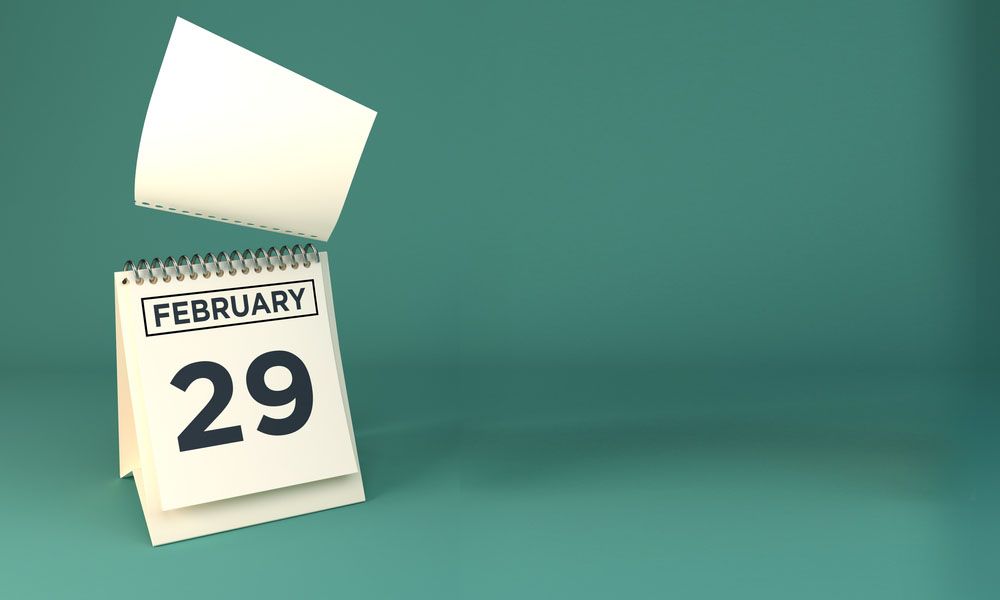 I have a friend who was born many years before me but technically is only eight.
That's because he's one out of only about 4.1 million people (.05% of the world's population) to be born on February 29th.
Leap years are kind of a strange concept, but they've always fascinated me. The idea that every four years, we're given an extra day that usually would never exist seems almost magical. It's one more day when anything can happen; one more day of opportunity.
It's like the ultimate limited-time offer -- and many brands and marketers are taking full advantage of it.
Free Guide: The Ultimate Inbound Marketing Strategy Playbook 2022
Why Should You Run a Leap Day Promotion?
Leap Day is a rare opportunity to capitalize on scarcity, exclusivity, urgency, and the persuasive effects of each on your buyer personas.
People don't like to miss out or be left behind. By making a promotion available only for a small period of time (in this case, a day), you send up a little red flag in the minds of your prospects to act now or miss out on the opportunity at hand.
If you make the promotion only available to a certain group of people (i.e. those in a loyalty program), you can also encourage people to join in.
Consider trying one of the following Limited-time promotions for your brand:
Sales/Discounts

Free Gifts (with or without purchase)

Exclusive Gifts (for members of a loyalty program, subscribers, etc.)

Special Edition of a Popular Product/Offer
Below I've gathered a few examples of the clever Leap Day promotions brands are running across the country. It may be a little too late to incorporate these ideas into your marketing for this year, but take a look and take notes. Four years will fly faster than you think!
First off, to make up for all the missed birthdays, Pizza Hut is offering people born on February 29th a free personal-sized, one-topping pizza on their big day.
Customers must have a valid ID as proof, of course, but this thoughtful promotion will definitely delight leaplings with its free treat and sense of exclusivity.
Expedia is just one of the many travel companies running specials in honor of the Leap Year.
In this promotion, if you make a hotel reservation using the Expedia app on or before the 29th, you'll save 29% on select properties worldwide.
For anyone who hasn't started planning that spring or summer getaway yet, this is a great opportunity to save and for the travel company itself, it's an awesome way to boost sales.
In this tasty promotion, members of the casual dining restaurant's eClub can get $4 off an online order of $10 or more on the 29th.
Below is actually the email from my inbox that inspired this article.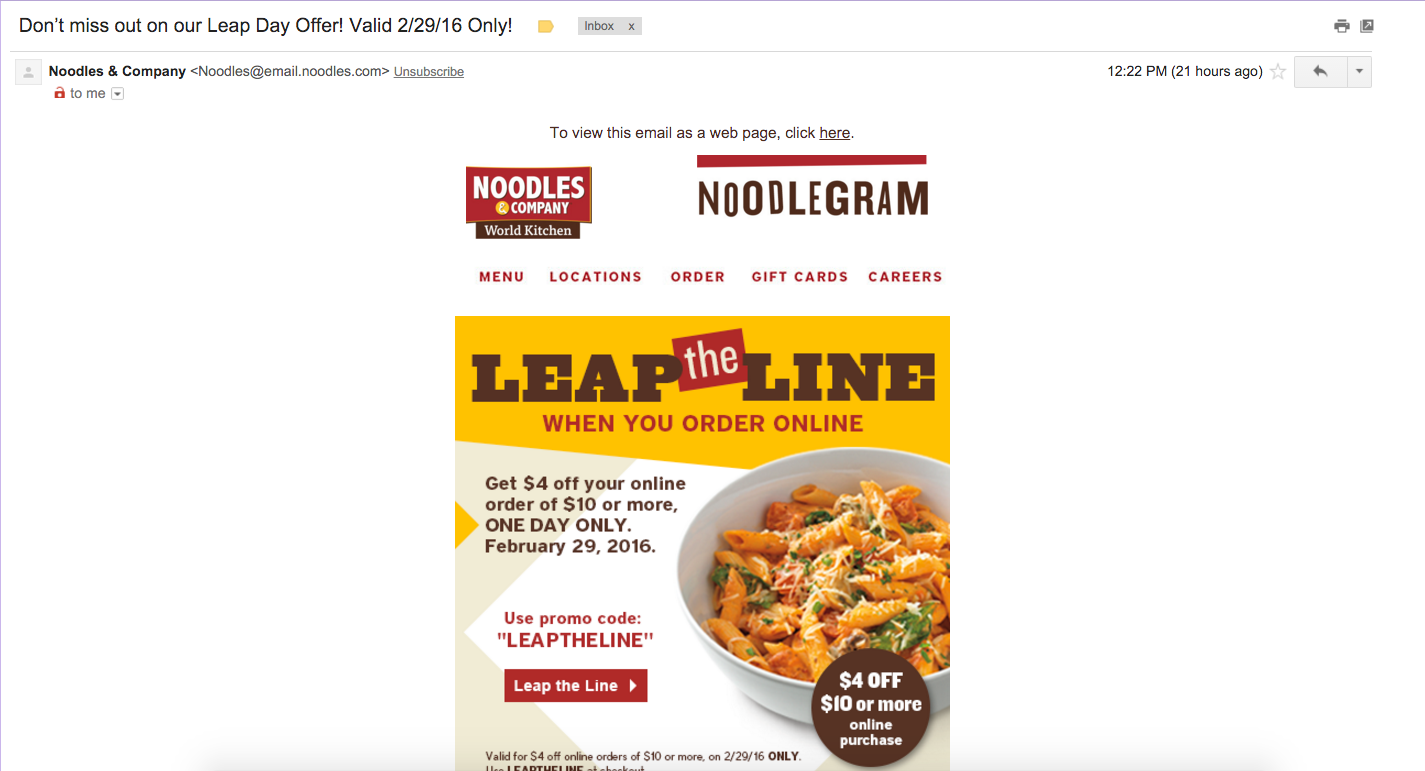 Not only does the promotion encourage sales and delight loyal customers with an exclusive offer, it also helps drive traffic to the Noodles & Company ordering platform, a relatively new feature that the franchise is hoping to grow.
In yet another travel deal, The Art Hotel, a trendy location in Downtown Denver, is offering 29% off rooms on the 29th. Why not spend your extra day out in Colorado?
In this simple promotion, the retailer is putting a number of select products on sale for an apt $29 or less. The sale runs through the 29th and is available both in stores and online.
6.
Hard Rock Café
: "Leaplings Eat Free" Menu
Similar to Pizza Hut, Hard Rock Cafe is offering customers with a Leap Day birthday a free entrée from the restaurant's exclusive "Leaplings Eat Free" menu with a valid photo ID.
If pizza and burgers aren't your thing, stop by David's Tea. Leap Day only, the Canada-based tea boutique is offering free servings of its "Tea of the Day" in stores and encourages fans to share their freebie with the hashtag #SteepYear.
Aligning the day with its signature frog mascot, participating locations of the franchise company will be giving away "Leap Year 2016" t-shirts absolutely free.
As you'll see in its Facebook cover below, BigFrog also encourages customers to "Leap" for a cause by creating custom shirts, presenting a marketing message that is both punny and brimming with multiple meanings.
9.
JetBlue
: "Book Before You Leap"
A witty play off of the cautionary saying, "Look before you leap," JetBlue was offering one-way flights on February 29th for only $29.
Though the promotion ran for just one day earlier this month, customers could choose from over 31 locations including NYC, San Francisco, Los Angeles, and Seattle, ultimately saving quite a bundle.
Next, on February 29th, patrons at Legal Sea Foods, a popular east coast eatery, can enjoy two one-pound lobsters and two sides for only $29. The discount of over $20 is available at any of the restaurant's 30 non-airport locations.
At one of my favorite Mexican chains, east coast diners can also enjoy fried ice cream (regularly $6.49) and a special 8-ounce Leap Year Margarita (regularly $7.99 for a 16 ounce) for only $2.29 on Leap Day.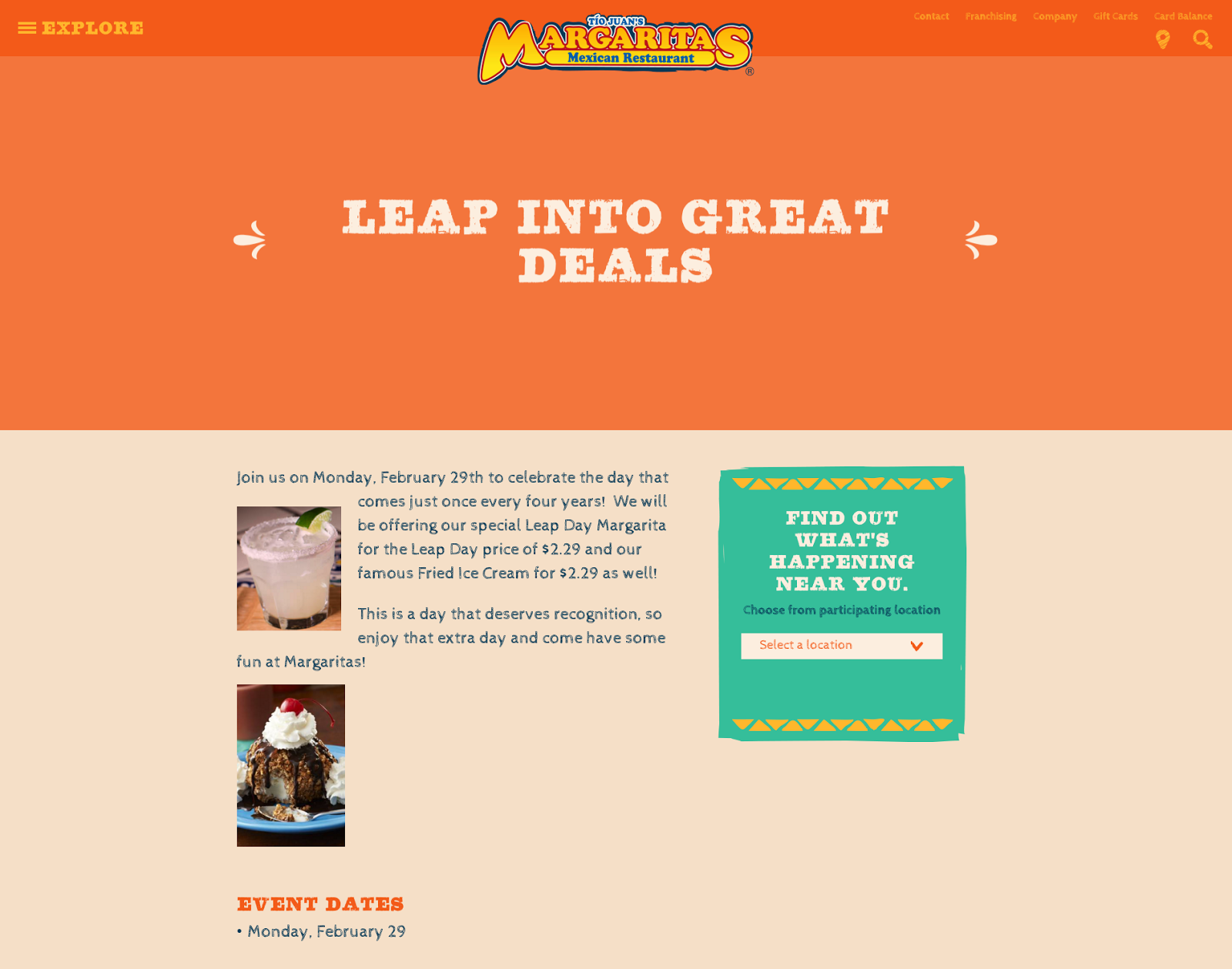 Last but not least, if you're looking for a healthier option, patrons at Tropical Smoothie can get any 24 oz Classic Smoothie (regularly $4 and up) for only $2.29. The only catch is they need to be members of the cafe's "Club Tropical" loyalty program. Props to the company for finding a great way to boost conversions!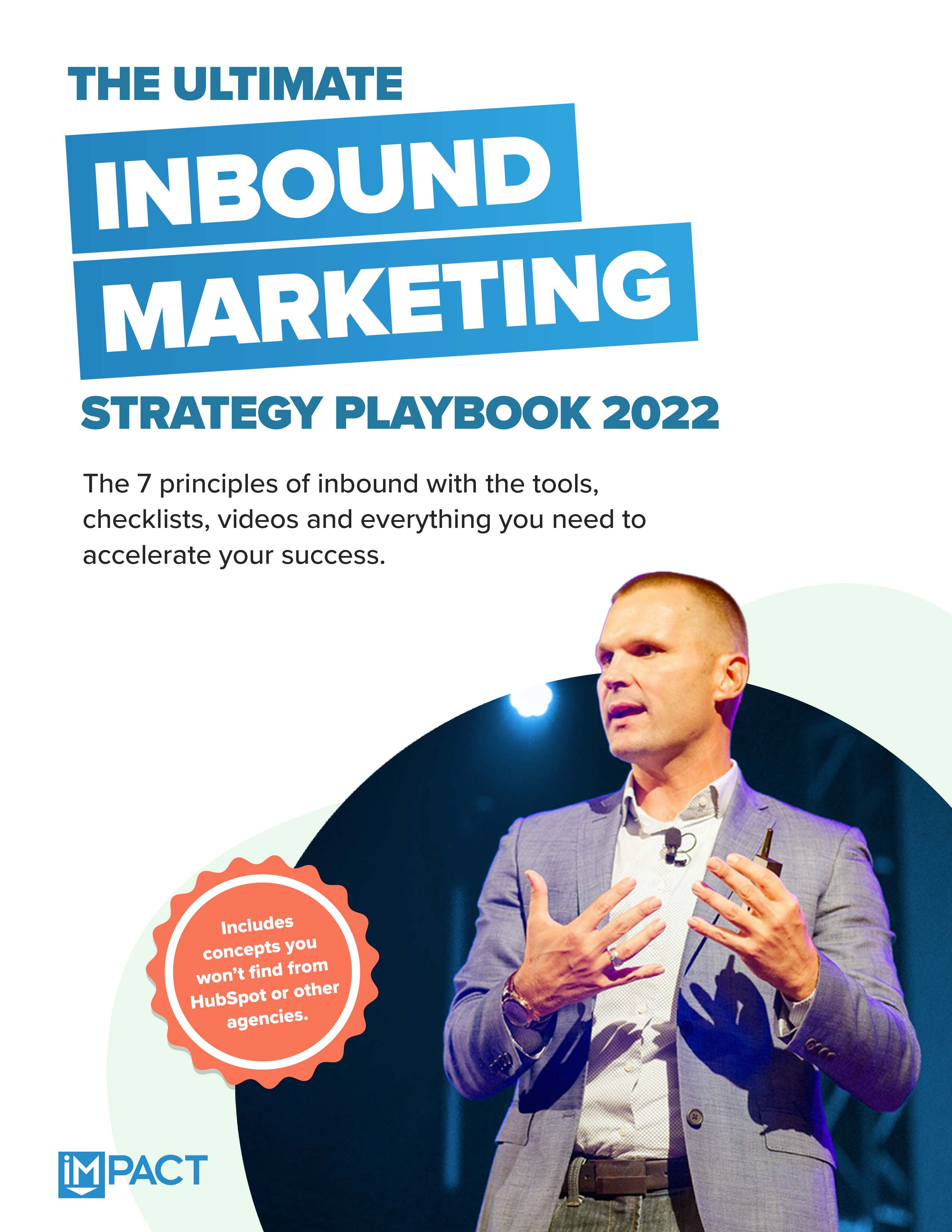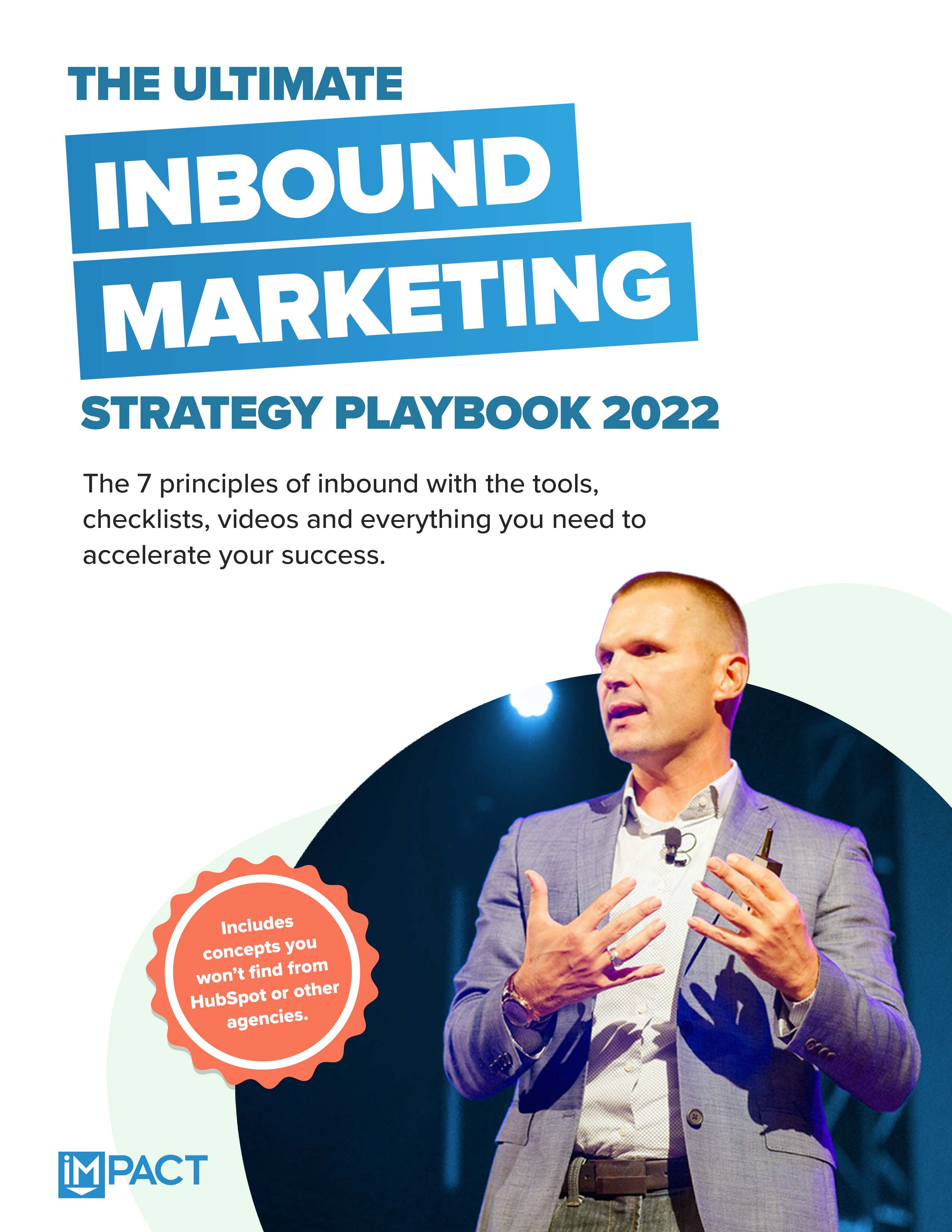 Free Guide:
The Ultimate Inbound Marketing Strategy Playbook 2022
Take your inbound strategy to the next level
Master the 7 principles of highly effective inbound marketing
Dramatically improve your inbound sales
Get more buy-in at your company
Published on February 29, 2016