Lessons from Litmus: How An Email Company Does Email Marketing Right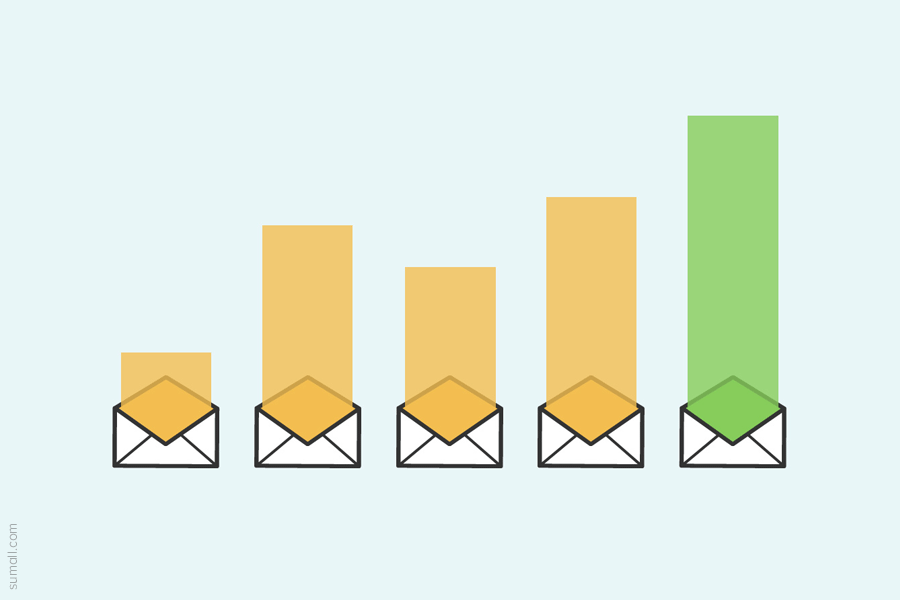 They say video killed the radio star and marketers killed email.
Well, whoever they are, they clearly never saw Pandora or XM coming and they've definitely never met Justine Jordan.
A former graphic designer, turned unabashed email advocate and Marketing Director of Litmus, Jordan is on a mission to help people everywhere make their email better.
She recently sat down with IMPACT's John Bonini to recount how Litmus has been both profitable and happy acting on its belief that everything in the marketing universe comes back to email (including their own Inbound initiatives.)
Sending emails about email marketing to email marketers has put Litmus under a microscope, but they have always come out shining. Out of this experience comes these four lessons on how their team does email marketing right and how yours can too.
Lesson 1: Fall in Love with A/B Testing
At the beginning of her career, Jordan felt like she had no way of knowing whether or not her work was making a difference or if her visual message was clear.
But all that changed when she fell in love -- with her first email A/B test at ExactTarget (now the Salesforce Marketing Cloud.)
"... It was intoxicating to see how an email I designed could literally make more money for that company," she explains. "[With the test,] there was immediate feedback that told me this design choice was a good choice. That's what I love about email….It's a chance as a designer to...get real tangible evidence that the thing you created is meaningful and benefitting a business."
Any marketer concerned with conversion rate optimization will tell you that testing is the only way to know you are putting out the version of your work that will deliver the best performance, and this is a belief that Jordan and the Litmus team live by.
"[We] try to rely heavily on short succinct copy, value driven statements, not a ton of words, clear calls to action….It may sound like best practice, but that's just what works best for us. We found that out through trial and error."
What Can You Do? Test everything about your email and when you're done, test it again. If you are a HubSpot Enterprise customer, use email A/B testing to experiment with your:
Subject Line (Reflected in Open Rates)
Sender Name/Email Address (Reflected in Open Rates)
Email Copy (Reflected in Click-Through Rates)
Email Design (Reflected in Click-Through Rates)
CTA (Reflected in Click-Through Rates)
When the test is complete, analyze your results to see which variation performed best and then use this knowledge to recreate its success.
If you are not a HubSpot Enterprise customer, MailChimp also offers A/B testing services for your subject line, sender, and delivery time.
Lesson 2: Don't "Blast" Your Contacts
Despite knowing the importance of list segmentation, most marketers have been guilty of "blasting" their customers with a mass, general email at one point or another.
If there was one plea that Justine Jordan could make to marketers, it would be to stop this poor practice (and use of the term) immediately.
"You're not sending your audience bombs and rockets," she stresses. Sending a "blast" "...basically says I don't care what I'm saying or what I'm doing. I'm just going to blanket this message to everybody… it's destructive [and] it's disrespectful to your audience and brand."
The ultimate success of an email lies in its relevance and timing and frankly, the odds of all of your contacts caring about the same things at the same time are slim to none.
What Can You Do? Use your knowledge of your contacts to segment them into lists but don't stop there. Instead of a sending a mindless general email, send them one that is relevant to their particular interests, concerns, and circumstances at the right time.
Look at their buying cycle and your conversion process, and deliver content that can help move them further down the sales funnel.
Consider segmenting your contacts by characteristics like:
Age
Location
Job Title
Gender
Industry
Recent Activity
Lesson 3: Never Lose Sight of the Task at Hand
Before they send a single email, the Litmus team creates an "Email Brief" answering the following questions:
Who is the audience?
What is the goal?
What are we trying to do with this campaign?
"We want to make sure that we're [speaking] in the right tone to the right person and that we have the goal of the campaign in mind," Jordan explains. So "we start there."
Like with any campaign, the Litmus team understands that having a strategy helps make sure that every aspect of the project has a purpose and is working towards the same goal. No time, effort, or space is wasted on something that doesn't contribute to the task at hand.
In fact, Litmus keeps these questions at the top of their working documents at all times to help people stay focused and on track.
What Can You Do? Before sending your email, have a clearly defined strategy and plan for how it will be executed and more importantly why.
Before you even think about the actual copy or design of your email, you want to know definitively who your audience is and what action you want them to take.
Once you know that, you can then determine what individual pieces (copy, visuals, calls-to-action, etc.) are needed to get there.
Lesson 4: Stop Treating Email Like It's Stuck in 1999
Somewhere between "You've Got Mail" and the iWatch, email got a bad rap.
Once a cultural phenomena, most of us now open our inboxes expecting an avalanche of spam, and unfortunately, marketers are heavily to blame for this.
Instead of preserving its power for their most important initiatives, organizations began emailing their customers about anything and everything and quickly, it all became noise. "It's been so successful, we've overused it and abused it," Jordan notes, but "...it doesn't have to be this horrible, outdated, spammy thing."
What Can You Do? In her words, email is a "modern messaging medium". It can be used to deliver a wide variety of value and in a variety of formats. Personalization, animation, video, all of these and more are being incorporated to create rich inbox experiences that not only catch your reader's eye, but get them to convert.
So why settle for plain text mode?
Work with your team to explore its possibilities and expand beyond the norm.
Key Takeaway
"Social is great, but you know what gets people back when they've been inactive for a week? -- email. What do you need to sign up for a Facebook or Twitter account? -- An email address."
Almost everything in the Inbound Marketing methodology comes back to the sharing and possession of an email address. Once your audience has trusted you with this personal information, you should respect it and only use it to deliver content that is truly valuable and pertinent. Take a page out of Justine Jordan's book and treat the inbox as a sacred place.
Free Assessment:
How does your sales & marketing measure up?
Take this free, 5-minute assessment and learn what you can start doing today to boost traffic, leads, and sales.