5 Most Common Problems with Onboarding Sales Teams to the HubSpot CRM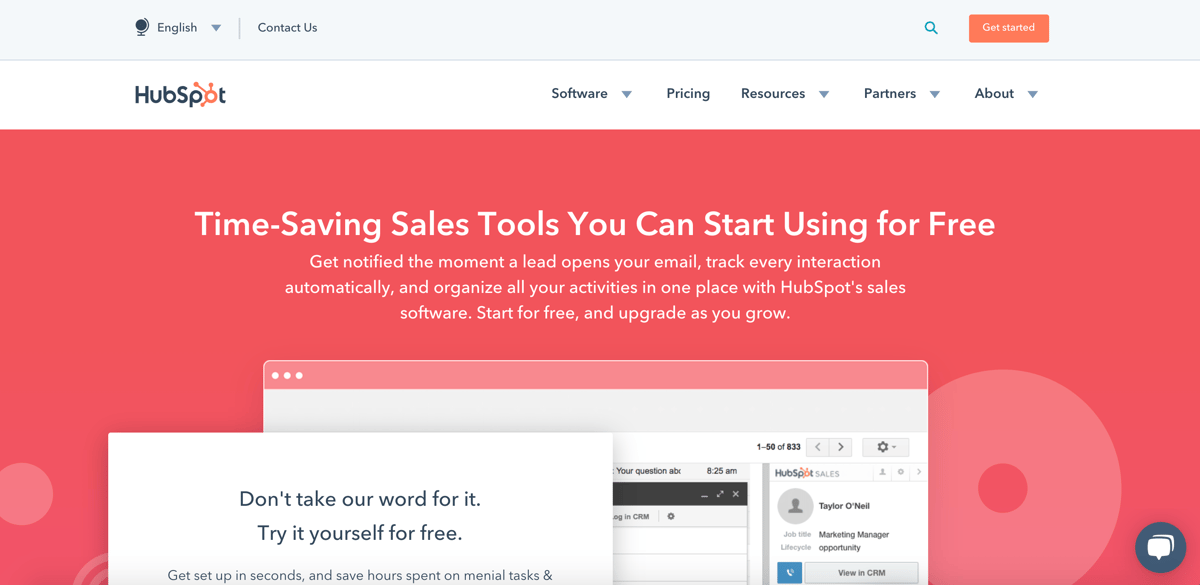 Over the course of your career, you've likely worked for multiple companies and have seen various software platforms implemented across your organization with little success.
In my experience, software implementation usually fails because the users don't understand why the tool is being implemented or how it can help them. On top of that, users see new software as a disruption or distraction and not vital to their day-to-day success.
Now, if you're reading this, your company is about to implement the HubSpot CRM and needs it to succeed, but how do you prevent it from ending up like so many others?
In talking with prospects of HubSpot and clients of ours here at IMPACT, I've found that getting started isn't the issue, the issue is doing it right. Here are the most common problems I've seen in onboarding organizations and sales teams to the HubSpot CRM and how to overcome them.
1. There's No Owner
Most companies get a tool and just expect quick, easy adoption amongst their team.
That's mistake numero uno.
You should never expect your sales team to adopt a tool simply because they have a log-in.
Salespeople have one thing on their mind and that's closing deals. Anything that slows them down or prevents them from closing deals is seen as a distraction.
How do you motivate and keep them focused with a new tool in hand?
You make sure someone's responsible for getting it done.
Put someone in charge of owning, training, and implementing the HubSpot CRM.
Think of this person as the CRM coach and the CRM as a playbook. The coach writes up the plays, puts the plays into a system and instructs the sales team how to execute the plays.
Based on my experience, that owner should be a sales ops person.
For decades, the role of the sales operations person or team has been to free up the sales reps to focus on selling and equipping them to sell as efficiently as possible.
If sales ops focuses on CRM set up, owning training as well as initial and ongoing implementation, the sales team will be freed up to sell efficiently.
Keep in mind, however, the Sales Ops person won't be successful without participation from sales leadership.
Sales leadership must provide sales ops essential sales process information so the CRM playbook is in lockstep with the sales process meaning sales ops has to ensure that the steps and stages of your company's sales process are built within the CRM so that the data that goes into it can be as useful as possible in order to generate revenue.
That leads me to the next common problem...
2. Sales Teams Don't Understand The Value
Ok, so to review, you have a CRM owner that has built a process inside of the HubSpot CRM that aligns with your sale process. Check!
Now you must help your sales team understand how and why any tool will help them. Believe it or not, even if your company has used a CRM before, you're still going to need to help your sales team understand, why you have a new tool, why this will help them and how it will help them.
Otherwise, even with a CRM owner, your sales team may just end up pushing buttons inside the tool for the heck of it.
In fact, one survey found that 78% of sales people do just that.
Your business can't afford to have the majority of your salespeople just "checking the boxes" and here's why.
If the information that goes into it is gobbledegook, everything that relies on that data will also be gobbledygook.
Think about it. How does bad data affect your marketing campaigns? How does bad data affect sales reporting and coaching? How will bad data ultimately impact your revenue?
Your CRM is only as good as the information that goes into it. So, before your entire team dives into the CRM, I recommend starting out with a group of influencers and early adopters (your most passionate and willing sales team members) to first test out the process and functionality that your Sales Ops person created.
Make sure the Sales Ops person helps the team set up features like the inbox extension, templates, sequences, snippets, and playbooks will help them be more efficient and win more deals faster.
It can even be as simple as leveraging contact intelligence like page views, event conversions, form fills, and email opens to help the light bulb go off about the value of how this tool can speed up closing deals.
Working in this test group will work out the kinks, make improvements, collect good data and form good habits so that this group of folks can help other team members once the solution is fully rolled out.
And, once this group is enthusiastic about the tool, have them and your Sales Ops person co-lead a training for the entire sales team.
Make sure you share success stories about how the CRM helped them advance deals and be more efficient.
Also, tell them not to just take your word for it.
There have been plenty of studies done that show the positive impact of a CRM on a sales team and here are just a few (source HubSpot.)
3. You Don't Have Your Sales Leaders Involved
Once your training is complete, you need to keep up the momentum and motivate your team to use the CRM. You can't expect your salespeople to do it on their own. As we said, they're most likely only focused on selling.
I've found that if sales leaders don't play the role of Chief Motivator, then all will have been for not.
You might be asking, "Well can't my sales ops person do that?"
The answer is no.
It's not sales ops job to motivate tool adoption, it's sales ops job to set up, train, maintain, and help report on data so that marketing and sales leaders can use it to make smart business decisions.
The mindset set that good CRM data is critical in order for a business to function needs to be from the top-down. A sales ops person is usually a peer or laterally positioned to the sales team. Sales leaders are the higher authority, because sales reps report directly into the sales leader.
Here are some surefire ways to keep your sales team motivated to use the CRM:
Tie good CRM habits to promotion or bonus criteria
Use the reports in the CRM to track towards that promotion criteria
Set up a dashboard at a team level so each sales rep can see how they compare to other team members and also set up rep level dashboards that you refer to during every single one on one. If your team sees you are paying attention, they will too.
4. You're Not Celebrating Wins
Here's the fun part. Now that your sales leaders are paying attention and holding their team(s) accountable for using the CRM properly, it's imperative that you celebrate CRM usage wins along the way.
Why? It's simple psychology really. Celebrating a win reinforces the behavior that you want to produce. When you don't take time to celebrate, you rob yourself (your team) of an important feeling that reinforces success.
Have your sales leader, find a contact or deal record that a sales rep leveraged properly - utilizing multiple tools in the CRM - to help speed up a sales process or close a monster deal. Show that off in front of the sales team at a sales meeting and reward that person. Give them a gift card or cold hard cash. Just make sure that whoever you are celebrating and the example you share is an example of the type of behavior you want to promote.
5. Not Being Willing to Adjust Processes to Work with HubSpot Tools
This last problem is one that we see time and time again and it can be tricky to navigate.
Businesses come to IMPACT and ask us to help them transition from one CRM platform to the HubSpot CRM platform. Should be easy right? Not really. There are important factors that need to be evaluated and discussed before recreating the old CRM environment in the HubSpot CRM environment.
While in most cases it is possible, we have found that it's not always possible for a business to operate exactly the same way in the HubSpot CRM as in their previous environment.
Every software platform is inherently different after all. If they were all the same, why would you have choices? Think of it this way, every car make and model is meant to be driven, but some are just meant to be driven differently.
For example, while Salesforce allows you to customize and configure down to the platform level, HubSpot allows you to customize and configure each tool. If how the HubSpot tool is already built doesn't exactly align with your process, you won't be able to go in and change how to tool functions, like you could with a custom Salesforce instance.
Many sales teams go into the CRM implementation process with very specific expectations of how a CRM will function for their unique organization and workflows.
If that's the case, we often suggest ways to simplify the old process so that it can be possible inside of HubSpot. Once we know it's possible, as long as you avoid the four other common problems that I've already addressed, you should see great success with the HubSpot CRM.
Start Off On The Right Foot
As you begin the process of implementing the HubSpot CRM at your company, make sure to avoid all of these most common problems.
Be sure that you have someone own the roll-out process, that your sales team understands why and how the tool will help them, that your sales leadership is involved the CRM setup, and that they're celebrating those who use the tool well.
Last but not least, be willing to adapt to the features of HubSpot's CRM even if they may be different than a previous CRM.
With these in hand, your HubSpot implementation can be more successful than any previous software roll-outs you've ever been a part of.
Free Assessment:
How does your sales & marketing measure up?
Take this free, 5-minute assessment and learn what you can start doing today to boost traffic, leads, and sales.