How did small businesses respond to pandemic challenges? [New research]
Hostinger and web-builder Zyro have released new research finding SMBs shifted to global markets amid pandemic challenges.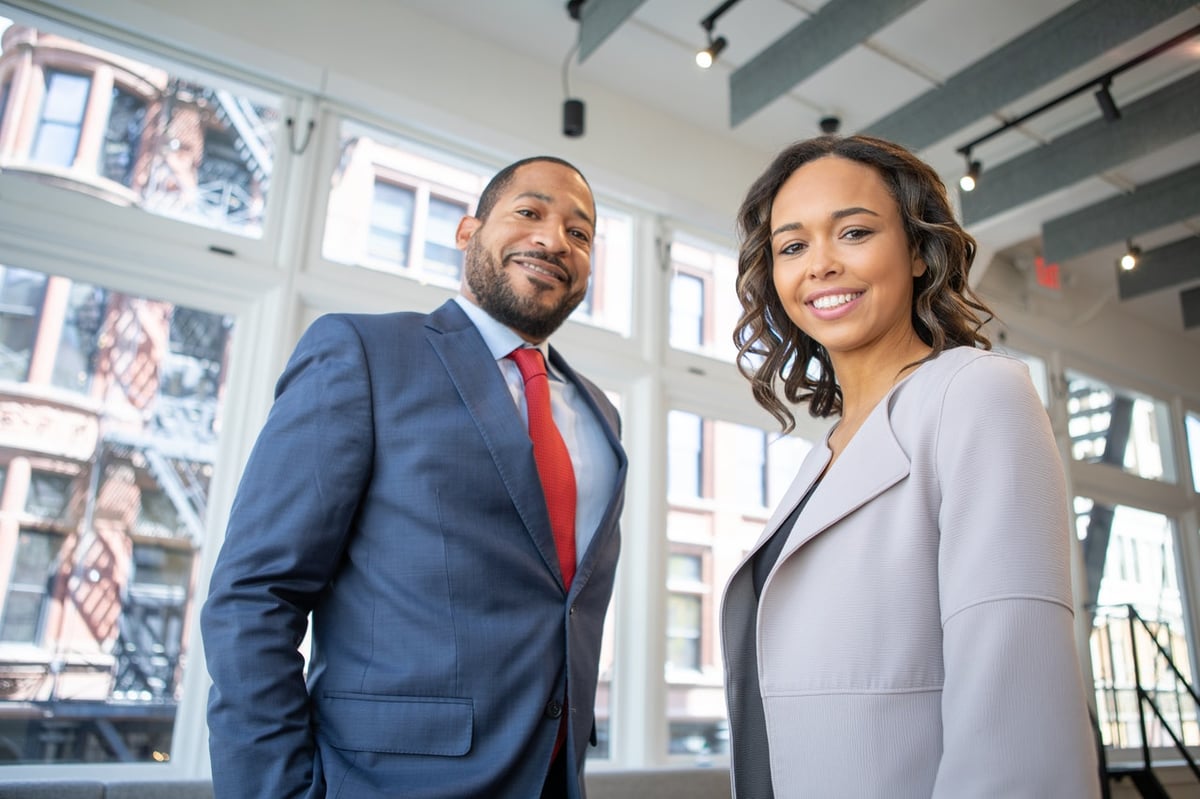 You may remember that I spoke with website hosting platform Hostinger in early 2020 about what it can offer small-to-medium-sized businesses (SMBs).
Now Hostinger has launched Zyro.
Zyro is an AI-powered website building application that offers easy to use, customizable solutions for SMBs and start-ups looking to establish their web presence.
In conjunction with Zyro's launch and growth, Hostinger has conducted a fascinating and timely study that looks at the ways SMBs in the U.S. and U.K. have adapted during COVID. This research yielded key insights into exactly how businesses and business leaders have responded to this crisis.
Zyro's CMO Gytis Labašuaskas sat with me to elaborate on the research, and to explain just what Zyro offers emerging businesses.
John: Welcome to IMPACT! Can you tell us about yourself and how you came to work at Zyro?
Gytis: Sure! I joined Zyro as CMO on a beautiful day last November. It's been a year already, but you have to measure a startup life in dog years, so it feels like a lot of time has passed.
Before Zyro, I worked for 10 years in digital marketing, focused on digital performance branding. I was invited to join Zyro a year ago and it has been a pretty fun ride.
Research into SMB's COVID response: Surprises
John: Your company recently conducted a survey of 100 SMBs in the US and UK. What was the most surprising data you collected?

Gytis: We were surprised by the extent to which businesses were already dependent on digital channels for their growth, even before the pandemic.
For example, three quarters of respondents mentioned that social media is important to the success and growth of their business. 55% said the same about online advertising, and 65% for search engine optimization.

I was also surprised by how many were intent on learning new skills, with almost a third saying it was important to them. This told us that a huge number of small business owners are going out of their comfort zone and engaging in new activities, instead of just doubling down on what worked for them before the pandemic.
🔎Related: Not all is lost: Some businesses are thriving during COVID-19
Research into SMB's COVID response: Big trends
John: Anything else surprising?
Gytis: It was amazing to me to learn how many small and medium businesses basically do everything themselves. This is especially true when it relates to marketing activities like producing blogs, designing logos, and coming up with their slogans.
About two thirds of SMBs are in this boat.
How SMBs can serve global and local markets at the same time
John: According to your data, many small business owners believe the ability to sell online is the key to business growth — with a majority of them also saying it's important to sell globally.
Gytis: Yes, 52% of our SMB respondents mentioned that it's important for them to sell globally.
This reflects a few trends. First, a majority of their sales channels are already digital — Facebook, Instagram, and their website, for instance — so, they have no physical restrictions limiting them to a local market.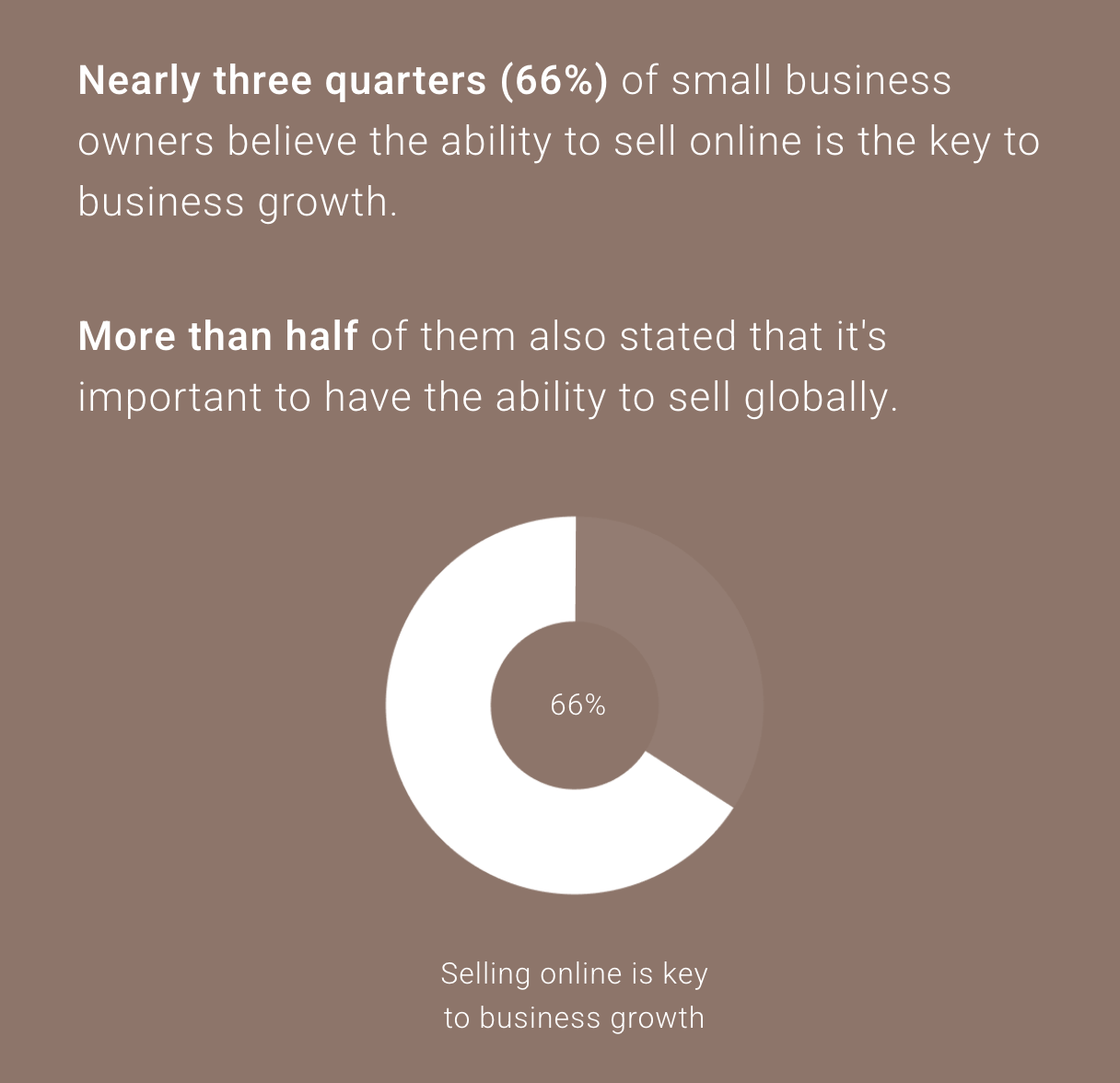 Second, consumers are now global. Consumers do not limit their purchasing preferences exclusively to local providers.

Third, many SMBs were forced to expand their market coverage in search of growth opportunities during the pandemic. As they say: never waste a good crisis.

As distribution channels are becoming global, nothing is stopping small and medium businesses from going global. Startups in the U.K. and U.S. have a natural edge, since they can go global instantly. If you're a UK business, someone from Australia could be buying your services or products.
So, I think trends just merged, and even after the pandemic, they will be inseparable. We've made many years of progress in just a few months.
🔎Related: Virtual selling in practice: Using COVID as a chance to modernize your sales process
Using AI to support marketing efforts
John: You found that a third of SMBs are already using AI-powered tools to support their marketing. What does that look like?
Gytis: Some technology-conscious SMBs already realize that part of the daily tools they already use for their marketing support are AI-driven, even if it's not communicated in a big way.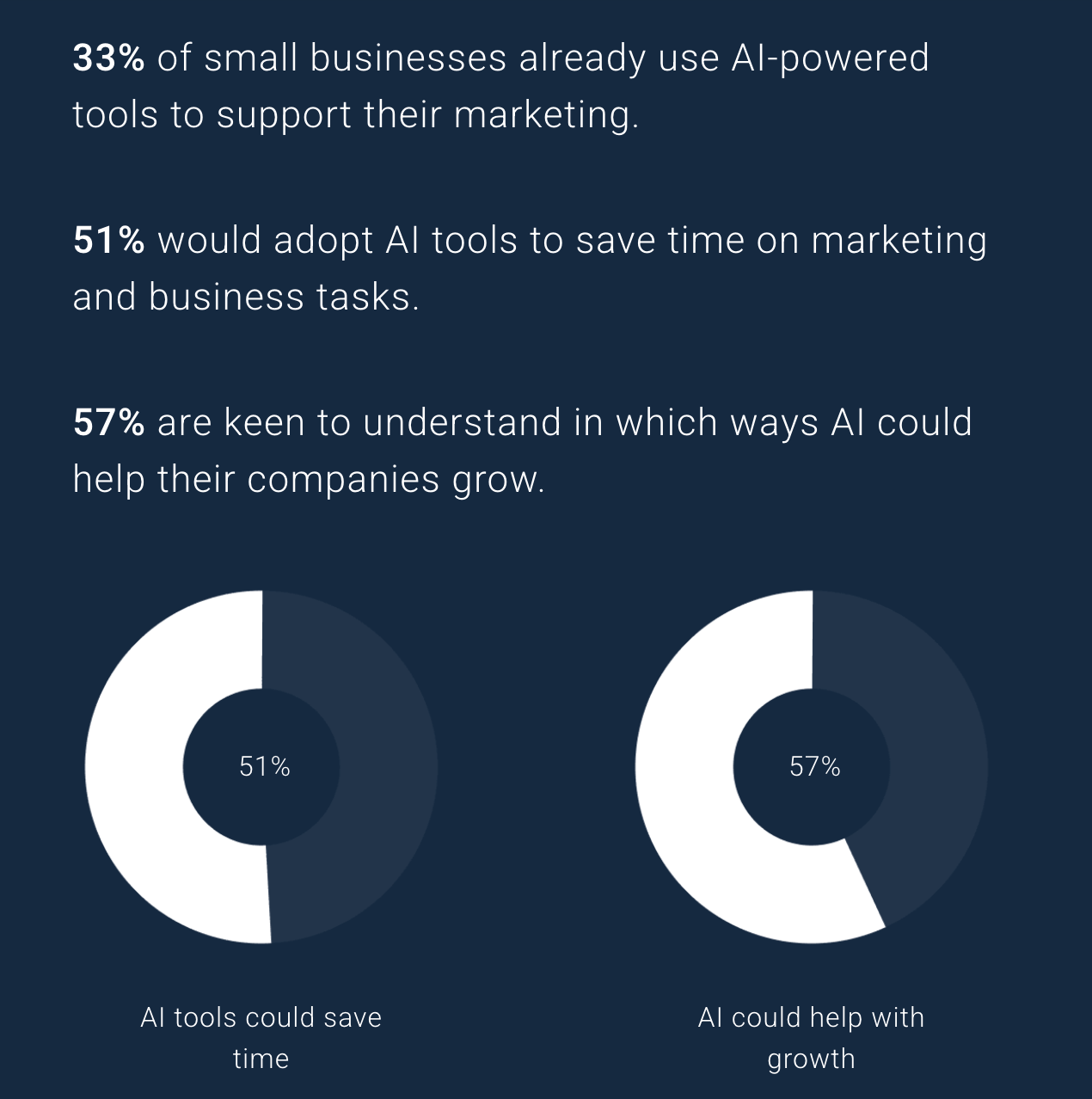 This could be anything from Facebook and Google search algorithms and ad delivery processes, to Gmail email composer and Google Analytics AI that highlights changes in web traffic or audience composition.
John: Are some businesses using AI without realizing it?

Gytis: Yes. If you're using any global marketing technology platform, there's a good chance that it's in some part powered by AI solutions. Anything from the sales pipeline management and CRM solutions to email marketing.
COVID's long shadow
John: How do you think the COVID pandemic will continue to influence business even after the disease is contained and restrictions are lifted?

Gytis: I strongly believe that the genie is out of the bottle. E-commerce has made a decade's worth of progress within a year.
Of course, there will be some product or service categories where at least some users will come back to usual purchasing behaviors, like groceries or doctor appointments, but in general, I think people will retain their new-found comfort with online shopping.

Some of the SMBs who built their online presence due to pandemic pressures will keep it as a major focus. Of the SMBs we spoke to, 22% told us that during the pandemic they launched new digital sales channels like social media or a website.
It would be quite hard for them stop now.
Zyro the website builder
John: Talk to me about your new AI-powered website builder Zyro. What makes it unique?

Gytis: Our team comes from many different backgrounds — design agencies, hosting companies, SaaS startups.
In our previous work we've built websites for ourselves or our clients. With this experience, we know that building a website or launching an online store, even with the existing do-it-yourself solutions, is not so as easy as it looks. So, our goal was to radically simplify the experience.

First, all new Zyro users are greeted with the QA Wizard. It's a completely different experience in website creation.
Previously, when building a website, you chose a template from the template list and then modified it according to your needs: changing images, writing text, adjusting the layout, and adding features.
This process is time-consuming. We decided to save our users some time by creating a new workflow.
Instead of selecting a template and adapting it to your needs manually, you just answer a few questions, and we offer custom-generated templates based on the answers. The user can input keywords related to their website into a text box and we present them the relevant suggestions. To implement this we needed some predefined general categories that we could base our suggestions on.
So we came up with 10,000 different categories for our users to choose their website category from. Everything from a cappella choir or advice blog to tent manufacturer or wedding registry.
The role of AI in website building
John: How does AI enhance the building process?
Gytis: AI helps us categorize user search terms and then offer them relevant categories as they build their site.
For example, a user searches for the category "wizard". We don't have such a category on our list. But, using the word embeddings technique, we know that the term "wizard" is very similar to "magician" or "magic" categories that do exist in our category list. So, we can offer suggestions using those relevant categories.
Second, we have a long list of AI tools for very specific purposes, like writing content for your website, creating a logo, coming up with blog content ideas, making outstanding slogans, company names, and more. We believe that when applied for a very specific problem, our AI can provide help to SMBs with a number of crucial creative tasks.
We also aim to change the conceptions that some people have about website builders. There's a notion in the SEO industry that using a website builder has significant limitations that impact your potential search rankings, provide users with a bad experience, and result in lower conversion rates.
There is some truth to this.
This is why we've decided to build Zyro totally from scratch with an optimized infrastructure and code to ensure that all our client websites load at incredible speeds. This setup also helps us ship features fast.
Zyro's customer base
John: Can you generalize about your client base? Who's your ideal client?
Gytis: Rather than talking about user personas, we talk about scenarios.
Profile one is someone who has a full-time job, and some passion project or a side gig that they need a website for. Profile two is a legacy client looking to go digital or a business looking to provide a better user experience for their customers.
Then, among these, there are two other groups. First is those for whom the website is just their business card. Second are those who are dependent on e-commerce as a source of income.
We have solutions and supports for anyone in any of these situations.
Getting started with Zyro
John: How can an SMB use Zyro to build the site they need? How can they learn more and get started?
Gytis: We invite your users to visit Zyro.com to get started.
For anyone looking to build their website or online store from scratch, we provide the easiest experience they can find. At the same time, our AI tools help you start a business and brand it in no time.
It's no exaggeration to say that we have customer support that will do anything to make our clients successful online.
Our Trustpilot reviews are a testament to that.
Free: Assessment
Does your website build trust with buyers and bring in revenue?
Take this free 6 question assessment and learn how your website can start living up to its potential.
Score My Website
Free: Assessment
Does your website build trust with buyers and bring in revenue?
Take this free 6 question assessment and learn how your website can start living up to its potential.
Published on December 18, 2020