Subscribe
Join 40,000+ sales and marketing pros who receive our weekly newsletter.
Get the most relevant, actionable digital sales and marketing insights you need to make smarter decisions faster... all in under five minutes.
Thanks, stay tuned for our upcoming edition.
The Content that Inspires Clicks on Calls-to-Action [Data]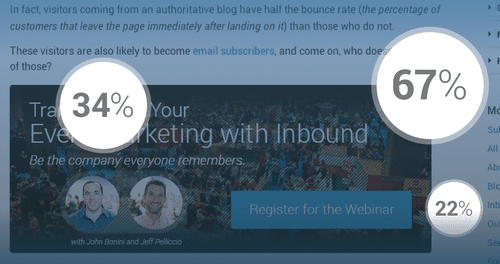 While there's no set formula for ensuring your next CTA is killer, there's certain trends and data that make the potential for your calls-to-action much greater simply by being aware they exist.
To effectively drive prospects and generate conversions, its critical that you know what works and why.
In today's digital age, where mobile technology and the Internet have fostered somewhat of an attention deficit environment among consumers.
This means it's even more important that your CTAs are optimized for success.
Our goal is to provide you with the information that'll allow you to analyze and make adjustments to your calls-to-action.
Ways to Inspire Visitors to Click your Calls-to-Action
1. Content
When it comes to content, there's so many variables that go into what makes a successful CTA depending on your audience and industry.
However, there does exist some underlying principles that transcend industry.
Question?
Perhaps not surprisingly, we found that call-to-action graphics that contained a question had a 3.6% click rate, 0.4% higher than the average.
[display_fullsize]

[/display_fullsize]

[display_mobile]

[/display_mobile]
When done effectively, you can pose a question that both intrigues and engages with your audience. This proves to be effective.
The key is knowing your audience well enough to know which pain points and interests will successfully engage them with a question.
Choice of Words
While this data is weighted toward industry buzzwords as they relate to marketing, it paints the picture of how important it is to choose the right words when creating a call-to-action.
The following were the highest performing words from our study: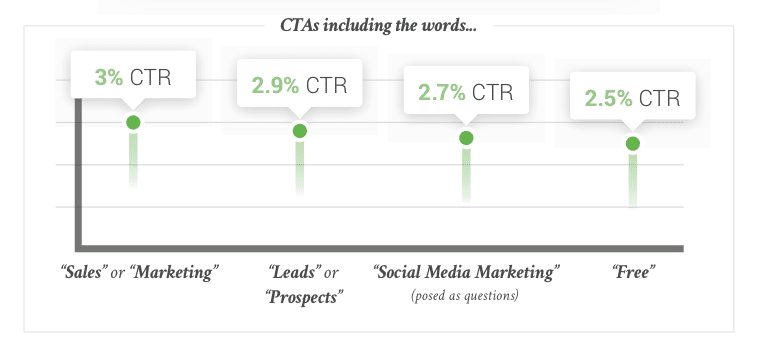 While "free" is always a performer regardless of industry, the others should also be no surprise to anyone. All marketers and business owners are after more leads and prospects, as well as sales in general.
I saved two very important words for last. When trying to promote a free consultation/demo/assessment, these CTAs generally have lower click rates given their more advanced nature.
However, you still want to be set up for success.
Call-to-action buttons that contained "contact sales" had a 0.3% click rate, and even worse, a 0% click-to-submission rate.
However, a CTA promoting the same offer with the words "request assessment" fared much better, with a 0.9% click rate and an impressive 6.8% click-to-submission rate.
Takeaway:
It's extremely hard to get prospects to willingly engage in anything they view as a "sales call." Choose your wording wisely, and monitor consistently in order to make adjustments.
2. Visual
Many say the success of your CTA has nothing to do with how "pretty" it is.
However, data shows that visual stimulation has an impact on click through rates.
In fact, calls-to-action that were contained images – or were images themselves – boasted an 8.4% click rate, while CTAs that simply contained Photoshop-type render of an ebook cover had a 3.1% click rate.

While both are certainly healthy click rates, you simply cannot argue with the spike in clicks that occurs when your call-to-action is more image than it is Photoshop creation.
Takeaway:
Start experimenting with more image-based calls-to-action. Compare these with the more traditional style CTAs on your website and see which works better.
Color
When it comes to color, many companies tend to stick with ones that compliment and stay consistent with their branding.
It makes sense. But it doesn't drive conversions.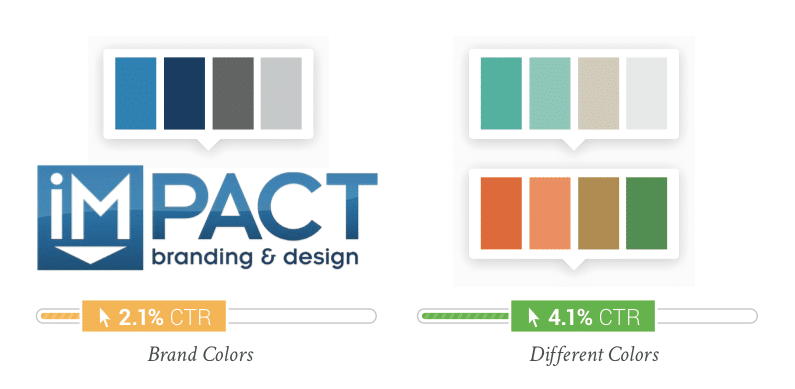 Calls-to-action that contained colors consistent with branding generated a 2.1% click rate, while CTAs that contained completely different colors jumped up to 4.1%.
Think of it this way, consistent color schemes also blend in with the branding of the rest of your website. Contrasting colors are more effective at "popping" off the page, generating in a high click rate.
Takeaway:
Don't be afraid of experimenting with contrasting color schemes in order for your CTA to stand out and generate more clicks.
Free Assessment:
How does your sales & marketing measure up?
Take this free, 5-minute assessment and learn what you can start doing today to boost traffic, leads, and sales.