20 Instagram Accounts Every Creative Should Follow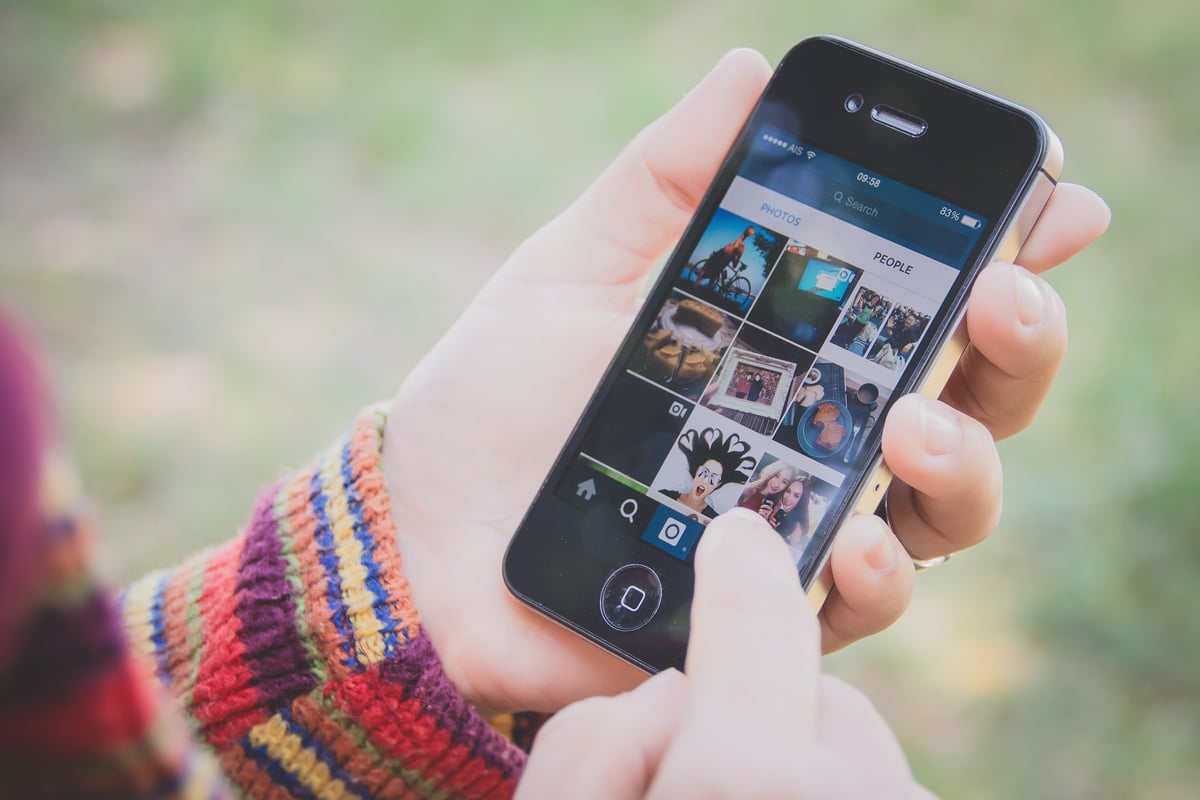 As a highly visual person, Instagram is by far my favorite social media platform. I make sure to keep my feed stocked full of things that will inspire me.
Between all the fantastic artists, letterers, designers, and photographers putting their work out there daily, Instagram is an endless well of creative inspiration!
A quick scroll through some 'grams can provide inspiration for a website mockup, ebook, or even a CTA.
To get you started, I've curated a list of 20 of my favorite creatives on Instagram to follow.
Typography
22-year-old photographer and letterer, Noel Shively, will fill your Insta-feed with daily positivity. His beautifully hand-lettered quotes mixed with creative photography will definitely put some pep in your step.

2. @caseyligon
Florida-based lettering artist, muralist, chalk art aficionado, and self-proclaimed part-time Instagram-er, Casey Ligon, shares a combination of chalk lettered signs, notebook doodles, and typography made with some unexpected materials (think tomato sauce, coffee grounds, and sprinkles!)
Scott Biersack is "a guy just doing what he loves." New York-based illustrator and designer, Biersack will pleasantly surprise you with his diverse lettering skills he's used for projects done for Blue Moon, Starbucks, and Girl Skateboards.
Carla Hackett is one cat-loving letterer who will delight you with her free-flowing elegant letter style. Her photos and videos from her hand-lettering workshops are sure to inspire.
5. @seanwes
Sean McCabe will hypnotize you with his wise words for the day. His Instagram showcases his super precise hand-lettering skills and some quick tips, while instilling some positivity into your day.
Designers
Daily Dishonesty is the brain-child of designer Lauren Hom. This feed of the "little white lies" we tell ourselves, are not only painfully true but perfectly designed.
Illustrator, printmaker, and textile designer, Andrea Lauren, will brighten up your day with her bright and playful prints. Lauren's feed is filled with hand-carved linocuts of plants, animals, and life's little inspirations.
8. @RileyCran
Riley Cran's Instagram is an awesome mix of his own designs, found design inspiration, and reposts of other great projects. If you're looking for a diverse design Instagram to follow, this is the one for you.
Creative firm, Pavlov Visuals, posts both unique branding solutions and sharp, captivating geometric illustrations inspired by music, books, films, and life.
10. @justinmezzel
Orlando based designer, Justin Mezzell, keeps it interesting with his bold, geometric designs mixed in with snapshots of his every day life.
A photo posted by Justin Mezzell (@justinmezzell) on
Art & Illustration
11. @nickgentryart
London-based artist, Nick Gentry, works with contributed artifacts and other materials sourced directly from the public. Gentry's haunting portraits are so beautiful, it may take you a minute to realize they're made from floppy discs, film negatives, and even vintage photographs.
12. @rachelryle
Rachel Ryle's feed has been crowned as the #1 Instagram account to follow by both MTV & BuzzFeed. As a storyteller and professional animator, Ryle's Instagram is full of cheerful stop motion animations featuring her miniature illustrations.
13. @nanlawson
Los Angeles-based illustrator, Nan Lawson, has an Insta-feed of illustrations inspired by "hipsters, cult television shows, and desserts". She is sure to put a smile on your face every time.
14. @samspratt
26-year-old artist, Sam Spratt, has worked with clients like Janelle Monáe, Childish Gambino, FX, Warner Music, and Game Informer, to create jaw-dropping portraits. His feed is a collection of his insanely lifelike digital paintings as well as videos and sketches.
A photo posted by Sam Spratt (@samspratt) on
15. @merelymeeralee
Self-taught artist, Meera Lee Patel, has an Instagram collection of beautiful, breezy, watercolor paintings inspired by "the magical mysteries of nature, the quiet stories that lace through everyday life, and the bold colors of her native India."
Photography
16. @Wandson
Portugal based Instagrammer, Wandson Lisboa, has a playful feed of snapshots with some familiar pop-culture characters. His perfectly posed photographs will have you feeling very nostalgic.
17. @Anniset
24-year-old architect, designer, and photographer Anna Devís Benet creates beautiful compositions that tell a story using interesting landscapes to accentuate her subjects.
18. @jacobsantiago
Jacob Santiago, freelance designer and photographer from NYC, beautifully captures the essence of the city with every photograph he posts. Missing the hustle of the city? Santiago's feed will make you feel like you're in the middle of it all.
19. @julieskitchen
Los Angeles based photographer, Julie Lee, uses local produce to make colorful patterns and tableaus. Inspired by local ingredients, Lee's photographs look good enough to eat.
20. @mollymgrubbs
Molly Grubbs is always looking up. Literally. Her Instagram is full of awesome shots of the sky, and we're not talking about #skyporn. Grubbs uses interesting structures and buildings to create unexpected views.
A photo posted by mollymgrubbs (@mollymgrubbs) on
Free Assessment:
How does your sales & marketing measure up?
Take this free, 5-minute assessment and learn what you can start doing today to boost traffic, leads, and sales.