6 tips for building a great diversity and inclusion page (+examples)
With more consumers demanding inclusivity, documenting your efforts on a diversity and inclusion page is a powerful way to attract more buyers and potential talent. Here's why you need this page and how to do it right.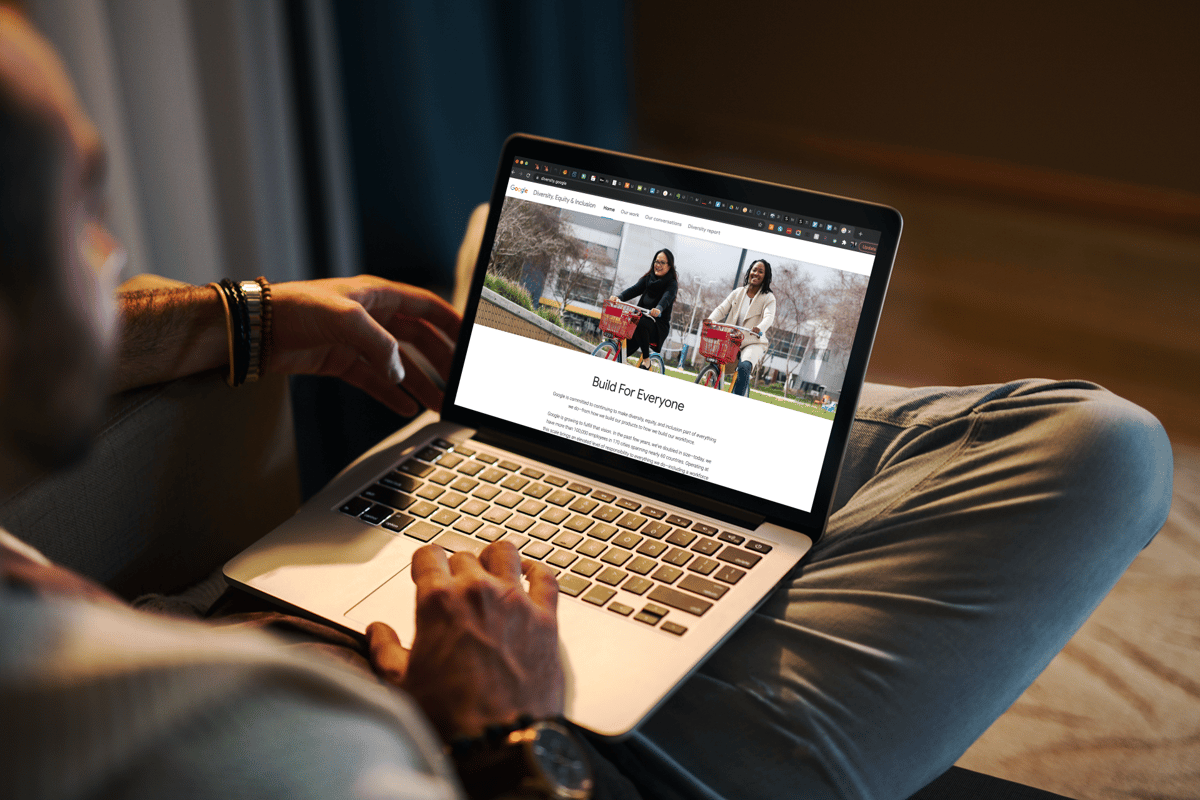 Not too long ago, a friend of mine showed me his second-grade class photo from elementary school in Queens, N.Y.
For those of you who don't know, Queens is arguably the most ethnically diverse urban area in the world and looking at the photo, I was awestruck to find that the children that appeared to be White were actually the minority.
🔎 Related: 11 diverse stock photo resources to help buyers see themselves in your brand
This gathering of gap-toothed, smiling 8-year-olds seemed to cover every racial and ethnic group, and it was hard for this brown girl to grasp. Born and raised in the predominantly White state of Connecticut, I'm used to being the only ethnic face when I walk into a room, let alone a classroom as a child. So, this visual stood out to me.
It made me think about how seeing diversity and inclusion in marketing today must stand out in a similar way and how diversity initiatives in marketing and business of all sizes can play a major role in changing this — while also reaping the rewards.
🔎 Related: 23 eye-opening inclusive marketing statistics that prove its power for 2021
When done right, this all comes together into a skillfully made diversity and inclusion page.
What is a diversity and inclusion page — and why would my SMB need one?
A diversity and inclusion page is a website page where a company shares and highlights its positions and efforts toward diversity, equity, and inclusion (DEI).
This might include highlighting team members from underrepresented backgrounds, sharing their involvement in community organizations, or how they keep inclusion in mind in all aspects of their service and product development.
Overall, a diversity and inclusion page is an opportunity to recognize and document your commitment to DEI in a formal way and, ultimately, attract a wider audience and more diverse talent.
But note the keyword here: "commitment."
If your organization isn't making any DEI efforts or doesn't genuinely care about it, don't put up this page superficially. Consumers want to buy from brands they can trust and that share their values, and they can spot inauthenticity from a mile away. That being said, however, every organization should be thinking about DEI.
But wait, why would you need such a thing, especially as a small or medium-sized business (SMB)?
Well, friends, regardless of your personal views or your business size and industry, studies show that consumers increasingly care about diversity, especially in marketing.
Today, your buyer likely doesn't look, act, live, or buy the same way they did 10 years ago. (Recognizing this is a huge part of They Ask, You Answer.)
🎓 IMPACT+ Course: "Digital Sales & Marketing Framework for Today's Modern Buyer"
In fact, multicultural consumers make up almost 40% of the U.S. population, yet multicultural media spending is only, on average, 5.2% of total ad and marketing spend. This is a bit absurd considering that in 2019 Google found 64% of consumers surveyed said they took some sort of action after seeing an ad they considered to be diverse or inclusive.
More consumers are demanding DEI and, frankly, more are diverse. To stay relevant and actually grow your audience — especially with a framework that so heavily relies on changing with your buyer such as They Ask, You Answer — you need to recognize this in the way you run your business and market yourself.
What does a great diversity and inclusion page look like?
I scoured the internet looking for the best examples of diversity and inclusion pages from a variety of industries. I even reached out to our community in IMPACT+ and a few others looking for SMBs that are leading the way when it comes to DEI marketing initiatives, but unfortunately, my search came up relatively short.
My hope is articles like this will prompt more SMBs to begin implementing diverse and inclusive marketing – but until then, there is a lot to be learned from big brands leading the way.
Here are six tips for creating a great diversity and inclusion page and examples from brands that got it right.
1. Showcase real team members, customers, and their experiences
DEI is all about people, so one of the most effective ways to show your commitment to the effort is to highlight yours.
Showcase your team members and customers and their unique experiences, especially those from underrepresented or marginalized groups. You never know what potential big client or talent could be looking at the page and feel a connection to you and your organization as a result.
Visually, SproutSocial does a beautiful job of this, leading with large, colorful images of employees smiling and working together.
Drift also highlights real team members, but opts for a text-based approach, sharing the stories of their co-founder and CEO David Cancel (a first-generation American, raised by an Ecuadorian mother and a Puerto Rican father) and CTO Elias Torres (born in Nicaragua) and how their experiences helped shaped the company's DEI culture.
HubSpot takes a hybrid approach on their diversity and inclusion page, showing the headshots of real team members with their names and departments and sharing their more detailed reflections when you click into each box.
2. Explain what DEI means to you specifically
You likely know what the status quo of diversity, equity, and inclusion is on an organizational level — having a variety of faces and demographics represented in all roles and levels of employment — but your diversity and inclusion page is an opportunity to go beyond this.
Don't be generic. Use this page to discuss and show how DEI specifically impacts your product or service and the way your company is run like Netflix does.
If you subscribe to the streaming service, I'm sure you've found yourself binging or at least intrigued by some of the international content. Think Money Heist (from Spain), DARK (from Germany), or the Bollywood films (from India) that fill my recommendations. The global platform credits a lot of this variety of content to the fact that its team is so diverse, as shown on its diversity and inclusion page.
"Inclusion on-screen starts with inclusion in the office," the page declares.
"Netflix's greatest impact is in storytelling. ... We create and connect these stories to people all around the globe — removing the barriers of language, device, ability, or connectivity. We believe we'll do that better if our employees come from different backgrounds, and if we create an environment of inclusion and belonging for them."
The page then goes on to share videos of real team members from a variety of backgrounds discussing specific content on the platform that resonates with them and their lives.
One of the stories featured on Netflix's page.
Clearly, DEI at Netflix isn't just a superficial play. Netflix believes having a more diverse and inclusive team actually changes the quality and impact of its offering, and that's evident in its content.
3. Show your numbers
If you're going to invest in DEI at your organization, you have to put your money where your mouth is and be transparent about your numbers.
The DEI baseline is usually diversifying your team, so people will want (and expect) to see your demographics. This is how they ensure you're not just paying lip service to the cause, and often even determine if your team will actually be able to relate to their needs on a more personal level.
HelpScout does an impressive job with this. The company's diversity and inclusion page highlights demographics with several dynamic charts that shift as you hover over different segments and allow you to see how the numbers have changed over recent years.
While other examples I share are transparent about their numbers as well (otherwise this page leaves a bit to be desired), this design here is worth highlighting for its effectiveness, allowing users to see how each group fits into the company at large.
4. Highlight current initiatives
Once people know where your numbers stand, tell them about what the experience for these groups is like at your company.
Do you promote understanding through lunch-and-learn events? Do you offer groups or communities help discussing and working through issues within those communities? Do you bring people together to celebrate each other's cultures?
If so, your diversity and inclusion page is the best place to highlight these things.
Affirm, for example, has several sections breaking down its current initiatives, including its Diversity & Inclusion Steering Committee (DISC), a quarterly DEI newsletter giving an in-depth look into their DEI work over the past quarter, unconscious bias training, employee resource groups, and community groups:
5. Share your DEI goals
You shared your numbers and what you're already doing with DEI; now tell your audience where you want to go. Even if your numbers and initiatives aren't great, where do you want to see them? What do you hope to achieve in time? DEI in the United States is a vision for the future, so what does yours look like?
Salesforce's diversity and inclusion page is extremely thorough in this respect. After sharing prominent visuals and powerful reflections from real employees, it breaks down the company's representation goals. It summarizes them neatly into three points and offers you the opportunity to view a more thorough report.
The page then goes on to talk about the company's "path forward," highlighting its current efforts in support of these goals so you know Salesforce is not just talking the talk.
6. Bring it back to the big picture
DEI is a cause much bigger than just you or me, or even your business. It's a compound effort.
DEI at work is a way of starting small. Our places of work are where people from different walks of life already come together with the same goal every day without thinking twice about it. When more of them start making DEI a conscious effort, it will start to set a precedent for the rest of society.
With this in mind, on your diversity and inclusion page, you want to recognize and reiterate this. Tell your audience about your place in the greater picture of DEI and what your company hopes to see even outside of its internal efforts.
Asana does a wonderful job of this on its diversity and inclusion page, discussing actions it has taken to combat against and discrimination, as well as other ways it is "manifesting the change we want to see in the world," including supporting Amicus briefs for transgender equality and the DACA program.
The face of your buyer is changing
If I can get sentimental for a moment, one day I hope terms such as "diversity pages" and "inclusive marketing" will be things of the past. Seeing a mix of Black, White, Asian, Latin, old, young, and other faces in the same image won't be viewed as forced or unbelievable the way that class photo was to me.
Inclusion will just be an inherent part of our society, and work cultures and sights like these won't stand out or need to be specifically called out — but unfortunately, we're not there yet.
By investing in diversity in your marketing and business as a whole, not only can you help us all take a huge step forward in this effort, but you will also be opening your arms to a wider market of buyers and talent. When you do, your bottomline and organization can grow dramatically in ways you may have never imagined before.
Diversity is just one way your modern buyer has changed (and will continue to). To learn more about how buyers have changed, check out the FREE IMPACT+ course "Digital Sales & Marketing Framework for Today's Modern Buyer" with our own Marcus Sheridan.
Free: Assessment
Does your website build trust with buyers and bring in revenue?
Take this free 6 question assessment and learn how your website can start living up to its potential.
Score My Website
Free: Assessment
Does your website build trust with buyers and bring in revenue?
Take this free 6 question assessment and learn how your website can start living up to its potential.
Published on June 29, 2021