The 17 Best Internet Easter Eggs You've Got To See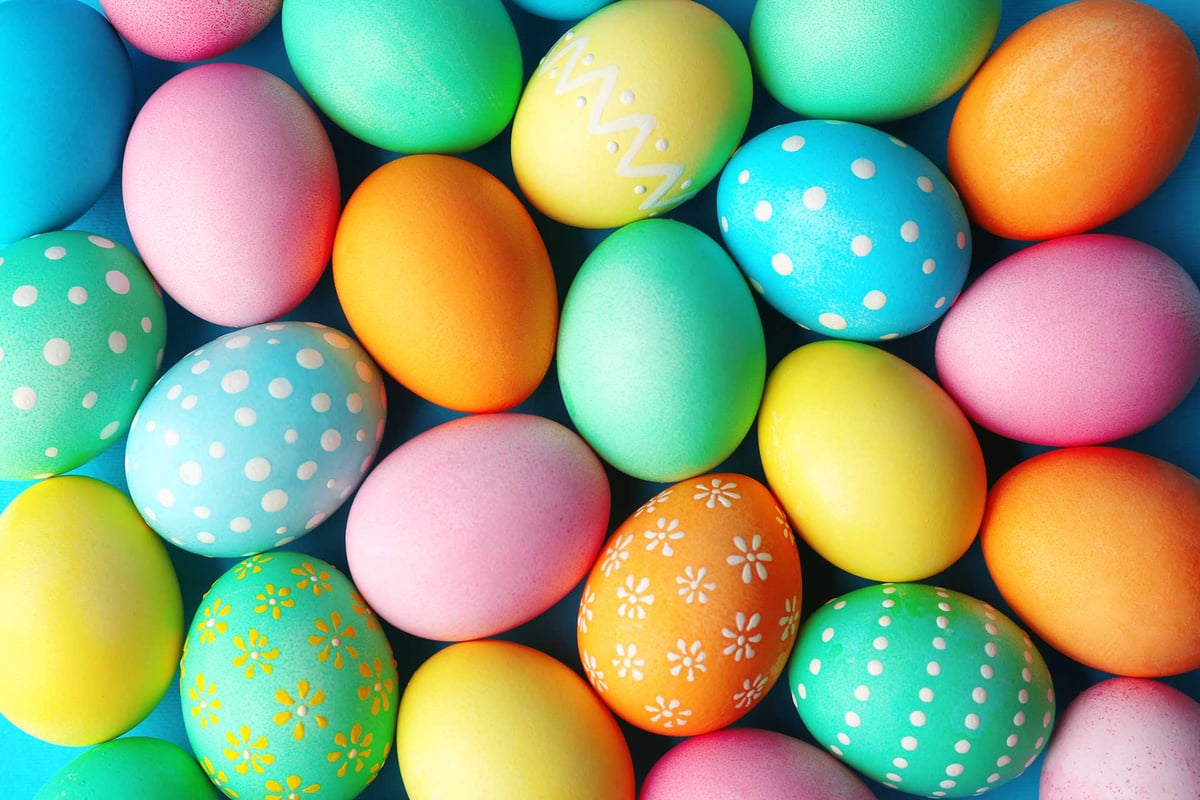 Best Internet Easter Eggs
Google: Friends
UK Oak Doors
Buzzfeed: Confetti drop
Kanye West
IMBD: This is Spinal Tap
Google: Atari Breakout
Wikipedia: Easter Egg
House & Garden
Kickstarter
Coca-Cola
Skybet
YouTube
Google: I'm feeling curious
Google: Flip a coin
Wistia
Google Chrome
HEMA
An old IMPACT teammate of mine has a phenomenal family tradition on Easter.
Every year, her family holds a massive easter egg hunt where both the kids and adults go searching for candy and cash-filled treats around their yard — and I think I speak for us all when I say I'm a little jealous.
Easter egg hunts are a tradition primarily reserved for children, but thanks to the internet and some cheeky programmers, adults today can join in their own "easter egg" hunt on a daily basis.
And, though increasingly difficult to find with the end of Adobe Flash, we digital marketers get to enjoy the traffic and brand awareness benefits.
What are internet easter eggs?
Holiday treats aside, internet easter eggs are jokes, features, or messages hidden by programmers, designers, or developers in the websites and software they build. (i.e. What happens when you Google "askew," or "do a barrel roll.")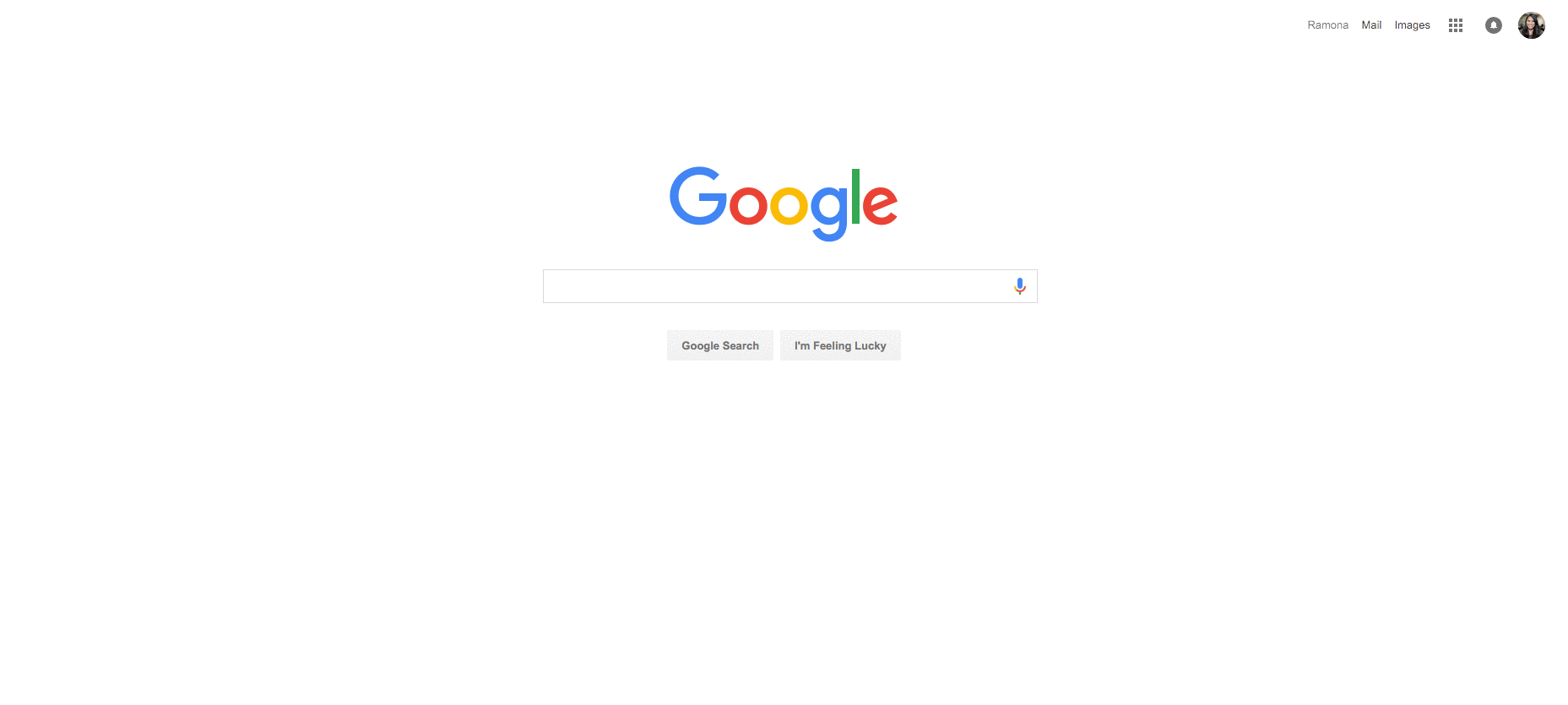 Originally, these little digital secrets were only intended to be found by the tech savvy, but thanks for social media, they became much more mainstream.
Internet easter eggs vary in format (text, visual/audio effects, hidden pages, special features, etc.) as can how they are found.
They can be as simple or complicated as you want them to be — you just can't tell many people about them. Brands and businesses rarely promote their easter eggs. That's part of their fun. Developers may leak information online, but most of the time, users have to "hunt" or stumble upon them on their own, and that isn't easy.
In 2021, easter eggs have become even more difficult to uncover as Flash was depreciated in December of last year and users are turning to new browsers and devices.
Depending on how an easter egg is crafted/coded or what browser is being used, it may not be visible to everyone, making these digital treats all the more rare and delightful.
But are there marketing benefits?
As former HubSpot UI Designer, Chase Oliver explained, customers tend to spend a lot of time using your site or software, and adding easter eggs makes doing so feel less like work or an obligation.
They "...[go] a long way toward making [using your site or product] a more enjoyable experience. They make people wonder what else is hidden, and... encourages exploration."
From a marketing perspective, easter eggs can also aid in:
Increasing brand awareness

Boosting site traffic

Increasing time on page

Increasing user engagement

Delighting customers (with unique UX)

Humanizing your brand (by showing personality)
They are a wonderful way of generating word-of-mouth for your brand and with the help of channels like Facebook, Twitter, Buzzfeed, and Reddit, they tend to spread like chicken pox through a kindergarten class.
But, remember… internet easter eggs are a nice-to-have.
As you'll see in my examples below, the best require thorough planning and technical development. If your website or marketing isn't performing well, an easter egg will not turn things around.
They're not intended to boost conversions or close sales.
So, treat them like icing on a cake. You need your website or product to be fully baked (erm..optimized) before you can think about adding something extra like an easter egg.
17 internet easter eggs you've got to see
There are hundreds of internet easter eggs out there (and I'm sure thousands more waiting to be discovered), but below are 17 of my favorites.
As mentioned above, many of these are, unfortunately, no longer active, but they can serve as great inspiration should you choose to add one to your website.
1. Google: Friends
While its final episode aired more than 15 years ago, the NBC series Friends, remains a classic for both new and old audiences. In this easter egg, when users search the characters from the show on Google, they are met with a variety of icons and animations that fans would easily associate with them.
Here's a few examples for the characters or Joey and Phoebe: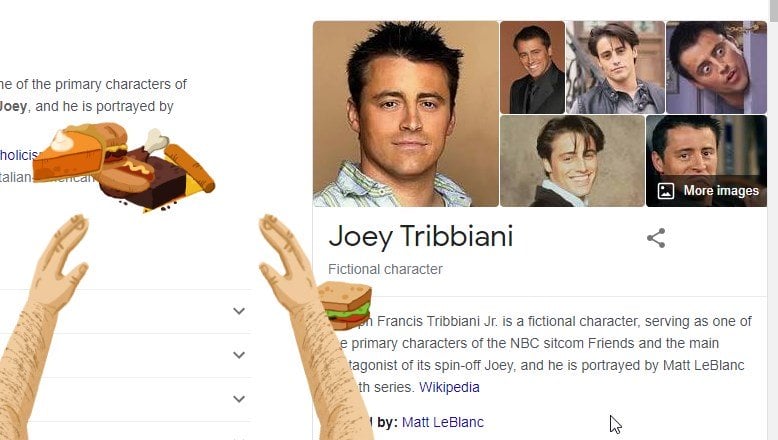 2.
UK Oak Doors
: Iconic doors
As a pop culture fiend, I absolutely adored this easter egg by the UK-based door company, UK Oak Doors when active.
After entering the Konami Code using the arrow keys: "up, up, down, down, left, right, left, right, b, a," you'd be redirected to one of several mock listings for an iconic door from television or film, including Jurassic Park, The Simpsons, Harry Potter, and Dr. Who, among others.
With browser changes, this one has become difficult to trigger, but luckily, the pages are still live. Click the thumbnails below: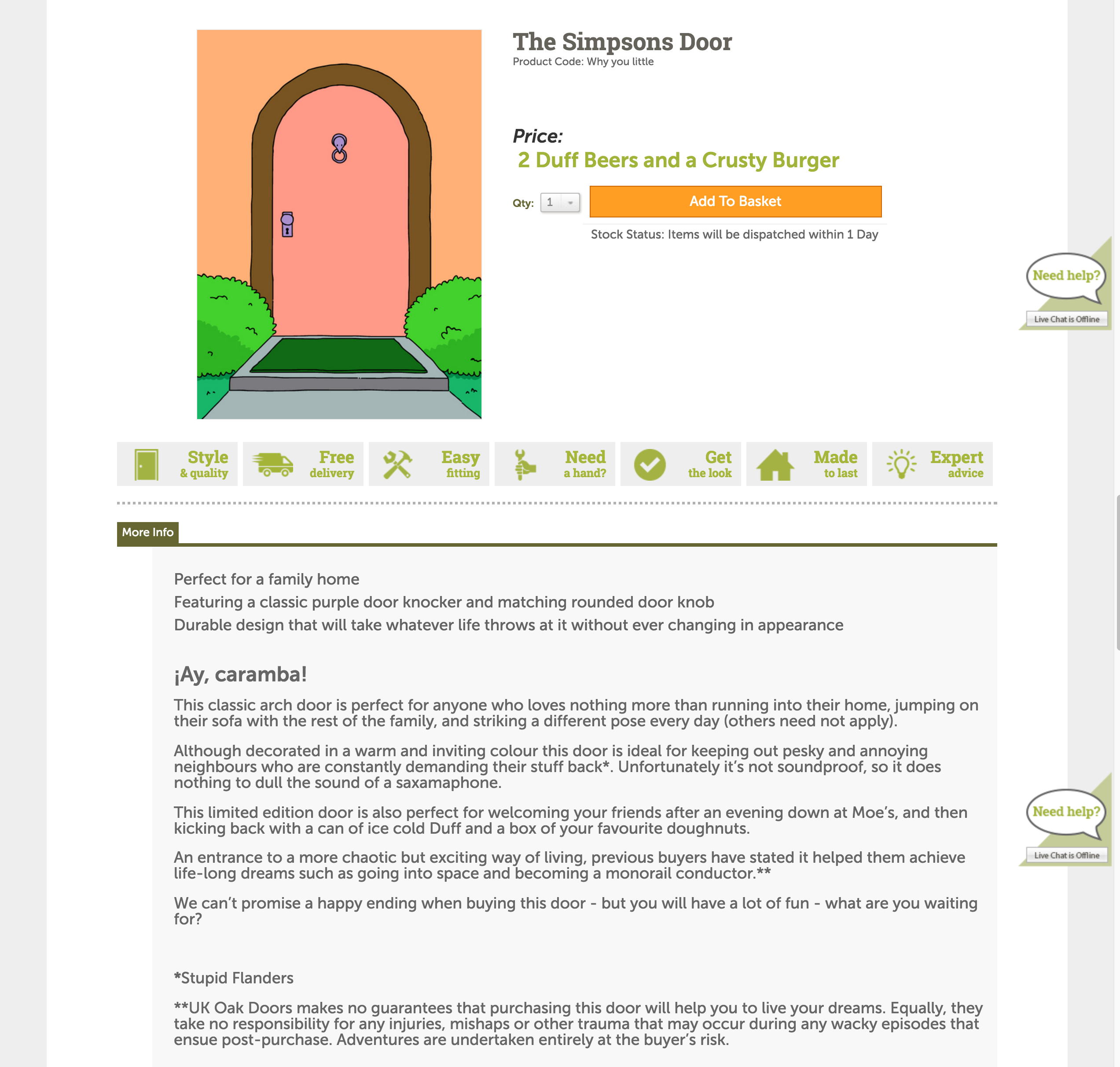 Bonus: Regardless of which door you get, make sure to sure to hit "add to basket." You'll thank me!
3. Buzzfeed: Confetti drop
Amidst the COVID-19 pandemic, there hasn't been many opportunities to celebrate. Luckily, in this simple easter egg, Buzzfeed offers a small taste of what we've been missing out on. Enter the Konami code and you'll be met with falling confetti on their homepage.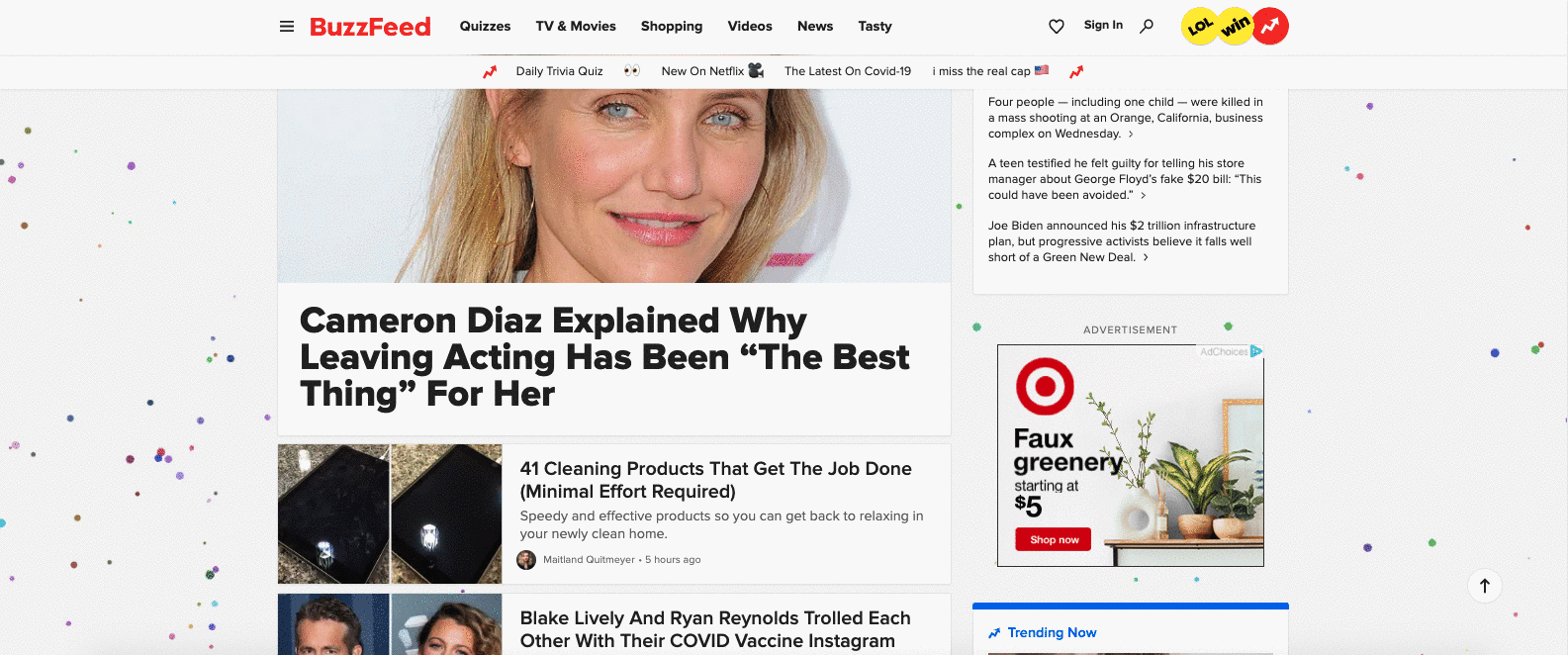 4.

Kanye West: Source code art
Kanye West has always fancied himself quite the artist, and love him or hate him, it's hard to argue looking at this old easter egg.
Back in 2016, when you visited West's homepage, right clicked and hit "view the source code," you would be be met with a unique and intricate design, along with the name of its creator. While no longer active, it was rumored that the design changed every three months for a time.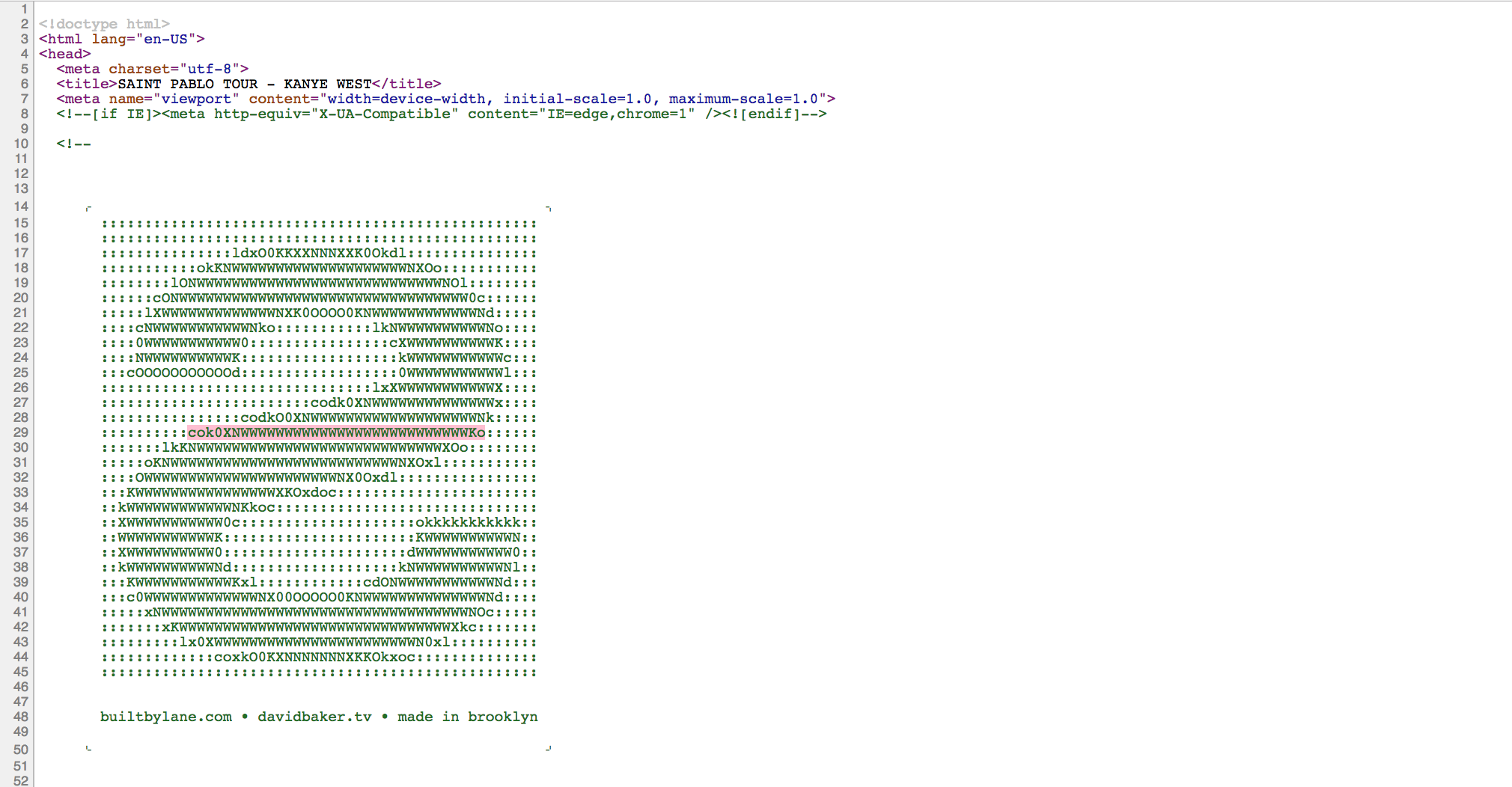 5.
IMDB
: This is Spinal Tap
This is a great example of how simple an internet easter egg can be.
On IMDB's page for the 1984 comedy, This Is Spinal Tap, they pay homage to the mockumentary's "dialing it up to 11" scene by giving the movie a rating out of 11, while all other movies go up to 10.
This one is likely to only land with die-hard fans of the film, but regardless, it's a subtle, yet effective touch.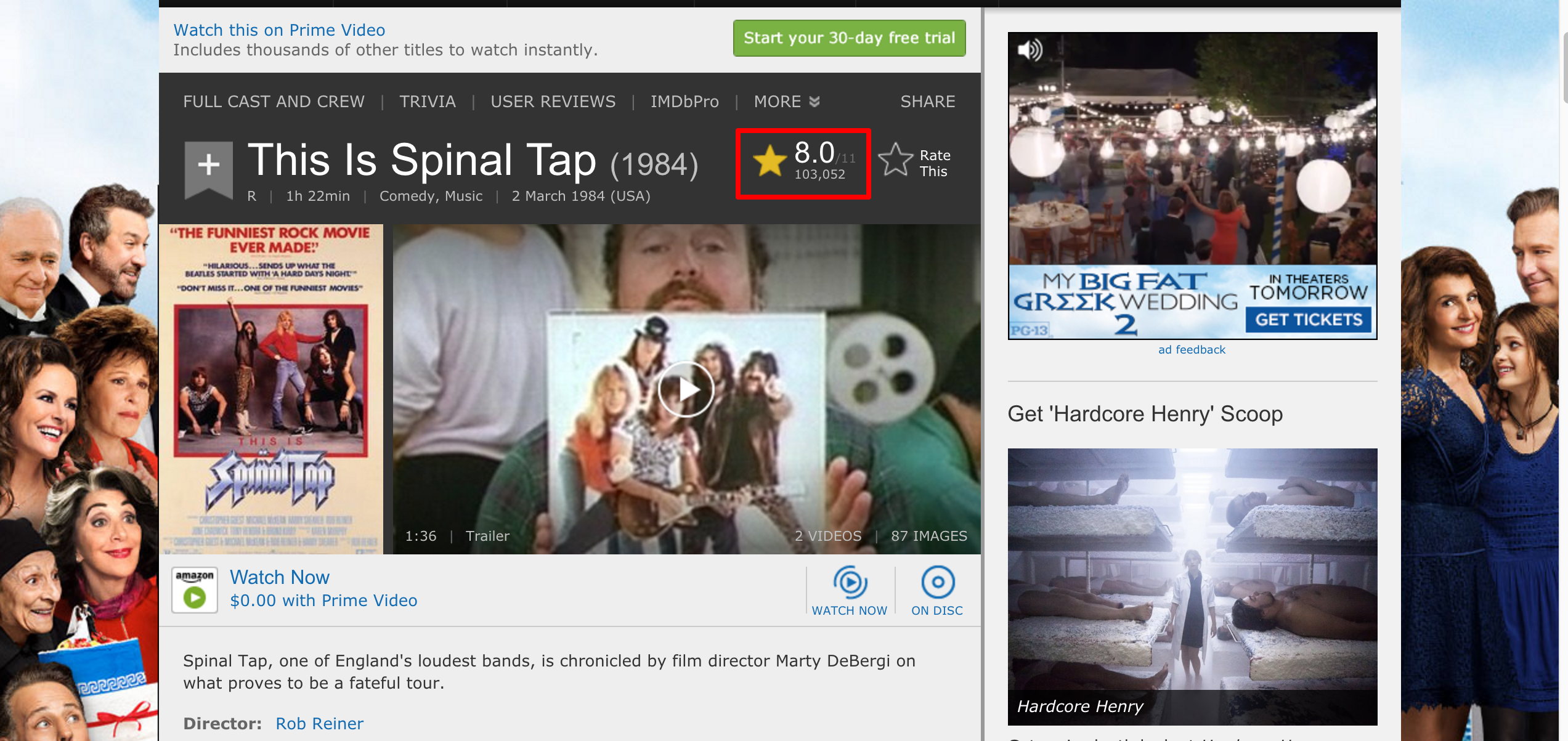 6.
Google:
Atari Breakout
Google is known for its ever-growing list of internet easter eggs, but over the years, many have been discontinued. Luckily, this classic still remains if you know how to access it.
In the past, simply searching "Atari Breakout" under images would return an actual functioning version of the game, however, today, you must search the phrase from the homepage and hit "I'm feeling lucky."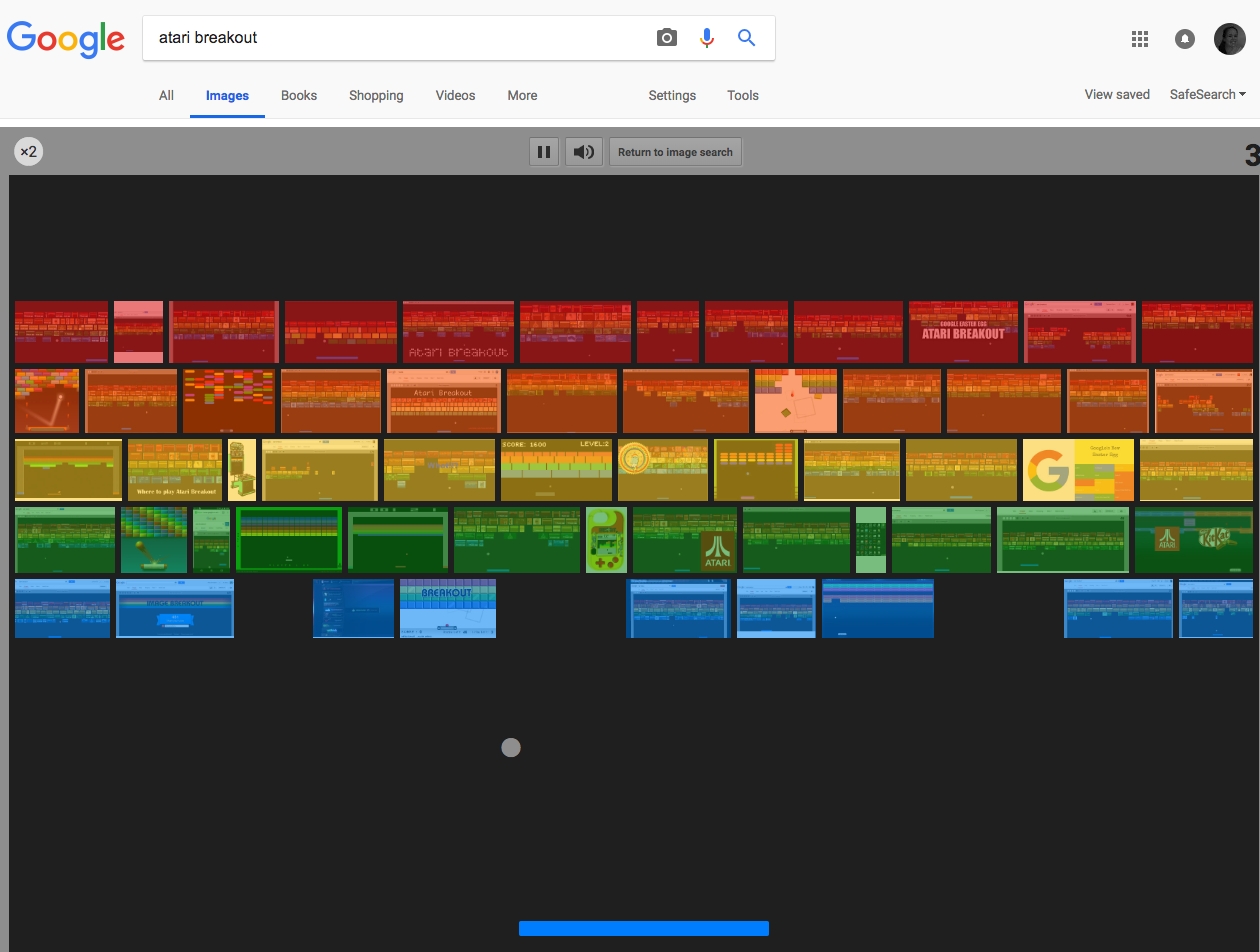 7. Wikipedia: Easter egg
In a very self-aware internet easter egg, Wikipedia offers a surprise on its page about — you guessed it — easter eggs! Simply click the hedgehog in the right-hand corner of the image at the top of the listing to reveal to see a quite literal example of an easter egg.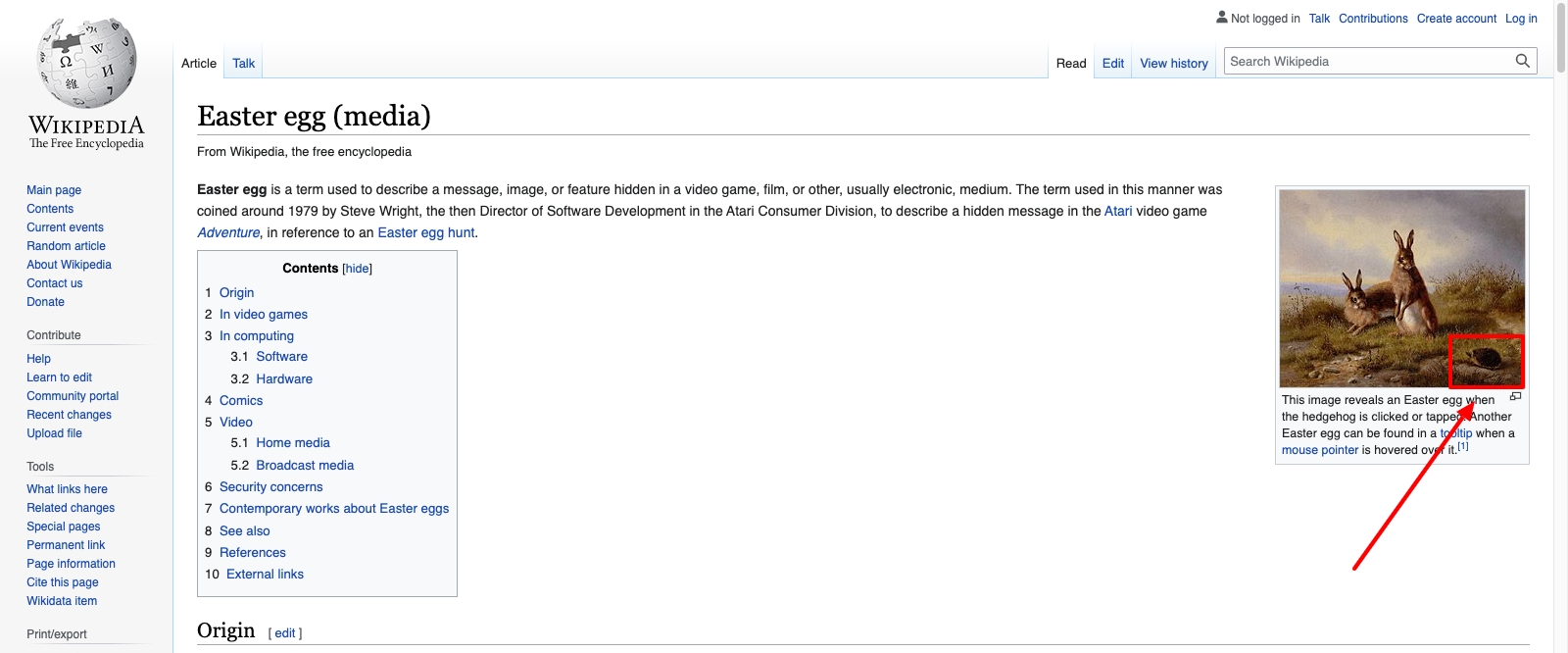 8. House & Garden: Dinosaur
Next up is the UK-brand, House & Garden. To unlock this now inactive easter egg, users would enter the Konami code and be met by a random, but dino-mite surprise.
Why? I'm not exactly sure. As you strategize your internet easter egg, make sure that it is on brand and something that will resonate with your audience.
9.
Kickstarter
What made this old easter egg from Kickstarter unique is that it was one of the only I found that incorporated lead generation.
Though discontinued, in the past, one could scroll to the bottom of the Kickstarter homepage, click on the scissors in the left-hand corner, and be greeted with a form.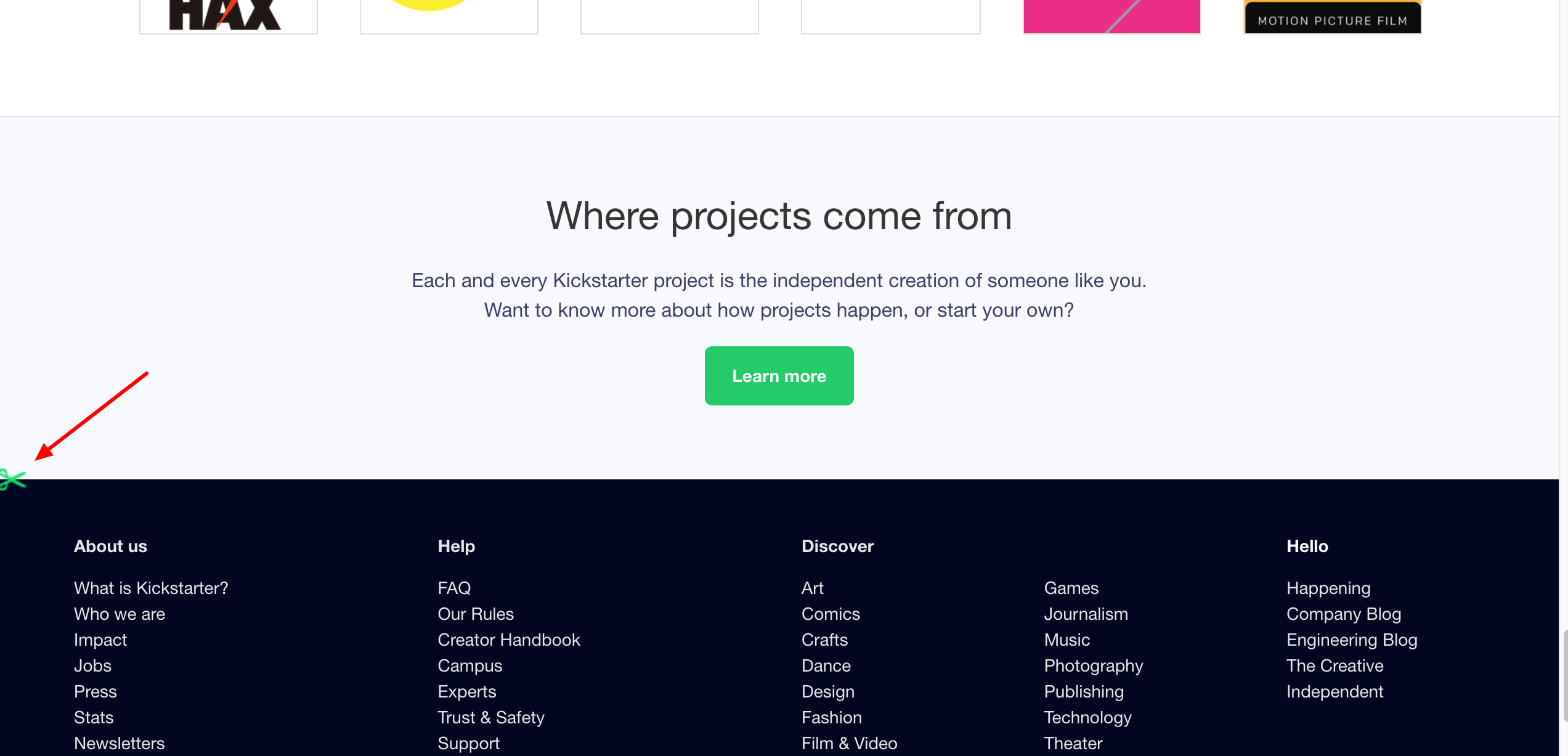 10.
Coca-Cola
: Coded Logo
In another simple example, in older iterations of its website, you could find a coded logo in Coca-cola's source code as seen below: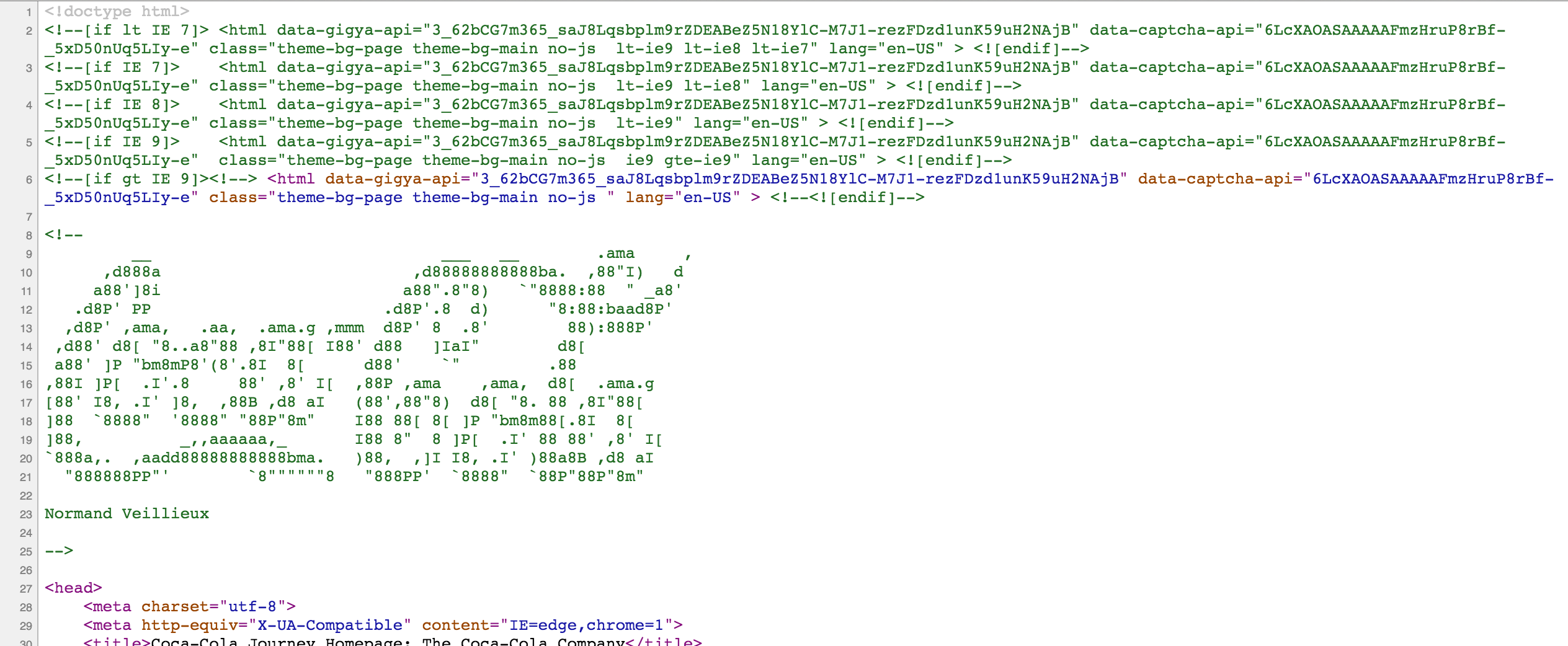 11.
Skybet
: Look Busy
In this hilarious and unique example, the online sports betting site, Skybet gave visitors a quick alibi if their boss caught them on their site during work hours.
To find it, users simply had to click the button above Facebook in the page's line of social icons to be taken to a mock spreadsheet.
12.
YouTube
: Do the Harlem Shake
In another lost, but beloved easter egg, YouTube users used to be met with this fun animation and music if they searched "Do the Harlem shake" on the platform.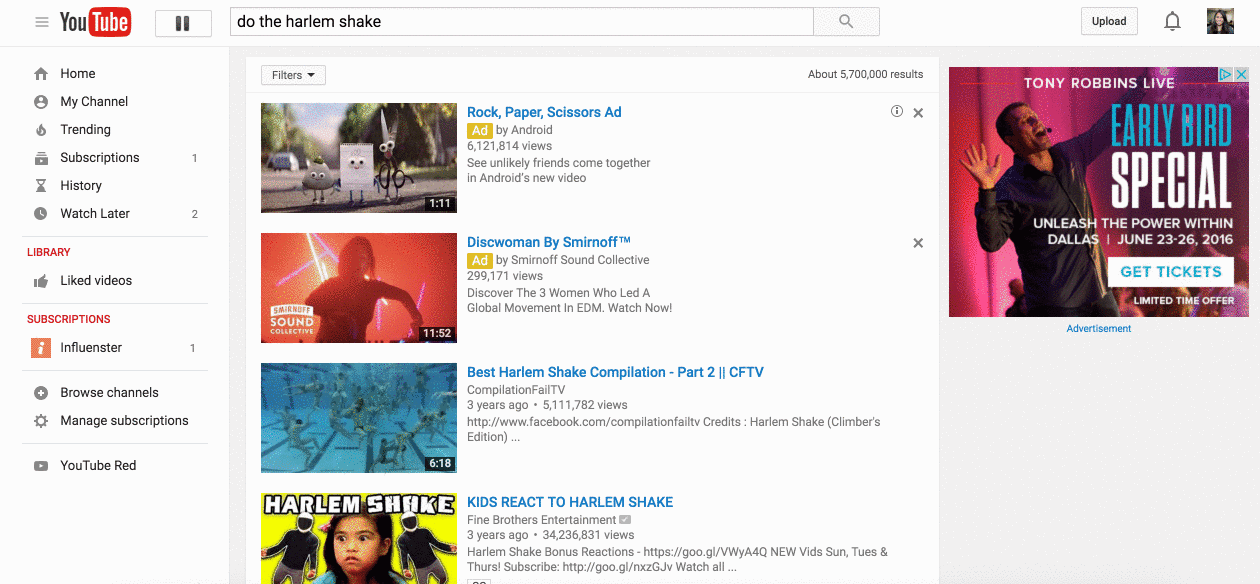 13.
Google
: I'm feeling curious
Making its third appearance on our list, Google tries to ban boredom by sharing fun facts when you search "I'm feeling curious." The information shared can be about anything and everything. Here are few examples from my own attempts: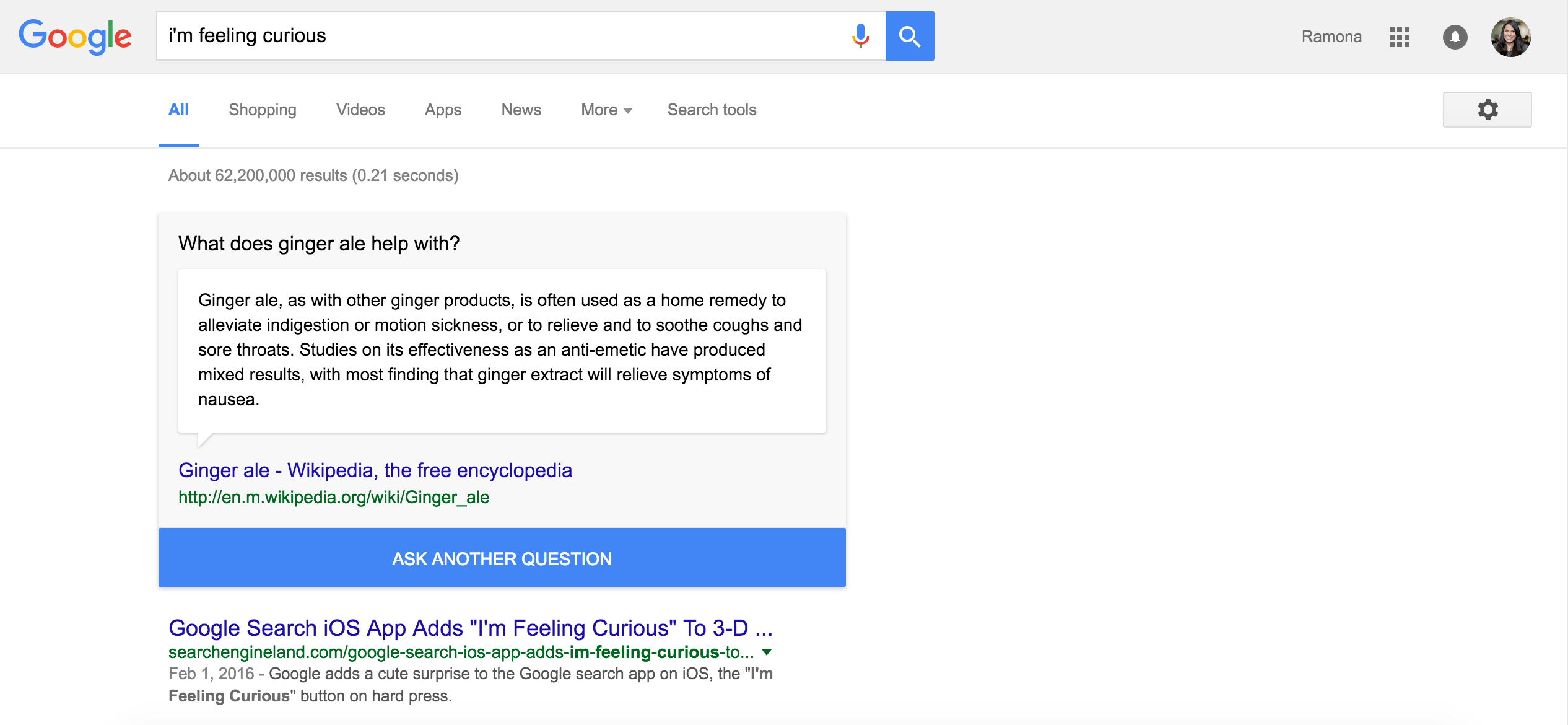 14.
Google
: Flip a Coin
Ever need to settle a debate but don't have a coin handy? Google's got you covered with this easter egg. Simply search "flip a coin" and the search engine will give you a digital coin to get the job done.
15.
Wistia
: Yearbook Dance
Though no longer active, this easter egg from Wistia will always remain one of my favorites. Until recently, users could visit Wistia's team page, type "dance," hit enter, and watch their talent bust a move. Totally fitting for Wistia's quirky brand at the time!
16. Google Chrome: Unable to Connect
This mini game is probably one of the most widely-known easter eggs online. When your wifi is down or Google Chrome can't find a connection, it'll take you to a simple grey page with a dinosaur. Hit the space bar and it will trigger an addictive mini game. 17.
HEMA
: The Chain Reaction
In this intricate easter egg, the European retailer, HEMA, used to set off a chain reaction of visual and audio effects incorporating every product on the page. All you had to do is hover over the blue glass at the end of the first row then sit back and enjoy!
Free Assessment:
How does your sales & marketing measure up?
Take this free, 5-minute assessment and learn what you can start doing today to boost traffic, leads, and sales.