5 best marketing books you might have missed in 2019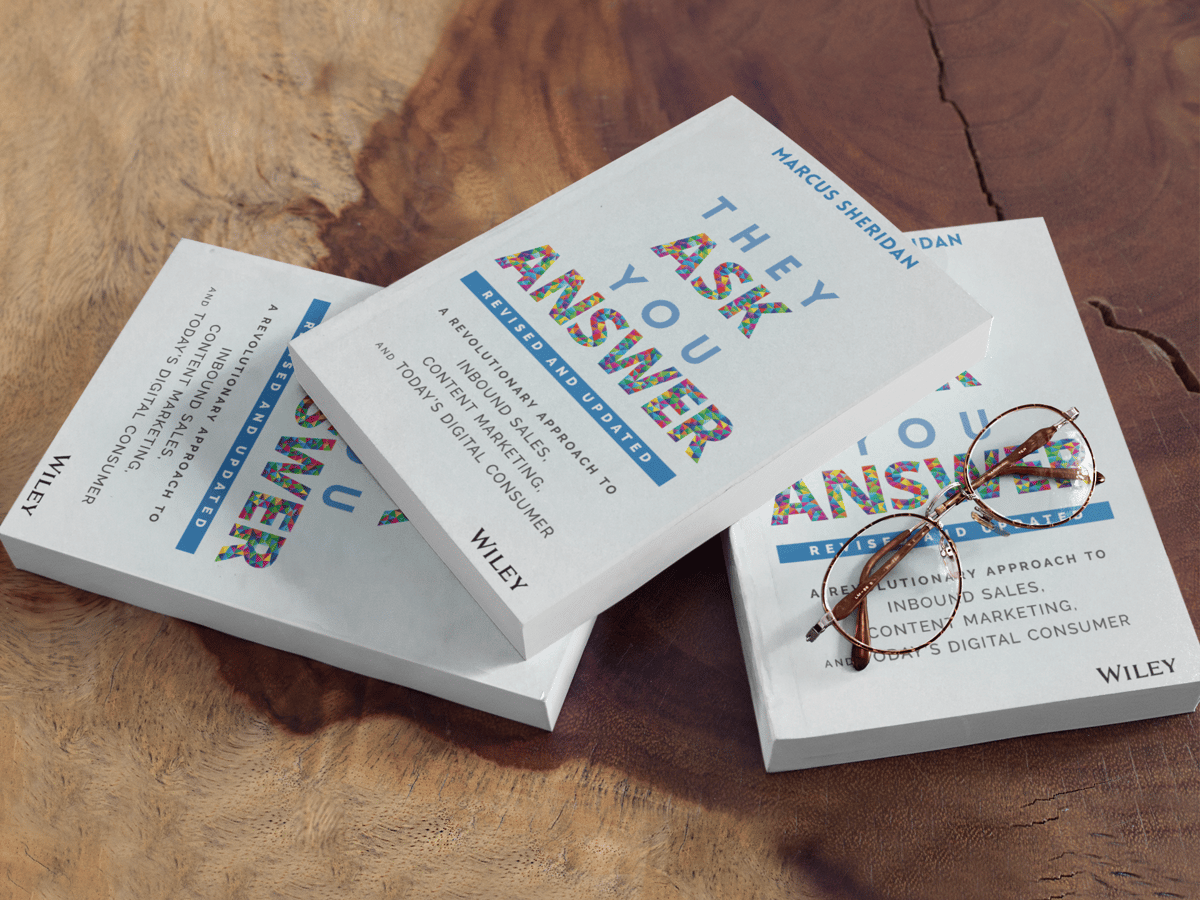 2019 Marketing Books
They Ask, You Answer (2nd Edition) by Marcus Sheridan
Conversational Marketing by David Cancel and Dave Gerhardt
The End of Marketing by Carlos Gil
Marketing Rebellion by Mark W. Schaefer
Think Do Say by Ron Tite
At first, I wasn't sure I was the right person to write this article.
This is mostly due to the fact that my nightstand is currently stacked with multiple piles of "I am totally going to read this next" books that are, of course, as yet unread.
Memoirs, marketing books, a retrospective on World War I by Martin Gilbert...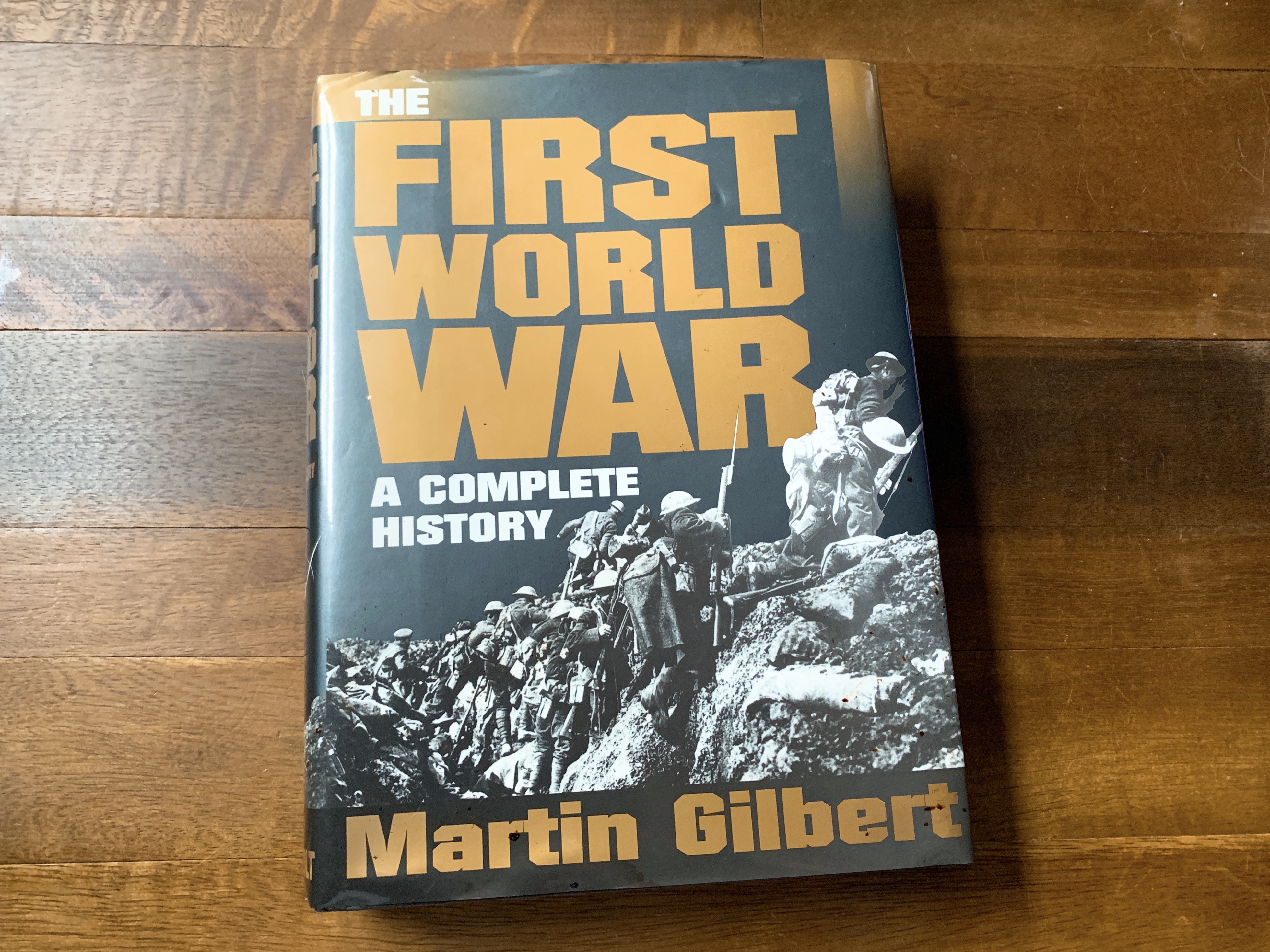 Sigh. Maybe someday.
But then I realized this is exactly why I'm the right professional procrastinator to author this marketing books round-up.
Who better than yours truly — someone who acutely understands the pain of always being 15 steps behind the proverbial reading eight-ball — to give it to you straight about the marketing books from this year that you may have missed but should prioritized.
So, without further ado, let's get into it, shall we?
OK, let's address elephant in the room. Yes, I'm a little biased about this book, because I was the internal editor for the second edition — and oh, what a journey that was.
However, long before Marcus Sheridan's company (The Sales Lion) merged with IMPACT, and two years before I even met Marcus, the original version of They Ask, You Answer rocked my little marketing world.
🔎 Related: What is They Ask, You Answer?
Bottom line, whether you call what you're doing content marketing, digital marketing, or inbound marketing, They Ask, You Answer is the must-read guide to growing traffic, leads, and sales in the digital age.
And Marcus added more than 80,000 words to this new edition, with massive new sections on how to close more deals faster with video marketing, the essential elements of the perfect They Ask, You Answer website, and a lot more.
Also, Marcus narrated the audiobook version for the second edition, and that bad boy drops on December 24.
Reader reviews from Amazon
"Marcus Sheridan knocks it out of the park with the most motivating, tactical, and informative book on content marketing out there."
"[They Ask, You Answer] is practical, easy to digest, and will leave you excited to walk into work the next day and begin fundamental change. I bought copies for my whole team!"
"This book sets the foundation for all your marketing efforts. You will no longer see marketing as a complex or gambler's game of attracting sales … exhilarating experience."
This is one book I bought for myself as an early Christmas gift because, quite frankly, conversational marketing is an area where I still find myself... well, "struggling" may be too strong of a word.
It's more that I still feel a bit like I'm that girl on ice skates feeling her way along the wall — I'm still standing upright, and I've got most of the basics nailed, but I'm still worried about falling on my face.
You smell what I'm steppin' in?
Enter stage left, Conversational Marketing by Drift cofounders Dave Gerhardt and David Cancel.
Yes, it's 288 pages, but trust me when I say you will breeze through this well-written, digestible primer on everything you need to know about how to use bots and conversational tactics to engage with your audience and close more deals faster in the new year.
More about the book
"Conversational Marketing is the definitive guide to generating better leads and closing more sales. Traditional sales and marketing methods have failed to keep pace with the way modern, internet-savvy consumers purchase goods and services.
Modern messaging apps, which allow for real-time conversations and instant feedback, have transformed the way we interact in our personal and professional lives, yet most businesses still rely on 20th century technology to communicate with 21st century customers.
Online forms, email inquiries, and follow-up sales calls don't provide the immediacy that modern consumers expect. Conversational marketing and sales are part of a new methodology centered around real-time, one-on-one conversations with customers via chatbots and messaging.
By allowing your business to communicate with customers in real time—when it's most convenient for them—conversational marketing improves the customer experience, generates more leads, and helps you convert more leads into customers." (Excerpted from Amazon)
Reader reviews from Amazon
"The first chapter had some pretty interesting statistics-- $4.6 Billion is spent driving traffic to websites where the conversion is only 2.85% of the traffic converts. What an eye opening look at how we are selling our customers the wrong way. I'm halfway through and already completely changing the way I think about the way we use websites in the world today and how outdated lead forms are."
"Wow, great read. Eye opening. These guys get it. We're no longer living in a marketing world where incremental improvements to your conversion rate should be top of mind. Instead, Drift is pitching getting back to conversations between buyers and sellers, making buying easier and putting the customer first. And clearly it's working for them. Get this book!"
"David Cancel and Dave Gerhardt really understand the way in which business buy from other business, and how its evolving. Their explanation of how in the internet age buyers have more power than sellers really resonated. I learned so much about how to shift my perception of how to reach my prospects--both the timing and the channel. The time is NOW and the channel is Conversational Marketing!"
If you listened to one of the most recent episode of Content Lab, you know how I'm a big fan of being as human as possible whenever you're creating content for your brand. So, as soon as I saw this book from Carlos Gil idling innocently on a shelf at a local Barnes & Noble, I knew it would soon have a home on my nightstand.
Trends in technology are making it easier than ever for buyers to ever speak to a human being to make purchases; the irony, however, is that buyers also want more humanity and connection from their brands than ever before.
So, how do brands use that very same technology — specifically, social media and AI — to create more human experiences for potential buyers? That's what this book is all about.
More about the book
"Social networks are the new norm and traditional marketing is failing in today's digital, always-on culture. Businesses across the world are having to face up to how they remain relevant in the choppy waters of the digital ocean. In an era where a YouTube star gets more daily impressions than Nike, Coca-Cola and Walmart combined, traditional marketing as we know it is dead.
The End of Marketing revolutionizes the way brands, agencies and marketers should approach marketing. From how Donald Trump won the American presidency using social media and why Kim Kardashian is one of the world's biggest online brands, through to the impact of bots and automation, this book will teach you about new features and emerging platforms that will engage customers and employees. Discover bold content ideas, hear from some of the world's largest brands and content creators and find out how to build smarter paid-strategies, guaranteed to help you dominate your markets.
The End of Marketing explains that no matter how easy it is to reach potential customers, the key relationship between brand and consumer still needs the human touch. Learn how to put 'social' back into social media and claim brand relevancy in a world where algorithms dominate, organic reach is dwindling and consumers don't want to be sold to, they want to be engaged." (Excerpted from Amazon)
Reader reviews from Amazon
"If you want to accelerate your impact, increase your engagement, and build a stronger, authentic community then 'The End of Marketing' by Carlos Gill is a must read! I love this book! Carlos provides great insights on social media and takes you behind the scenes of how consumers, tech, and brands are interacting in this digital era. I love that he explains what is happening and then gives you specific actions to hack your way to greatness! His stories are engaging and the format is great! I have been carrying the book around and am reading sections that have the most interest to me when I can squeeze in a few minutes of reading time. Fantastic job Carlos! Order The End of Marketing today and share on social media how you are humanizing your brand in the age of social media and AI!"
"This is an excellent book. It made me look at marketing from a different perspective. I used to look at marketing in an old school way and this book really opened my eyes to a new way of marketing. The best part of this book is that the author knows his material and lives it on a daily basis. I highly recommend it, especially if you are over 40 like me."
"Carlos does a fantastic job diving into the evolution of digital marketing and how companies can thrive in the new age. Along with fantastic case studies, Carlos also provides high level strategies and tactics that any personal brand or company can use."
Yes, it's another marketing book with an emphasis on the importance of humanity. It's that stinkin' important. I really enjoyed this book, because it spoke to a deep fear I have as a digital marketer succinctly and clearly in a way that many other books do not:
"How the heck will I ever be a successful digital marketer when the rules are constantly changing, and the pace at which they change is getting faster and faster, as time goes on?"
Seriously, is it possible to get motion sickness from shifting digital marketing trends? Or whiplash, at least? Asking for a friend.
More about the book
"Are you overwhelmed by the breathtaking rate of change in the business world? Are confusing consumer trends, the unrelenting pace of technology, and the breakneck speed of digital marketing making you feel irrelevant and lost?
Path-finding author Mark Schaefer provides an achievable and realistic framework to help you stay ahead of the curve by re-imagining marketing in a world where hyper-empowered consumers drive the business results." (Excerpted from Amazon)
Reader reviews from Amazon
"Marketing, as we have often practiced it, is crashing and burning. The human element is being lost in a blizzard of technology and impersonal promotion. But the counter-revolution has begun, and Mark Schaefer masterfully explains why a human approach to marketing will win. Not only are the principles and research-driven conclusions sound, but the case studies and examples are convincing (and quite interesting). What an opportunity for agile, human-centered companies to gain a strategic advantage in a crowded marketplace!"
"I am politely dubious of most business books. Especially in the field of marketing. Most are just one 'idea' surround by a bunch of filler, and with little or no data to back it up. Marketing Rebellion is not one of those books. For a book that's so easy and entertaining to read, it's clearly deeply researched and based on actual data. You can open it to any page and immediately find something meaty to chew on. Do I agree with everything in it? No—but it's provoking and cajoling me out of some long held assumptions. And the big tell for me re: the book's value? The number of Post-Its I use to identify sections worth re-reading and -considering (see attached photo). Bottom line: Mark Schaefer is the real deal—and a 'thought leader' worthy of the title."
"Dear fellow marketers (and business leaders) if your GTM (go-to-market) is stuck, or you just want to take your marketing to the next level, this book is a must read. Mark Schaefer quickly describes the changes that you need to recognize to shift your paradigm. I quoted this book in a presentation last week (and changed up my GTM), and the audience was captivated!"
One of our mantras at IMPACT is that, as digital marketers, business leaders, and sales pros, we're all in the business of trust — no matter our industry, company size, and so on:
That's why I am so excited for my Amazon shipment of Ron Tite's new book to show up on my doorstep later today.
Much like the last book tapped into the fear I have a digital marketer, this book shines a harsh light on the fact that consumers (including ourselves, when we're off the clock) are struggling to determine what is real and who they can trust, when it comes to brands online.
Also, I'm a huge fan of anyone who recommends "cutting the jargon" as part of their digital marketing strategy for 2020.
More about the book
"People today are inundated with non-stop content, broken promises, endless product extensions―and pressure from articles titled, "The 7 Things That Successful People Do Every Day." They don't know where to look or who to trust. So how do you win their time, and their confidence?
From renowned advertising creative director Ron Tite comes a powerful approach to cutting through the noise―three words: Think. Do. Say. Ditch the jargon, and start making good things happen for you and your organization." (Excerpted from Amazon)
Reader reviews from Amazon
"Ron Tite has a way of using humor to capture attention and deliver powerful insight. In THINK-DO-SAY, Tite keeps you smiling while clearly providing a roadmap to defining purpose, executing a plan, and earning attention to inspire employees and customers alike."
"This is a must read for any marketing or advertising professional. Think Do Say clearly explains everything you need to know to help you define your brand and share it with the world - through the noise. The book is a great mix of case studies with enough humor to keep you from putting it down. Get ready to nod your head in agreement, learn a load, and laugh out loud in bits."
"Couldn't put it down. From the moment I opened the pages, I could hear the authentic, witty writings of a business genius and a stand-up comedian! Ron's take on what we need to think, say and do in this overwhelmed world is perfection. I kept saying 'yes' 'yes' 'yes' as I read the pages, listened to his advice and realized this is the best book I have read this year. Get your hands on it. Inhale it. Mark it up. Share it with your team. Follow his advice. Pay attention. Brilliant, funny, insightful, practical, eloquent, and his use of famous people and quotes had me laughing every time I turned the page. You will enjoy every moment you spend with this book."
Free Assessment:
How does your sales & marketing measure up?
Take this free, 5-minute assessment and learn what you can start doing today to boost traffic, leads, and sales.