21 Websites That Will Change Your Life as a Digital Marketer Forever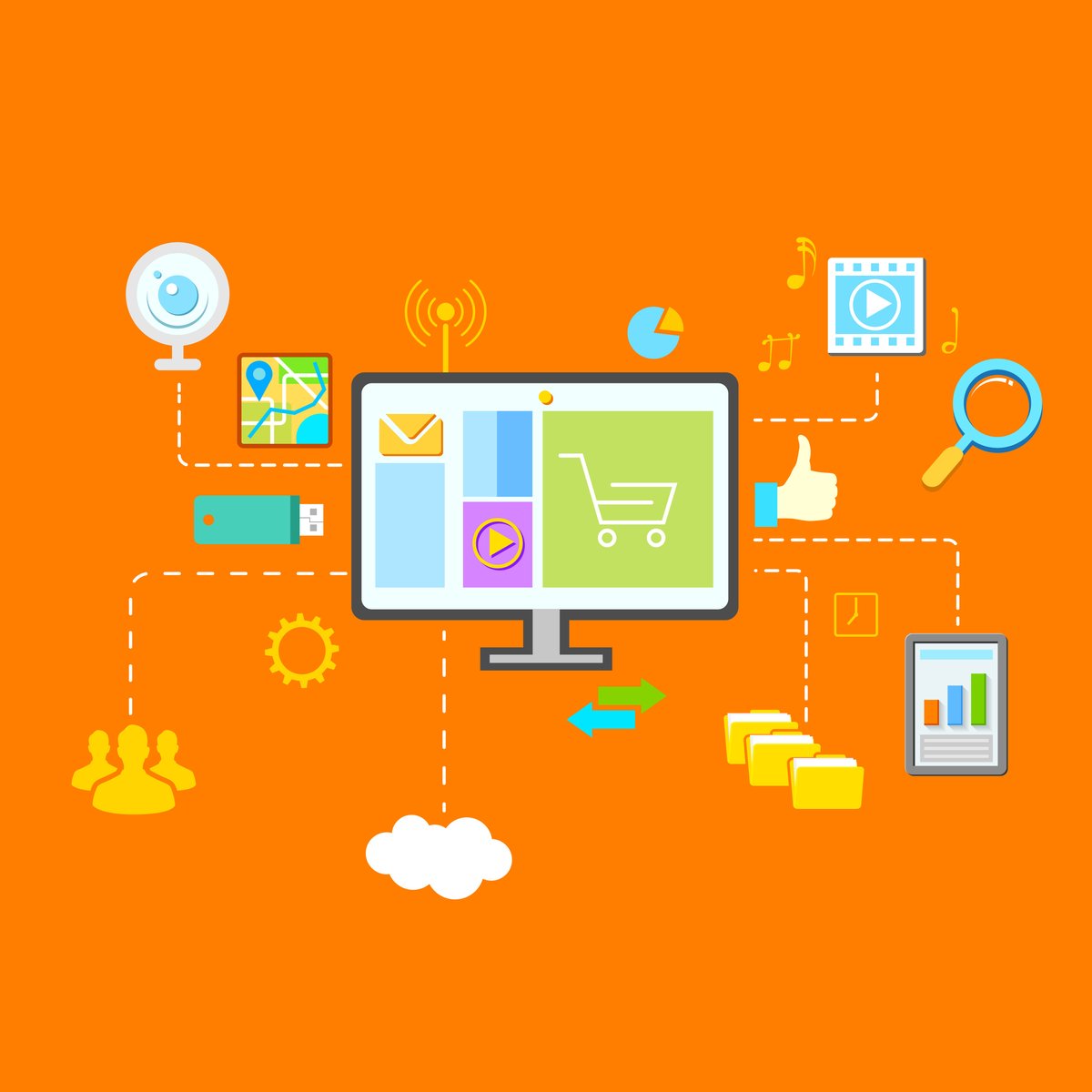 It's new year's eve day! A time for change and reflection, both professionally and personally.
If you're a digital marketer, you may be wondering, how can I be even better in 2018? Luckily, the Internet is chock-full of low-cost digital marketing tools and apps that can significantly aid your efforts in the coming year.
From tools that help with SEO and content creation to social media marketing, site performance, or even collaboration between team members, you can find a tool for just about anything online.
Many of them are available in both free and premium versions, so there's really no reason not to take advantage of them.
Without further ado, here are 21 websites that will change your life as a digital marketer forever.
Spell check alone can only get you so far. For content marketers, Grammarly is a lifesaver.
This program identifies any spelling or grammar mistakes in your writing that standard word processors often miss, so marketers can be confident all of their published content is error-free and easily understood by your buyer personas.
Grammarly is available as a free browser extension to use on almost any webpage, or you can download the app and integrate the program into Microsoft Word to receive detailed edits as you write.
Cost: Free (Premium available for as low as $11.66/month)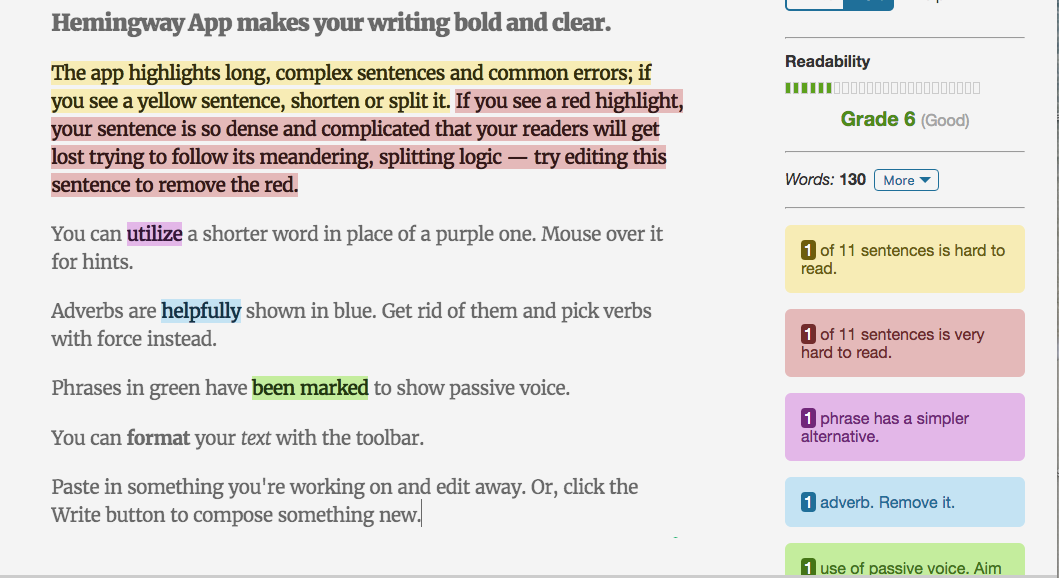 So, maybe, your grammar and spelling is good, but how easy is your writing to understand?
The Hemingway Editor is an amazing resource to take your content to the next level and make even technical subjects easier to digest.
This tool goes beyond spelling and grammar corrections, flagging common errors (i.e. passive voice, overly complex sentences etc.) which make content difficult to understand. Implementing these changes helps ensure the information is easily digestible by your audience.
Using it regularly will not only allow you to consistently produce better content, but in turn improve your conversion rates as your content better resonates with readers.
Cost: Free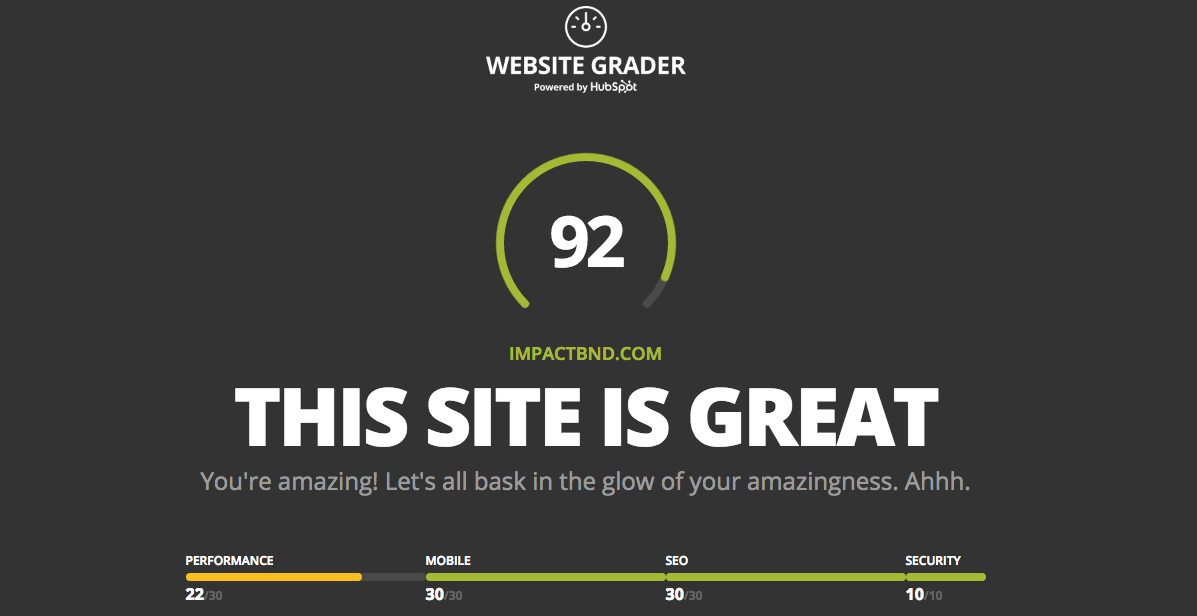 How is your website performing?
Hubspot's Website Grader will tell you, analyzing a number of different things.
By simply entering your website's URL, Website Grader generates a score between 1 - 100 based on site performance (i.e. load time), mobile optimization, SEO, content, and security.
The grader also breaks down these scores by category so you can see which areas call for further optimization.
Cost: Free
Writer's block is the worst.
Luckily, our popular blog title generator, BlogAbout, will help you get some inspiration.
First, enter the keyword you want your post to focus on. Next, the tool generates customizable blog title suggestions that will provide direction and help you produce compelling, clickable content.
By clicking the heart icon, you can compile a list of your favorite title and BlogAbout will deliver it right to your inbox.
If you're still stuck,, there's even a little doodle sheet to help you get your creative juices flowing.
Cost: Free
Analyzing traffic alone isn't enough to provide a clear view of how users interact with your website.
Hotjar closes that gap, providing the qualitative information marketers need to understand the online behavior of their visitors and create a better user experience.
Hotjar features several analytic tools, including heatmaps, funnel and form analysis, visitor session playbacks, and more to help you find out what attracts your personas, and what factors may cause them to fall off in the conversion process.
Cost: Free for basic (Premium plans available for $29-89/month)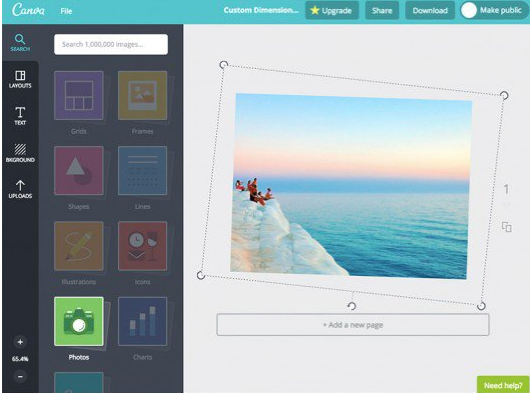 If you want to boost the visual appeal of your content to generate more shares, turn to Canva.
Canva is a design tool loaded with features that enable marketers to create a variety of engaging content without needing a ton of design experience. It's drag-and-drop style provides a simple way to create stunning CTA's, infographics, and other visual content for your personas.
Cost: Free (with some paid add-ons)
If you want to see more results from your email marketing efforts, improving your subject lines is the first step.
Since it's the first thing your persona sees, a good subject line is essential for high click-through rates in your email campaign. However, it can sometimes be difficult to determine which will be successful or the steps to take to improve existing ones.
That's where SubjectLine comes in. SubjectLine is a free rating tool that examines subject lines and scores them based on how they would perform. It provides a with a detailed explanation of how their score was calculated, along with advice on how to improve.
Cost: Free
Trello is a great way for marketers to simplify their workflow and collaborate with other team members with ease.
This website allows you to create multiple boards customized to your needs, organize tasks to complete, and prioritize workloads so you can stay on top of things.
Trello also allows you to tag other team members on your tasks, so they can comment, add attachments, or review work on the card. This feature increases overall visibility, and enables teams to work more collaboratively on projects.
Cost: Free
For businesses new to social media marketing, growing your audience can be a challenge.
SocialQuant offers a great way to rapidly gain followers relevant to your industry. Using advanced algorithms, the tool scans all conversations on twitter, and chooses the best one to follow based on a set of user-provided keywords.
Cost: $50/month
Buzzsumo is a content performance analysis tool that shows the most popular content on a given topic , as well as the influencers sharing it.
By simply entering a keyword, you can see which articles have accumulated the most amount of shares across social platforms in a specified time frame and also see users who have shared this content on their social account.
With this information, marketers can gain a better understanding of what types of content performs best for their personas and reach out to influencers.
Cost: Free for limited use, with premium packages starting at $299/month.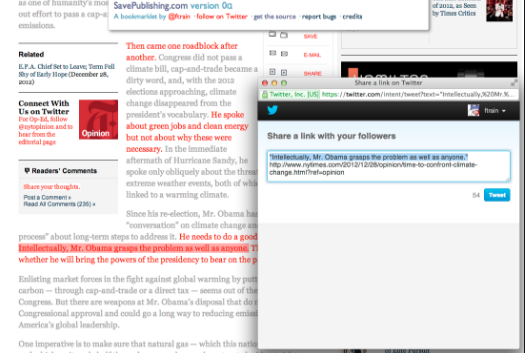 If you're looking to save time on social publishing without sacrificing quality, this may be the go-to resource for you.
Save Publishing is a browser extension tool that scans articles and highlights tweetable sentences within the content. From the browser, you can tweet the quote instantly.
Cost: Free
To help kickstart your creativity, check out HubSpot's Blog Topic Generator. Simply fill in 3 nouns (at least one of them being your primary keyword for best results), and the tool will generate 5 blog titles you can choose from.
Cost: Free
How are you really spending you time? RescueTime can help you answer that question.
RescueTime tracks your activity throughout your workday, noting the amount of time you're spending on certain tasks. It also shows side-by-side comparisons of your most productive days versus your least productive, enabling you to better understand the driving factors affecting your efficiency at work.
This information can paint a clearer picture of how marketers should be managing their time, and allow them to plan accordingly.
Cost: Free for basic features, premium package $72/year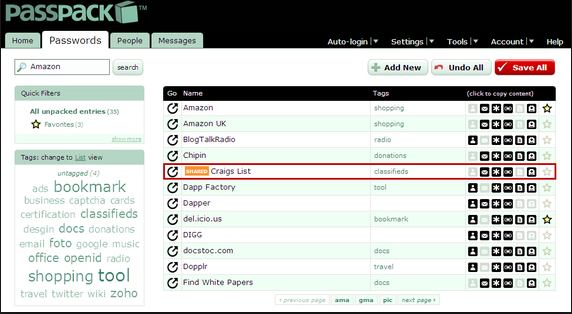 In the digital marketing world, passwords can accumulate FAST. So fast, keeping track of all of them is almost a full-time job in itself.
That's why Passpack is huge for digital marketers. This highly-secure password manager gives marketers an organized, secure way to store all of account login information.
Passpack also allows you to securely share this information with team members, making collaboration a much smoother process.
Cost: Free for basic version, with premium packages ranging from $4-$40/month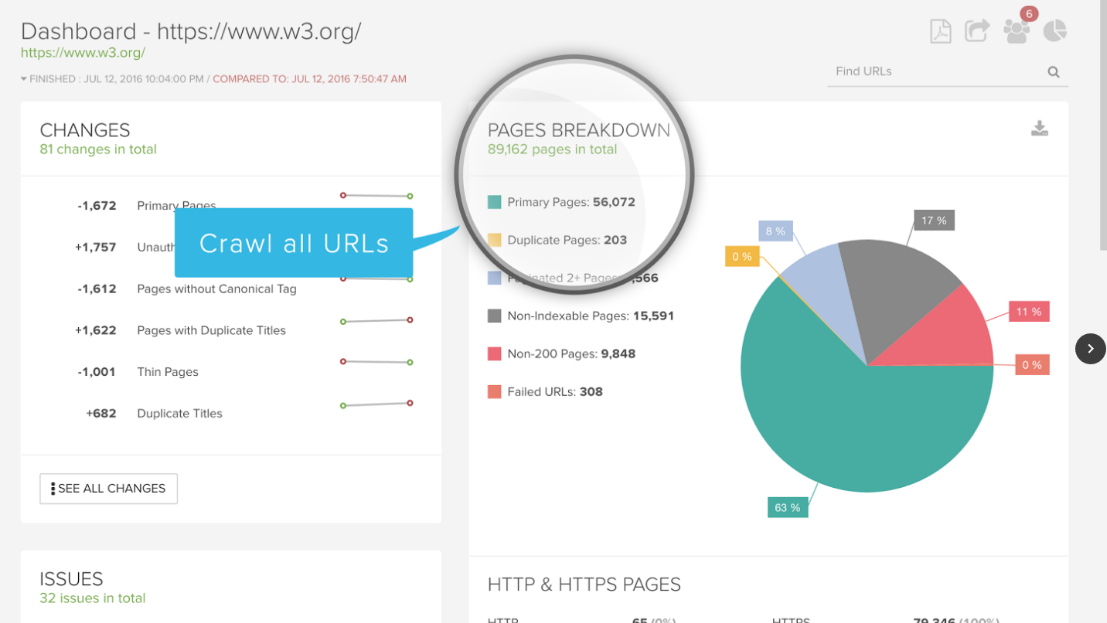 DeepCrawl offers a slew of resources to help marketers ensure their site is consistently performing at it's best in terms of site speed, SEO, etc.
This tool allows can test website changes before setting them live, identify low-quality pages that need attention, and audit all redirects that may impact website performance.
Cost: Packages start at $79/month
I don't know about you, but sometimes finding natural looking stock photos is impossible -- especially when it comes to tech or business world.
That's where PlaceIt comes in handy.
The tool helps you create realistic photo or video mockups in popular devices such as iPhones and macbooks, so that marketers can showcase their products in action. This is especially useful for SaaS companies, app developers, and designers.
Cost: Subscription packages starting at $20/month, or users can download individual images at a one-time cost.
Simply enter your website's URL into the On-Page Optimizationtool for a snapshot of the most important factors driving your website's SEO.
The tool breaks down your most used keywords, meta description, internal and external links, and other valuable information to help marketers better understand the factors affecting their ranking on Google.
Cost: Free
If you need to stay organized across multiple devices, Evernote was made for you.
At it's core, Evernote is you standard "notes" tool, but with more advanced features such as sharing. The app allows you to make lists that sync to all devices and users can also include links, images, voicemails, and set reminders so they can stay on track.
Cost: Free for basic features, premium packages start at $34.99/year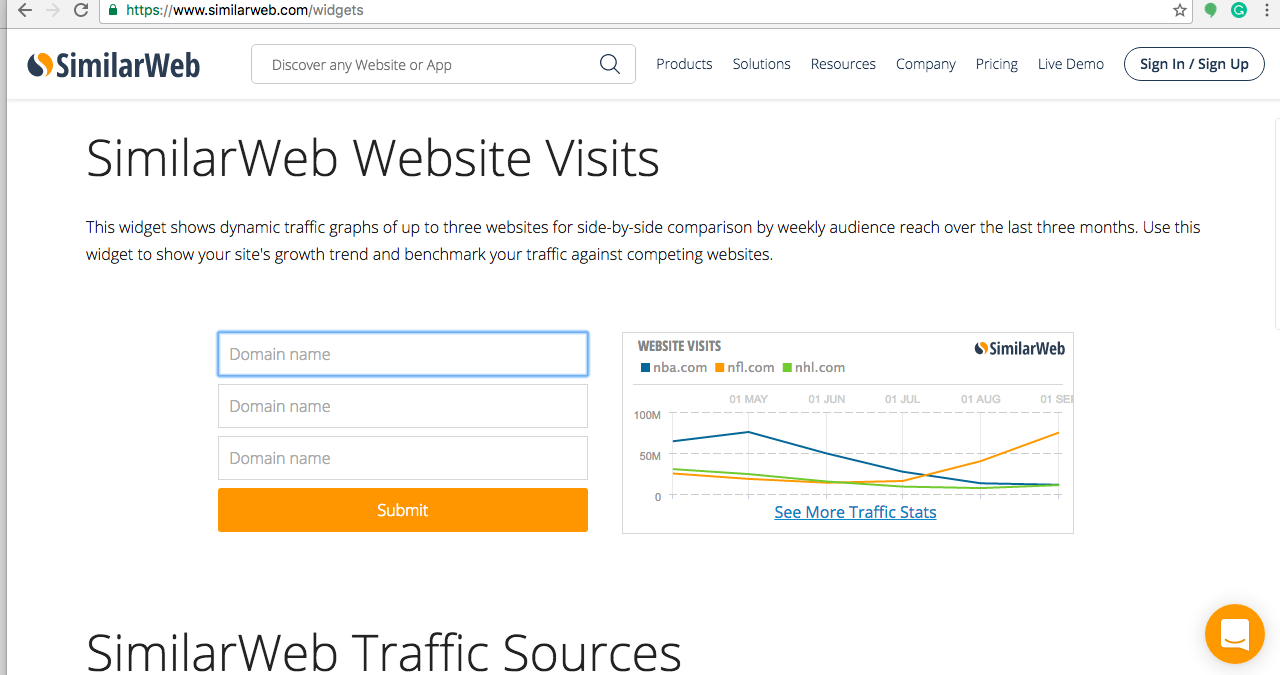 Want to know how your site stacks up against competitors? SimilarWeb helps marketers easily access that information.
By simply entering your domain name and two competitors, the tool generates a graph comparing your traffic numbers. This information is helpful to see what type of website is performing better for your personas and shows where you stand in your industry.
Cost: Free
For content marketers who need more than just suggested edits, WriteWell would be a great fit.
Not only does WriteWell provide spelling, grammar, and provide suggestions to tighten your writing, it also allows you to organize your document visually into separate chunks, manage research and writing all on one screen, and provides writing outlines and templates.
This is a useful tool for long-form blogging or drafting content offers like eBooks.
Cost: Free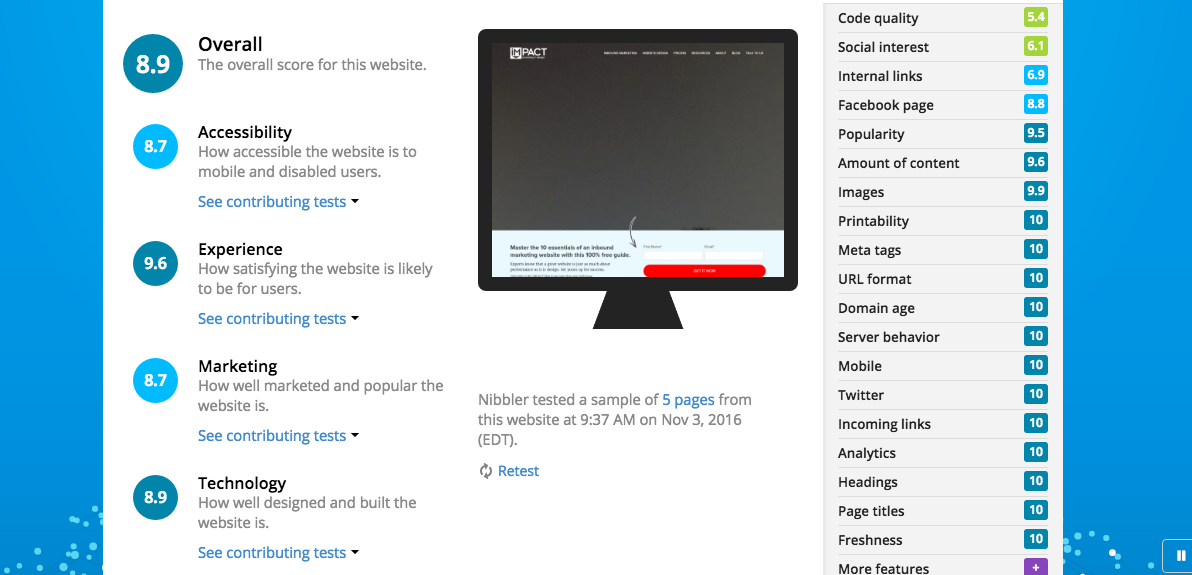 Another website scoring tool, Nibbler offers an extremely in-depth analysis of your website.
The tool breaks down overall accessibility, code quality, social interest, and many other factors, providing a score and detailed report of why the website scored the way it did. Nibbler also provides recommended fixes to help increase your score overtime.
Cost: Free
Free Assessment:
How does your sales & marketing measure up?
Take this free, 5-minute assessment and learn what you can start doing today to boost traffic, leads, and sales.