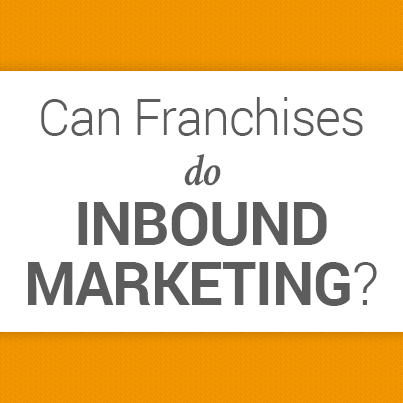 When people typically think about inbound marketing, a franchise isn't the first thing that comes to mind.




Many companies are left pondering if one can effectively implement an inbound marketing strategy throughout the entire organization. Will each franchisee be excited to implement the strategy? Will it help them to

Free Guide: The Ultimate Inbound Marketing Strategy Playbook 2022

effectively reach out and engage with their local market?


Especially when the marketing relationship among a franchise and their franchisees can often times look like a tug of war. It's about creating a balance between a strong central brand and implementing a localized marketing strategy.




That's were inbound marketing comes into play.




Inbound is more than just another marketing tactic. It's a holistic approach to marketing. The whole premise is about attracting your audience and building lasting relationships with them.




The foundation of inbound marketing is about developing a community where your customers are promoters of your franchise and creating targeted content to supplement your localized efforts.




It's all about attracting your audience.



How to Attract Your Audience with Inbound Marketing for Franchises
Every Franchisee Needs its Own Website
Yes, I did just say that. I'm also referring to a multi-site website structure. You'll want to set up a centralized website that has a portal for each franchisee. Allowing both the franchisee and corporate access, which will you the opportunity to share leads and databases. Setting up a multi-site website will allow each portal to stay on the same domain which will help increase the SEO ranking of your website.
But by allowing each franchisee to have their own site, they're able to gain a ton of valuable information. They'll be able to know what search term visitors used before landing on the site.
It helps your franchisees improve their chances of being found. With hundreds of coffee shops, gyms, sandwich shops and frozen yogurt places popping up on every corner, how will your franchisee know if they're being seen by their target audience? Unfortunately, they probably won't. They aren't gaining that valuable insight.
In today's digital world, your franchisees no longer need just a website. They need to develop unique content, a blog to attract visitors, implement a lead management system and provide a unique offer. Within each franchisee portal, you're providing them with all the key components of an inbound marketing website for your franchise. The key components include; blog, hours, directions, location photos, pictures of members, member community, sales ready lead generation, community involvement, member submitted content, member feedback and survey management, and referral management.
Your website shouldn't just be used to showcase corporate information. While keeping the brand image, franchisees should make it their own. Your website should help you form a community with your customer base and audience.
Tailor Communications to Your Local Audience
It's about localizing your approach.
Corporate commercials are great, but do you have locations in those areas? Are you targeting people who don't have the ability to purchase your product or service?
You might be. If you're not sure. I know here in Connecticut 4 or 5 years, whenever anyone saw a commercial for SONIC, everyone wanted to go. However, the nearest location was in a state or two away.
Social media is a great tool for tailoring your communications. A corporate Twitter or Facebook account isn't enough. There is no real way for you to engage with your audience.
As a franchise you can support your franchisees by providing them with corporate content, images, and ideas; but each franchisee needs to take it a step further to make that content relevant to their audience.
Each franchisee can use social media to promote contests, offers, specials, a referral program, events happening around town. It should go beyond just posting a link and waiting for engagement. Be a part of the conversation.
Implement a community type marketing strategy when it comes to communicating with your local audience.
Delight Customers to Attract Prospects
The most basic and simplest form of lead generation is keeping your customers happy.
Creating a community is about catering to the needs of existing customers to promote loyalty and product satisfaction, which gives rise to word of mouth marketing among the community.
Keep your customers happy because they are your biggest source for referral marketing. Which is why developing a referral strategy is huge.
"You have to be no less than a customer concierge, doing everything you can to make every one of your customers feel acknowledged, appreciated, and heard. You have to make them feel special, just like when your great-grandmother walked into Butcher Bob's shop or bought her new hat, and you need to make people who aren't your customers wish they were." - Gary Vaynerchuk
With social media, you now have the tools to do that. Develop a strategy that uses customer loyalty to increase the reach of your company.
Turn your customers into promoters. Consider setting up a referral system. Who wouldn't love a free year of service or some incentive? They are already talking about how great your company is.
Value of Getting Every Franchisee to Buy in to Inbound Marketing
Whether you have 4000 or 100 locations, it's important to have every franchisee onboard.
The same concept applies to the executive team of a company. It's not going to run smoothly if everyone doesn't believe in the methodology and that inbound can deliver 54% more leads into the marketing funnel than traditional outbound leads.
The goal should be to improve the overall success of the franchise by increasing the reach and communities of each location. The best way, is for the franchise to educate their franchisees. At first, not every one will be on board with implementing inbound marketing. Develop webinars just for your franchisees. Let them know that you're their for them. Always be in constant communication with them. It's important to be receptive of their feedback. If one franchisee has an issue or concern, others might as well. You don't want to say, here, start implementing inbound marketing. Provide them with the necessary tools and education to get them up and running.
As a franchise, you have competitors with similar products and services just around the corner. Based on your location, your competitors can be closer than you think. Sometimes, right across the street. You need to stand out from the crowd by creating remarkable and relevant content that fits the needs and wants of your audience. Use inbound marketing to appeal to their interests.
Inbound marketing will help your franchise attract, educate, and delight potential and current customers.