Subscribe
Join 40,000+ sales and marketing pros who receive our weekly newsletter.
Get the most relevant, actionable digital sales and marketing insights you need to make smarter decisions faster... all in under five minutes.
Thanks, stay tuned for our upcoming edition.
Starting a Business Blog? Features and Best Practices for Success in 2022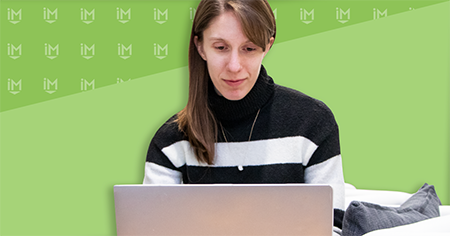 Why Your Business Needs A Blog
A blog is as essential to marketing a business today as the Yellow Pages were in the twentieth century. Your business blog is a marketing channel that can help you optimize for search engines, increase website traffic, build awareness, educate your audience, and more.
My first introduction to blogging was reading content on LiveJournal and eBlogger in middle school.
At the time, a "business blog" wasn't even a thought. Blogs were territory reserved for niche interests like anime and knitting. But when I joined the content marketing industry almost a decade ago, the world had become a very different place.
Starting a business blog was one of the first to-dos when it came to developing a marketing strategy, and it still is today.
Having this space to share guidance, educate your audience on your product, service, or industry, and answer questions is as essential to getting found by your target audience as the Yellow Pages once were. And if you haven't adopted the practice yet, you may be at a serious disadvantage to your competitors.
It's never too late to get started, though. But where exactly do you begin? What does your blog need to look like? What do you need to write about?
In this article, I've put together everything you need to know to make up for lost time and start a business blog off on the right foot. In it, I'll share:
The biggest benefits of blogging for business
Powerful blogging statistics to understand the landscape
The features of a great business blog design
Best practices for writing blog posts and content marketing
Benefits of starting a business blog
There is no shortage of business blogs on the internet today. So why have so many marketers and organizations embraced this digital marketing strategy? Because it comes with a host of benefits.
Building brand awareness (and generate website traffic)
First and foremost, content marketing and business blogging are about search engine optimization (SEO).
Buyers have changed. Google reports that 59% of shoppers say they use Google to research a purchase they plan to make in-store or online.
They no longer want to walk into stores or pick up the phone to chat with a salesperson to learn more about a product or service. Instead, they turn to search engines to discover these things on their own and at their own convenience.
As you start to write for your website, each new blog post becomes a web page you can optimize for specific questions and concerns. In turn, each piece of content provides an opportunity to rank in search engines and get found by potential customers.
This way, not only can you get in front of new people and build your brand awareness, but you can also generate website traffic.
(Of course, this all also depends on following SEO best practices, but more on that later.)
Keeping your website relevant
A big factor in ranking in search engines, namely Google, is being timely and relevant.
Google wants to deliver the best possible answer to its users' questions, and it assumes that an answer that was supplied recently will be more accurate and relevant than one from three years ago.
Blogging is a quick and relatively easy way to make updates to your websites. Keeping your content fresh signals to Google that your website and brand are active and offer current resources.
Educating your audience
Speaking of being a resource, blogging is an effective way to publish content that educates your target audience and helps them make more informed purchase decisions (especially when you cover topics like pricing, product comparisons, product reviews, best-of options, and problems – or what we call The Big 5).
This education also helps streamline the marketing and sales process since the people who decide to convert on a form or speak to sales are more likely to be ready to take action.
In fact, 70% of B2B buyers report consuming at least three pieces of content before making a purchase.
Establishing thought leadership and building trust
By publishing high-quality, valuable blog posts, you also help to establish your position as a thought leader in your space.
When you discuss your product, service, or industry candidly and comprehensively, you show that you truly know your stuff. You're an expert in your field, not just someone reciting from a sales brochure.
Sharing this knowledge builds trust with your audience and, in turn, makes them not only want to do business with you, but feel more comfortable doing so.
Features of a great business blog design
Whether you're hunting for a WordPress theme, going custom on another content management system, creating a cumulative learning center in HubSpot, or even brushing up your existing website, there are a handful of features that are essential to achieving success with blogging.
1. Large, high-quality featured images
One great way to make your blog stand out is by including large, high-quality, relevant featured images. Doing this not only grabs the eye, but also helps reinforce the message of your blog content in a different medium.
Relevant images also help break up your content, making it more visually interesting. They also give you another piece of content to optimize and get found in search engines.
2. Quick-summary boxes
Though writing a longer blog post will help you rank higher in search engines, it's not always what users want. Sometimes, a quicker summary is more useful.
Let's look at an example:
Think of the query 'what is content marketing?'
This is a broad question, so most of the search results delivered are comprehensive guides, giving you everything you would want to know about the topic.
However, if you're someone just looking for the definition of content marketing, skimming a long article isn't the preferred option.
This is where summary boxes are really handy. Usually placed toward the beginning of a blog article, these boxes are where you can add in short answers to questions your article elaborates on.
HubSpot does this on their articles, as seen in the example below.
Not only does this make it easier for users to find the information they want, but Google will often use the content in these boxes for featured snippets. This means you show up as the first post on the SERP (search engine results page), setting you up for more click-throughs for your article.
Using quick-summary boxes is not mandatory on all blog articles and will not guarantee a featured snippet, but experimenting with it to see whether or not it improves your article's ranking is certainly a tactic worth trying.
3. Legible text across all devices
Not everyone coming to your website has 20/20 vision, and choosing the wrong font size can create a poor reading experience. It can cause eye strain, especially on small digital screens like a smartphone.
When it comes to body font size, we recommend using one between 17px and 21px, depending on your choice of font.
To determine your headings sizes and gain a more in-depth analysis as to why this all matters, I suggest checking out this article. It dives further into some of the most common font sizes used for header tags, from desktop to mobile.
4. Mobile and speed optimization
Modern buyers are impatient and don't want to wait for websites to load. Test your website's speed using online tools such as webpagetest.org to identify opportunities to reduce load-time. One of the biggest culprits is oversized photos.
Also, with the rapid increase in internet browsing on mobile devices, it's critical that your blog be accessible and optimized for smartphones and tablets.
5. Social share links
The success of your blog depends on how many people actually read it. Making it as easy as possible for readers to share your blog posts to social media platforms is a great way to increase that reach.
Include social share buttons with pre-populated copy to take all the thought out of sharing for users!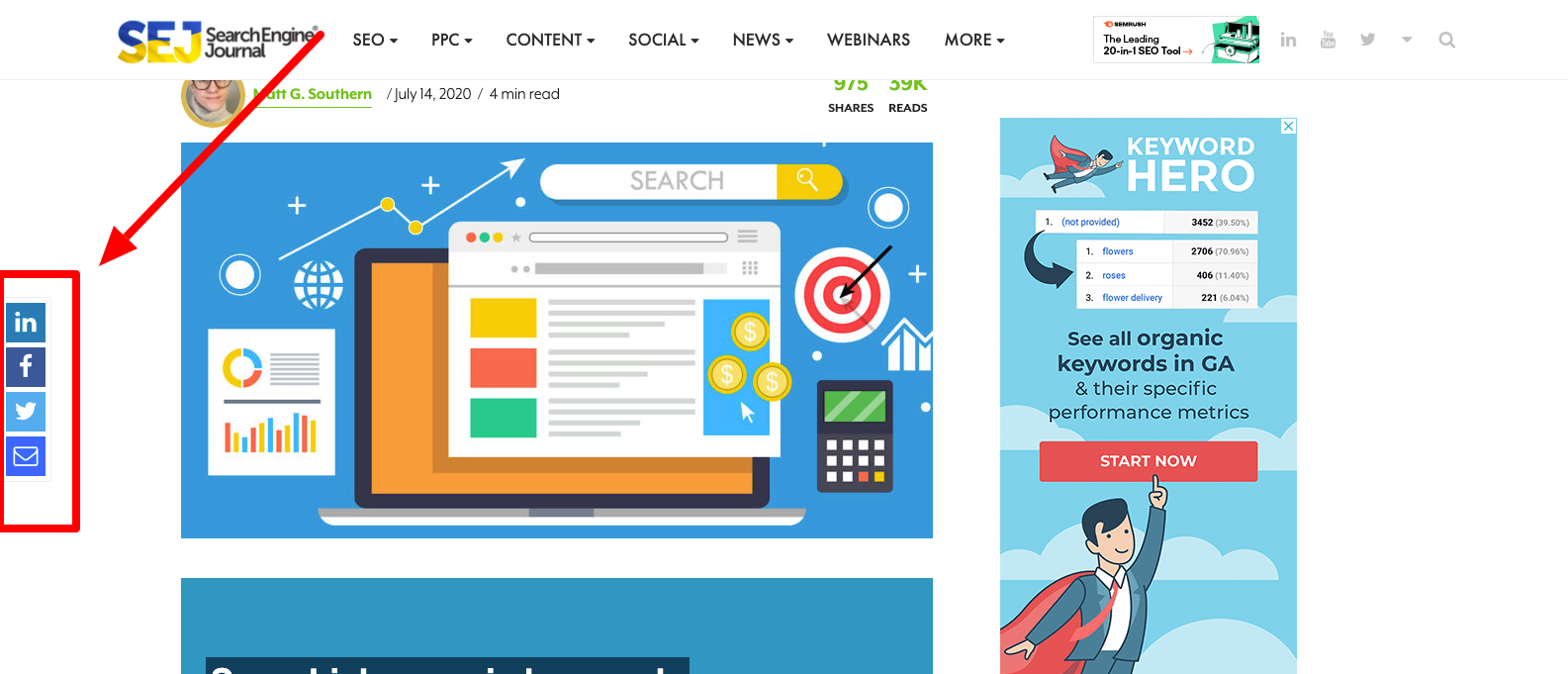 Example of social share buttons on Search Engine Journal's blog
6. Author headshots and bios
People don't buy from businesses; they buy from other people. So introduce them to your team, especially on your blog.
List the authors of your blog posts with their names and a headshot. We'd even recommend you have dedicated author pages so your users are able to know about the writer's credibility. This will help build trust, and humanize your brand. Highlighting your authors can also aid in your Google E-A-T score depending on your subject matter.
A great example of an author page can be seen on Inc., which starts with the author's name and photo and then goes on to show their bio, social handles, and a feed of everything they've written.
7. Related articles
Many of the users who visit your website are on a journey to learn more about a particular topic. Your website should help them advance in that journey.
The best way to do this is by featuring related articles or resources on the same page for them to click next.
One way to do this in your blog layout is periodically placing individual in-line links throughout an article. When doing this, you need to use styling that indicates slight separation from the reading flow.
You can also take the approach of adding related articles to the end of a blog post. This might be more appealing to businesses who would prefer to keep people focused on the article they are reading.
Many publishers (like IMPACT) will combine these two methods, or take it further by including a sidebar of more related articles. It's up to you to determine what's best for your audience and what's technically possible on your website.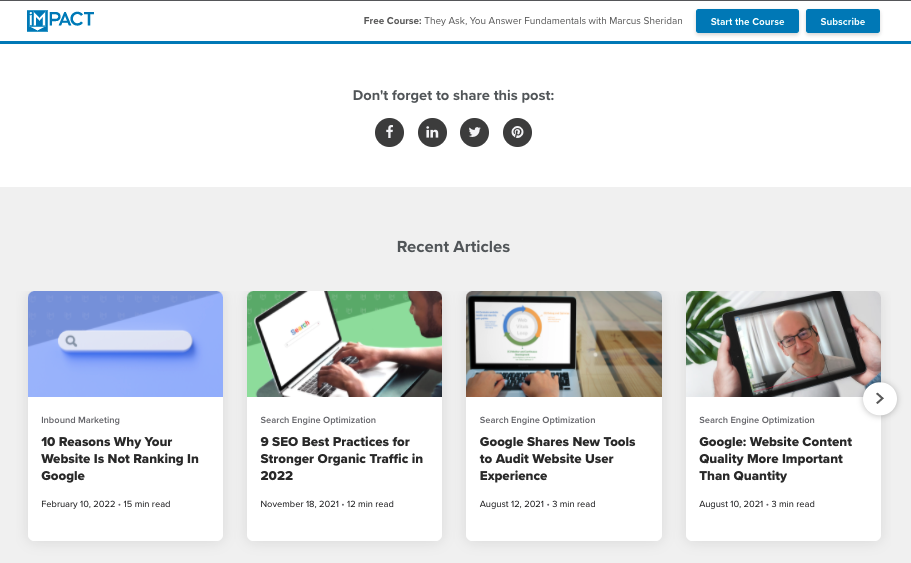 How related articles appear at the end of a page
(along with social share buttons)
8. Easy subscription
What's even better than new readers? Loyal blog readership that comes back to your website again and again, consuming content, and working its way further down the funnel all on its own.
A great way to create more return visitors is by making it easy to subscribe to your blog.
Make the call-to-action to subscribe to your blog easy to spot and always right at hand.
A popular way to do this is by including it in a sticky navigation bar that stays with the user as they scroll.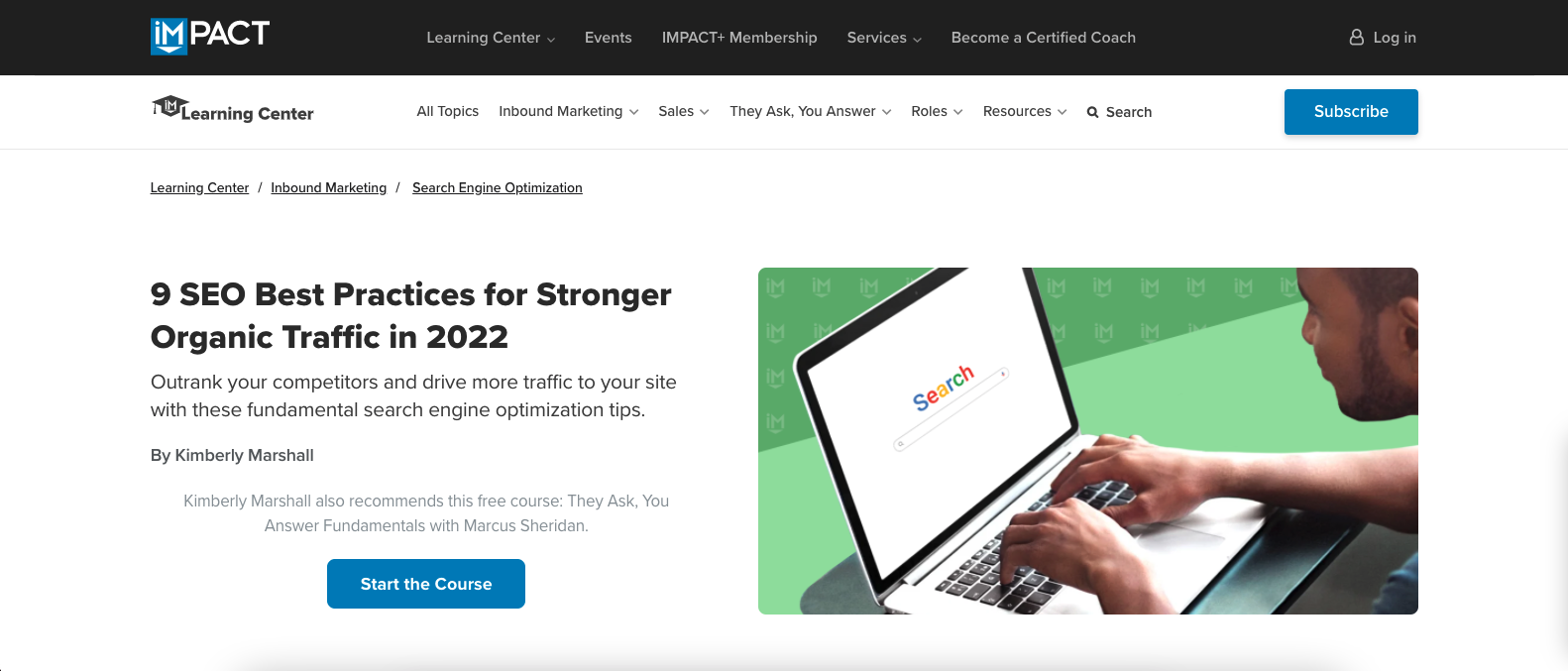 Note the subscribe button in the upper right-hand corner of
IMPACT's navigation
If you want to remove even more friction, consider embedding the form directly in the navigation or in a popup so they can give you their email address and subscribe without ever leaving the page.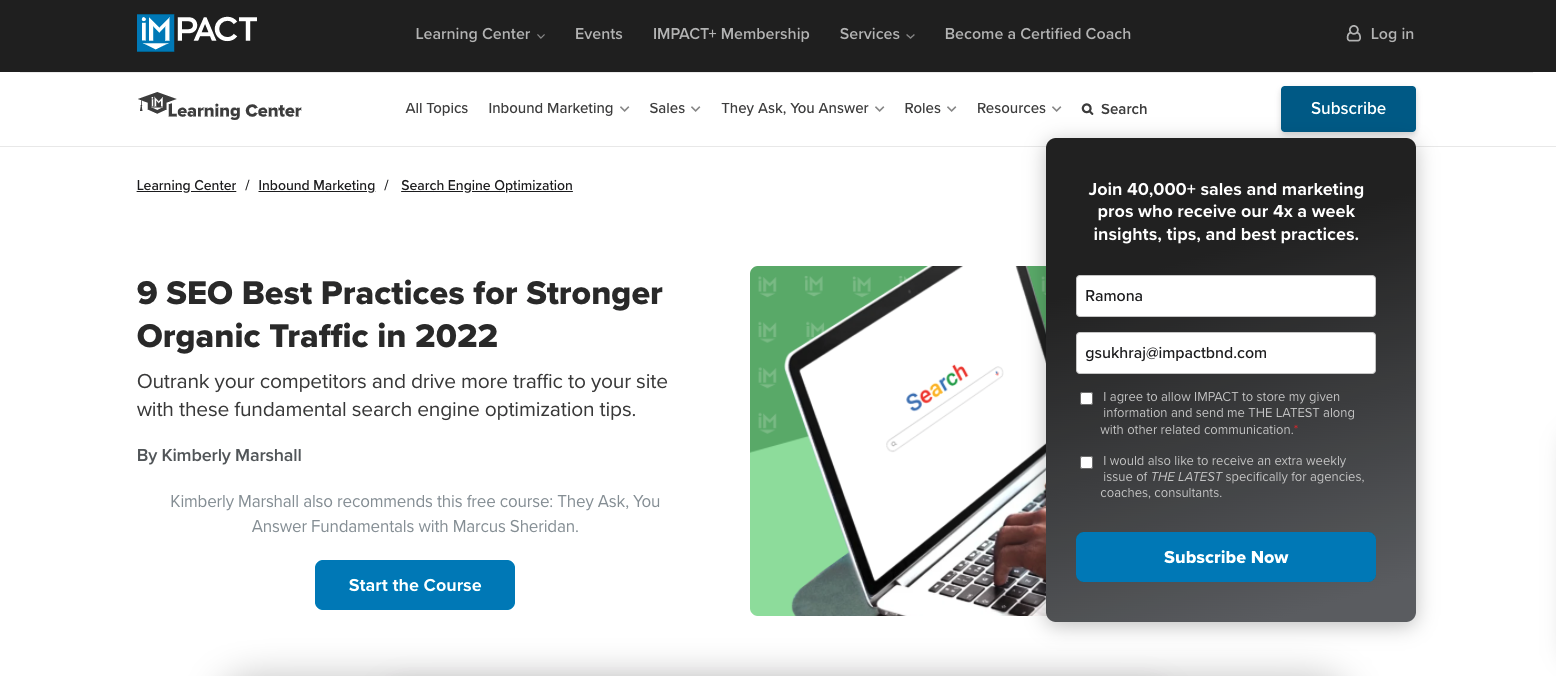 When clicked, the button opens a popup form
Business blogging best practices
With your blog design optimized, it's time to start writing. But what does it take to make sure your content is up to par?
1. Hire a content manager
If you want your business blog and your content marketing to succeed, you need to hire someone to own your entire process and strategy. We call this person a content manager.
Content marketing is a full-time job. Creating and managing content takes time and focus to do effectively and if you just throw it on the already full plate of an existing employee it's likely to be deprioritized or rushed. That's why you need to hire a full-time, in-house content manager.
Not only will your in-house content manager create your editorial calendar and ensure content is published regularly without fail, they will also:
Obsess over creating high-quality content that accurately reflects the true tone and spirit of your brand.
Interview your company's subject matter experts and capture their insights (and your company's unique perspective) and integrate them into your content.
Work directly with the sales team and help them utilize content into the sales process, allowing them to close more deals faster.
Monitor your organic search performance and routinely improve ranking and traffic results.
Update existing content to ensure it remains relevant and effective.
Oversee the other areas of your sales and marketing initiatives wherever content is critical (including your website, email, and social media).
Work across departments and act as a central role between leadership, sales, marketing, and business development.
Ensure everyone in the company is meeting their deadlines for content, including the boss!
2. Put your buyers' questions and concerns first (not your own)
Once you have your content manager, they need to create the right blog content. If they're writing self-serving content, be prepared for it to flop.
Business blogging (like your website), isn't about you. It's about what your audience wants and needs to read to move further down the marketing funnel to buy from you.
Your buyers are focused on their own goals. That's why your business blog should first and foremost deliver informative articles that address their most urgent concerns, questions, and interests — all to help them make the most informed purchase decisions.
This is where The Big 5 we discussed earlier comes into play.
Addressing these topics candidly and comprehensively will help potential customers find you when they're searching for answers and see you as a trustworthy thought leader in the space.
After these first few posts, talk to your sales team to determine what other questions buyers are asking in the sales process. You can also speak to customer service or other customer-facing teammates to get further insight into what audiences need to know about.
From there, you can check out sites like Google Trends, and social media channels like Twitter, LinkedIn, Facebook, and Instagram to see what relevant conversations are taking place.
3. Don't become too promotional
Though the previous point may suggest this, let's not leave any ambiguity: When it comes to content on your business blog, don't be self-promotional.
38% of B2B buyers reported that vendors could improve their content by curbing sales messages.
Modern buyers don't want to be sold to, and they've learned to spot a sales pitch from a mile away. They're looking for facts to help them make the best decision for themselves.
With that in mind, They Ask, You Answer recommends following a 5-to-1 ratio of self-promotion. That means you should refer to the customer and the value your product provides to them five times more than you refer to yourself or your company in your content. This helps maintain a tone of helping, not selling.
4. Optimize for search engines
As we already touched upon, one of the biggest benefits of writing content is getting found in search engines. But unlike Field of Dreams, just because you build the blog doesn't mean people will magically come.
Simply put, no new readers are likely to find your blog if it's not optimized for search engines.
To gain search engine traffic, you must identify a target keyword for each piece of marketing content you produce and ensure it's prominently featured in each title tag, blog post title, and subheader, as well as all alt tags and images. By doing this, you're increasing your opportunity to rank higher in search engines.
The higher you rank, the better. Research shows that results on page two of Google drop to a click-through rate of less than 1%.
5. Publish consistently and frequently
Loyal blog readers like consistency. They like to know when they can expect new content so they can make a habit of returning to your site (if they're not already subscribing).
Similarly, search engines like to see that your content is regularly updated when determining your rank. A successful blog will publish fresh content on a regular basis.
To meet that goal, work with your team to develop a monthly editorial calendar complete with blog topics and publication dates. This will help you keep track of what you need to write and by when. In terms of frequency, at IMPACT, we recommend businesses publish a blog article at least twice a week.
6. Include a next step on every blog post
After someone finishes reading your article, what should they do next? How are you moving them further down the marketing funnel?
The easiest and most direct way to do this is by providing some direction with a call-to-action at the end of the article. Depending on the subject matter, you can direct them to read another article, download a guide, or perhaps even schedule a time to talk to someone on your sales team.
Either way, you want to make sure you don't leave the reader wondering where to go from that article. You can do this by including a banner button linking to a landing page or writing in the text what you recommend.
7. Break up your copy
No matter how much you enjoy reading, your eyes can get exhausted and that's even more true when reading on screens.
This is why the formatting of your blog articles is so important.
Avoid walls of text. Make your content as easy as possible to digest and skim by breaking it up with:
Bolding or italics
Bullet points
Numbered lists
Short paragraphs and headers.
These elements help create visual breaks, guide your reader's eye to the most important information, and also make it easier for search engines to crawl, understand, and rank your pages.
8. Incorporate video and other visual content

When we hear the word blog we usually think of articles, but that doesn't mean you should only include text. Experiment with incorporating video content or other visual mediums like infographics or slide decks.
Visual elements such as videos, images, and GIFs are a fun way to break up your content and keep things interesting — all while making your content easier to grasp.
Build a successful blog to build a successful business
Blogging and content creation are not easy tasks, but they are an essential part of inbound marketing that, if committed to, can deliver traffic, leads, and sales.
To learn more about how to implement several of the best practices we discussed above and get your business blog started on the right foot, check out these resources:
You can also download the guidebook linked below or speak to our specialists who can offer comprehensive business coaching and guidance.
Free Assessment:
How does your sales & marketing measure up?
Take this free, 5-minute assessment and learn what you can start doing today to boost traffic, leads, and sales.