2020 Super Bowl commercials preview: Get ready for weird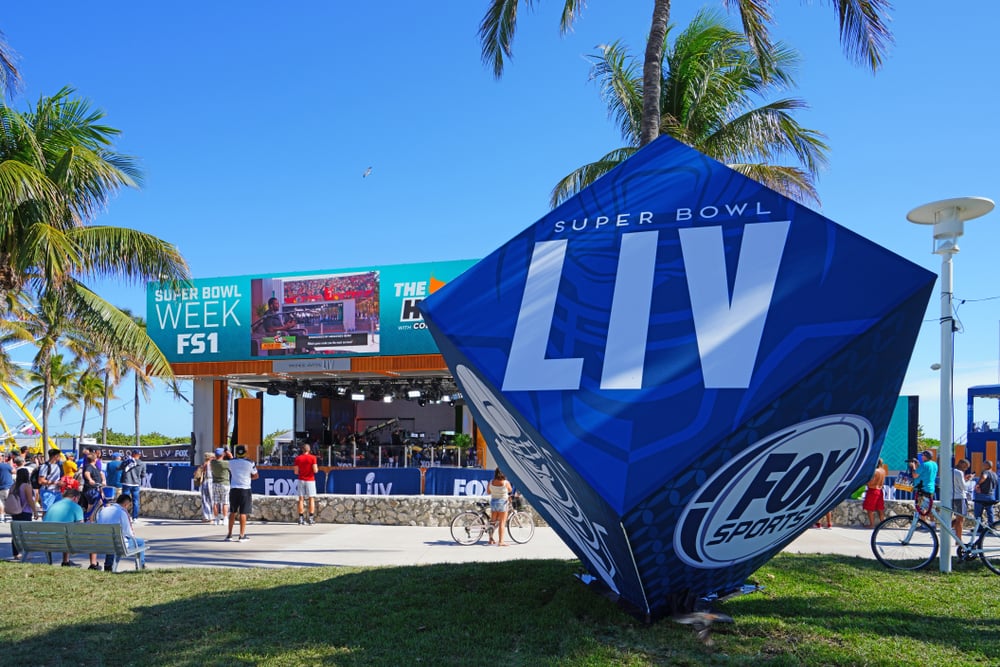 America's largest sporting event is right around the corner. Last year, advertisers spent a whopping $336 million in an attempt to win over customers during Super Bowl commercials.
The advertising frenzy that blooms during Super Sunday helps define the ad trends that will permeate the digital and linear space for the following months. With a $5 million minimum entry fee, the Super Bowl is restricted to the cream of the crop brands with massive marketing budgets.
Here is a preview of the ads coming this Sunday, and a few words on how you can learn a thing or two from marketers targeting the biggest event in America.
The power of Super Bowl ads
In a world where ads are downright ignored or even loathed, Super Bowl ads are a glimmer of hope. A few weeks back, we wrote about the decline of linear advertising. And we made a pretty good argument for switching to digital ads in the face of shrinking viewership numbers.
But the Super Bowl is different.
Surveys show that around 50% of Americans tune into the Super Bowl just to watch the ads. USA Today even hosts an annual Ad Meter to measure viewer response to choose the "best" ads — which typically care a healthy amount of viral popularity post-game.
We bet you remember at least one Super Bowl ad. They're a force of nature.
If surveys are right, around 44 million people will be tuning into Super Bowl Sunday to watch the commercials. That's close to 15% of America's population that will be simultaneously paying careful attention to TV advertisements.
Compare that with your typical YouTube campaign where 82% of people are actively ignoring ads, and the value of Super Bowl advertising speaks for itself.
But even if we tried to quantify that value of an attentive audience that large, we wouldn't get far. There are too many amazing variables involved that prevent anyone from giving any concrete figures.
For starters, the biggest benefit of running Super Bowl ads is obviously the brand lift. If you can afford a Super Bowl ad, people know your brand has reach.
If you can make an engaging Super Bowl ad, people know that your brand has reach AND personality.
Then there are the direct sales that happen post-view. And, you can tack the digital afterlife of the commercials on to that, which blurs the lines between linear programming and digital marketing.
Who can forget Apple's proto-branded 1984 Super Bowl commercial that helped launch them to stardom against the Microsoft goliath?
Who doesn't remember that Old Spice commercial that helped bring strange humor to the ad space?
And who didn't love the Clash of Clans commercial featuring Liam Neeson that reminded marketers of just how commercially powerful apps had really become.
These were all defining moments in the advertising ecosystem.
Here are some of the moments that could end up defining 2020.
Walmart makes a big play for curbside pickup
Believe it or not, Walmart hasn't ever aired a Super Bowl ad before. This will be their first-ever entry into the mega sporting event, and they're busting out the big guns.
The commercial's name (as well as the entire marketing campaign leading up the commercial) is dubbed "Famous Visitors."
So far, we can confirm that characters from Toy Story, The Lego Movie, Flash Gordon, Mars Attacks!, Bill & Ted's Excellent Adventure, Arrival, Guardians of the Galaxy, Blade Runner, Star Trek, Star Wars, and Men in Black will make an appearance.
According to Janey Whiteside, EVP and Walmart Chief Customer Officer, the concept is "much more than just the 60-second commercial." Walmart plans to leverage the ad across multiple social channels. Viewers can tune into social media accounts to "listen closely for the characters transmissions on terrestrial radio stations."
Walmart is already posting videos on their Twitter feed filled with employees gasping in awe at a mysterious overhead visitor.
Something amazing is headed to #GroceryPickup...and Ricky just caught a glimpse. Keep your eyes on the skies… pic.twitter.com/7bJY5JCrVg

— Walmart (@Walmart) January 28, 2020
Characters from the ads will display across TV walls in Walmart locations — helping blend brick-and-mortar with the semi-digital campaign.
Pus, Whiteside promises content during the entire game on the @Walmart Twitter — though we're sure that post-game browsing will be the bulk of their digital traffic.
Walmart isn't the only brand paying big money for faces
As is Super Bowl tradition, brands are packing their ads with stars. If you're going to spend $5 million on a 1-minute block, you may as well dish out another million to have famous people appear in those ads.
Michelob ULTRA is premiering a commercial starring John Cena and Jimmy Fallon.
Doritos is leveraging the newfound success of global superstar Lil Nas X to showcase the "cool" in Cool Ranch.
Little Caesars is using Rain Willson's Office status (which is still the most streamed content on Netflix, by-the-way) to get eyes on their pizzas.
And Poptarts is going big with Johnathan Van Ness from Netflix's smash-hit Queer Eye.
Vayner Media plays with death
Planters peanuts teamed up with Vayner Media to launch a definitively interesting campaign. Over the last week, Planters has killed off its mascot during preview videos leading up to the Super Bowl.
This isn't the first time that a Super Bowl campaign has attempted to play on death. Nationwide infamously aired a commercial about a child dying and never getting to experience life. And, needless to say, it didn't go over well... at all.
But Vayner hopes it can nail the right combination of empathy and hilarity to ensure that the ad works with viewers.
Unfortunately, Vayner isn't in the best spot. Kobe Bryant's unfortunate passing this week has caused Planter to press pause on the campaign for the time being. We aren't sure if it will still air at the Super Bowl, but the social media leadup is at a standstill.
This is tricky. Ads that feature hard-hitting subjects like death (even in a fictional sense) can quickly become abrasive in the wake of current events.
We're not sure how this one will end. Vayner Media may still have a trick up their sleeve. And it will be interesting to see how the brand handles it.
Adult Swim breaks mainstream
Perhaps the most interesting "feature" ad is Pringle's new spot featuring the animation and voices from hit Adult Swim series Rick and Morty.
The international cartoon phenomenon has been so popular for adult cartoon veteran Adult Swim that it's been renewed for an entire decade worth of episodes.
The Rick and Morty fanbase is so passionate that people have rioted at McDonald's during a cross-promotion where McDonald's brought back its Szechuan sauce, which was referenced in an episode.
Due to understocking, people were purchasing packets of sauce on eBay for over $4,000.
For our money, this is smart marketing. The show has an insane level of success, an extremely devoted fanbase, and enough global renown to be instantly recognizable, even if you've never tuned in to an episode.
Plus, it helps that the median age of the Adult Swim audience is 22.9, which is a ripe age for snacking on Pringles on your couch.
SodaStream goes the science route
We're at a period where science has entered the realm of pop culture. The NASA logo is exploding onto clothing, prompting a massive surge of income for the space program, and people like Neil deGrasse Tyson have helped create a post-Sagan science obsession.
SodaStream is looking to move with the momentum by featuring one of science's most popular figures — Bill Nye.
Previews so far have been widely focused on science subjects like the Mars landing, but we fully expect Bill Nye to do some sort of experiment with SodaStream's soda tech. Overall, this commercial may prompt more science-forward ads in the near future.
Mountain Dew keeps it weird
Did you think we were done with weird humor? Think again.
Mountain Dew has always been in this arena. Their 2016 Super Bowl commercial "Puppymonkeybaby" is still considered one of the best of all time, and all signs point towards them going for another weird classic.
Previews for Mountain Dew's new commercial feature Brian Cranston playing various famous horror roles to make a play on zero sugar being "just as good" as the original.
Old is New Again
For Walmart and Doritos, in-the-moment superstars are the key to winning over consumers. But this year, we're seeing weaponized nostalgia.
Remember MC Hammer? Of course you do! That's why Cheetos is sure that you're nostalgia chemicals will be firing full force during their new commercial.
You watched Breakfast Club with Molly Ringwald when you were younger, didn't you? Of course you did! Avocados from Mexico is banking on it.
Were you a connoisseur of the early 2000's hip hop scene? Pepsi is hoping you are. Their new spot features Missy Elliot.
Nostalgia marketing can win your brand plenty of points with consumers. The emotional hook that you're always searching for may be lying deep in the back of people's childhood memories.
So pull up a chair and tune in to the big game. See what marketers have in store for you. They're betting big that their big names and strange humor can drive purchases and spread brand awareness.
It's the one day of the year when everyone loves ads. Let's see what's in store!
Free Assessment:
How does your sales & marketing measure up?
Take this free, 5-minute assessment and learn what you can start doing today to boost traffic, leads, and sales.