Google: 'Here's how to prepare for the future private web'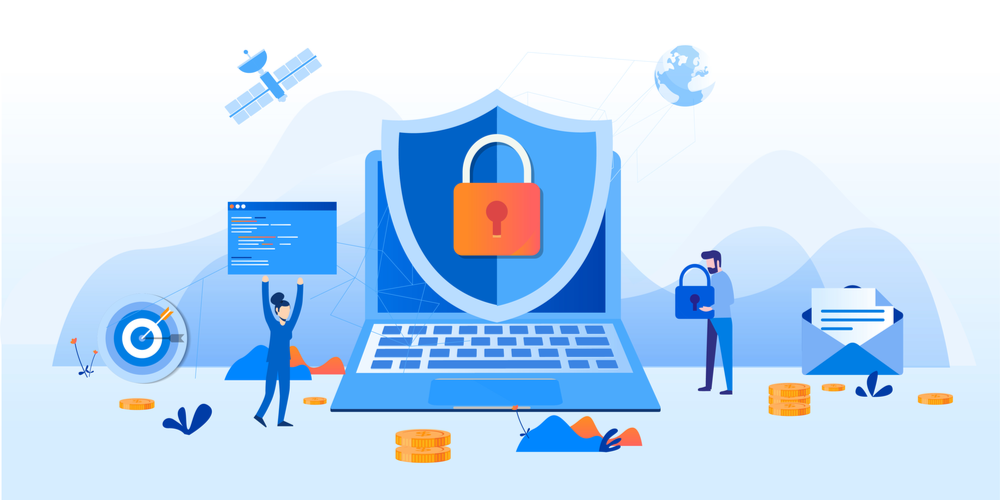 The Google private web story so far ...
Again, I find myself in the dangerous situation of writing about cookies before I've had a chance to eat lunch. Why do I do this to myself, why?
Oh, well, anyway:
If you're in advertising, marketing or, heck, just have a website for your business, there is a good chance you are relying upon cookies for some level of user tracking. Cookies are used to help with ad targeting and delivery, website personalization, and a lot more.
There are two types of cookies – first-party cookies (hosted by the website someone is visiting) and third-party cookies (hosted by a different website than the one someone is visiting). It's important to know the difference because

only third-party cookies are in the crosshairs

.
Google and privacy advocates are not huge fans of third-party cookies, in particular, because they are a bit too effective at harvesting lots and lots of personal data from individuals as they surf the web – much more than most folks even realize.
As part of

Google's Privacy Sandbox Initiative

to create a more open and private web, the powers that be at Google had announced they would block third-party cookies on Google Chrome

by 2023. For the website owners who rely on third-party cookies, this was very big (and very scary) news.
This is, again, why knowing the difference between the types of cookies matters. For example, HubSpot users don't have to worry, because HubSpot tracking is powered by first-party cookies, so the Google Chrome block won't impact it.
On July 15, Google published a short and sweet set of recommendations for website owners on how to embrace this new future of a more private web. These recommendations seem more geared toward shifting someone's mindset, rather than providing concrete, tactical solutions.
How does Google think we should prepare for a more private web?
Ever since the news dropped that Google was pushing the block of third-party cookies on Google Chrome (the world's most popular desktop browser) to 2023 for more "responsible planning," the responses have been mixed:
"While this delay gives advertisers more time to test cookie replacements ahead of deprecation, it also leaves the industry in limbo as replacements and next steps remain largely uncertain. The industry is rudderless in that regard [industry certainty]. To move web standards forward, we need consensus across the board."

Nii A. Ahene, chief strategy officer at Tinuiti (Source: Ad Age)
Limbo is right.
We've been panicking quietly since 2019, when this news was originally announced by Google. And, once again, we are in a holding pattern as Google has kicked the can down the road. To Ahene's point, this is problematic because while we have more time to do testing and find alternatives, no one is really sure what comes next.
🎓 IMPACT+ course: On-page SEO and the user experience
Meanwhile, as data privacy continues to become more of an expectation than a luxury in the minds of consumers, they're stuck having their data harvested by sticky-fingered third-party cookies.
Clearly, Google has been able to sense the digital chaffing around the world. Which, I guess is why they felt the need to publish this 680(ish)-word bit of guidance on how we should all be preparing for the future, where a more private web is a certainty:
"Changing consumer attitudes toward privacy and regulation mean that we have to come up with an alternative to today's practice of tracking people across the web.

"We believe the Privacy Sandbox offers the best path for the industry in the long run, giving businesses the tools they need, while ensuring people get the privacy they want.

"And, keep in mind, advertising providers like Google will do most of the heavy lifting — swapping out third-party cookies with new, privacy-first technologies behind the scenes."
In addition to reiterating much of what they've already told us in the past:
Don't focus on the individual, focus on large groups.
Don't focus on the individual, focus on large groups.
Did we mention don't focus on the individual, focus on large groups?
They highlighted three specific use cases for how new technology will be supporting what is currently handled for ads by third-party cookies: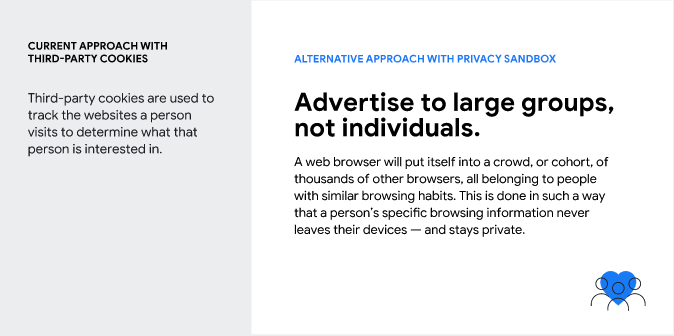 Interest-based ads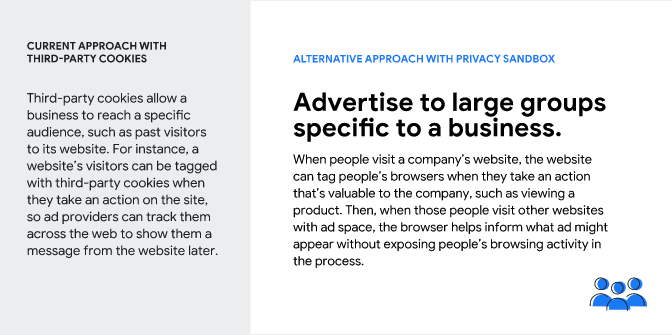 Engage past site visitors
Measure conversions from ads
Where are these new technologies coming from? And how do they get tested? Google says not to worry, they're leading the charge through their Privacy Sandbox Initiative:
"New open-source browser technologies, like the ones being developed in Chrome's Privacy Sandbox, typically go through a few stages before being broadly adopted. Proposals generally start with a public evaluation and experimentation period, when companies can discuss, test, and provide feedback to build confidence and demonstrate the effectiveness of an approach."
Again, much of what is included in this statement is not new information. Quite frankly, it seems like they're reframing much of what they've already shared in previous announcements (and all over their PSI website) because ... well, maybe they're not sure everyone is hearing what they've been saying all along?
🎓 IMPACT+ course: Investing in your business website's user experience
Even so, Google says (once more with feeling) that website owners and publishers who rely on third-party cookies need to start looking for first-party solutions that will serve as replacements.
More importantly, they should not expect those replacements to provide the same level of individual website visitor data as before – anonymity is going to become the new standard. We've seen it already with the Apple Mail announcement, but this is the new digital norm we, as marketers and advertisers, must accept.
So, what should you do now?
If you're still wishin' and hopin' and thinkin' and prayin' that you'll be able to avoid ever having to live in a world without third-party cookie-like data about your users, it's time to let that go.
Instead, I'll share what I've said previously:
And, of course, we'll continue to keep you updated as the story develops.
Free: Assessment
Does your website build trust with buyers and bring in revenue?
Take this free 6 question assessment and learn how your website can start living up to its potential.