Google: 'zero-click search' claims and data 'misleading'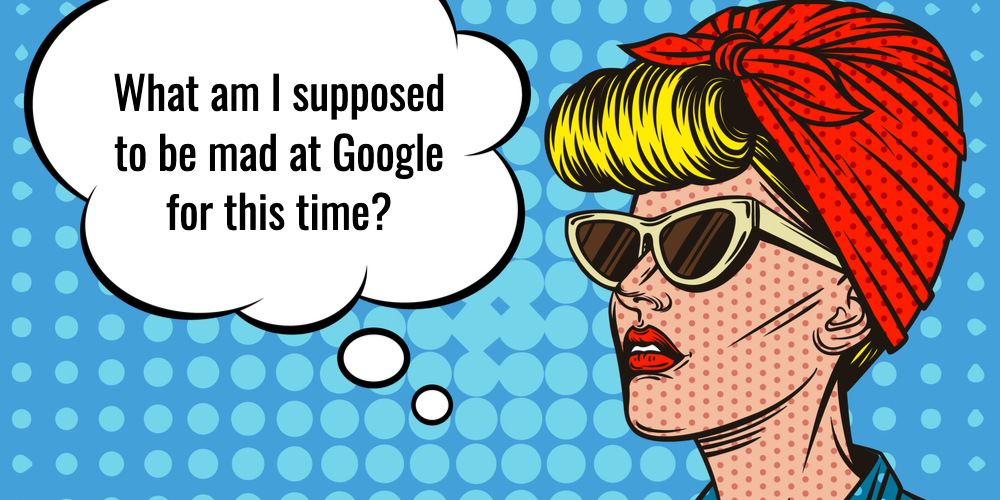 In case you missed it, the search engine optimization (SEO) world has been a-buzzin' over some big news the past couple of weeks, and here's the short version:
Rand Fishkin of SparkToro made some huge waves by reporting on data that shows ~46% of desktop search traffic and ~78% of mobile search traffic (aggregate ~65%) now end in what's called a zero-click search – meaning the searcher never ends up on a website, because Google gives them the answer right on the search engine results page. People freaked.
Google has since shot back saying that, without context of what those zero-click searches are, the figures presented are grossly "misleading" to those who are worried that the data is proof Google is trying to steal traffic from publishers.
"Wait, what the heck is going on?"
OK, if you're new to this story – or found yourself going, "I know maybe 58% of the words she's saying" to the above recap – let's talk about how we got here, and whether or not we should be mad at Google.
I remember when featured snippets first hit the scene, marketers (myself included) were excited and... a little hesitant.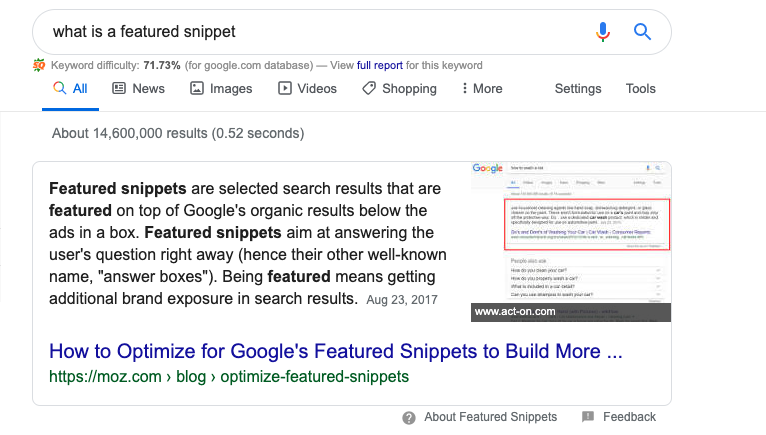 On the one hand, for the right search term, landing a featured snippet could be a big win, as it will capture the most eyes and click-throughs. On the other hand, depending on what the featured snippet is, you could end up losing website traffic to what's called a "zero-click" search.
What is a zero-click search?
A zero-click search is where the answer a searcher is looking for is found within a search engine results page (SERP) without having to click through to a website for more information: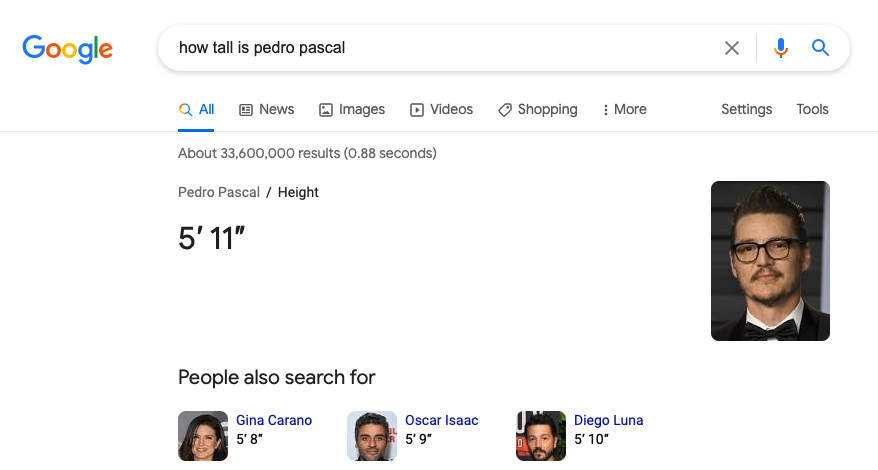 Information that is relevant to my interests.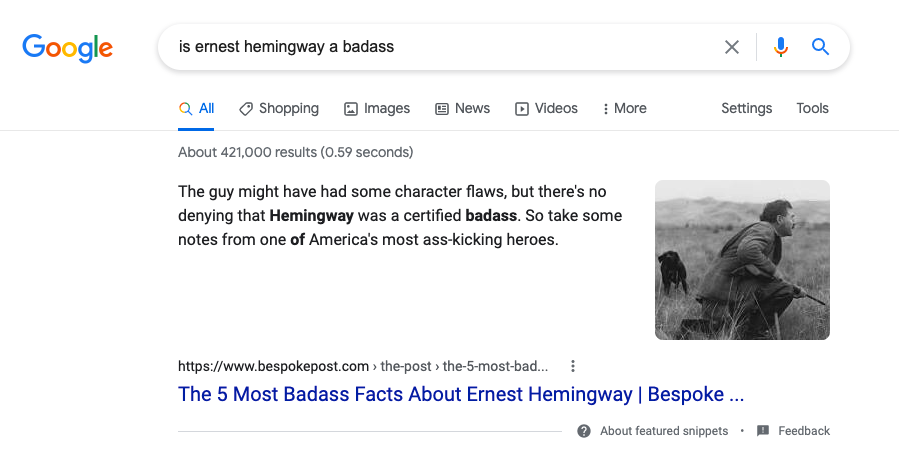 The more you know.💫
For searchers, this is fantastic, right? You don't need to follow Google to a second location in order to find out how tall my boyfriend is or if Ernest Hemingway is a badass. (Although I would hope you would just know about the latter, rather than having to search for that answer, but whatever...)
Of course, not everyone is happy about zero-click searches.
Why some don't like zero-click searches
Why do we create revenue-generating content optimized for search? Because we want to increase qualified organic traffic to our websites. That's the whole point of this content marketing thing, right? Otherwise, what's the point?
So, while a few zero-click searches here and there won't have a massive impact on our traffic-driving strategies, a large scale of those searches will. Because the more people aren't clicking through to a website from a search result in Google, the fewer hits we'll receive on our websites.
Put another way, if Google's the winner in these zero-click searches, someone has to be the loser. And, depending on what that zero-click search was for, that loser might be you.
Why does this matter? Well, according to research published by Rand Fishkin of SparkToro late last month, the volume of zero-click searches is growing across all devices:
As of August 2019, 50.33% of all Google searches ended without a click
Then, from January to December 2020, that stat shot up to 64.82%
When you break down the data to take into account desktop vs. mobile searching, the picture becomes more stark. Desktop searches ending on zero-click searches clocks in around 46.48%.
And then there's mobile...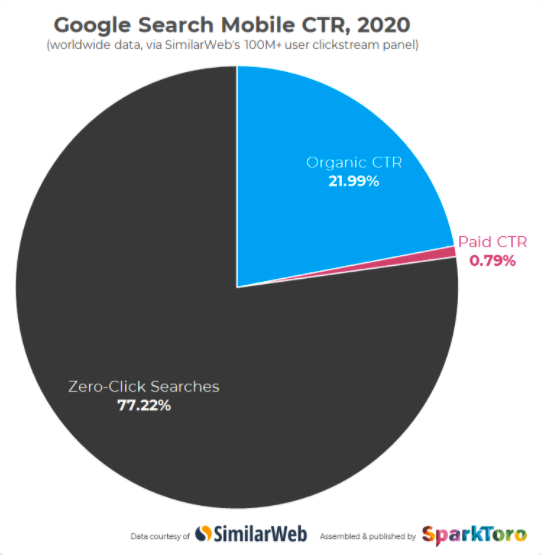 Source: Sparktoro
Yeah, you're reading that correctly. According to the SparkToro folks, almost 78% of mobile searches on Google end in a zero-click.
As Fishkin noted alongside this data:
"Scholars, economists, technologists, and hopefully a few folks in the antitrust world will likely draw their own conclusions about this data, and while I have strong opinions on the matter, I'll let the numbers speak for themselves in this post."
Moderate shots fired there, I suppose.
In related analysis, George Nguyen of Search Engine Land noted:
"By displaying ads or its own products, Google can extract value from zero-click searches, while other sites might not. This can be especially troublesome considering Google sources much of the content that appears on its results pages from publishers, and as the proportion of zero-click searches increase, publishers may be losing out on traffic."
And when you further contextualize this data within last year's news that the United States Department of Justice is going after the search engine giant for anticompetitive practices...
"Google is a monopoly under traditional antitrust principles and must be stopped." – U.S. Associate Deputy Attorney General Ryan Shores
...you can see why folks aren't really inclined to believe that zero-click searches (and their subsequent rise) are anything but another move by Google to increase overall dominance and advance its interests.
But is the methodology behind the data flawed?
Some say yes, with a particular focus on the fact that the data presented by Fishkin and the SparkToro team doesn't have any context. For example, all of the queries are weighted equally, in terms of importance, but maybe they shouldn't be.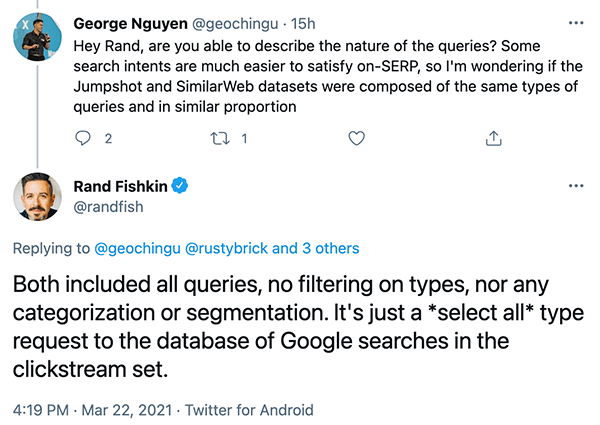 Source / Search Engine Roundtable
Let's say you're searching for the phone number of a restaurant, so you can call and make a reservation. While a zero-click search to get that number means the restaurant loses a website hit, they still get the reservation and (ultimately) your business... which is what really matters, right?
🎓 IMPACT+ course: Investing in incredible digital sales and marketing results
And, to take it a step further, losing a hit to a contact phone number vs. losing a hit to a more qualified visitor in a different context for a different type of business (e.g., a potential buyer for an inbound marketing agency) – which we don't know is happening – is a much, much different story.
Google shot back, saying the data is misleading
Of course, the team at Google wasn't going to let this narrative go without some sort of pushback. So, tapping into their inner Big Lebowski, Google released their own "this aggression will not stand, man" statement:
"...this claim relies on flawed methodology that misunderstands how people use Search. In reality, Google Search sends billions of clicks to websites every day, and we've sent more traffic to the open web every year since Google was first created. And beyond just traffic, we also connect people with businesses in a wide variety of ways through Search, such as enabling a phone call to a business."
Here are some of the clarifications provided:
A "zero-click" search also includes instances where someone searches for something, sees the results, and realizes they need to reword their search. For example, I may first search for a "mid century modern lamp" and then realize I need to further refine it to "mid century modern floor lamp." And then that secondary search leads to a click.
According to Google, "People look for quick, factual information, like weather forecasts, sports scores, currency conversions, the time in different locations and more. As many search engines do, we provide this information directly on the results page, drawing from licensing agreements or tools we've developed." Again, not another loss really for publishers.
Going back to my example of a restaurant's phone number, basic business information searches (in many cases) likely still result in a business earning the money of a customer. For example, I ended up at IKEA a couple weekends ago after searching for their store hours – I didn't land on their website from that search, but they still took my hard-earned dollars for a hallway organizer I purchased.
Another large segment of these "zero-click" searches, Google says, now end up on apps rather than websites. For example, I ended up watching Chinatown as part of my Easter celebration activities. How did I do that? I searched for Chinatown, clicked on the Amazon app, and saw that it was available for free for Prime members. Then I fired it up on my TV.
In short, Google isn't saying those numbers are inaccurate on their face. Rather, they're pointing out the fact that simply implying that Google is stealing up to 78% of website traffic from publishers with zero-click searches is misleading without understanding what most of those zero-click searches are.
Who's right, Google or SparkToro?
Whenever I come across a true "he-said-she-said"-style argument in the wild, I tend to lean on my mom's advice from my early teenage years, when I'd get into similarly overwrought, tear-streaked (usually boy-based) debacles:
The truth is somewhere in the middle.
Yes, the provenance and the context of what those zero-click searches truly represent in the data Fishkin are murky, at best. (To be fair, this is a point he conceded, although he noted some concerns around the ability to accurately categorize the data.)
From first-hand experience, I've found myself getting the information I need without a single click-through. But the vast majority of those instances are things like currency conversions, language translations, business information (that resulted in a transaction), how many days until Christmas, and so on. And I doubt I'm alone in that.
🎓 IMPACT+ course: On-page SEO and the user experience
However, it's also true that featured snippets and other zero-click searches are, in some cases, taking the place of click-throughs that would have previously netted publishers site visits. This is going to happen, because Google will always look after Google first, under the mantle of providing the best experience to its end users.
Bottom line, you still need to earn your clicks, people. And you can't count on Google to prioritize your goals and needs. Unless you're paying for Google Ads, you are not their target customer – your ideal buyers doing the searching are.
That means whatever changes Google makes are to satisfy them, not you. And that's how it's always going to be.
So, if you happen to see your traffic is dipping due to zero-click search losses, you need to ask yourself a few questions:
Is it a vanity loss, rather than a real loss? Meaning, were those worthless, throwaway searches that don't really result in a sale, so you're just weeding out otherwise disqualified traffic?
Is the loss to your business from a traffic perspective still a net gain? Meaning, are you seeing a drop in traffic to contact information pages, but you're still getting the phone call that results in the demo, the sales appointment, or the reservation at your restaurant?
Are you still getting the organic traffic to the places and pages that count on your website?
Are any of your zero-click search losses also translating into a loss in revenue or a dwindling of your sales pipeline?
Remember, in the world of data analysis, context is king.
So, whether you're consuming reports like the one shared by SparkToro or looking at your own HubSpot reporting dashboards and Google Analytics reports, don't resort to shouting "The sky is falling!" without doing some digging first.
Free: Assessment
Does your website build trust with buyers and bring in revenue?
Take this free 6 question assessment and learn how your website can start living up to its potential.