INBOUND 2021 Recap: Takeaways, Speakers, and Lessons Learned
HubSpot's marquee event, INBOUND, was virtual once again this year. Here are some hot takes, impressions, and lessons learned.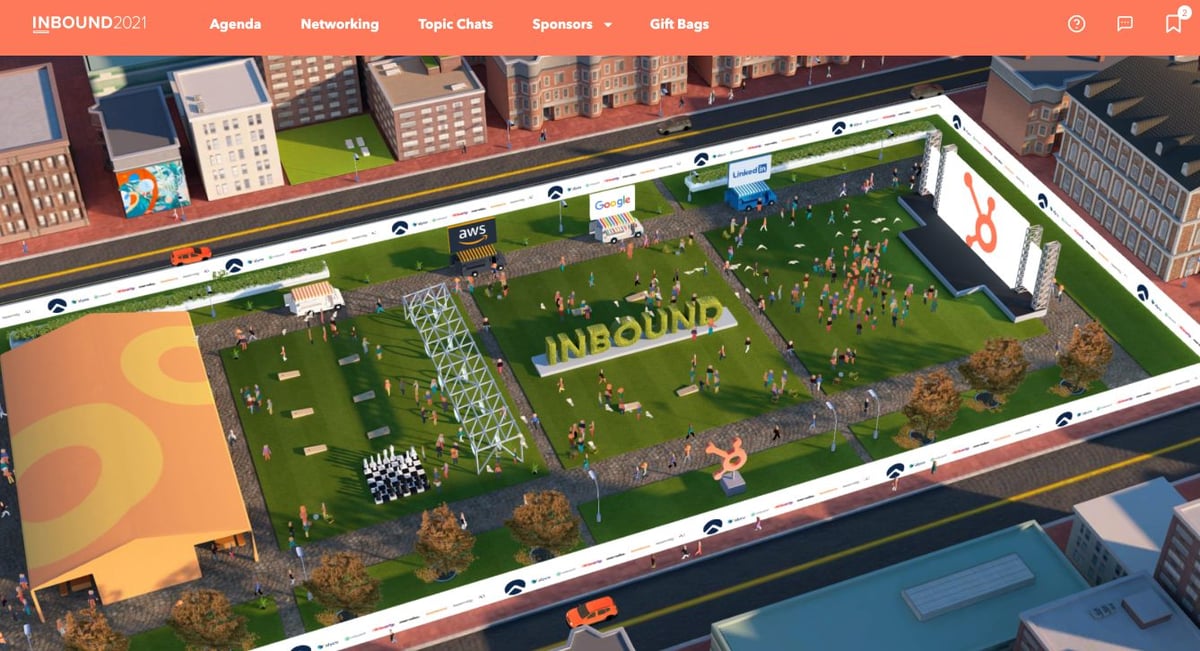 Last fall, HubSpot announced that its marquee event, INBOUND, would be virtual. No one was shocked, of course, but many were dismayed.
For years, INBOUND had offered an incredibly immersive experience for attendees — something between a grown-up playground and a fever dream — along with world-class celebrity speakers and industry luminaries offering keynotes, workshops, AMAs, product announcements, demonstrations, and more.
To get an idea of what INBOUND was like, check out this sizzle reel from the before-times (that is, 2019), when masks and sanitizer were not the mainstays they are today:
Now, as the pandemic drags on and event planners exercise an abundance of caution, INBOUND 21 was once again a virtual event, taking place over three days in October, attended by fans and partners from around the world.
So, how did INBOUND 21 measure up? What were the biggest takeaways?
If you weren't able to attend this year, below we'll cover some highlights:
HubSpot's event platform
Best sessions
Biggest takeaways from the IMPACT team
INBOUND 2021's platform and features: Highlights and lowlights
Platforms used for a major events attended by thousands of people need to be robust, intuitive, and fun. Now that HubSpot had one virtual INBOUND under its belt, how did the platform perform this time around?
The sessions: video, chat, and Q&A
The INBOUND 21 event platform allowed for both live and pre-recorded sessions that featured live chat and a Q&A feature with upvoting. In my experience, the live chat was mostly filled with people shouting out their location (Anyone else here from Nebraska?) or complaining about tech issues (Still buffering for me in Florida!).
Because the speakers could not see the chat, it made for a passing-notes-in-the-back-of-class feeling. Some comments were more along the lines of "Wow, this guy must drink a lot of coffee!" and didn't add much to the experience.
But the Q&A feature was cool. Users could write in questions that would get upvoted so they rose in prominence.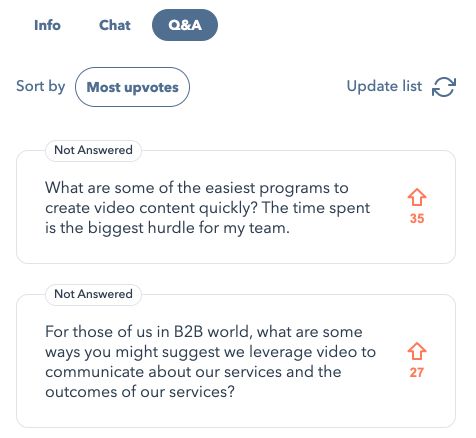 Each speaker or moderator seemed to be watching the Q&A section, which felt more meaningfully interactive than the chat. However, the speakers didn't seem able to sort the Q&A, so they were only able to see the most recent question, not the most upvoted question, much to the annoyance of attendees.
Stephanie Baiocchi is a veteran virtual event planner — and has attended INBOUND eight times before this year.
She was disappointed to find that, in her opinion, INBOUND 21 was not as good as last year's.
In 2020, there were more than 200 speakers, the sheer volume of which was too much for some attendees. "Last year was overwhelming," Stephanie says. "I felt paralyzed by choice. This year, there were fewer speakers, but they weren't necessarily better speakers, and the tech didn't deliver, and video quality wasn't there."
Everything else
It wasn't just the session features that were underwhelming. Networking and meetups were frustrating as well. Says Stephanie, "A lot of people left the platform to use Zoom or Bevy to meet, and Twitter to chat and comment."
Gamification options were confusing, and other features were lacking.
"HubSpot made updates to the platform they used in 2020, but they weren't improvements. It just seemed less intuitive this year."
Still, despite the shortcomings, this was INBOUND — and the breadth and depth of content was impressive. For content marketers, this is a place where everyone speaks the same language.
While I certainly felt some of the same frustrations as Stephanie, there were some sessions I really enjoyed, especially the AMAs.
Best INBOUND sessions: AMAs
The AMA sessions (short for "ask me anything") were my personal favorites because they were so richly interactive between the speakers and the audience.
These felt like they fully took advantage of being live, and the platform seemed very well-suited to support this kind of interaction.
Two AMAs on the first day stood out.
Tyler Lessard, Vidyard: AMA: How to maximize video in sales
We're big fans of Vidyard at IMPACT — and we teach clients to use the platform when they reach out to prospects. Tyler brought his usual blend of energy, humor, and insight to his AMA.
A great question from the audience: How can video complement your written content?
Tyler's answer: You don't want to just make a video of you reading a blog. Written and video content each have their strengths, so make sure you're playing to the strengths in each case.
Utilize what video does well in your videos and those videos won't be just a boring reimagining of your written content.
Kevin Indig, Shopify: AMA: SEO, leadership, and career building
I didn't know anything about Kevin before joining this session, but he immediately displayed warmth, knowledge, and empathy — and I was glad I was in attendance.
A great question from the audience: What do you think of HubSpot's recommended pillar structure for organizing content?
Kevin's answer: Pillars are great for organizing content — but they're not the only structure that's useful. Pillars represent an on-demand repository that allow users to click around. But linking content in a sequential way to create a linear learning pathway is equally effective, both for users and for SEO.
Brilliant!
Favorite INBOUND 2021 sessions and biggest takeaways
As the dust settles on another INBOUND, with a closing keynote delivered by Oprah herself, I asked around the (virtual) IMPACT office to see what sessions people really enjoyed and their biggest takeaways from HubSpot's big event.
Here's what they said:
Stephanie Baiocchi, director of membership and events
Favorite session: Email Myths Busted! What's REALLY Working Now! — Jay Schwedelson
"This was my favorite session/speaker last year and it was amazing this year as well. Jay has a way of delivering simple concepts in such an entertaining way. Plus, email is always a fun topic (for me anyway!) and Jay really nails the most important parts of strategy as well as the things we need to stop doing.
One of my favorite parts was when he talked about the 'tactic' of putting FW: or RE: in an email subject line and faking a forward or reply. He said, 'It's not impressive to trick me!' and that's the exact reason I'd been looking for to explain why those tactics are so horrible.
He also had great ideas we can implement and test right away, such as using asterisks around dynamically added personal information in subject lines."
Hannah Woods, account manager
Favorite session: Killer SEO Strategy Through Product Design Methodology — Tony Verre
"I loved this talk because it combined my two biggest passions into one Megazord of a topic. I never would have thought to use Design Thinking to create content, so I was so blown away by the thought. It opened my thinking to other possibilities of being able to use Design Thinking in my various roles here at IMPACT."
Biggest takeaway:
"For me, the biggest takeaway was scraping traditional thinking for bigger, more creative thinking and looking at how seemingly different things can come together and create something where the whole is greater than the sum of its part (i .e., combining Design Thinking and content creation)."

Connor DeLaney, member success manager
Favorite session: The Conversational Case: How to Script the Stories That Sell Ideas — Tamsen Webster
"It took a framework, which she wrote her book on — Finding the Red Thread — and then created a downloadable element that we could fill out throughout the presentation. It made it more interactive, engaging, and applicable to the work we do every day. She was also a fantastic speaker who was fun to listen to, gave great stories (she actually used the framework she was teaching throughout her presentation), and I bought her book during the presentation. It was that good."
Biggest takeaway:
"Three things:
Great speakers will always be great speakers, whether it be virtual or in-person. The people we seek out (Tamsen Webster, Marcus Sheridan, Jay Schwedelson) are always standouts on any stage, and that was shown more than ever this year.
There was a lot more focused content this year at INBOUND. The focus on the new tools like RevOps was a clear focus for them, with less on the basics of using HubSpot, while that was still there.
The expectations of a virtual experience are higher than ever, but still not achievable. Comments were flooded with 'tech issues' and frustrations, which took away from the experience of members who, I guess, had lower expectations or cared more about the content itself."
Allison Melnick, account manager
Favorite session: Designing Inclusive Digital Content — Alisa Smith
"Alisa gave an awesome presentation overviewing the importance of designing/creating inclusive content, what this looks like with actionable tips and real-life examples, and even provided a really helpful chart with key vocabulary and unintended bias."
Biggest takeaway:
"I have three key takeaways:
We must be more inclusive in the content we are creating.
Content is key in the buying process.
Understanding the importance of evolving with customer needs and being advocates for their voice."
Jess Palmeri, HubSpot trainer
Favorite session: Case Study: Making the Big Switch — The Blueprint to Adopting a New CRM Across Your Organization — Frank Loughlin and Kari Fairbanks
"Seeing a real organization deal with the messiness of actually switching over to HubSpot was really cool. It felt authentic. It had tangible takeaways (and a link to a really cool spreadsheet!) so that by the end of the session, you too felt like you could find a way to move a 2000+ person organization off of SalesForce and onto HubSpot!"
Biggest takeaway:
"Rev Opps is an indispensable position at an organization attempting to navigate major change management."
Ramona Sukrahj, senior marketing manager
Favorite session: Designing Inclusive Digital Content — Alisa Smith
"DEI in marketing is a passion of mine and I really enjoyed Alisa's session. Creating inclusive digital content is a comprehensive topic, but as someone decently versed in it, I definitely walked away with insightful and actionable advice that could be implemented into a user experience, community, or content immediately. Having empathy is the first step in inclusion and so many of her tips came back to that. Loved it!"
Biggest takeaway:
"It wasn't a new lesson, but a strong reminder that audiences are changing. They don't look or behave the same way, especially since the emergence of COVID-19, and marketers need to pivot to reach them."
Here's looking at you, '22!
Another year is in the books. I know we all said this last year, but here's hoping that INBOUND 22 will actually be back in person!
If you attended INBOUND this month, what were your thoughts? Were there particular favorite sessions that will have an immediate influence on the way you do your work? Did you find the platform impressive, sufficient, or lacking?
As always, if you're looking for help with HubSpot strategy, inbound marketing, or virtual sales, speak to an IMPACT advisor to see how we can help you get the most out of your HubSpot portal. We help businesses of all types and sizes stand out by connecting with customers and becoming the standard for trustworthiness in their industry.
If you're a marketer who wants the rest of your company to see the inbound vision, a sales leader frustrated by lagging sales numbers, a business leader charting a course, or a marketing agency looking to revolutionize how you work with clients, we can help you. See how it's different with IMPACT.
Free Assessment:
How does your inbound marketing measure up?
Take this free, 5-minute assessment and learn what you can start doing today to boost traffic, leads, and sales.
Get Started
Free Assessment:
How does your inbound marketing measure up?
Take this free, 5-minute assessment and learn what you can start doing today to boost traffic, leads, and sales.