Subscribe
Join 40,000+ sales and marketing pros who receive our weekly newsletter.
Get the most relevant, actionable digital sales and marketing insights you need to make smarter decisions faster... all in under five minutes.
Thanks, stay tuned for our upcoming edition.
Amazon opens its first cashierless grocery store; Will others follow?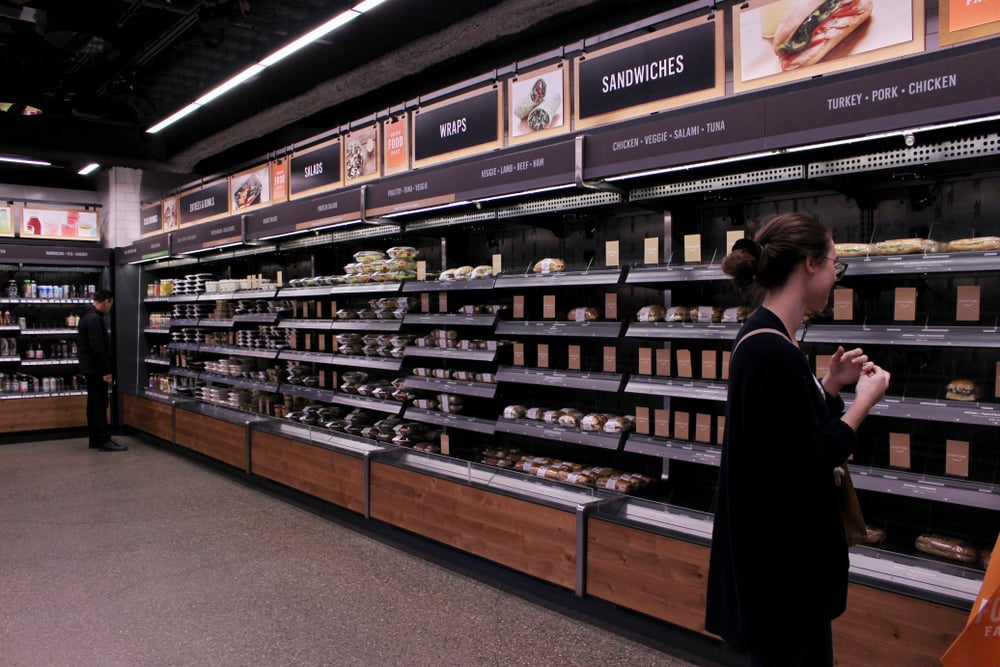 Amazon, already known for being your go-to online retail giant, has officially become a major player in the offline, brick-and-mortar grocery store market.
Over the past several years, Amazon has been opening Amazon Go stores across the United States. These resemble regular convenience stores but are completely cashierless.
These stores have performed so well that the company opened the doors to its 10,400 square foot cashierless Amazon Go Grocery store in Seattle, Washington earlier this week. The store is smaller than the average 30,000 square foot grocery store, but has some unique advantages that could shake up the entire grocery industry.
Expanding from Amazon Go to Amazon Go Grocery
If you've been to Seattle, Chicago, San Francisco, or New York over the past several years you may have seen an Amazon Go store.
The 25 Amazon Go stores offer products like snacks, drinks, grab-and-go sandwiches and salads, candy, over the counter medicines, and any other products you would find at your local convenience store. However, you can pay for your items and walk out of the store without having to wait in a long checkout line.
In October 2019, Amazon confirmed they were testing a much larger scale grocery store that uses the same technology.
This week, Amazon opened the doors to Amazon Go Grocery in Seattle's Capital Hill neighborhood.
How does Amazon Go Grocery work?
The purpose behind Amazon Go Grocery stores is to have the fastest, easiest shopping experience with no lines or a checkout process.
You can find basically everything that you would find at your typical grocery store.
They offer everyday ingredients like fresh produce, quality meats and seafood, local artisan baked goods and cheeses, ready-to-cook meals, and a wide selection of beers, wines and spirits.
Customers need to have downloaded the Amazon Go app and entered their payment information prior to beginning shopping.
Your app will then create a unique QR code that you will scan at a gate that allows you to enter into the shopping area. As you scan your code, the camera at the gate captures what you look like and begins tracking you throughout the store.
Amazon explains exactly how it works once you download the app:
"Our checkout-free shopping experience is made possible by the same types of technologies used in self-driving cars: computer vision, sensor fusion, and deep learning. Just Walk Out technology automatically detects when products are taken from or returned to the shelves and keeps track of them in a virtual cart. When you're done shopping, you can just leave the store. Later, we'll send you a receipt and charge your Amazon account."
What if shoppers pick up multiple pieces of fruit in the produce section to find the freshest piece of fruit? How does the technology know if shoppers take something out of their cart and put it back onto the shelf?"
Amazon reports that its technology has been trained to handle situations exactly like these. This allows shoppers to have the most normal, natural — and futuristic — shopping experience possible.
(Although Amazon claims its technology has been trained to track shopper behaviors, one journalist succeeded in tricking the system with bathroom visits, taking and putting back multiple items, and generally confusing the system.)
With the removal of checkout lines, Amazon Go Grocery employees spend their time greeting customers, restocking shelves, answering customer questions and providing recommendations — all of which provides a great overall experience.
If this model can provide a desirable shopping experience, Amazon will look to quickly expand.
This 10,400 square foot store is likely just the beginning for Amazon's entrance into the grocery store market. An anonymous insider from Amazon told Bloomberg that the company is beginning to develop larger supermarkets that can compete with other full-size grocery stores.
My experience using Amazon's 'Just Walk Out' technology
I visited an Amazon Go store when I was in Seattle last July.
As someone who doesn't even like to call to make a doctor's appointment or place a food order, I was really looking forward to having an experience where I didn't have to interact with anybody to get what I needed. I also have a strong dislike of waiting in long lines to purchase two small items.
When I first walked into the store, there were instructions and a greeter to answer any questions I had. Once I downloaded and set up the Amazon Go app, I scanned my QR code to get through the gate.
Not only was the store incredibly clean, it had a great layout and all of the products were high quality. After browsing for a while, I grabbed my snacks, put them into a bag, and headed for the exit.
It felt as if I was doing something illegal by walking out of the gates without paying a cashier, but a little while later I received my receipt from Amazon.
Although I was initially skeptical of how the technology worked, it turned out to be one of the best and most memorable shopping experiences that I have ever had. If there were Amazon Go or Amazon Go Grocery stores near where I live in Florida, I would definitely do most of my shopping there.
Potential drawbacks to Amazon Go Grocery stores
Although Amazon Go may offer a glimpse of the future, these stores still face real challenges in the world of 2020.
For example, does this shopping experience exclude people without credit cards or smartphones?
Associated Press writer Joseph Pisani states,
"As Amazon and other companies press ahead with cashierless stores, however, they might feel heat from regulators. Lawmakers who are concerned that such retailers may be inhibiting people without credit/debit cards (or an Amazon account) have banned businesses in a number of jurisdictions from refusing cash payments. If more cities and states follow suit, the cashierless future might be a little more uncertain."
The future of Amazon Go Grocery stores
If other customers felt the way I did after my first experience, I can see Amazon Go Grocery stores becoming a success and popping up all over the U.S. within the next several years. It really was the fastest trip I've ever taken to a convenience store.
Behind all the sleek machinery, though, are hidden operating costs.
Sure, Amazon is saving money normally spent on paying retail workers, but what about the R&D costs for technology? It is hard to believe that the cost of paying employees to work in the stores is more expensive than paying to install and maintain the cameras, sensors, and other technology used in these stores.
If this is the future of grocery shopping, Amazon will need to implement this technology at scale in order to compete in a market with thin profit margins.
Some think that Amazon's goal is to sell the Just Walk Out technology to vendors.
Amazon has neither confirmed nor denied these suspicions, but if cashierless stores catch on, Amazon has already built momentum to dominate the marketplace.
Free Assessment:
How does your sales & marketing measure up?
Take this free, 5-minute assessment and learn what you can start doing today to boost traffic, leads, and sales.