5 tips for building a world-class remote marketing team in 2020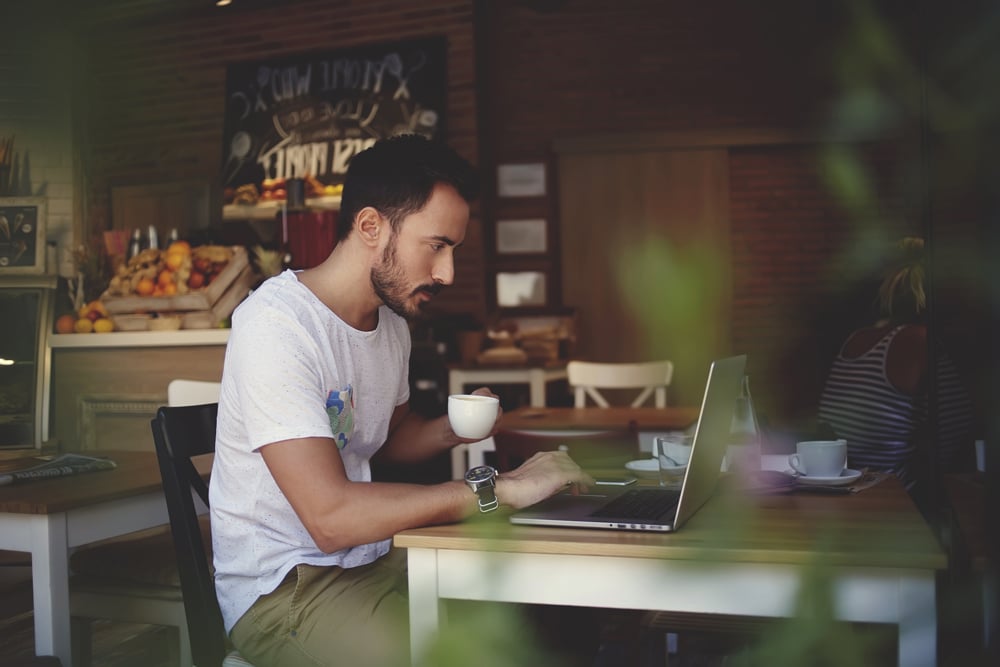 Marketing is a highly specialized discipline that requires expert knowledge in many different areas.
Also, as global brands need to address regional markets, companies have to tap into the knowledge of local experts to ensure their marketing messages are relevant to the target audience.
Because of these, among other reasons, it's become increasingly challenging to assemble all the talent you need in one physical location.
More organizations are now recognizing the benefits of using a remote marketing team, or a team made up of individuals working out of multiple locations.
Remote workforces allow you to not only access a larger talent pool and harness the knowledge of local experts but also reduce operational overhead costs and improve your bottom line.
Not to mention, top talent is increasingly looking for employment opportunities where they can enjoy the autonomy and flexibility of remote work.
Growth in remote work
An analysis conducted by FlexJobs and Global Workplace Analytics found that over the last five years remote work has grown by 44% in the U.S.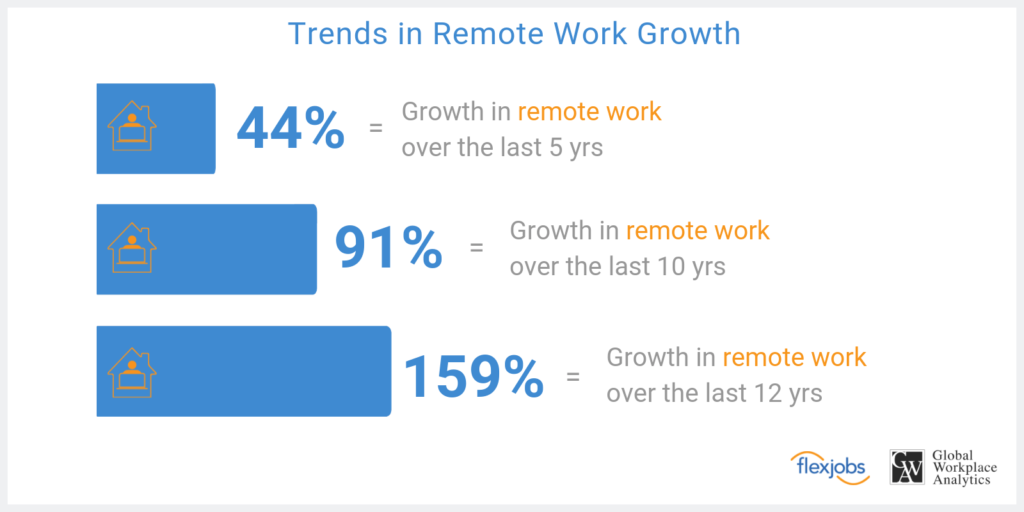 In fact, another survey conducted by the International Workplace Group found that 8% of U.S. workers would turn down a job that didn't offer flexible working, while more than a third say they would rather have a remote work arrangement than a more prestigious position.
It's obvious that the trend in 2020 and beyond will be the continued growth of remote work arrangements.
However, running a remote marketing team isn't without its unique challenges since marketing is a highly collaborative discipline.
Some talented marketers aren't cut out to perform at their best in a virtual team environment while the differences in time zones, locations, and cultural backgrounds can create barriers that lead to miscommunications, errors, and delays.
Thankfully, there are many tools you can use and strategies you can implement to build a world-class remote marketing team and optimize its performance.
Identifying talent that prospers remotely, sharing company culture with those team members, and creating collaboration protocols are some of the keys.
Let's dive deeper into those points.
1. Hiring the right people
To find success with a world-class remote marketing team, you must first find the right people.
Highly productive marketing teams need an in-depth understanding of your target customer personas, as well as the technical proficiency of communicating to those personas in a way that generates engagement and sales.
However, when going remote, you must also look for personality traits shown to be highly productive in a virtual environment.
These include self-management, communication skills, organization skills, time-management skills, as well as the ability to work autonomously and make decisions independently.
This is especially important for remote marketing team members who may be given a set of tasks that are critical to have completed in a specific timeline so that other team members can start or conclude their work.
Let's say that a remote team member in another part of the world doesn't complete the article that's required to meet a social media promotion deadline and they aren't online during business hours to connect with.
An in-house team member may need to duplicate those efforts or miss the deadline.
Having remote marketing team members that are comfortable working autonomously within deadlines is critical to their success as part of the team.
Not everyone has the ability to work in this way, however.
Conducting in-person or video interviews to evaluate each candidate's personality during your hiring process can help make sure they're a good fit for this time of arrangement.
Use online tests to evaluate their level of self-motivation, and make sure that time zone differences won't negatively impact communication.
One of the best ways to do this is by having one or more days where team members from all time zones meet for an all-hands update.
For my marketing team at ChamberofCommerce.com, this happens at 10AM EST on Tuesdays and Fridays. This way no one is staying up too late or getting up too early to make the meeting.
2. Sharing your company's vision and values
Your company's vision is what it is working towards; what it aspires to be. This ultimately is what shapes your brand's identity and, in turn, its culture.
This should be visible both internally with your team members and externally by your target market.
Each team member needs to share in the same vision so everyone is rowing in the same direction and trying to accomplish the same things.
If your team doesn't understand or is not aligned on where they want to be, you're more likely to end up clashing or miscommunicating.
So, how do you avoid this?
Create and share a mission statement highlighting the organization's long-term goals and educate your team and candidates on your brand identity.
Break your company culture down into the core values you uphold as a business then document and reinforce them to your entire team.
This is especially important for remote marketing team members as they are in charge of communicating your brand and that can be difficult if they aren't physically immersed in your culture every day.
With this in mind, you may need to get creative.
For example:
Welcome remote team members as a group.
This could mean flying new team members to your headquarters or having a group video conference to introduce them face-to-face with the people they will be working with on a daily basis.
This experience helps develop relationships between remote and in-house teams early on and gives you the opportunity to showcase your values and culture personally before getting into the remote routine.
Create communication channels where remote team members are encouraged to get to know each other more personally.
This naturally happens in a traditional work environment where employees gather to discuss current events, latest TV shows, etc but it can be quickly missed when remote.
If you are using a company wide chat tool, like Slack, create a specific channel just for these types of interactions.
Having an informal open communication channels helps remote team members feel connected to the company culture and can be another opportunity to reaffirm the organization's values.
Make an effort to recognize remote team members when they exemplify your values.
This ensures they feel appreciated for their contribution along side in-house co-workers. You can also showcase how their contributions helped further the company's vision.
Overall, you want to empower your team to take proactive initiatives that align with your brand values and business objectives by clearly communicating your company's vision and brand identity during orientation and reinforcing the concepts in your ongoing employee training.
These tips will be important for remote employees in any position, but considering your marketing team is supposed to be the most well-versed in your culture and values, you'll want to go the extra mile with them.
3. Establishing processes and providing guidance
In order to work independently and effectively, remote employees need to understand internal workflows, communication protocols, and other operational procedures – which should be communicated in the onboarding process.
Streamlined processes and clear expectations enable your team to function efficiently with minimal hand holding while ensuring consistent quality in their work and the experience they create for customers.
Marketing teams require close collaboration between different disciplines in order to execute on a campaign.
For instance, for a social media ad campaign to launch, a designer creates the graphics, a copywriter writes the ad copy, a Facebook ad manager creates the ads and segments, and a project manager signs off on the assets and spend.
To accomplish this with remote marketing team members, there needs to be processes in place to ensure the work adheres to a set of standards, timelines, and workflows.
Processes can also help avoid miscommunication, bottlenecks, and delays, which are common pitfalls when employees aren't working in the same office.
Write up all the internal procedures and have the documentation accessible in a centralized, cloud location like Confluence.
These should include things like customer FAQs, brand guidelines, passwords, procedures for creating ads across different channels (e.g. Facebook, Google, etc.) and how-to guides for all tasks the remote team member is in charge of.
Having these basic instructions and resources available better enables remote team members to work independently.
You can also consider using live call coaching tools and scorecards to evaluate employee performance and provide timely feedback to improve outcome.
Once you have them in place, make sure to keep these processes and guidelines up-to-date.
Schedule regular checkpoints, organize virtual meetings, and build a culture of open communication so you can continuously refine the processes to increase efficiency and productivity.
4. Using cloud-based collaboration tools
Imagine having a team member who lives six time zones away and you don't have any visibility into whether or not they've completed a task you need done.
You can't get in touch with them after hours and don't have access to the assets you need to complete the project.
This can stop any initiative right in its track and with how fast-paced marketing is, your team can't afford that.
Cloud-based communication and collaboration tools can help eliminate these issues.
Wrike and Asana, for example, give project managers the ability to assign and set clear deadlines for each team members' tasks and, once completed, the assets and subsequent tasks are assigned to the next team member who is handling them.
This ensures that remote teams don't get left in the dark or left struggling to find the files they need if online at different hours..
(Of course, this only works if everyone on the team is using the tools as instructed and are following the same workflows, but that should've been covered in our last point.)
Now, what if the step wasn't completed? In person, you could just walk up to their desk, but when you're remote, that's not possible.
With online communication tools like Slack or Zoom, you can communicate in real-time to rectify the issue and send and receive files if need be.
Some additional cloud-based applications you should implement include a document sharing platform (like Dropbox or Google Drive) and a password management application (like LastPass).
Using tools like these allows remote and in-house marketing teams to have a shared knowledge base of notes and assets that anyone can access at any time of the day (or night).
This can avoid critical assets not being available when team members are working in significantly different time zones.
On a related note, your remote team needs the proper IT training and support to ensure cybersecurity since they'll be connecting to your systems and accessing customer information using their own networks and equipment.
Given the high cost of data breaches, it's essential that your team has the right resources to ensure the security of their connections and the privacy of their networks.
For example, assist them with the proper VPN set up and help them take the necessary precautions (e.g., use two-factor authentication and secure Wi-Fi) to reinforce end-point security.
5. Measuring success and improving
Besides creating a solid foundation by hiring the right people, using the appropriate tools, and setting up proper workflows, you also need to track the performance of your remote marketing team.
This helps establish a common ground for supervisors and employees to evaluate performance objectively so team members can get the appropriate support and resources to do their jobs well. It is the only way to know definitively if it is accomplishing the goals you need it to.
For your remote marketing team, identify the right KPIs to measure productivity and results (i.e. website traffic, leads, etc), as well as implement a scorecard system and reporting software to keep track of them.
Many of the project management platforms like Wrike or Workfront provide data like burndown rates to show outstanding work that is backlogged by department, team or person.
Other tools like Google Analytics and HubSpot can also show you more specific website oriented metrics and allow you to create custom dashboards for your team's specific needs.
Wrap Up
When your virtual marketing team is equipped to operate efficiently and communicate seamlessly, you can take full advantage of a remote workforce to boost your bottom line.
Use the tips above to make sure that your organization can capitalize on a global workforce and achieve all of its marketing goals in 2020.
Free Assessment:
How does your sales & marketing measure up?
Take this free, 5-minute assessment and learn what you can start doing today to boost traffic, leads, and sales.