Facebook confirms it's testing email marketing for business pages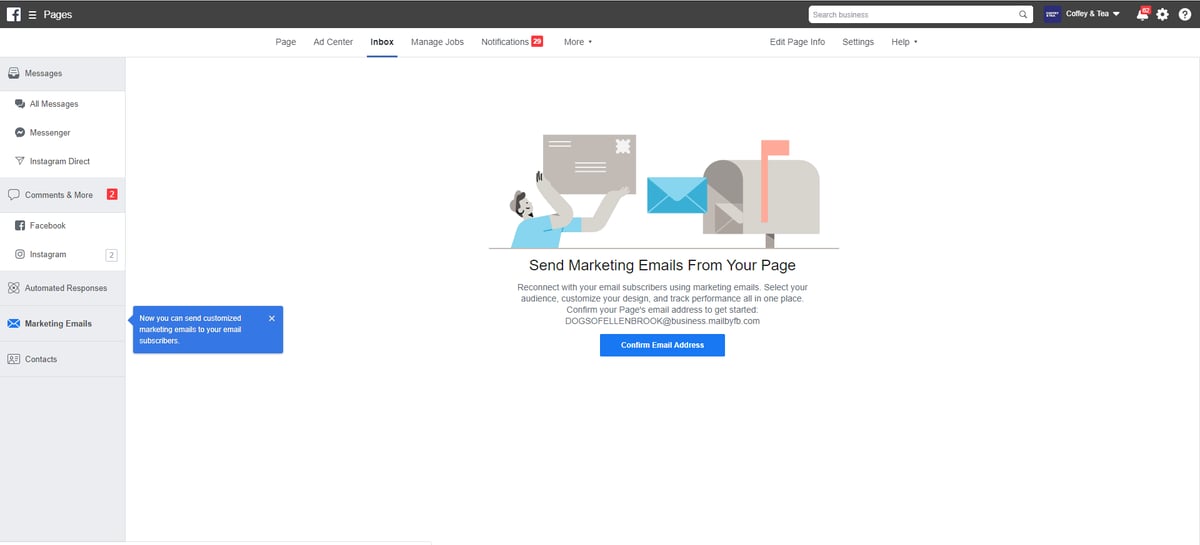 Featured image courtesy of Megan Coffey


Whenever I see a business or brand without a website, my digital fight-or-flight starts to kick in.
I start to question their legitimacy and credibility to deliver on what they promise.
Being a digital marketer, however, I also know great websites don't come easily, so, I try to give them the benefit of the doubt.
Usually, in this instance, that means I'll return to Google and try to find a Facebook page.
If I can't find them there either, well, that's when they've lost me.
Over 160 million small businesses use Facebook and there's a good reason why.
Facebook is a fairly quick and easy way to establish a web presence and get essential information searchable online.
Plus, with nearly three billion daily active users, the platform has a large, engaged audience that brands can reach with their content and connect with that may have never sought them out otherwise.
(With all this in mind, if a business doesn't take the time to even make this page, they're not taking their operations too seriously in my eyes.)
Facebook pages are an essential piece of doing business in the digital age — and they're becoming more robust.
While businesses already have the option to run chatbots, offer check-in promotions, live stream, and host watch parties, among other things, Facebook has confirmed it may soon enable business pages to send marketing emails as well, taking one step closer to being an all-in-one marketing platform.
What we know so far about email marketing on Facebook
On June 1, Coffey & Tea managing director Meg Coffey tweeted screenshots revealing a new tab for "Marketing Email" in her Facebook Business Page Manager sidebar.
Send marketing emails from your page? What new sorcery is this Facebook?!

Have you seen this new feature where we can now send emails directly from Facebook? This is definitely new to me and only available on one account so far. pic.twitter.com/aSIkSx1uDo

— Meg Coffey (@TexanMeg) June 1, 2020
Similar to how you would in other email tools, the screenshots show users will be asked to confirm their own email address before uploading subscribers (individually or via a spreadsheet).
You must also confirm that these contacts have opted in to receiving promotional messages from your brand before proceeding. (+1 for CANSPAM compliance.)
From there, users can then compose their message customizing the subject line, headers, and body copy. It is, however, unclear how much control users will have over design at this time.
On June 3, Facebook confirmed the tests and functionality seen in the screenshots to AdWeek saying:
"We're testing new email marketing tools with a small number of businesses to help them more efficiently notify their customers of changes to their services and operations.

We're evaluating whether these tools are beneficial for people and businesses before deciding whether to expand it further."
What does this mean for the marketing world?
Simply put, if this functionality is rolled out to the general public, comprehensive, omni-channel marketing will be more accessible than ever.
While free email marketing tools have long been available (i.e. HubSpot, MailChimp, and even Zoho), learning a new tool and platform can be intimidating and labor-intensive, especially for smaller operations that are already stretched thin.
With the addition of email, Facebook business pages would be taking a major step forward in being a more all-inclusive marketing tool and platform and frankly, being a big competitor for bigger, paid platforms.
It would also be extending Facebook's reach outside of its own website.
Until now, the platform's external reach was limited to pixels on brand websites that enable retargeting back on the social network. Email marketing would give the tech giant direct access to our inboxes.
This, of course, also comes with lots of privacy and personal data concerns that have yet to be raised, but until the feature rolls out to a larger audience, we may have to wait to have those concerns addressed.
If you'd like to see if you are in the test group: Navigate to the dropdown on the right-hand side of your Facebook screen, hit "manage pages," and select the business page in question.
From there, your "business manager" should open. Click "see all in business settings," the page will reload, and if you have the feature, it will be revealed on your left-hand sidebar.
Free Assessment:
How does your sales & marketing measure up?
Take this free, 5-minute assessment and learn what you can start doing today to boost traffic, leads, and sales.