6 Cool Gadgets to Keep Your Eyes on From CES 2018

At CES 2018, companies from the TV, appliance, artificial intelligence (AI), automotive, and other spaces venture to show off their futuristic products for consumers.
With the increased popularity of voice-controlled products and integrations with smart speakers, many companies came showing off to make sure they beat their own competitors to the voice game.
Meanwhile, car companies hit the floor to show off their new and improved vehicles equipped with self-driving technology and voice assistant. Lyft even announced that "attendees will be able to catch a ride in one of Aptiv's self-driving BMWs when they travel to 1 of 20 preset destinations at CES."
For those looking for a real shocker, Sapphire Gentlemen's Club showed off two stiletto-heeled cyborgs pole dancing and entertaining crowds. (You can't make this stuff up.)
But in all seriousness, CES is a conference consumers and marketers need to pay attention to.
These companies' technological moves are what may fuel your decisions for big purchases in the next 2, 3, 5+ years.
To keep you in the loop, here are six of the most intriguing products that have come out of CES 2018.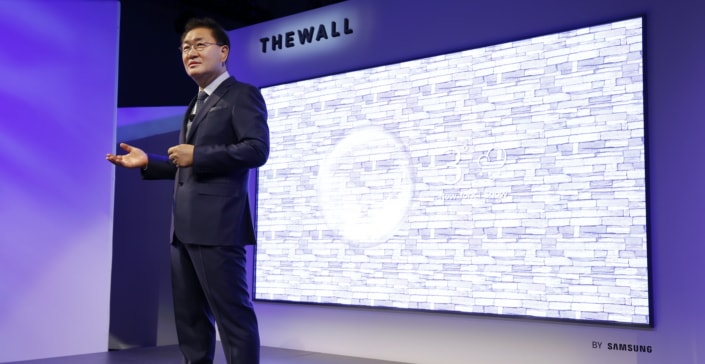 Some people like going big -- buying the biggest car, largest house, and maybe installing the most outrageous swimming pool.
But in this case, we're talking about Samsung's new modular TV called 'The Wall.' This enormous 146-inch diagonal screen was showcased at CES as a modular TV with the idea of customizing your screen size.
But how?
First, it's important to explain that many newer TV screens are OLED which consists of LCD panels with a bunch of LED lights behind them. LCD screens can't produce their own light, thus, they need a backlight to be able to produce a picture.
The Wall is made up of millions of individual modules called MicroLEDs. These are simply tiny LEDs which are placed closely together to create the image you see. This particular technology is what's used to create large scoreboards, but Samsung managed to scale it down for consumer products.
Although Samsung is looking forward to pushing this TV into the consumer market and competing against OLEDs, there are still some issues standing in the way.
OLEDs are still easier and quicker to produce, and the price looks to only go down as processes for creating them continue to improve.
Since it takes millions of MicroLEDs to create a screen, and each is printed 1mm x 1mm spaced from one another, the process of assembling is tedious and requires more expensive machines that can deliver that precision.
Cost is also a concern. Samsung did not release a price, but it's assumed by many it will be significantly more expensive than OLED.
For now, all we can do it watch Samsung and see if they revolutionize the TV's production to make it affordable.
If you've been wondering where the next generation of smart home technology is, then look no further than the Lenovo Smart Display.
This is the first display to be released with Google Assistant built in.
The product uses Google Assistant to provide updates to the news, weather, and traffic, and integrates with your home devices to perform tasks such as YouTube streaming.
Lenovo currently carries 2 different sizes, 8-in and 10-in, with the main difference being screen resolution and color.
This product comes as a direct competitor to the Amazon Echo Show, which is similar in features, but many say Smart Display has the ability to do everything faster.
Imagine waking up, and asking Google to turn your lights on, report your meeting schedule, prepare some coffee, deliver the top news, and maybe eventually, get your car warmed up for you.
Talk about shaving some minute tasks out of your daily life and saving time.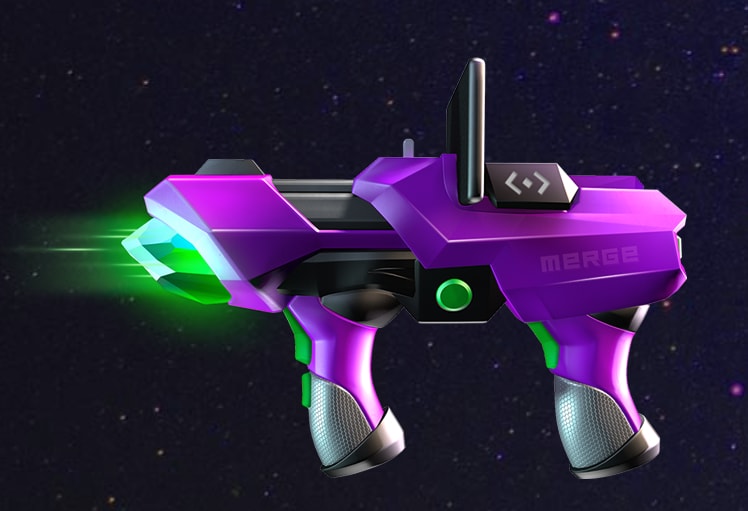 I can't be the only one who thinks some of the strides virtual reality has made in the past year have been pretty intriguing, especially when it comes to the gaming universe.
Many already know of Microsoft's VR-ready Xbox One X revealed at E3 last year which has led games to begin offering VR experiences, such as Fallout 4 and Doom, but what about bringing that experience to your phone, and throwing in a Nerf Gun to make it that much more fun?
Well, then you get the Merge 6DoF Blaster.
All you need to do is take the Blaster, start up the app game, place your phone within scope, and your set (without the need of a headset or glasses)!
This product gives you 6-degrees of space to duck under chairs and hide behind tables to avoid being shot at by aliens in the game.
The ability to move around freely makes the VR experience that much more interactive and boundless. It will be interesting to see if anyone else jumps on board to make similar games/products using your phone as the screen.
So everyone is pretty aware that you can ask Alexa practically anything with the likelihood of it serving up a correct result, but what if you could start using integrating Alexa with other product?
Amazon made sure this was the case at CES.
It's been difficult to walk around the event without hearing some company flaunting its products ability to use Alexa's functionality to control their product.
This reveals how far the company has been going to route Alexa to make other products smarter and ultimately create an ecosystem of products with the ability to communicate to her for your convenience.
Some of the companies who've now been added to Alexa's network are: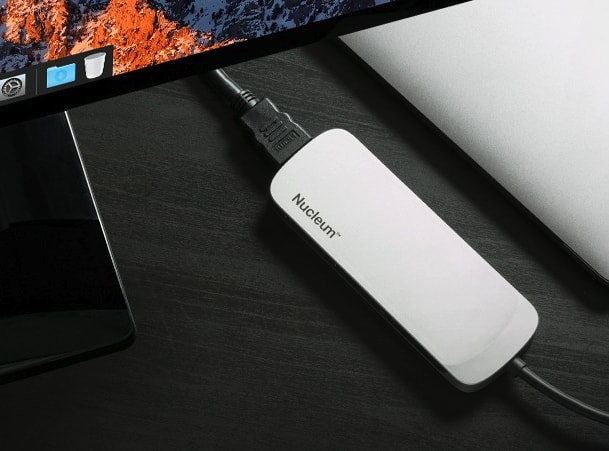 So I just recently ended up with a new 2017 Macbook pro, and while the smaller USB-c ports are adorable and sleek, it really creates a hassle when I need to dual screen, connect an ethernet cord (which isn't a port option), or connect a USB mouse.
Kingstron Nucleum released a USB-C adapter that enables you to plug in all these products into one hub. With it, you get 2 large USB ports, a HDMI port, an SD and microSD port, and an additional 2 USB-C ports. You can even pass a power cord into it to charge the devices connected which is what makes it unique in comparison to other adapters on the market.
You can find this little guy now online for $80, a slightly higher price to pay for an adapter that lets you charge.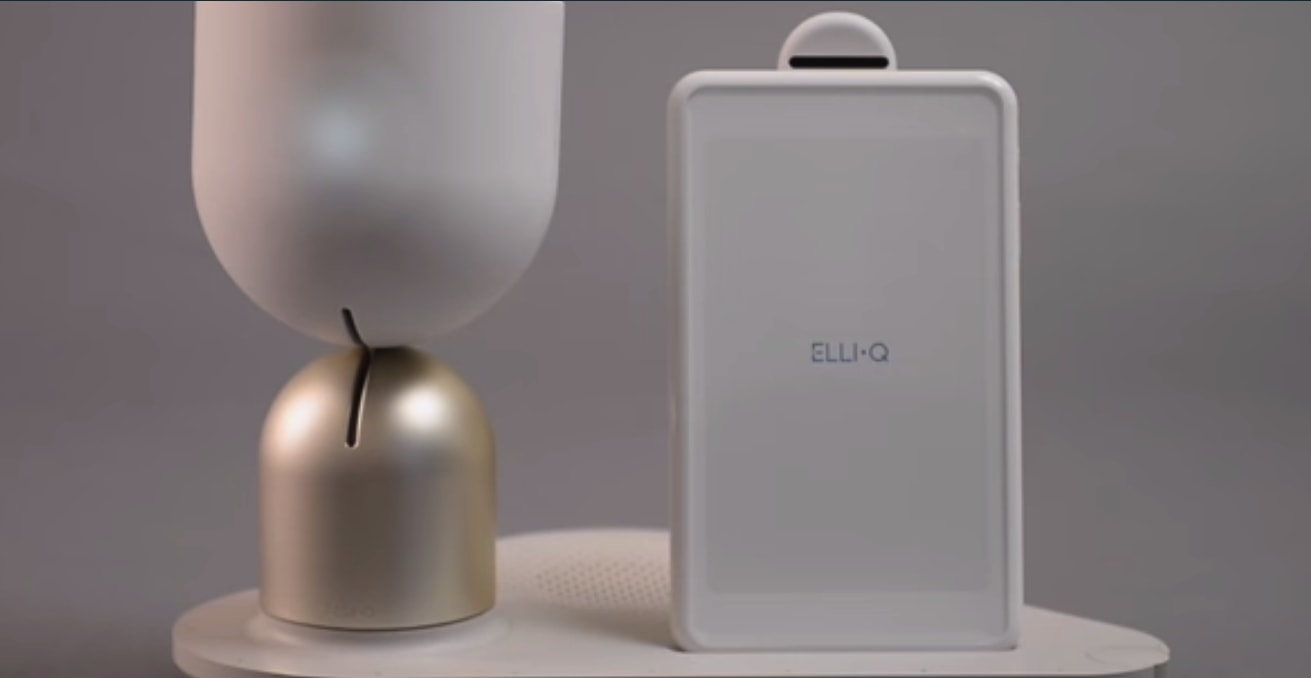 Just because your age may be on the higher end doesn't mean you can't have a little fun with some of today's emerging tech.
This is where ElliQ comes in. It's a small robot created to "help older adults stay active and engaged...that overcomes the digital divide."
The bot can remind seniors of upcoming appointments or events, show family photos, and even have conversations with its owner. It will also suggest you take a walk if it knows you've been sitting a lot that day.
Its mobile head and body gives it much more personality than an Alexa or Google Home and helps engage seniors more in a conversation. It's a unique product for a market many might think to stray away from.
Free Assessment:
How does your sales & marketing measure up?
Take this free, 5-minute assessment and learn what you can start doing today to boost traffic, leads, and sales.