Subscribe
Join 40,000+ sales and marketing pros who receive our weekly newsletter.
Get the most relevant, actionable digital sales and marketing insights you need to make smarter decisions faster... all in under five minutes.
Thanks, stay tuned for our upcoming edition.
Why sales pros need to attend HubSpot Training Day (and the sessions you won't want to miss)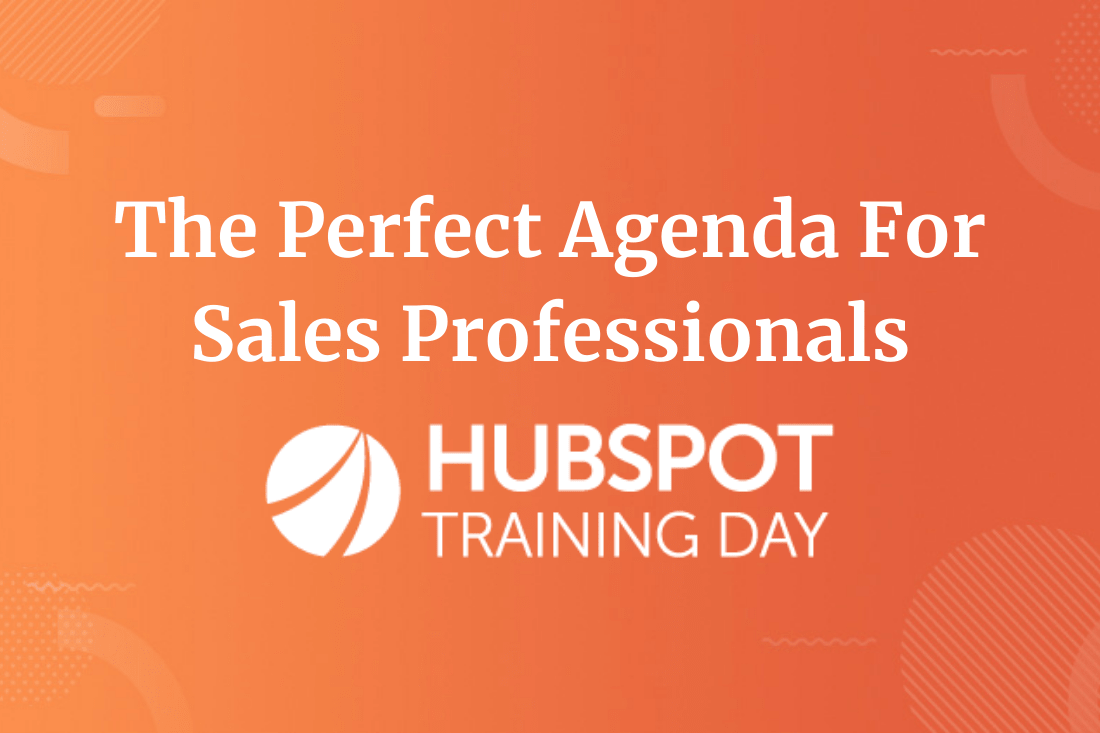 I don't envy sales reps right now. Sales are down, you are probably grumpy, and that light at the end of the tunnel seems to be getting dimmer each day.
Leaders of your organization are less than pleased with the spreadsheets, P&L reports, and the performance of your once elite sales team, and as a member of the sales team, you've likely been hounded for the last six months, hearing over and over:
"Now is the time for the sales team to step up and lead us out of this mess. We don't have a choice but to deliver right now."
But truthfully, no one outside of sales really understands just how hard it is to be selling in this kind of environment.
With the world continuing to throw haymakers, you're just trying to stay on your feet. Because of that, you are working long hours and doing whatever it takes to prove that you are still valuable to your organization should things continue this way.
That isn't the most motivating feeling, even in the sales world.
I don't know many people who actually enjoy that feeling. I know I certainly wouldn't.
So how do you break out of this tension and get back on track?
Help! I need somebody. Help!
(Yes, that's a Beatles reference and no, it cannot be read; it must be sung.)
To answer your question: You need tactical, actionable advice that you can implement and see results with!
That's why you need to attend HubSpot Training Day.
HubSpot Training Day is a full-day virtual learning event on October 27, that will teach you how to be a more effective sales professional through tactical working sessions and industry-leading keynote presentations from HubSpot product owners, academy professors, and even some of your favorite IMPACTers.
But Connor, I don't use HubSpot. Why should I attend a HubSpot event?
I'll tell it to you straight: This event is most valuable to HubSpot users. I'm sure you realized that when you read the name of the event, but it is not about how great HubSpot is and all the amazing things you can do with it.
HubSpot Training Day is an event all about taking tactical advice and implementing it into your organization so you can drive results and find success.
The tactics and techniques that we share can be valuable for anyone in sales, HubSpot user or not.
While we are using the platform to show you how to be a more effective and successful sales pro, the topics we are covering can all be adapted to just about any situation or tool.
Whether you are using HubSpot, considering it, or using another CRM or marketing platform altogether, HubSpot Training Day will show you everything from the fundamentals of effective selling with data and analytics all the way up to the most advanced campaigns and automation.
Plus, tickets are only $49 if you use code CONNOR! Get them while the getting is good.
To save you time, these are the sessions every sales professional needs to attend at HubSpot Training Day
HubSpot Training Day has 21 sessions at seven different time slots as well as keynotes and other activities throughout the day. It's impossible to see all these sessions at once. Plus, I know you don't have all day to attend this event.
We already discussed how busy you are talking with prospects and closing deals. That's why I put together a list of the most important sessions every sales professional should attend (but doesn't have to) and the sessions they must attend (you better be there) at HubSpot Training Day.
(All times are reflected in U.S. Eastern Time)
10:00-10:30 am: How to Become a More Data-Driven Sales Manager
(must attend)
Sales are no longer driven by gut feelings and lucky timing. You need hard numbers in order to make data-driven decisions that will bring your company success.
This session by IMPACT's Lead Content Trainer Brian Casey will show you the power of HubSpot reporting in the HubSpot Sales Hub in order to maximize your sales opportunities.
Why must sales professionals attend? If you aren't using all of the data you have available in order to drive sales, you are missing out. Not only will you be able to share all the useful reporting and analytics tools you have in place, after this session, you will also be able to find those qualified sales leads that can't wait to get in touch with you.

10:30 - 11:00 am: HubSpot and Salesforce: Comparison, Redundancies, and Integration If You Want Both
(should attend)
It's no secret that Salesforce is a powerhouse CRM for sales professionals, but there is a world where both HubSpot and Salesforce can live in perfect harmony.
This session, led by Lead HubSpot Trainer Joe Bachir, will do a deep dive comparison of HubSpot and Salesforce and share why you may want one platform over the other or why both may be the best option for your business.
Why should sales professionals attend? This session isn't for everybody, hence why it's a should but not a must. If you are currently using Salesforce or HubSpot separately, you more than likely haven't considered the benefits of the other platform. Plus, if you have both in your arsenal, why wouldn't you use them together?

By attending this session, you will finally be able to answer the question: "To HubSpot or to Salesforce (or to both)?
Note: These next two sessions are at the same time but are for different sales audiences.


11:00 - 11:30 am: Targeting Key Accounts? HubSpot's ABM Tools May Be Perfect For You
(must attend)
Account-based marketing (ABM) is a hot topic for sales professionals lately. Not only does it sound flashy, but it also gets results. And yet, most sales professionals still don't know what it is or how to use them.
Luckily, IMPACT Sales Development Manager David Little will show you how. In this session, you will learn how to set up your ABM strategy, enable collaboration across your teams, create deeper relationships with high-value accounts, and how to measure key milestones throughout that account's journey.
Why must sales professionals attend? If you are looking to implement ABM strategies at your organization, you need to know how to do it right. Even with all of the HubSpot ABM tools, you won't know how to use them without attending this session.

With that, you must attend this session so you can learn the proven strategies and techniques for implementing and succeeding with your ABM strategy.

11:00 - 11:30 am: Sales Forecasting in HubSpot
(must attend)
Sales forecasting is a critical component of determining business performance and making future business decisions. However, it can be difficult to actually build an effective, actionable sales forecast for your organization.
In this advanced-level session, HubSpot Academy Professor Kyle Jepson will share how to establish exit criteria for each deal stage, identify stale deals and how to close them, collect confidence ratings for each deal, and how to use all this information to create a reliable sales forecast.
Why must sales professionals attend? Without an accurate sales forecast, your company is doesn't know what the future looks like. You will be making short-term decisions that could hinder your long-term goals.

Also, if you have ever been in HubSpot Academy (who hasn't?), we all know and love Kyle Jepson and he will rock your socks off with this session.

2:00 - 2:30 pm: Getting started with HubSpot Products, Quotes, Signatures, and Payments
(should attend)
Wouldn't it be nice to be able to manage each step of the sales process all in one place? With the HubSpot Sales tools, you can do that and, in turn, be more efficient and effective in your sales efforts and deliver more results faster.
In this session, you will learn how to leverage HubSpot's sales tools to manage each step of the sales process, from sharing your products to collecting payments from customers.
Why should sales professionals attend? To put it simply, the more efficient you are in the sales process, the more sales you can make. The more sales you make, the more flexibility your company has.

More sales = bigger bottom line = happy company.

2:30 - 3:00 pm: 3X-ing your Sales Rep's Productivity with HubSpot
(must attend)
Communicating with prospects is a crucial yet tedious part of the sales process.
In this session, HubSpot's Senior Partner Strategist Jordan Benjamin will be teaming up with IMPACT's Director of Community and Events Stephanie Baiocchi to share how sales professionals can 3x their productivity by using HubSpot's sales communication tools.
Why must sales professionals attend? You shouldn't be spending hours and hours a day having the same conversations with your prospects. That's inefficient and a waste of your time. Instead, you should be using sequences, templates, and snippets (as well as some fancy integrations) to speed up that communication process and close deals.

You need to attend this session because it will change the way you approach sales communications and will save you the time, energy, and brain cells you are currently wasting manually doing these processes.

It's time to polish your sales craft and deliver results
I know we just met, but I already think of us as best friends, so I'll tell you this as your friend. Your company needs revenue and you need to sell. I know that stress is at an all-time high and you are dying to deliver.
Attending HubSpot Training Day is not only going to make you a stronger sales professional, it's going to make your entire organization a stronger sales machine.
With tickets at just $49 (don't forget, use code CONNOR), this is exactly what you and your sales team need to get back on track.
Now it is time for me to bid you farewell, but hopefully not for long because October 27 is just around the corner. See you then!


Free Assessment:
How does your sales & marketing measure up?
Take this free, 5-minute assessment and learn what you can start doing today to boost traffic, leads, and sales.