Subscribe
Join 40,000+ sales and marketing pros who receive our weekly newsletter.
Get the most relevant, actionable digital sales and marketing insights you need to make smarter decisions faster... all in under five minutes.
Thanks, stay tuned for our upcoming edition.
HubSpot vs. ActiveCampaign: a head-to-head comparison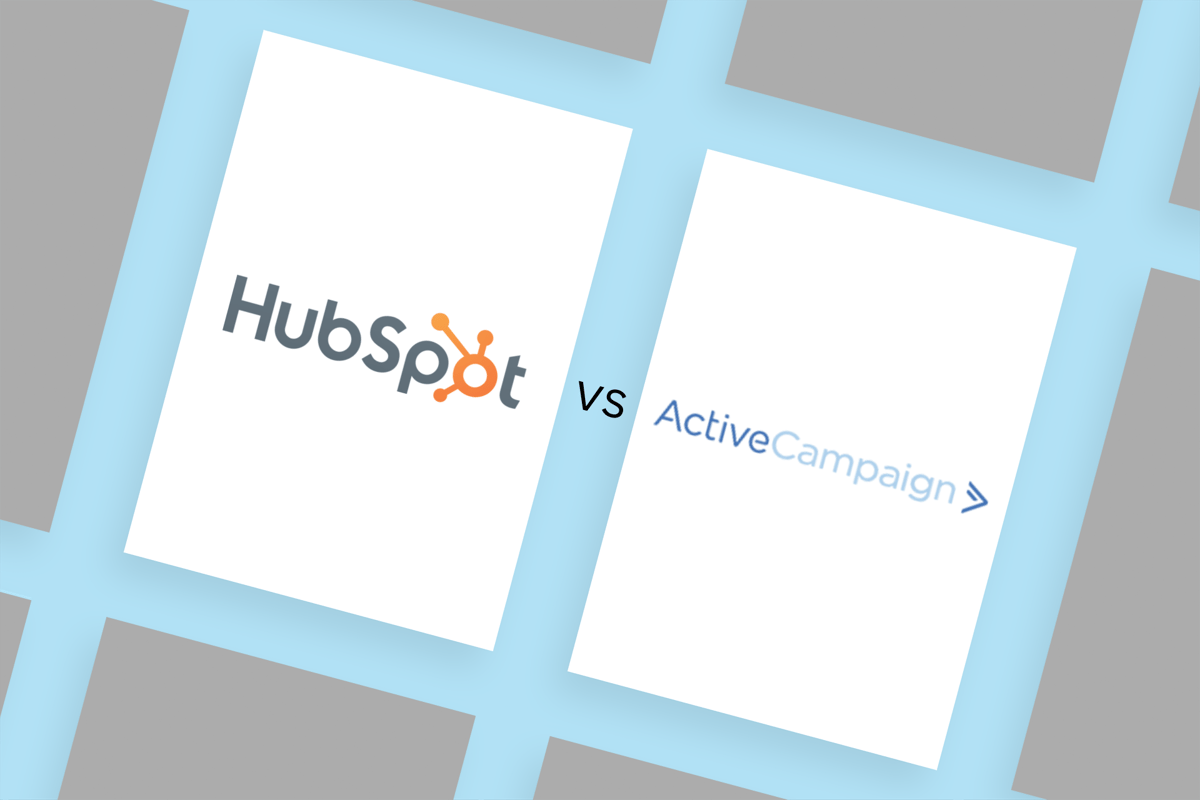 HubSpot is one of the most popular marketing automation platforms in the digital universe, as evidenced by its use on 113,000 websites in more than 120 countries – but it's by no means the only one worth considering. ActiveCampaign offers similar services, with just enough differences to make choosing between them a worthwhile endeavor.
🔎 Related: The ultimate list of HubSpot pros and cons
Which one might be best for you? Here's a head-to-head HubSpot vs. ActiveCampaign comparison aimed at helping you pick the right platform for your marketing software needs.
What HubSpot does
As a HubSpot Elite partner agency, we are often asked about HubSpot by clients and prospects. HubSpot is an inbound marketing and sales automation platform that helps companies reach their ideal prospects, draw them to their websites, convert leads, and close transactions.
For digital marketers specifically, HubSpot provides the following tools:
Keep track of companies, contacts, and calls.
Capture and score prospective leads.
Create content, such as landing pages, email marketing campaigns, and blog posts.
Develop social media and ads.
Automate marketing workflows.
Gather website analytics on digital activity.
Manage customer relationships through

live chat

, email communications, telephone calls, and social media interactions.
Map sales pipelines.
Monitor marketing performance.
Although it's structured mainly to act as a customer relationship manager, or CRM, HubSpot is the ideal platform to implement the informational approach popularized by Marcus Sheridan in his book They Ask, You Answer. This approach takes the guesswork out of inbound marketing by basing content creation on a genuine understanding of what your customer is thinking.
🎓 IMPACT+ course: They Ask, You Answer fundamentals with Marcus Sheridan
What ActiveCampaign does
ActiveCampaign is a customer experience platform that enables companies to connect and engage with clients using automated sales, marketing, and support activities. It's built mainly around email marketing but offers a CRM for small and medium-sized businesses. The CRM feature automates lead prioritization and contact management and integrates with over 850 other software applications.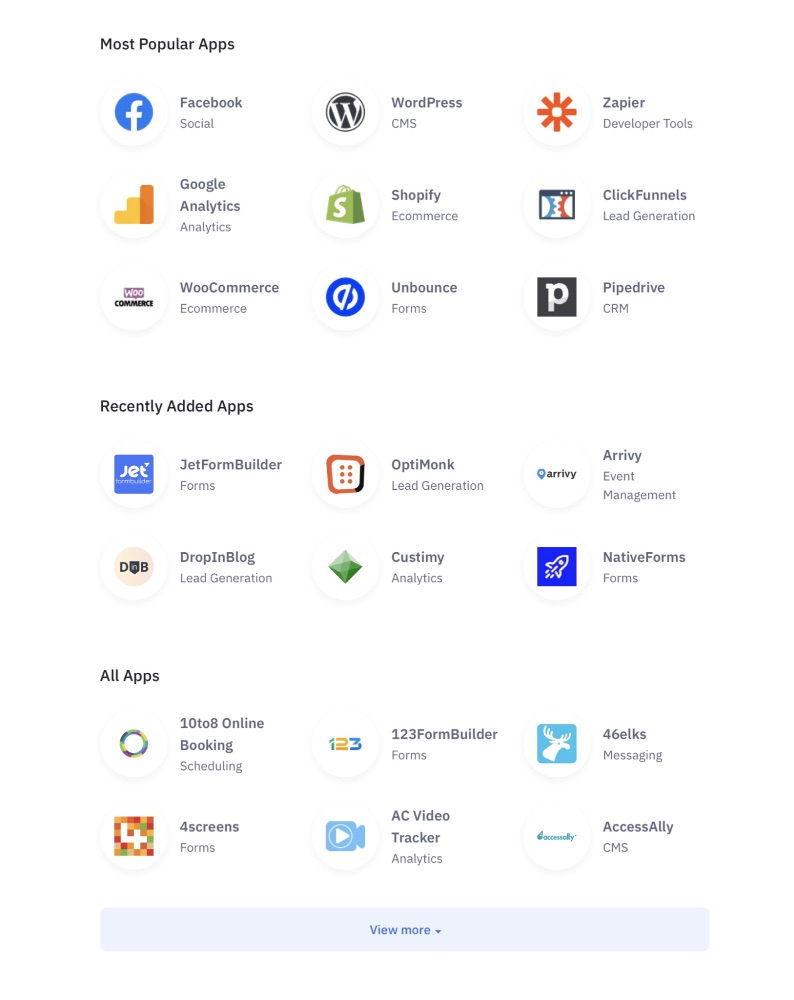 Users can add notes to contacts, set up appointments, and send messages using the Automations feature, while the Conversations option sends targeted communications directly to website visitors. These optimize visitors' overall experience while creating a sales pipeline to help convert more visitors in the long term.
With a wide range of valuable reports and dashboard views available, companies can quickly build a holistic visual representation of how the various marketing and sales activities are performing. The ability to do all this with a single marketing software tool offers good opportunities to save money by avoiding the need for multiple programs.
Similarities between HubSpot and ActiveCampaign
Marketing and sales platforms worth their salt are naturally going to have overlap between the main features. With this ActiveCampaign vs. HubSpot comparison, you can identify both the similarities and the differences and determine their impact on your operations.
Both robust CRMs have:
The ability to view a client's active history directly inside the CRM instead of through awkward interfaces. This option gives your sales team a clear visual picture of the prospect-to-customer lifecycle.
Pipeline creation with customizable deal stages and deal properties. A robust pipeline helps a team visualize sales processes, predict revenue, and identify potential roadblocks to closing deals.
Trigger-based workflows, which allow teams to send emails, create tasks, and automate other actions, increasing productivity.
Simple, intuitive designs that are easy enough for novice users to work with, while powerful enough to execute more complex workflows.
The similarities between these essential functions can make it challenging to choose one marketing software application over another, so you'll need to look at each program's advanced features to determine which has the best value for your company.
Differences between HubSpot and ActiveCampaign
When it comes to differences between the more complex options available in HubSpot vs. ActiveCampaign, both platforms have multiple capabilities.
What HubSpot offers
HubSpot's CRM platform enables users to

set custom properties or fields

based on contacts or deal records. Various HubSpot subscriptions allow for different numbers of custom properties, so it's important to check out what your package includes. The CRM offers the ability to create records based on the company name, not just contracts and deals. This option isn't available with ActiveCampaign, and it benefits marketers focused on an account-based marketing (ABM) strategy.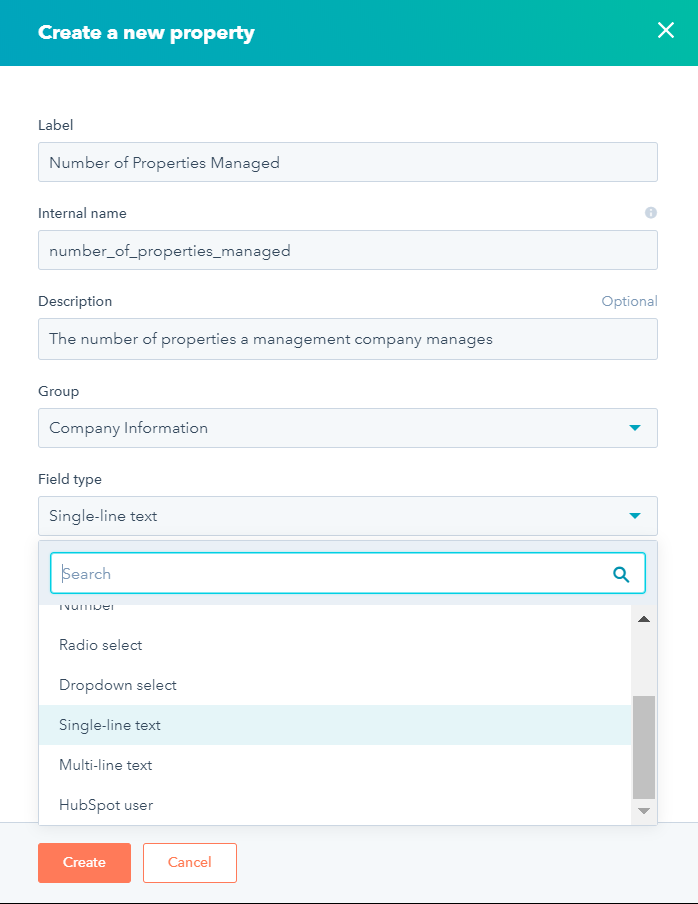 Several HubSpot plans provide a content management system for landing page copy and blog post content. ActiveCampaign requires integration to provide the same functionality.
HubSpot users can create tasks, send emails, and view their clients' activity history within the CRM instead of through an interface. This option reduces the amount of training needed to work with the platform.
The system has sophisticated automation capabilities, such as auto-recording all contact activity, sending mail directly from the user's HubSpot account, making phone calls from the computer, logging new client activity, and creating task alerts for team members.
HubSpot's automation platform schedules meetings directly from the platform, keeps track of multiple contacts at a company, and eliminates duplication and redundancies.
When it comes to email marketing, HubSpot has full design facilities and some great email templates. Of course, no platform is perfect. If you're just getting started, email with HubSpot may not feel terribly user-friendly at first, as the layouts still can be complex. Also, if you change the template of an email you've already written, your content changes, too – although that's fairly common among most platforms.
The system adds contracts to segments based on former buying actions. It also creates custom reports and has an add-on with customizable dashboards.
HubSpot also provides a customer service hub with a ticketing system, a knowledge base, and a conversations dashboard for companies offering a help desk environment.
It's getting difficult to operate in the modern digital environment without automated systems, but there are now so many that finding the right ones has become a challenge of its own. A CRM program that integrates with the most common applications reduces confusion and saves you from having to change track midway because one program doesn't mesh well with the others you use. HubSpot's platform integrates with more than 300 other applications, making marketers' lives easier and optimizing your budget.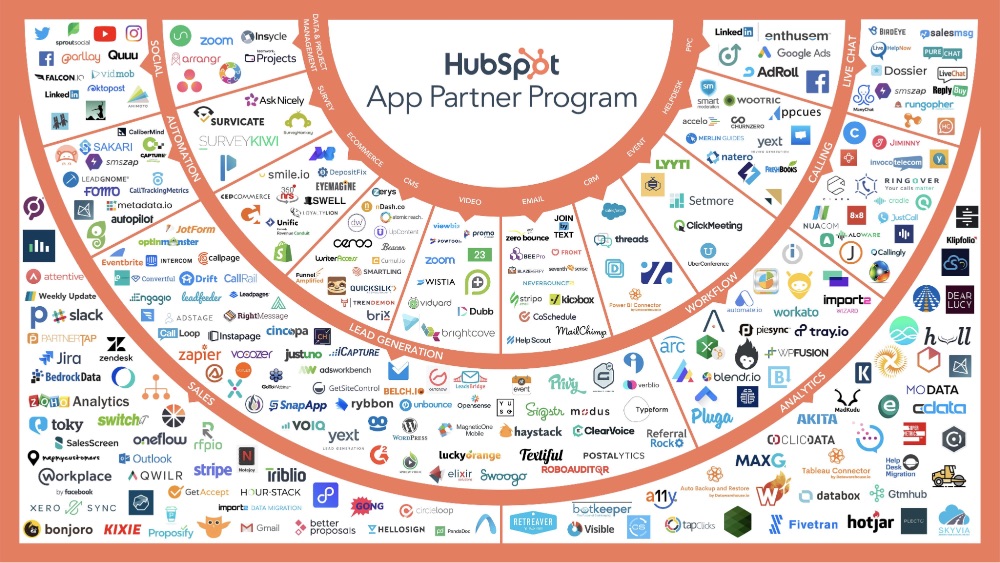 What ActiveCampaign offers
ActiveCampaign offers more simplified, basic reporting on campaigns, automation, and goal statistics. With its focus on email marketing, however, it delivers one of the best email builders on the market. You can create marketing campaigns using existing email templates, designing your own from scratch, or importing your code.
Although ActiveCampaign does have a CRM platform, it's only available as a paid feature on specific plans. It offers the ability to monitor prospects through event tracking and workflows.
Email split testing and list segmentation are more straightforward than on HubSpot, and ActiveCampaign provides these at a much lower price point.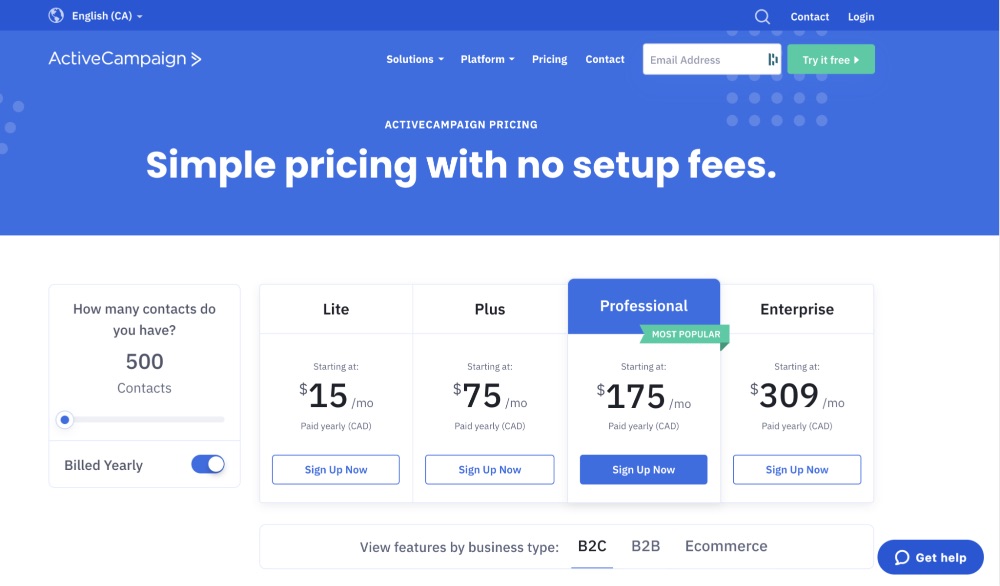 LiveChat is available with ActiveCampaign through integration. It enables contacts to add themselves to your list for future follow-up.
ActiveCampaign is generally easier to use – especially for non-techies – until you get to its developer interface, which requires more advanced knowledge.
The program integrates with 150 apps, including many of the same ones as HubSpot.
Top benefits of each platform
HubSpot advantages
The main advantage of Hubspot over ActiveCampaign is that it offers an all-in-one marketing software solution. The original three integrated hubs (marketing, sales, and customer service) have been supplemented by a content management system (CMS) hub, so there's very little the program can't do for you. It can help you draw traffic, boost conversions, improve your SEO, create professional landing pages in minutes, and generate content for blogs, social media, and ads.
The platform manages the entire contact life cycle from capture to purchase, using personalized email communications in drip or nurturing marketing campaigns. It can be pricey, but it offers several free options that small and medium-sized businesses can frequently get by with.
ActiveCampaign advantages
ActiveCampaign focuses on automating the customer experience and is built to provide a robust email marketing platform. It has a free option and more affordable pricing packages than HubSpot, but you'll only get a good CRM option with specific paid plans. On the other hand, it's generally easier to use, and has superior split testing and segmentation functions.
The bottom line
HubSpot continues to be viewed as the Rolls-Royce of marketing automation programs. Although it offers extensive functionality on the free plan, it takes someone with a fair bit of technical savvy to get the best out of it. There's very little the platform can't do for you, but it will cost a bit to use all the bells and whistles.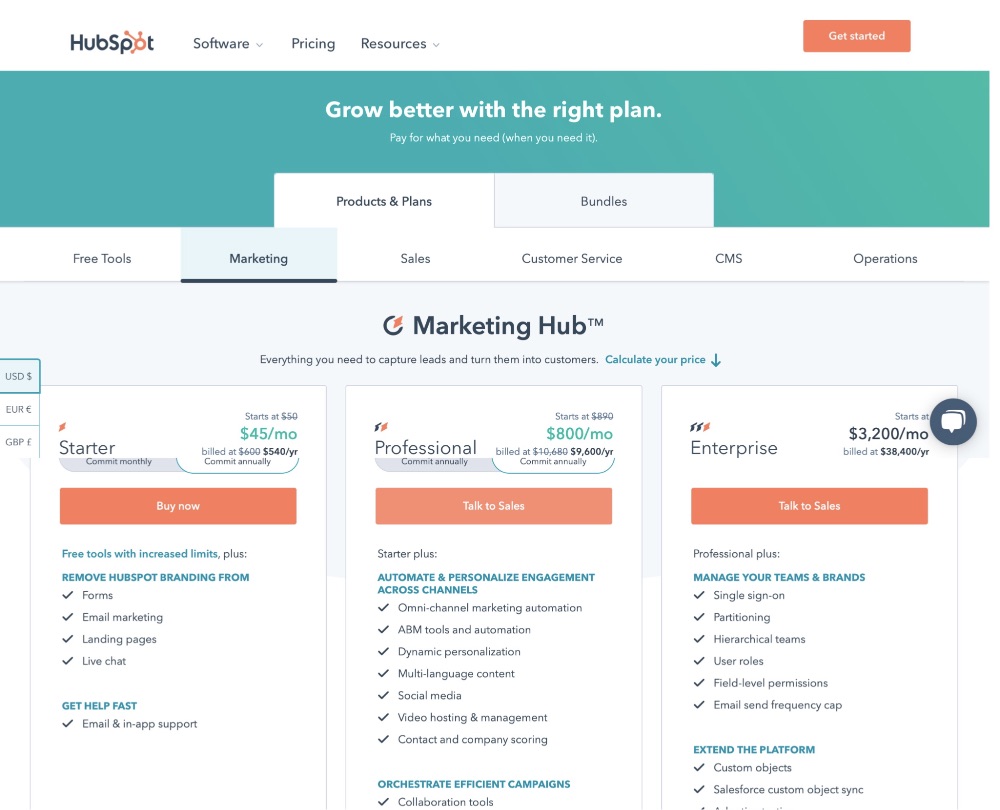 ActiveCampaign is geared toward smaller businesses that need to manage their marketing and sales processes. Although a CRM platform is available, it comes at an extra cost. Overall, the program has its limitations, but if it addresses your needs adequately, you might never know you're missing out on anything.
HubSpot is the best choice for companies that need a comprehensive CRM program and don't mind paying for it. While the price isn't too high, it's more than other platforms, but the overall value makes it worthwhile. ActiveCampaign is ideal for marketers with a smaller budget who depend heavily on email marketing or have less use for social media and advertising management. Which category does your company fall into?
Free Assessment:
How does your sales & marketing measure up?
Take this free, 5-minute assessment and learn what you can start doing today to boost traffic, leads, and sales.