7 INBOUND 2017 Sessions You Need to Register for Right Now!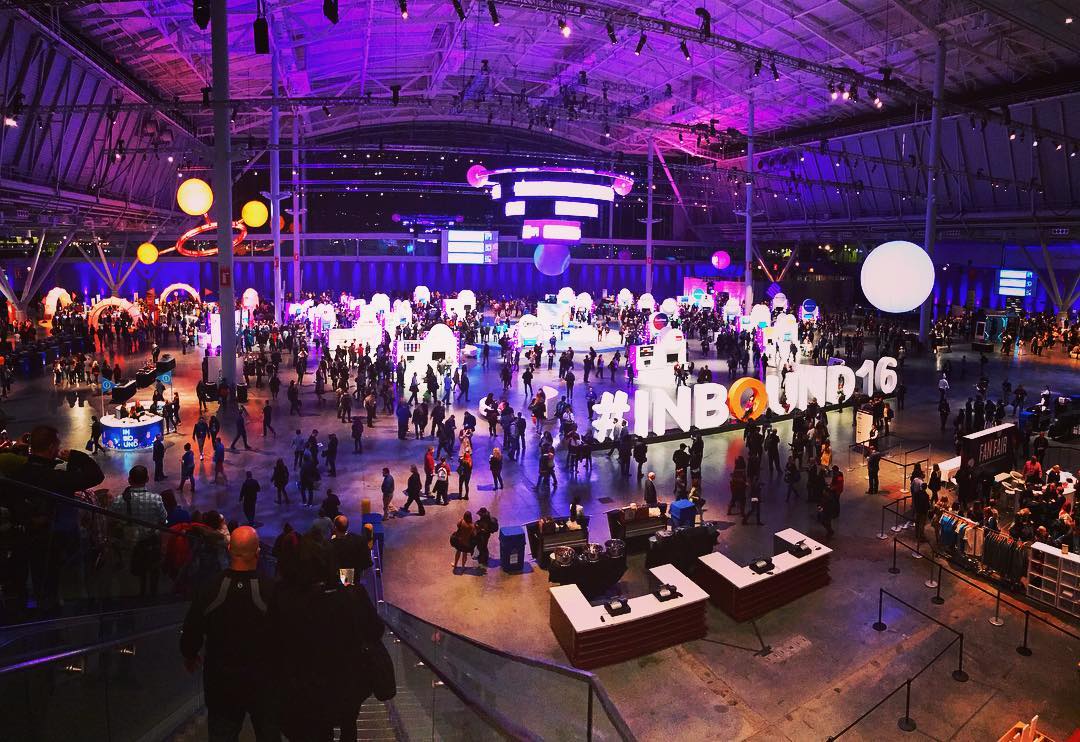 In just a few short weeks, I'll be heading up the east coast on a train bound for Boston, as part of my fourth trip to HubSpot's annual INBOUND conference.
In addition to enjoying a blissful week of not having to walk either of my little dog monsters (with half-hearted apologies to my husband), I will be spending four full days learning and engaging with thousands of other passionate marketers just like me.
However, I've learned over the past few years is there is an art to getting the most out of INBOUND, and that starts with filling up your schedule with the right INBOUND sessions.
If you haven't been to INBOUND before, let me assure you there is nothing more demoralizing than getting excited about a session, only to realize within a few minutes of sitting down that (a) the session is not right for you, (b) you're going to learn nothing new, or (c) it's going to be boring. (Sadly, that last one has happened more than I care to admit.)
So, while I can't help you fill out your entire schedule, I am going to give you a headstart with the seven INBOUND17 sessions we cannot wait to see this year and you need to register for right now.
(Registration just opened! Make sure to check this page to see when you'll get the chance to start registering.)
Who: George B. Thomas, The Sales Lion
When: Tuesday, September 26, 10:30 a.m.
Description: "Are you frustrated with your lack of HubSpot success? Do you feel like you could be getting more out of the tool? If so, in this talk George B. Thomas will show you 7 powerful and effective ways organizations are turning HubSpot into a true inbound marketing machine. If you want to be a better HubSpotter this session is for you."
Why: If you were one of the marketing and sales leaders who got to see George speak at this year's IMPACT Live, you know George brings two critical things to the table. First, when it comes to HubSpot, he knows his stuff -- probably better than anyone I know. Second, he is a fantastic, fun, engaging speaker.
That's why I consider this a can't-miss session and a wonderful way to kick-off your week at INBOUND.
George will also be critiquing websites with us at the IMPACT Booth! Reserve your spot here!
Who: Carina Duffy, IMPACT
When: Tuesday, September 26, 4:15 p.m.
Description: "Over the last two years we've critiqued over 50 websites on our live online Website Throwdowns, and over 100 in-person at events like INBOUND. We've had special guests like Marcus Sheridan and Peep Laja give their insights and expertise, and we've learned a TON! We want to share 10 super-practical things we've learned along the way that you can take with you and start implementing on your website right away."
Why: Have you ever seen one of our live website throwdowns? It's tough love served up marketing style -- and backed by years of inbound, design, and UX expertise -- to empower businesses to make their sites better.
Carina's session will pull back the curtain on what you can do right now to make your website a rockstar.
THEN, you can head down to Club INBOUND and get a free in-person throwdown of your website at our booth! There are only 150 spots (and 19,000 attendees expected) so reserve your spot now!
Who: Marcus Sheridan, The Sales Lion
When: Tuesday, September 26, 11:45 a.m.
Description: "Are you 'doing Inbound' but not reaching the level of success you'd like to achieve? Do you ever feel like you could do more but you're just not sure what that looks like? Or are you finding that it's a struggle to get everyone in your organization engaged in the Inbound efforts? If so, you're not alone, which is exactly why Marcus Sheridan will share the secrets of the greatest Inbound organizations and how they've managed to climb to the top of their industry-- and stay there as well."
Why: If you know who Marcus Sheridan is already, you know why he's on this list. He's a powerful speaker who literally wrote the book on inbound sales and marketing.
Also, the message of this particular session is important -- inbound isn't the new, hot thing anymore. Everyone is doing it, but how many organizations are actually doing it well? Marcus can help you get there.
Who: Bob Ruffolo, IMPACT
When: Tuesday, September 26, 1 p.m.
Description: "Two years ago, IMPACT was churning through employees and clients, unable to crack the code on how to keep either. That's when IMPACT's Director of Talent, Natalie Davis, told me that 'People need to see their future at IMPACT.' That one line became our mantra, and to this day, remains at the core of our agency's focus. In this session, you'll hear about the 7 things we did that helped us recruit the best people, keep our top talent, and dramatically improve our agency's performance."
Why: I'm going to admit I'm sharing this one for selfish reasons, but not for the ones you might think. I've been at IMPACT as a remote employee for three months as of today, after Quintain and IMPACT joined forces.

I wasn't there two years ago, when IMPACT was experiencing issues with employees and clients alike. But I can tell you that when Fortune named us one of the best SMBs to work for earlier this year, I knew why.
I'm no spring chicken; I've worked for a lot of different companies throughout my career -- big and small, nonprofit and for-profit, international and hyper-local. But out of all of them, I've found my people, my home, and my future at IMPACT -- and I'm not alone.

So, if you see yourself or your agency in the description above, desperately in need of a pivot, you must go to this session. You can turn your agency around, and IMPACT is living proof of that.
Who: Tamsen Webster, TEDxCambridge
When: Wednesday, September 27, 10:30 a.m.
Description: "You know you need a message -- your story. You know you need to tell it well, no matter the media...or meeting. You've read the books, seen the sessions, done the training. You have your solutions, you know the problems they solve, and yet still your message isn't connecting, or converting, the way it should. Why not? Because every message that works has a "Red Thread": key components that combine to create change. In this session, learn how to find your Red Thread and use it to tell your story."
Why: Last year was rough for me at INBOUND. Most of my sessions were dull and lacking that unique blend of expertise and excitement. Then, on the last day, a couple hours before I was supposed to hop on a train home to Maryland, I sat down for my final INBOUND session of the year. It was about speaking being the last frontier for content with one Tamsen Webster.
From the moment she took the stage, I was riveted. Every word out of her mouth was gold. Her presentation was fun and engaging. And, it was because of that session that I was able to rock my very first speaking engagement at Ignite Annapolis last year. If you ever have a chance to hear her speak, take it. Honestly, she could be talking about the virtues of lima beans, and I would still go. She's that good.
Who: Nick Salvatoriello, Nick Sal Inbound / IMPACT
When: Wednesday, September 27, 1 p.m.
Description: "When your marketing stalls out, how do you get it back in gear? When the pressure's on, how do you make your brand-new HubSpot investment count? Nick Sal says it's never too late (or too soon) to refresh, reboot, and get the sustainable results you've always felt were possible. As a HubSpot Academy veteran and partner agency leader, he's guided hundreds of sales and marketing pros through the starts and stops of onboarding and over the bumpy road to inbound success. This is their message to you."
Why: "Man, what I wish I had known then," is something you hear a lot from businesses with active HubSpot portals.
Maybe they're not seeing the return on their investment in the platform, or perhaps they just wish they had organized it differently. Regardless of your situation, Nick -- a HubSpot alum, current IMPACT rockstar, and "literally the voice of inbound marketing" -- is the man that can help you.
Every time I get to talk to Nick for work, I always feel like I walk away having learned something new -- even in casual conversations. So, I can't imagine how much you'll gain from this session. That's why you need to sign up and then tell me all about it.
Who: Liz Murphy (that's me!), IMPACT
When: Tuesday, September 28, 1 p.m.
Description: "Have you ever stumbled across a website where it seems like a different person wrote every single page? Or unfocused content, with no clear insight into who the brand is? A content style guide helps you avoid these problems, so you attract and engage your audience across any piece of content you create. In this session, you'll learn step-by-step how to develop your (or your client's) voice (personality), tone (how you sound) and visual style (grammar, formatting, and syntax)."
Why: Okay, so this is my session and a completely self-serving entry on this list, I'll grant you that. But that doesn't make what you're going to learn in this session any less invaluable.
I've written about content style guides before, but this time I'm going to teach you how to make one and provide you with all the tools you need to do it. Worksheets, templates, instructions, Star Wars memes -- you name it, I've got it.
End your week at INBOUND learning how to create the one tool every business or agency needs to be successful... unfortunately, they usually doesn't realize they need it until it's too late.
BONUS:
Learn how to make your website 10x in just 10 minutes with a personal Website Throwdown at the IMPACT booth in Club INBOUND!
In your personal throwdown, our marketing experts (including guests like George B. Thomas, Luke Summerfield, and more) will share honest, actionable feedback on your company's website's UX, design, content, conversion paths, and strategy overall.
Then after the knock-out, you'll walk away with a free "I Survived #WebsiteThrowdown" t-shirt, drawstring bag, shot glass, and a chance to win a free website redesign.
We only have enough spots for about 1% of the expected numbers INBOUND attendees, so don't miss out. Reserve your throwdown here right now!
Which INBOUND sessions are on your must-see list? Let me know in the comments!
Free Assessment:
How does your sales & marketing measure up?
Take this free, 5-minute assessment and learn what you can start doing today to boost traffic, leads, and sales.