INBOUND 2020: 9 forward-thinking sessions you'll need to succeed in 2021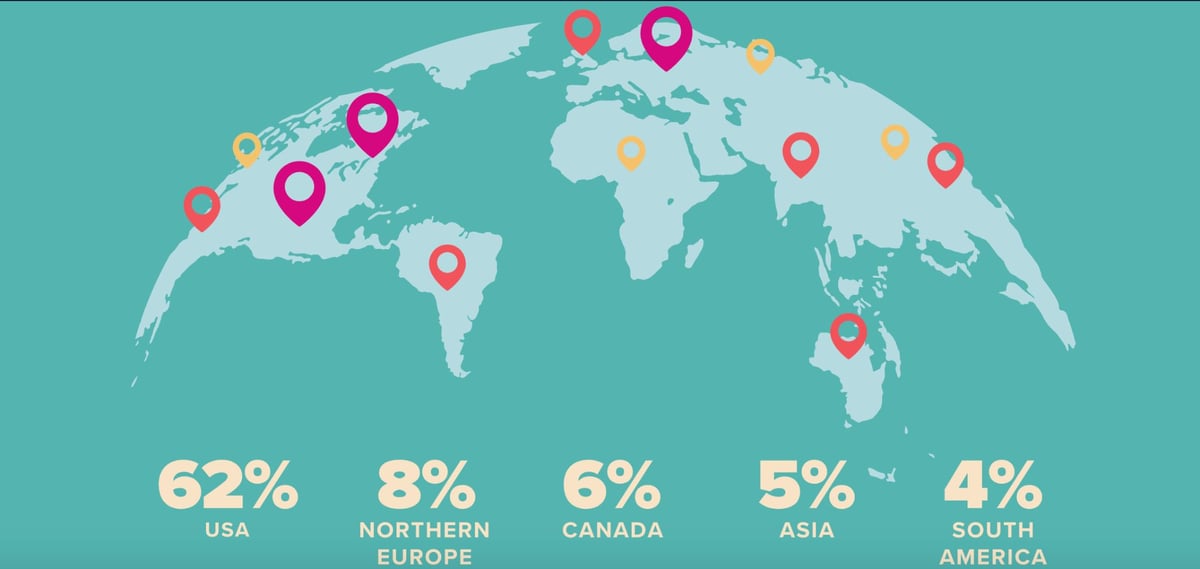 They say hindsight is 2020. Well, considering how much time many of us have had to sit and think this year, it makes a lot of sense.
The global unrest we have faced in the past nine months regarding COVID-19, race relations, and climate change among other things has dramatically changed the environment in which we do business.
We can't just market and sell the same way we once did.
The tactics and strategies we need to succeed in 2021 need to be more compassionate and mindful. They may not be things we're used to or have even imagined, but that doesn't mean we can't come out on top.
Like any other year, events remain one of the best ways to prepare.
So, with HubSpot's INBOUND 2020 coming up next week (and virtual for the first time in its nine-year history), I've sifted through the two-day agenda to bring you the top nine sessions and events you'll need to attend so you can market, sell, and grow in the new global climate next year.
But, before we dive in, I have to take a minute to plug the sessions being held by my fellow IMPACT teammates.
On Tuesday, September 22 at 11:30 AM ET, catch IMPACT's Director of Inbound Training & Video Strategy, Zach Basner's "Creating a World-Class Business YouTube Channel (and Actually Generating Leads)" where you can learn how to leverage the video platform to fill your pipeline.
Then, at 1:00 PM ET, don't miss "The Definitive Guide to Content That Sells: 7 Essential Steps to Massive Results and ROI" presented by Marcus Sheridan, IMPACT partner and author of They Ask, You Answer. In this hour-long session, Marcus reveals definitive strategies and takeaways to immediately turn your company's content strategy into a sales and revenue-generating machine.
On-demand, you can also catch IMPACT's Manager of Demand Generation Myriah Anderson's cheat sheet, "6 Things I Learned From Recording 700+ Personalized Sales Videos — Tips, Strategies and Examples" and another session from Zach, "A Definitive Guide to On-Camera Performance for Sales Pros (Spoiler: You're Great on Camera)".
Now on with the rest of our show...
9 INBOUND sessions you need to succeed in 2020
Presented by: Brian Halligan and Dharmesh Shah, HubSpot Co-founders
September 22, 10:30 AM - 11:30 AM ET
Brian and Dharmesh's keynote is always a highlight of the INBOUND conference. Accompanied by Chief Product Officer Christopher O'Donnell, the duo will discuss what the next year will look like for HubSpot and likely introduce an overarching theme for this year's event.
🎉 Bonus event: HubSpot Training Day 2020
Presented by: Sydni Craig-Hart, Multi-Award Winning Marketing Strategist, Smart Simple Marketing
September 22, 5:30 PM - 6:30 PM ET
With inclusion and equality more important than ever, understanding how to market to a more diverse audience is crucial in 2021. "Your audience isn't homogeneous, and one-size-fits-all marketing messages simply don't work."
In this session, Sydni Craig-hart will show you how to better serve multicultural audiences — while also growing market share by modeling what's already working — customer-focus.


Presented by: Flora Wang, associate Product Manager, Sales Clients, HubSpot
September 23, 6:00 AM - 7:00 AM ET
Thanks to COVID-19, virtually selling has become the norm for many sales teams and in today's global marketplace, it's likely to remain a vital part of their lives long after the pandemic ends. In this session, HubSpot Associate Product Manager Flora Wang will "cover how sales is changing in a mobile-first world, and provide tactical examples on empowering your sales team using the free HubSpot mobile app."


Presented by: Cliff Obrecht, Co-Founder, Chief Operating Officer, Canva
September 22, 9:00 PM - 9:30 PM ET
Another increasingly important area of inclusion is accessibility. As a brand, you need to make sure your website and all of your designs create a consistent and positive experience for anyone who views them.
That means optimizing for a wide range of visual and auditory abilities and impairments. In this 30-minute spotlight, the Canva co-founder and Chief Operating Officer will dive into the future of accessible design and how tools like Canva can help you adapt.


Presented by: Raj Sarkar, Head of Marketing, All Teams, Atlassian
September 22, 12:00 PM - 12:45 PM ET
Like virtual selling, remote work has also become a part of "the new normal" thanks to COVID-19. To help you and your team cope,, Raj Sarkar, Head of Marketing at Atlassian, invites veteran remote workers and newcomers alike to this 45-minute meetup.
Attendees can expect to "connect over tips and tricks on how to thrive and not just survive this remote work life….Come prepared to share advice and have candid conversations with industry peers and professionals like yourself."


Presented by: Tyler Lessard, VP Marketing, Vidyard
September 22, 1:00 PM - 1:45 PM ET
If you weren't sold on the importance of video at the beginning of this year, I'm sure you are now!
In this 45-minute meetup, Tyler Lessard, VP of Marketing at Vidyard (and a good friend of IMPACT), invites you to come "meet other marketers and salespeople and discuss the latest trends in video creation, video marketing, and using personalized videos in sales.
Come prepared to grow your professional network and learn from your peers about how they are scaling their use of video as the next best thing to being there in person."
Presented by: Jeff Davis, Founder, Principal, JD2 Consulting
September 22, 1:00 PM - 2:00 PM ET
With so much working against us right now, efficiency and productivity are of the essence. Businesses can't afford to be misaligned, especially at the sales and marketing level.
"To remain competitive, organizations must provide a frictionless buying experience that helps buyers clarify their business challenges, explore what solutions are the best for their unique situation, and facilitate them reaching internal consensus."
That's why, in this session, Jeff Davis will discuss how organizations can meet the increased demands of the modern buyer by building a "revenue engine" that strategically aligns the efforts of sales and marketing.


Presented by: Nicolas Darveau-Garneau, Google Chief Evangelist, Google
September 22, 4:00 PM - 5:00 PM ET
One thing that hasn't changed in the last six months is the power of Google and Google Ads. In fact, the data shows many industries have seen a positive impact on their ads during the pandemic.
In this hour-long session, "Google's Chief Evangelist will share the top 10 best practices to help you increase profits from your Google investment based on his work with over 600 Google advertisers."
Presented by: Ying Chen, VP of Product Management, General Manager, HubSpot
September 22, 3:00 PM - 4:00 PM ET
Let's face it. In the current state of the world, even your biggest fans and most loyal customers may not be able to buy right now — but that doesn't mean you can become complacent in your relationships with them.
It doesn't mean abandoning them to focus on new prospects who want to buy now. You still need to nurture the bonds you have with loyal customers so that when this all passes (and it will), they'll come back to you.
In this session, Ying Chen from HubSpot will discuss how to still drive customer lifetime value and be a customer champion during challenging times.
Expect the unexpected
If I've learned anything this year, it's to expect the unexpected, but prepare where we can (i.e. stock up on toilet paper before the world shuts down).
Given the trends we have seen this year, the INBOUND sessions above will help you plan should they continue in the next twelve months. However, even if they don't, stay open minded and think about how the lessons can be adapted to different circumstances.
As Marcus Sheridan says, principles don't change, only practices do. So, take note of the practices for now, but keep your eyes and ears out for those guiding principles for later.
Free Assessment:
How does your sales & marketing measure up?
Take this free, 5-minute assessment and learn what you can start doing today to boost traffic, leads, and sales.